June ushers in tremendous numbers of blue marlin, white marlin and sailfish off the south-eastern coast of the Dominican Republic. The experience of a real fishing frenzy combined with world-class marina facilities and a full schedule of activities results in the International Cap Cana Billfish Shootout. Last year, anglers aboard the 19-boat fleet released 166 billfish—135 white marlin, 25 blue marlin and 6 sailfish—for a spectacular catch rate of 8.73 fish per boat. Ft. Lauderdale, Florida's Sandra MacMillan and her team aboard the 63' Spencer Sandman earned Top Boat and MacMillan runner-up Top Angler. Sandman will be back this year with other past tournament champions such as Orlando, Florida's "Fa La Me" team aboard a charter while Frank Rodriquez awaits delivery of his new Viking 92' Enclosed Bridge Convertible.
The fleet docks at the 130-slip luxurious Marina Cap Cana, where tournament festivities such as elegant nightly parties, mojito-fuelled beach fiestas and the always anticipated lay-day cook-off competition take place. New, this tournament is now the second leg of the inaugural Dominican Billfish Triple-Header, a trio of events that started with the Casa de Campo International Blue Marlin Classic in March and concludes with the Cap Cana Classic in September. "It's always been my intention to run a three-leg series at different locations and at different times of the year," says director Rick Alvarez, owner of Miami, Florida-based International Billfish Tournaments, Inc. "This is so [that] the international angling community will realize how truly long the fishing is excellent in one place or another in waters off of the Dominican Republic."
Back-to-back Opti regattas in St. Thomas and Antigua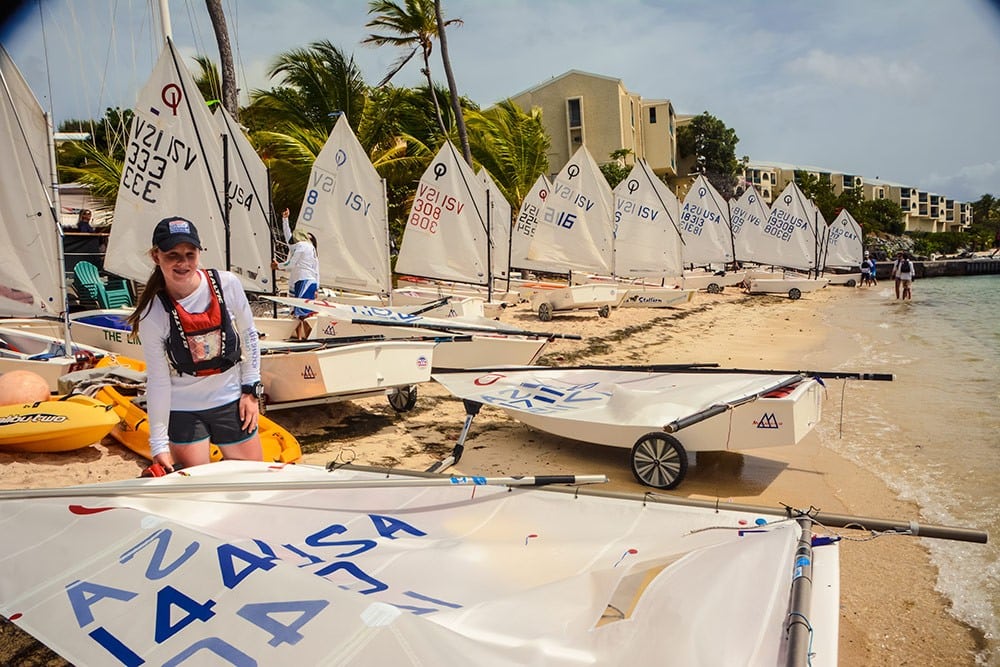 Pint-sized sailors helming eight-foot dinghies replace keelboats on the waters off the St. Thomas Yacht Club June 15-21 for the Sea Star Clinic and International Optimist Regatta (IOR). More than 80 eight to fifteen-year-olds from throughout the Caribbean, U.S. and Europe are expected to sail in this biggest little-boat regatta in the region. The IOR kick-started Opti sailing in the Caribbean 23 years ago with the help of the International Optimist Dinghy Association. Since that time past entrants have moved to other boats and achieved fame in regional, continental and Olympic sailing championships. "The IOR provides some of the best competition in North America with beautiful breeze, plus at the end of the day, sailors along with families and friends can enjoy Hobie-cat sailing, kayaking and paddle-boarding off the beach," says regatta director Margo Lynch.
The IOR makes a great tune-up event for the Optimist North American Championships, which will be held out of Nelson's Dockyard in English Harbour, Antigua, July 5-12. Over 175 junior sailors from around the globe will test their skills. Wadadli Cats, a local day-sail company, will offer spectating charters for the public. "Nelson's Dockyard is such a great place to hold an event such as this that the Antigua Yacht Club would like to attract other class associations to hold their championships here," invites Commodore John Duffy.
By Carol Bareuther, Southern Boating June 2015