Unveiling Leverick Bay and Bitter End Yacht Club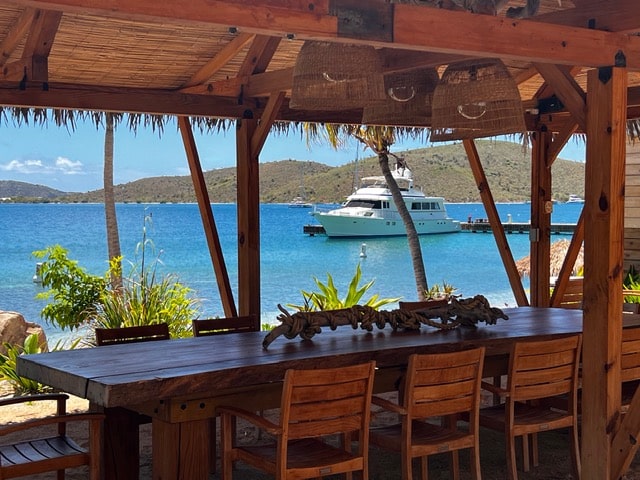 We awoke to a picturesque morning in Leverick Bay, where tranquility set the tone for a day of exploration and delightful experiences. Today we discovered the remarkable post-hurricane transformation, and indulged in the luxurious offerings of this captivating destination. We'll explore Saba Rock and Bitter End Yacht Club, and have all the photos for you too.
Breakfast Onboard and Cruise to Bitter End Yacht Club
Embracing the leisurely pace of the morning, we relished a delicious breakfast onboard our vessel, soaking in the idyllic surroundings of Leverick Bay. With our appetites satisfied, we set sail for Bitter End Yacht Club, excited to explore its rejuvenated offerings.
The Remarkable Post-Hurricane Transformation
Upon our arrival at Bitter End Yacht Club, we were astounded by the remarkable restoration work that had taken place following hurricanes Maria and Irma. The attention to design detail was evident, especially in how they incorporated recovered relics from the storms. It was a testament to resilience and a celebration of the destination's vibrant spirit.

A Plethora of Amenities and Water Sports
As we explored the property, we discovered an array of enticing amenities at Bitter End Yacht Club. Two restaurants awaited us, offering delectable culinary delights. The market and gift shop showcased an array of treasures, while the lounge provided a serene space to unwind. The abundance of water sports activities ensured there was never a dull moment.
In the afternoon, we hopped on the dinghy and made our way to Saba Rock—a small island boasting a hotel, restaurant, and bar. This hidden gem offered a unique experience with its well-thought-out luxury and attention to design details. As we soaked in the ambiance, we couldn't help but be captivated by the charm of this secluded destination.
An Exquisite Dinner at The Clubhouse
Our culinary journey continued with a memorable dinner at The Clubhouse within Bitter End Yacht Club. With a delectable menu featuring lobster, tuna, snapper, and seafood stew, every dish was expertly prepared to perfection. The knowledgeable staff added to the overall dining experience, providing recommendations and enhancing our evening.
Mesmerizing Live Music and Must-See Destination
As the night unfolded, we were treated to exceptional live music, adding an enchanting touch to our time at Bitter End Yacht Club. The talented performers elevated the atmosphere, creating an unforgettable evening. Without a doubt, this destination is a must-see for those seeking unparalleled beauty, luxury, and entertainment.
The Adventure Continues...
Our day in Leverick Bay and Bitter End Yacht Club left us in awe of the transformation and revitalization that had taken place. From the stunning design details to the mouthwatering culinary experiences and captivating entertainment, this journey showcased the allure of these remarkable destinations. Bitter End 2.0 truly exceeded our expectations, leaving us with cherished memories and a longing to return. Join us on our next adventure as we continue to explore the wonders of the British Virgin Islands with The Moorings.
Also, enjoy this Google map provided by Atlastrax showing our GPS travels from today! Atlastrax is a satellite tracker for boats and assets that can be taken to remote destinations because of its ability to run on batteries. We love using our tracker for safety during excursions like this. Atlastrax can also be used for theft recovery purposes though! It's a wonderful product we love sharing.