A Scenic Escape to Anegada Island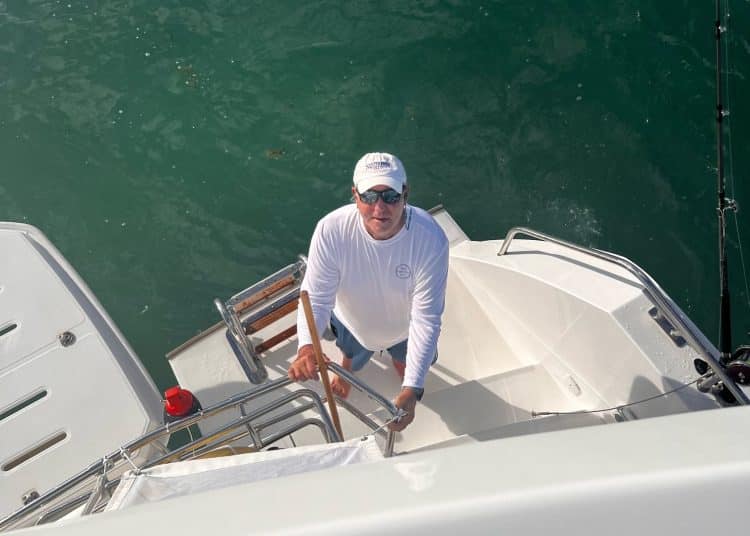 Enjoy this leg of a truly unforgettable journey as we set sail from Bitter End Yacht Club to the remote and captivating Anegada Island. Today we go through our scenic adventure. Starting with securing mooring balls to indulging in delectable lobster feasts and exploring the island's natural wonders. Get ready for a true off-the-beaten-path experience!
A Swift Voyage to Anegada Island
Leaving behind the charm of Bitter End Yacht Club, we embarked on a 13-mile journey to reach Anegada. Surprisingly, the voyage took just over an hour, making it an easily accessible destination for those seeking a slice of paradise. We joined fellow boaters racing for mooring balls in Setting Point basin, emphasizing the need to arrive early to secure a coveted spot.
Warm Welcome and Culinary Delights
As we arrived, we were greeted by Sam from Potters by the Sea, who serenaded us from his skiff and extended an invitation to dine at his establishment. However, we opted to stick with our original plan and headed to the Anegada Reef Hotel. Seated at seaside tables in the sand, we relished in the pleasure of savoring perfectly cooked 1 1/2 pound lobsters, grilled to perfection on wood-burning grills.
Exploring Pristine Reefs and Island Gems
Before our sumptuous feast, we rented a Jeep and ventured to the northern side of the island, where Loblolly Bay awaited us with one of the world's largest reefs. Donning our snorkeling gear, we immersed ourselves in the underwater wonders, mesmerized by the vibrant marine life. As we continued our exploration, we stumbled upon breathtaking vistas and discovered the hidden gem of Anegada Beach Club—a stunning resort featuring thatched bungalows nestled right on the beach. The resort's spa and pool, the only ones on this island, added an extra touch of luxury to our island adventure.
Anegada Island's Off-the-Beaten-Path Charm
Anegada, though off the beaten path, proved to be a treasure trove of natural beauty and tranquil seclusion. The island's pristine beaches, thriving reefs, and welcoming locals provided an authentic and immersive experience. It was a reminder of the extraordinary rewards that come with venturing beyond the conventional tourist routes.
The Adventure Continues...
As our time on Anegada drew to a close, we couldn't help but be captivated by the island's unspoiled allure. From the excitement of securing mooring balls to indulging in unforgettable lobster feasts and immersing ourselves in the island's natural wonders, this leg of our journey will forever hold a special place in our hearts. Next on our itinerary is Scrub Island, where new adventures and discoveries await. Stay tuned for our continued exploration of the British Virgin Islands with The Moorings.
Also, enjoy this Google map provided by Atlastrax showing our GPS travels from today! Atlastrax is a satellite tracker for boats and assets that can be taken to remote destinations because of its ability to run on batteries. We love using our tracker for safety during excursions like this. Atlastrax can also be used for theft recovery purposes though! It's a wonderful product we love sharing.