Upgrading Your Dashboard
Before buying new electronics, make sure you can upgrade your dashboard.
If your display screens freeze up or the images jump around, it's probably time for an upgrade. But don't run to the marine store or go online just yet; first, answer some basic questions to be sure you make the right choices.
Odds are that if your older electronic unit needs repair, it's time to replace it; repair costs can exceed the value of a new unit, plus you'll get the latest technology. Age also plays a critical role. If your electronics are more than seven years old, they should be replaced. You'll also need to answer these questions:
Mix or match? Determine what brand of new equipment is right for your setup. Is it best to stay with your existing brand or add units from a different manufacturer?
Will it fit? Is there enough room in your dash panel to mount the new equipment?
Can I do this myself? Or is this a job for a professional installer? Many factors will help answer you decide.
Up to Standard
Today's sophisticated marine electronics aren't always simply plug-and-play. In the last several years, the marine industry has changed the standards as to how electronic units
talk to each other. If you have older equipment, it probably uses the original NEMA 0183 operational system rather than the newest NEMA 2000 standard.
If you're only replacing one stand-alone unit that is not networked, this won't affect you, but if you have two or more units that share data (like GPS, chart plotter, depth/temperature, rudder-angle transducers or fish-finder) you need to carefully select the new replacement unit so it will communicate correctly with your existing equipment.
Sure, there are data converters to network the old and new communication systems,
but that path, for a do-it-yourselfer, is not foolproof and may be difficult (or impossible) to achieve. One particularly important note is that radar units have a serious compatibility problem. Older radar units are analog and new ones are digital.
If you're planning on getting a digital multifunction chartplotter, you'll have to upgrade your radar to digital because there are no data converters available. Communication system manufacturers also may have certain operational specifications that aren't compatible with competitors. Most manufacturers caution against cutting and splicing cables which can make mixing/networking one brand with another a difficult task—not impossible, but it's always best as a do-it-yourselfer to choose the path of least resistance.
There are a variety of adapter cables on the market, but the choices get confusing and each one adds expense and another connection point that can spell trouble over time. Do your homework before you purchase so you have a smooth, headache-free installation.
Dash Space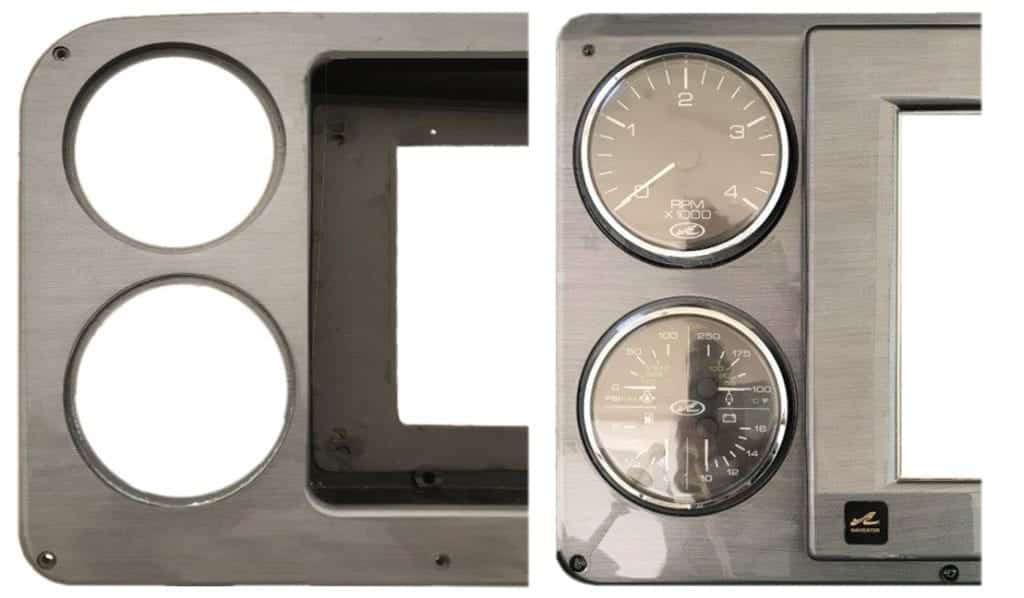 A big barrier that frequently stops a boater from upgrading equipment is where to mount it. New multifunction displays usually sport a larger screen and simply need more space
than older units. Don't take a quick measurement and think there's not enough room. Many manufacturers offer special bezel adapter kits (the bezel is the trim frame around an instrument) that allow you to change equipment sizes in your dash and eliminate the need to cut new holes, patch openings or replace the dash.
If you measure every which way yet can't seem to find the right amount of dash panel space, there's still hope. Several companies specialize in fabricating new dash panels, and some offer exact color and finish to match your original dash. A customized dash allows you to relocate gauges you want to keep, such as tachometers, fuel, oil pressure, engine temperature, and alternator status, to make the necessary room for a larger display. Sometimes, just moving the gauges a bit to each side creates the necessary space.
Some dash fabrication companies can even paint the protective covers of your new instruments to match your boat's factory dash texture and color. The cost is reasonable and contributes to a professional, factory-installed look.
With that in mind, determine the best approach for you. Installing and connecting boat instrumentation can be easy if you're a good "fix-it" guy and have some prior experience. It can also be a nightmare trying to figure out all the cross-connecting cables and wiring. In that case, hiring a professional installer is always best.
By Joe Curley, Southern Boating July 2019