Angler Apparel: Dressed to Protect
Hooking into a big gamefish on the open ocean and then fighting it to your boat is both a thrill and an addiction second to none. But a serious angler must endure sun, heat, humidity, wind, and salt water, so it's imperative to dress for comfort if you want to thoroughly enjoy (and survive) the day.
What's more, unless you want to put your dermatologist's kids through college, you'll need to protect your skin from the elements. Speaking of which, two skin protection ratings are often confused. Sun Protection Factor, or SPF, is the rating for sunscreen lotions applied to your skin. Ultraviolet Protection Factor (UPF) is what to look for in clothing. UPF is rated from 15-50. A UPF above 30 gives about 97 percent UV protection, so that should be your minimum. Try this angler apparel to keep your skin safe from the sun.
Picking an outfit for a day on the water used to be simple: cargo shorts and a T-shirt. Now, it's full of terms like polytetrafluoroethylene, hydrophilic and hydrophobic. Clothing for fishing has gone technical, but the bottom line is it should keep you shielded, cool, dry, comfortable, and looking good.
Here are some examples for the well-protected, well-dressed angler:
Jackets
In the tropics or during the summer months, you (usually) don't need a jacket to keep warm, but keep one handy for those occasional rain squalls. Look for jackets that are breathable and waterproof (not water-resistant). Check that zippers and stitching are
waterproof and that there are sealed pockets inside and out for your stuff. Storm flaps over the zippers are a bonus as are cuff closures to keep water out and chafe protection that goes easy on your neck. Tip: If you're fishing offshore, stay away from camo jackets
worn by fishermen on rivers and streams—if you fall overboard, you'll be hard to spot.
WindRider's Pro Foul Weather Jacket
WindRider's Pro Foul Weather Jacket is designed by boat builders, and is waterproof and breathable with fully taped seams, roll-away hood with a bill, and has a double storm flap and zipper to keep water out. A high, fleece-lined collar protects from wind.
MSRP $137; windrider.com
Gill OS24JW Fishing Rain Suit
Gill knows a thing or two about being around water. The new women's OS24JW fishing rain suit is a combination of hydrophobic and hydrophilic technologies to keep you 100 percent protected.
MSRP $349; gillmarine.com
Shirts
Don't even think about spending a day on the water in just a T-shirt, you'll fry your arms—long sleeves and high collars are the way to go. Shirts should shed heat through vents or special fabrics. Go for high UPF ratings; many have antimicrobial treatments that control odors (after eight hours, you'll thank me) and fabrics that are soft on the skin.
AFTCO's Barracuda Geo Cool Hooded Long-Sleeve Shirt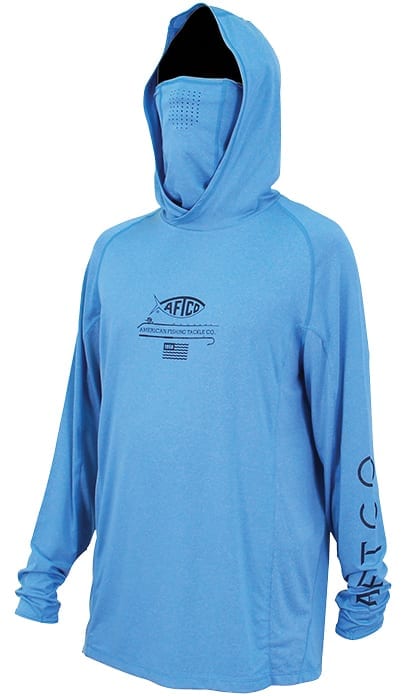 AFTCO's Barracuda Geo Cool hooded long-sleeve shirt uses its Geo Cool fabric to cool you while wicking away moisture. It features vented mesh panels on the sides, an integrated vented face mask in the hood, a UPF 50 rating, and thumb loops to keep sleeves from riding up.
MSRP $70; aftco.com
Guy Harvey Women's Turtles Haven Long-Sleeve Shirt
It's not just guys that have to worry about the sun; ladies do,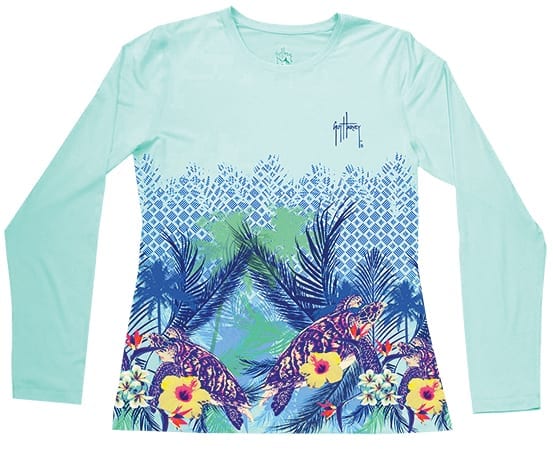 too, and the Guy Harvey Women's Turtles Haven long-sleeve shirt has performance and styling with Guy Harvey's artwork. The 88 percent poly fabric is comfy, antimicrobial and moisture wicking with a UPF 30 rating.
MSRP $36; guyharveysportswear.com
Columbia's PFG Bahama II Long-Sleeve Shirt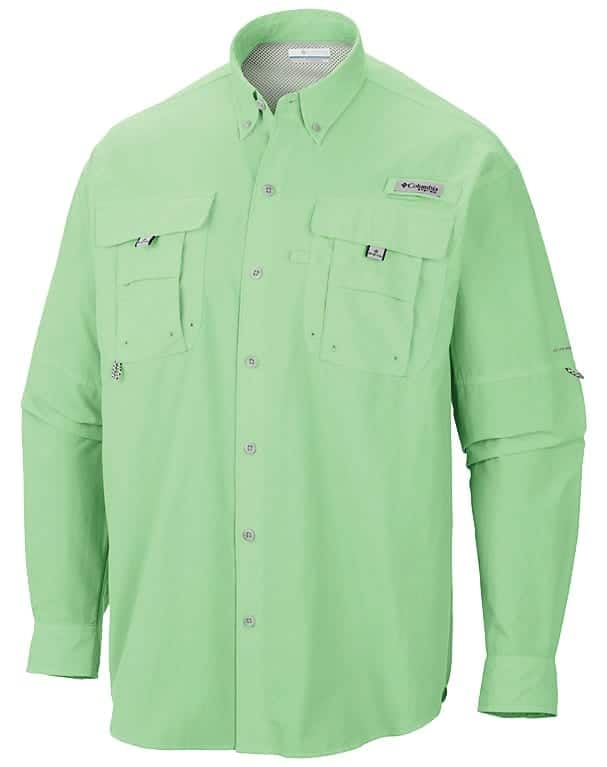 The PFG Bahama II long-sleeve shirt from Columbia is practically an angling tradition—as
capable in the cockpit as it is stylish at the yacht club with its button-down collar. The shirt is made with fast-drying, lightweight nylon (Omni-Shade, UPF 30 fabric) and features mesh-lined back vents and tabs on the upper arm to roll up the sleeves. It has four chest pockets to store your essentials and comes in a variety of colors.
MSRP $48; columbia.com
Hats
The sun doesn't care if you have a thick head of hair; it will bake your noggin anyway. A visor won't cut it, nor a baseball cap (even if you wear it backward to be trendy). You
need a serious hat.
Sunday Afternoons' Sun Guide Cap
Sunday Afternoons' Sun Guide Cap provides head protection, neck shade and a face mask in a stylish package that adapts to your needs. It's a baseball cap with a clamshell brim that folds so you can stuff it in your hip pocket. It uses a convertible ventilation system
on top to release the heat. Its microfiber cape is lightweight, ventilated and removable so you can wear the cap ashore. Even better, the cape snaps in the front to become a mask to protect your face.
MSRP $38; sundayafternoons.com
Quicksilver Pierside
When the action is a little slower, go with the traditional lifeguard's hat. The Quicksilver
Pierside is made of 100-percent straw with an adjustable chin strap and gives all-day sun protection that looks cool and keeps you cool.
MSRP $20; quiksilver.com
Ultra Sun Hat from Coolibar
The "booney" hat has been a fave for decades. It combines a floppy brim with a chin strap for breezy days. You'll find it at a number of stores from the classic Tilley to West Marine
to Columbia.
The Ultra Sun Hat from Coolibar is an astounding UPF 50+ in a booney style with removable face drape that has a shapeable wire around the nose piece. A chin strap and sizing cord in the crown make for a custom fit.
MSRP$55; coolibar.com
Shoes
There are a few folks that like flip-flops in the cockpit, but to fight a fish, opt for shoes that keep you planted on the deck.
Pelagic's Pursuit 6" Deck Boot
Most of the time, it's nice to keep your feet dry, and Pelagic's Pursuit 6" Deck Boot is 100 percent waterproof.
The insole and cooling liner provide arch support, and the non-slip, non-marking sole has gutters to rid water whether you're backing down on a big one or hosing down at the
dock. A nice touch is the stomp pad for easy boot removal.
MSRP $89; pelagicgear.com
Cognac & Vanilla Deck Shoe from Tucket
The Cognac & Vanilla Deck Shoe from Tucket is the perfect cockpit to cocktails footwear—it looks terrific, feels great and has drains built in to empty any unexpected water douse.
Rinse it off, stamp it dry and you're off to the club.
MSRP $59; tucketfootwear.com
Face Masks
Perfect for the sportfishing angler, these stretchy masks cover your neck, your face and nose, and the dermatologist's favorite part, the ears. They protect from the sun, wind and cool air.
Grundéns Fish Head Neck Gaiter
Long a supplier for commercial fishermen, Grundéns offers the Fish Head Neck Gaiter, a stretchy nylon/spandex mix with a UPF 50 rating that wicks away moisture and is quick-drying. When not used as a mask, the gaiter works as a bandanna or headband. Available in several colors and designs.
MSRP $25; grundens.com
Patagonia's Sun Mask
Patagonia's sun mask with UPF 50 protection sports a tapered design to cover the neck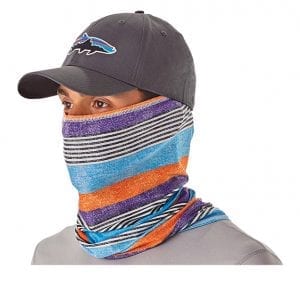 and stay in place. Seams are flat-sewn for minimal chafe, and the fabric minimizes instances of eyewear fogging and voice muffling.
MSRP $29; patagonia.com
By Chris Caswell, Southern Boating June 2019