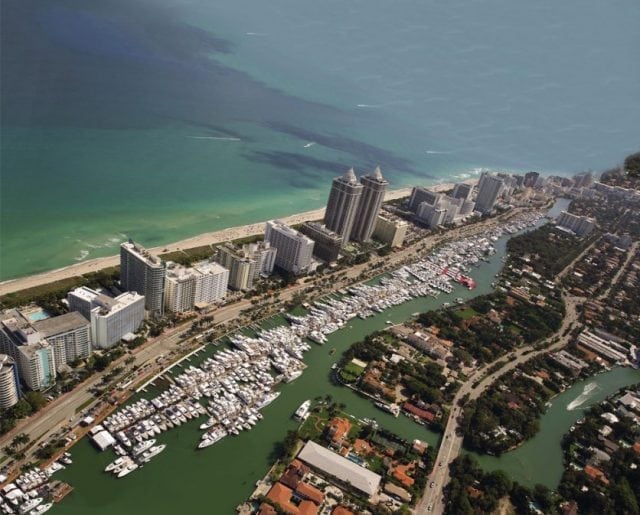 Two Shows, One Weekend. Explore the greatest boats in the world at both the 2018 Miami Boat Shows:  The 77th Miami International Boat Show & Strictly Sail and the 30th Annual Miami Yacht Show.
The five grandest days in boating take place in Miami, from February 15 to 19, 2018, at the 30th Annual Miami Yacht Show, and the 77th Annual Progressive Insurance Miami International Boat Show and Strictly Sail Miami.
Miami Marine Stadium Park & Basin once again plays host to the Miami Boat Show over President's Day weekend, attracting an estimated 100,000 boating enthusiasts. In addition, Strictly Sail Miami moves to the Miami Marine Stadium, for more than 1,400 boats in-water and on land on Virginia Key. More food and beverage options, a new VIP deck lounge, Discover Boating Hands-On Skills Training workshops, and more than 200 boats available for sea trials for serious buyers further enhance this venue of an island oasis with expansive views of Biscayne Bay and the Miami skyline. Now in its third year at the Miami Marine Stadium, an enhanced transportation plan includes additional free water taxi pick-up and drop-off locations and free bus shuttles.
The Miami Yacht Show takes place on Collins Avenue across from the iconic Fontainebleau and Eden Roc hotels. The in-water-only display covers more than 1.2 million square feet of space from 41st Street to 54th Street with extraordinary and uniquely designed yachts and superyachts arranged in dedicated new and brokerage sections, making it easier to find specific boats. The show has also improved the new Superyacht Miami location at Island Gardens Deep Harbour on Watson Island to accommodate deep-draft vessels up to 500 feet. To see the more than 20 superyachts on display at this location, interested guests can make appointments by contacting exhibitors with displays at the venue or with Show Management.
Miami Yacht Show parking options include the Convention Center parking and the 67th Street parking garages, water taxi service from both ends of the show, and valet service at the center of the show. Free bus shuttles will be available from the recommended parking garages to the five bus and water taxi stops on Collins Avenue. Here's a preview of the new boats at each of the shows.
By Doug Thompson, Southern Boating February 2018
SHOW INFO
FEBRUARY 15 – FEBRUARY 19
30th Annual Miami Yacht Show
Collins Ave. from 41st to 54th Streets, Miami Beach, FL
10 a.m. to 6 p.m. • miamiyachtshow.com
Admission: $25 daily
77th Annual Progressive Insurance Miami International Boat Show & Strictly Sail Miami
Miami Marine Stadium on Virginia Key
3501 Rickenbacker Causeway, Miami, FL
10 a.m. to 6 p.m • miamiboatshow.com
Admission: $40 for Premier Day (February 15)
$25 every day thereafter