Maritimo X-60
The new Maritimo X-60 was inspired by adrenaline-fueled offshore racing, but zen-like spaces foster memorable moments.
You think you know Maritimo until you get to know the Maritimo X-60.
Maritimo, a premier Australian boat manufacturer, is owned by legendary boat builder Bill Barry-Cotter. He started Mariner Cruisers in 1966, founded Riviera Yachts in 1980, sold  Riviera in 2002, created Maritimo in 2003. The first Maritimos were enclosed flybridge cruisers—the M-Series—and the cruising motoryachts that feature signature floating internal stairways with enclosed skylounges and the helm aloft are still in production.
They also offer the S-Series, a line of stylish sedans, but Barry-Cotter and his family don't just build pleasure boats. They also build world-renowned, international offshore powerboat racers, and it's through the design, build and racing processes that keep them informed about new technology in engines, equipment, and materials that can transfer to recreational boats.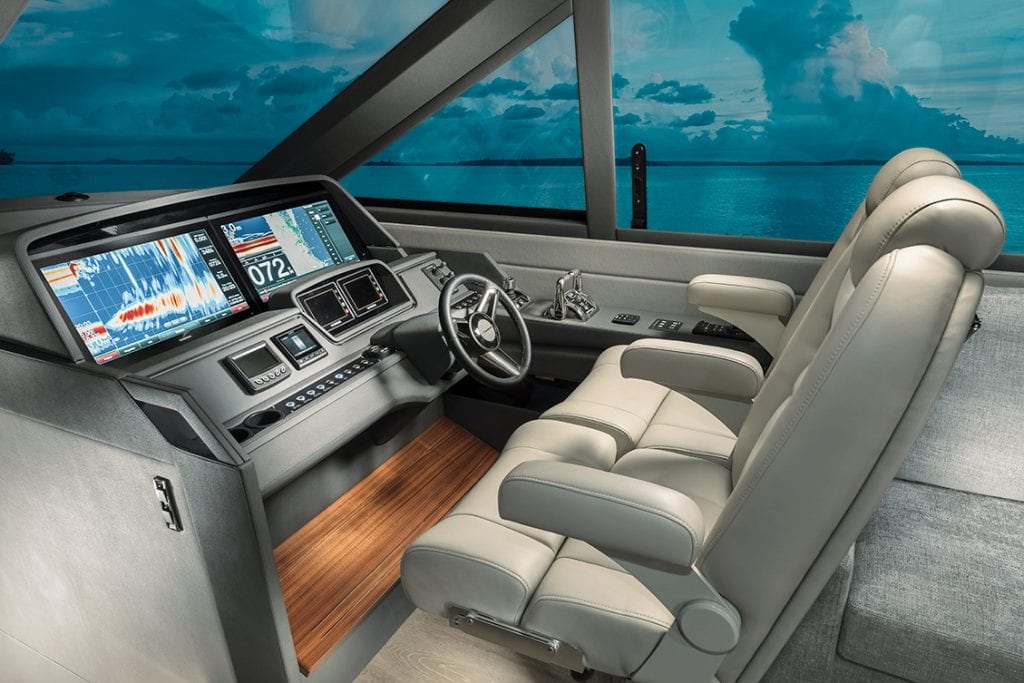 Maritimos are shaft driven with small shaft angles to provide fast, efficient performance. Barry-Cotter's son, Tom, an accomplished offshore racer, boat builder and designer himself, is an integral part of the Maritimo team. He developed design ideas to showcase Maritimo's strengths that differ enough from the M and S series boats that they designated a new X-Series. The first of these new models, the X60, debuted at the Sanctuary Cove Boat Show in Australia this past spring, and U.S. models appeared in the 2018 Newport and Annapolis boat shows as well as the Fort Lauderdale International Boat Show.
Welcome to the Beach Club
The X60 Maritimo might look like a highly stylized version of their S-Series sedans, but her sleek exterior belies the extraordinary versatility of her layout and design. I stepped aboard her swim platform with Tom Barry-Cotter, whose concepts and ideas were central to this project. The swim platform is wide with a seemingly standard transom, and twin staircases lead up to the cockpit. Then, with the touch of a button, the entire transom gently lifts and raises like the hatchback of a luxury car. One would expect this to lead to a tender garage (which is an option), but this X60 has an aft "Beach Club." A stairwell leads down to port for easy access to this aft cabin. Inside along the swim platform is a finished bar area where one can sit and look out at the water with a cocktail.