Cabo 41
If you have the faintest impression that the new CABO 41 is not a 100 percent, purebred sportfishing machine, let me enlighten you.
Start by stepping aboard through the extra-wide transom door and walk across the spacious cockpit, but do not, I repeat, do not look left or right at the fishboxes in the sole, the bait prep station, the drawers for lures, the shaded mezzanine seating for watching your lines, or the big bait tank in the transom. Do not look up at the gorgeous PipeWelders tower skimming the clouds on the Cabo 41. Do not look at the seamanlike helm with its Palm Beach-style throttles/shifters on each side of the wheel so you can back down on a big one while facing aft.
Step into the surprisingly roomy cabin and no matter how tired you are, do not sprawl on that inviting settee. Don't linger at the large galley, either, even if you're hungry. Make an immediate left past the large-screen TV and walk into the enclosed head. No need to slow down and splash your face or do any of the usual head duties.
Continue into the enclosed shower stall, and you'll see how serious the CABO 41 is about fishing—the aft bulkhead has stand-up racks for four big fishing poles, complete with the meanest Penn reels. You give up a bit of shower space for this clever storage (I'd make sure the hooks were well-protected), but it underlines the serious fishing DNA of this new 41-footer. No, you don't have to take the rods out before you shower; there's plenty of
room (30 by 40 inches) for big guys, the fresh water is good for the reels and a little shampoo isn't going to faze these large guns. If you don't want them watching you, turn around.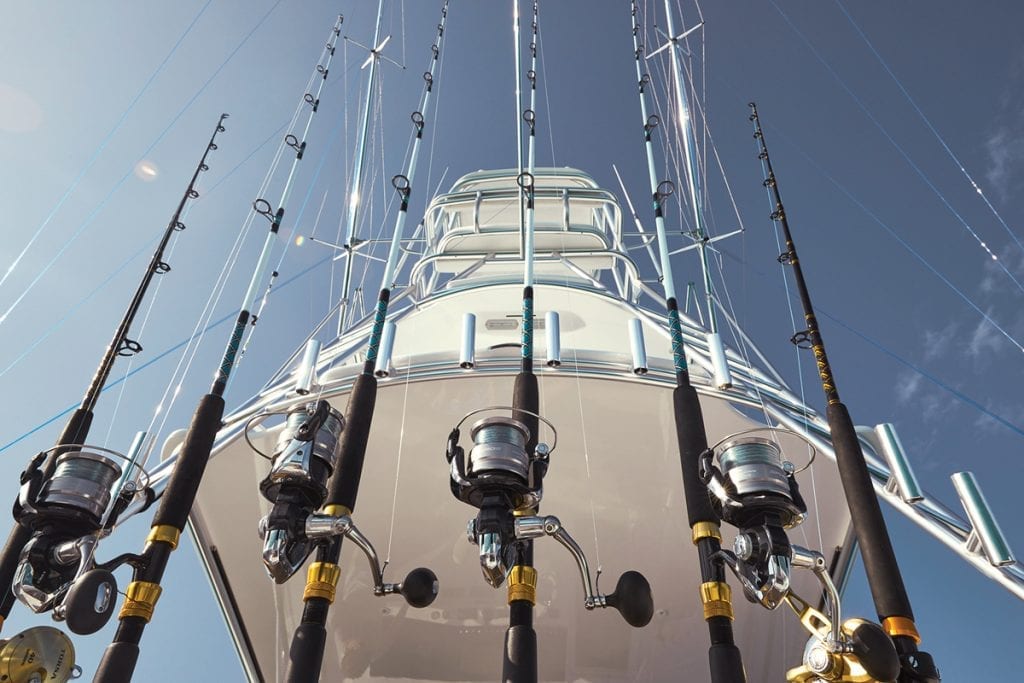 California Roots
The CABO 41 comes from a long line of superbly built yachts starting, surprisingly, with the CABO sailboats originally built in California. When smog in the Los Angeles basin got so bad that air quality management bureaucrats forbade opening acetone cans (and building largish fiberglass boats), the company moved to California's high desert
and shifted its sights to building extraordinarily good sportfishing yachts.
Hatteras Yachts, seeing it first as a serious competitor and then as a smart acquisition, bought CABO and moved it to the high-tech Hatteras facility in New Bern, North Carolina.
The one thing Hatteras was careful to bring along was the high quality that has always marked CABO—if you're a CABO aficionado, you'd be hard-pressed to tell if this CABO
41 was built in a dusty desert town or by a bunch of good 'ol boys in the Carolinas.
Having seen boats from both, I can say that you won't be disappointed with the Hatteras iteration of CABO. Seams and fiberglass joints are so tight that they don't need the usual
gallons of silicone to make them look good, and you could eat out of the bilge. Quite frankly, everything is just right. Here's how right: This is the only all gelcoat-finished boat built by Hatteras—the others are painted.
Back Onboard
Let's retrace our steps through the big transom door (with humongous hinges that look like they came off a bulldozer cab). Centered in the transom is a 48-gallon, double-lid bait tank, and on each side of the sole are two huge insulated fishboxes with macerators.  From their size, it's clear that CABO is expecting you to land some serious game fish. Raw-water wash downs get rid of anything icky, and the middle of the cockpit has a molded-in aluminum reinforcing plate ready for something like the gorgeous varnished teak leaning post on our review yacht.
Up a step is a wide mezzanine bench seat that overlooks the cockpit action with room underneath for an optional bait freezer or Eskimo 500-pound-per-day ice maker. Our boat also had the optional bait prep station which, quite frankly, is a no-brainer on this war wagon. It has enough drawers for lures and rigs you've only dreamed about, plus a fridge and reels for rigging your own lines.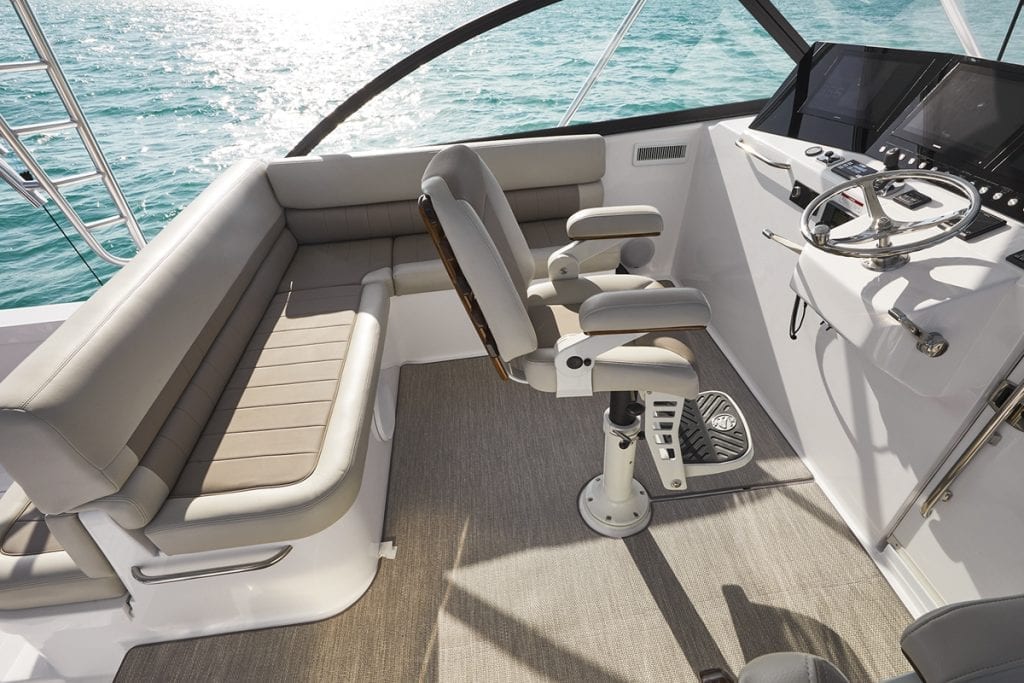 Helm? Oh, yeah, really sweet! Single or double pedestal seats (our boat had Pompanettes so inviting you involuntarily sat in one) are positioned in front of a stainless steel wheel with a brodie knob. There's also an L-shaped lounge for onlookers and kibitzers. Our test boat had a pair of monitors for the Garmin electronics package with all the usual bells and whistles. Plus, there is a monitor dedicated to the engines and onboard systems.
Interior Space
Since you were in a rush to get to the shower earlier, take a leisurely look around the cabin. Notice that there's no raw fiberglass. The cabin is a warm European
walnut with a satin finish. The settee really is as comfy as you thought, and it faces the big-screen TV on the aft bulkhead. The galley has a surprising amount of counter space for laying out sandwich makings (for the true gourmet) plus niceties that include a ceramic cooktop, under-counter fridge, oven, and microwave.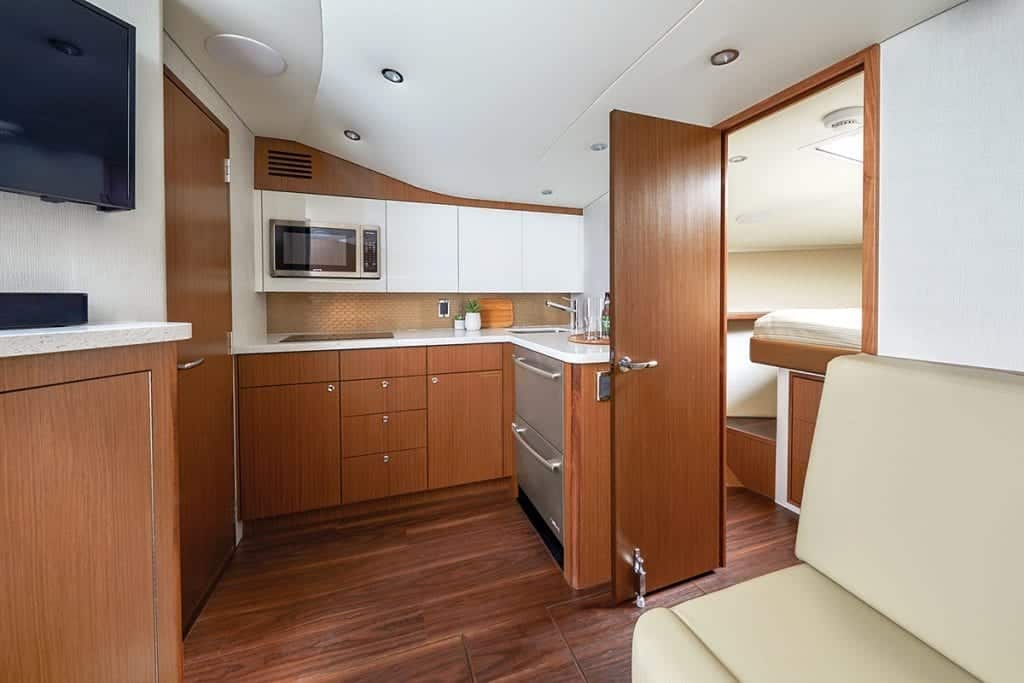 You've already been through the head, although you might not have noticed that the head is a Jabsco electric model. Or that there's a civilized sink for trimming off a two-day growth. A raised berth in the bow cabin falls somewhere between queen and king at the pillow end and tapered at the feet to provide walkaround space. Two hanging lockers plus
cavernous pull-out drawers under the berth should keep you in clothes for long weekends and yes, there's also rod storage here, but thankfully, you don't have to sleep with them.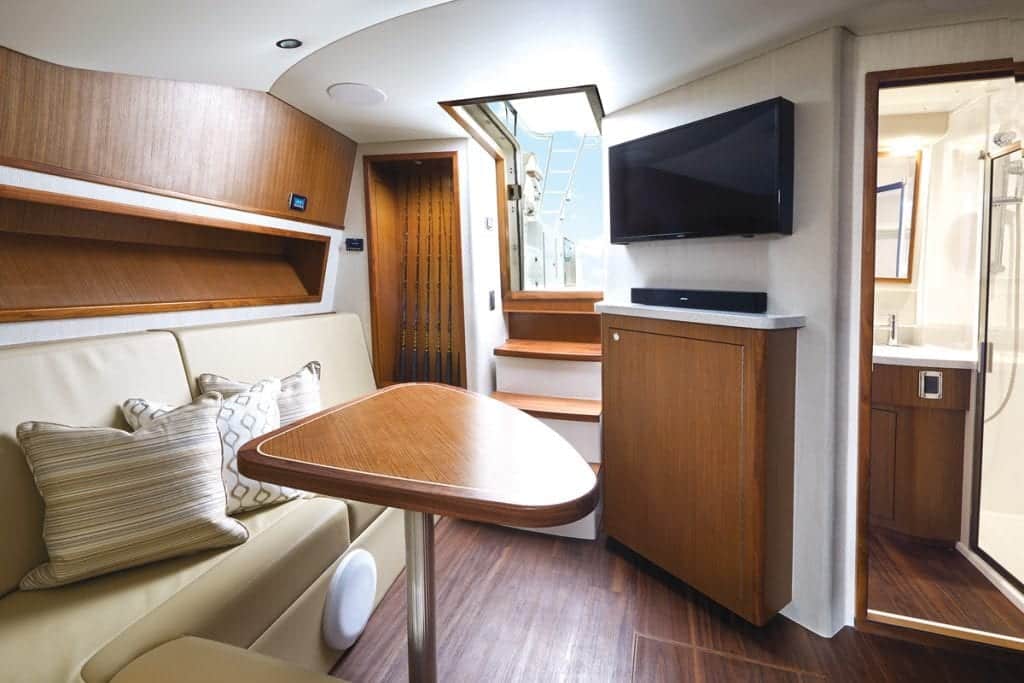 Speaking of rod stowage, you might have been admiring the cabin settee when you should have looked above it to see there's dedicated stowage for four more fishing rigs. What looked at first like a hanging locker by the cabin entry is… wait for it…stowage for maybe a half-dozen more rods.
Up Above and Down Below
Another no-brainer, depending on what fish you're chasing, is the full PipeWelder tower with electronic mounts, outrigger controls and a full steering station protected from the sun by a fiberglass hardtop.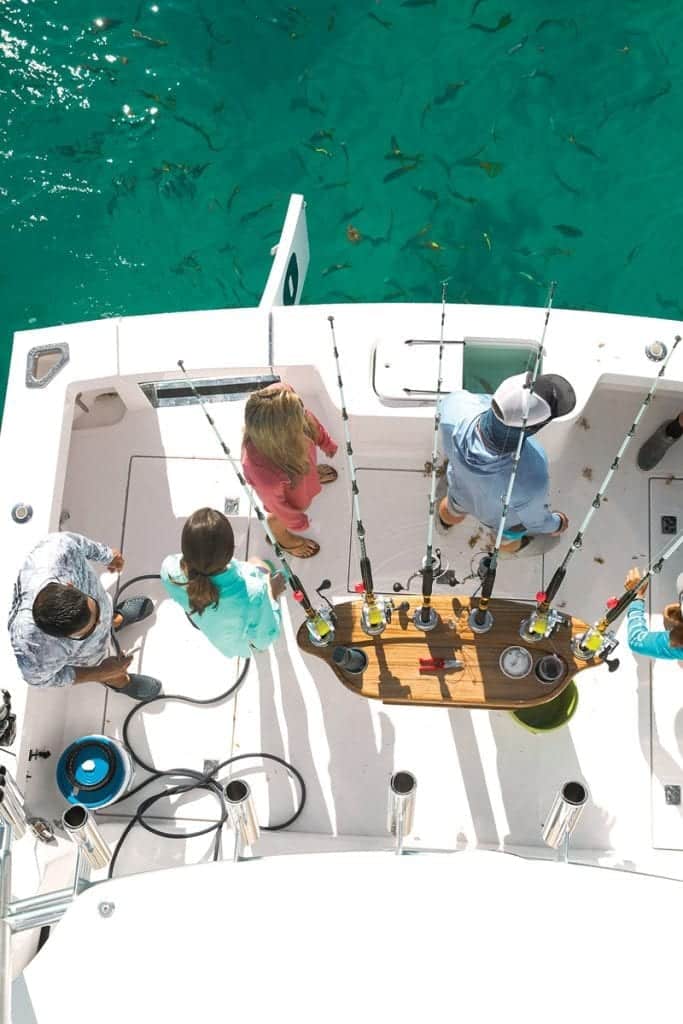 The CABO 41 is available with several power options, depending on your preferences. Our test boat had the Cummins QSM 715-hp diesels with straight shafts. However, if you're a Volvo aficionado, there are D11 diesels from 625-725 horsepower. With our 715s, we topped out at about 40 knots (the same as with the biggest Volvos). But here's the zinger: We were only sucking down 65-70 gph of fuel with the hammers down. Drop back to 30 knots, and you cut your consumption to under 50 gph running at 2,100 rpm, so your engines will last forever.
The spacious engine room was a welcome surprise. You won't want several guys in there, but all the access points are readily within reach. And, here's a thoughtful touch: The CABO 41 has room for a Seakeeper gyrostabilizer.
Having known CABO back in the day, I was delighted to see that Hatteras has maintained the quality standards set in the high desert. If you're an angler (or even a family heading
for Bimini), the CABO 41 is not to be missed—just make sure the hooks are turned away in the shower.
Specifications
LOA: 40′ 10″
Beam: 15′ 9″
Draft: 3′ 5″
Displacement: 31,000 lbs.
Power: 2x Volvo D11
Cruise/Max speed: 30/40
knots
Range: 304 nm @ 30 knots
Fuel/Water: 550/95 gals.
Price: Inquire
Contact
CABO Yachts
110 North Glenburnie Rd.
New Bern, NC 28560
(252) 633-3101
caboyachts.com
By Chris Caswell, Southern Boating July 2019