Lance Thomas: NBA to Angler
Lance Thomas, forward for the New York Knicks, is up for any challenge be it on the court or the fishing grounds.
It was a tough year for the pro basketball team New York Knicks, so when the season ended this past April, forward Lance Thomas headed south to go fish—not the card game, but for game fish in the Gulf of Mexico. After all, he's a professional athlete, so why not the intense, competitive world of sport fishing?
The Knicks didn't make the postseason, so Thomas headed to the 2019 fishing tournament season that began at the Orange Beach Billfish Classic. He heads over to the Mississippi Gulf Coast Billfish Classic June 3-9 in Biloxi and finishes the series back at Orange Beach, Alabama, for the Blue Marlin Grand Championship July 10-15, a serious schedule for someone who only started fishing in the Gulf about five years ago.
The First Time
Thomas didn't even pick up a fishing rod until he was in college. His best friend, Kenjuan Nichols, took him out fishing on Falls Lake, a short way from Duke University in Durham, North Carolina, where he studied and was a member of their storied basketball program. They caught croaker and crappie, and "I didn't like it," he says. "I didn't want to touch any of the fish. I'm a city boy and didn't want to touch worms; it wasn't something we did as kids growing up." Thomas was born in Brooklyn and raised by his mother in New Jersey.
"We kept going and eventually had a few trips when every cast we threw, we got a hit. It got to the point where he wasn't able to help me take everything off the line anymore, so he said, 'You need to do it.' I was having so much fun while we were doing it that I was like, 'You know what? Forget it. I'm just going to knock it out.'" That was the beginning. He finally got his hands slimy and became a fisherman.
Going Big
Thomas got the call from the NBA in 2012 and went to play with the New Orleans Hornets (now the Pelicans). In his second season, he and Nichols joined a local captain and a few friends and headed out on the Gulf of Mexico for some deep-sea fishing. Off the southern tip of the Mississippi River, his reel went for a whirl and was front and center with fish on. "I remember holding the rod, and I was like what the…what am I doing right now?" he says. "My adrenaline was pumping, everyone on the boat was excited and being an athlete, I manned up to do what I had to do." What he did was fight for what seemed like two days (but really, about an hour) to pull in his first offshore catch, a 107-pound yellowfin tuna.
"I got whooped pretty bad and I had no idea what I was getting myself into. It literally felt like there was a Porsche at the other end of the line and somebody put their foot all the way down and floored it," he explains. "I remember being completely exhausted after I landed the fish. I couldn't even pick it up. My fingers were cramped, and my body was cramping up; it was an all-out battle that made me have high respect for the sport and for the fish knowing that they started as something so small and grew into something so massive. Everything was sore," he says, adding that he would have lost his job if had to go pick up a basketball after that. "I never experienced anything like that."
From that day forward, Thomas was hooked. "This is what I want to do," he recalls. "I want to be able to do this; I want to be able to create that moment for someone else. I remember how excited I was when I got back to land. I called all my friends to tell them about it."
Gulfside
He bought his first boat the following year, a Sea Hunt Gamefish 25. "I took that boat all over the Gulf," he says. "I've never been afraid of taking it anywhere. I was always the tallest guy with the smallest boat, but I love the sport, and I was always out there. I learned a lot from some of my friends who are captains down there. Capt. Brett Ryan has been a big help with teaching me the fishery out of Venice, Louisiana, as well as Capt. Andy Cook. Those two helped me out early on when I was getting my feet wet (pun intended)."
Pay it Forward
His excitement at that first big catch led Thomas to start Slangmagic, a tournament fishing team, in 2017 that includes Capt. Ryan and his friend Nichols along with seven other diverse talents. They won the first event they entered at the Faux Pas Rodeo in Venice, Louisiana, and there was no stopping him.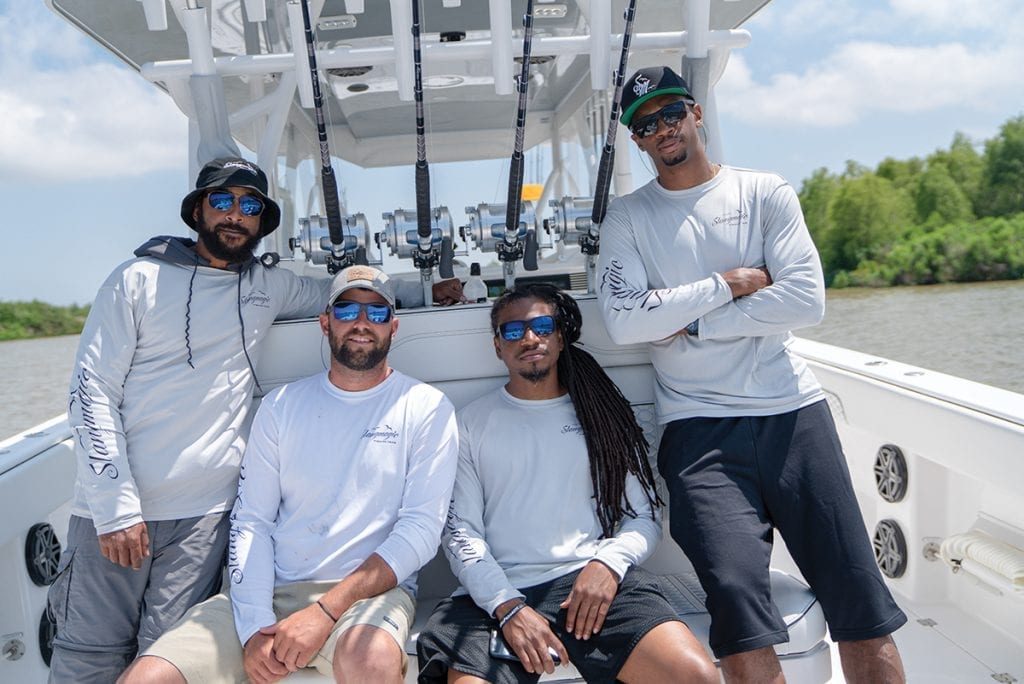 He became an avid angler and earned his U.S.C.G 100-ton master license. To sharpen his skills, he learned all he could about technique, gear, how to read the weather and seas, and began to "trust his work." As a kid, Thomas participated in the New Heights program that is designed to educate and empower youth to become leaders, champions and student-athletes through academic support and sports. "It was a gamechanger for me in regards to leadership," says Thomas.
For the Kids
His focus on basketball helped him become the ultimate student-athlete with accountability for his actions on and off the court. "As an adult, when you look back and see how things were done, it's amazing how well-rounded the organization is, and I want to do the same thing through fishing." In that spirit, Thomas started Slangmagic, not only to go fishing but also to share the thrill of it with today's youth.
"I've always been great with kids, and I think about things I wish I had when I was growing up," he says. "I wish I would have been introduced to the sport of fishing at an earlier age and that wasn't the case for me, but shouldn't be for others. I'm always thinking of ways to give back and involve the youth, and it was a no brainer to bring on ambassadors for our program."
The Slangmagic Ambassador program involves avid anglers, male and female, up to age 18. One reason Thomas started Slangmagic was to shed light on how amazing the sport is and to give them an understanding of the game and how it can affect them. "I recently added fifteen youth ambassadors to the fishing team."
Ambassadors
The ambassadors live in different parts of the country with one in Lebanon. "I encourage them to be outdoors and go fishing to get away from video games and the TV," says Thomas. "I send them free merchandise from the Slangmagic apparel line and encourage them to create free content for us—their catches, what they're doing—it's something unique for the youth to let them feel a sense of ownership and give them the responsibility that they can do it, too, and be whatever they want to be. They'll also be part of a youth leadership and personal development program I started called Trust Your Work."
The program teaches kids to be ultimate leaders and how to understand the importance of giving back to their community through a detailed leadership curriculum that includes the awareness of core values, different ways to lead and leadership styles.
"These kids are going to be the future of the sport, and we want to make sure they are fully aware of how everything works and how to lead," explains Thomas. "When it's their turn to be in a position of power, we want these kids to be confident leaders and know how to work in group settings."
In addition, Thomas and the Slangmagic team will host an event before each tournament this season called The Slangmagic Experience. "We'll bring about forty kids and their families to the tournament grounds. We'll give them an exclusive behind-the-scenes tour with a mini captain's meeting to show how tournaments work." They'll get a chance to look at the tournament boats, tour Slangmagic, and finish with a private lunch.
The Boat
Thomas moved from the Sea Hunt to a Yellowfin 36. "I loved that boat. It was great. But when I started hitting the Gulf Coast Triple Crown circuit for blue marlin, I needed a bigger boat, so I bought an Invincible 40-foot catamaran," says Thomas. "The catamaran is a game changer, especially in the Gulf where the seas have a mind of their own and can flare up on you at any time. I think the beauty of the Invincible is that in certain seas, it rides like a monohull, really smooth. There's not a sea condition it can't handle."Thomas wanted a more spacious boat due to his height and the number of people on the team.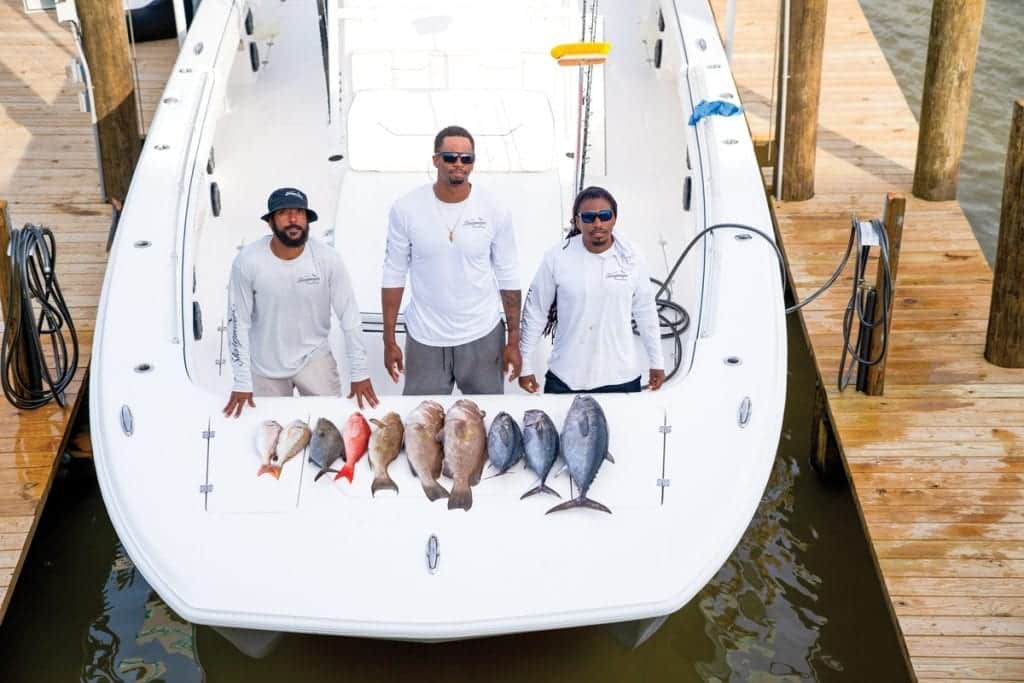 He customized it to include Garmin electronics at the helm, Direct TV for long overnight trips, air-conditioning at the helm and in the cabin, four tuna tubes off the transom to keep tuna alive for bait, quad 350 Mercury Verados custom painted with the team name, JL audio system with 28 speakers, Marsh Tacky outriggers, Connley rods, Lumishore underwater lights, and more.
The Reel Reason
Thomas uses fishing to escape from the crowds. "It was peace of mind," he says. "I was able to disconnect and, you know, really enjoy the tranquility that came with fishing. Obviously, catching is amazing, but even on days when it's been slow, I find great joy in being out there, the camaraderie with friends. Fishing is something that's been helpful not only from a sport aspect but from a therapeutic aspect. It's been something that is an important part of my life. It keeps me focused."
By Steve Davis, Southern Boating June 2019