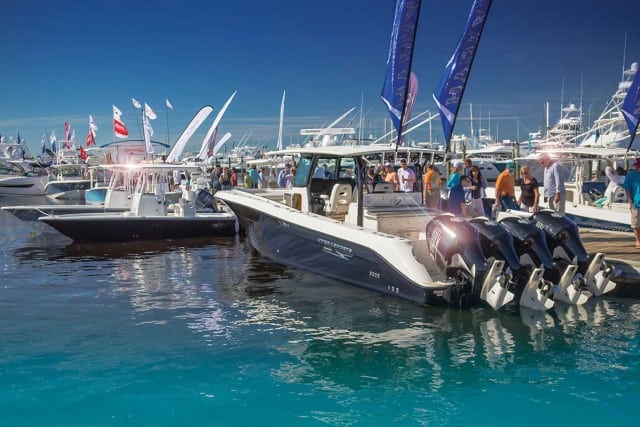 It's almost time yet again for the 43rd Annual Stuart Boat Show. While there are many other boat shows to explore, none of them matchs the passion and care that goes into the planning and execution of the largest boat show on Florida's Treasure Coast. This commitment to excellence is why the Southeast Tourism Society named the Stuart Boat Show as one of their Top 20 Events.
With hundreds of boats on display, it's easy to find something for everyone. The show is not only packed with a large selection of the latest motor yachts, cruisers, center consoles, speedboats, and fishing boats, but it also features everything from marine electronics to nautical clothing and jewelry. There's a lot to see with over 200 exhibitors featuring displays in the water and on land.
What's really unique to the Stuart Boat Show is an extensive seminar schedule that begins on Friday, January 13th at 10:30AM and continues through Sunday. Seminar topics range from navigation and fishing clinics to demonstrations on proper safety gear and equipment. Everyone from beginners to professionals alike can benefit from the knowledge of experts who are all dedicated to their craft and more than willing to share their experiences with show goers. Some of the highlights of the seminar lineup include but are not limited to:
• Vessel Boarding – The U.S. Coast Guard will cover what to expect in a vessel boarding situation and how to safely use onboard equipment.
• "Hook The Future" – The popular kids' fishing clinic returns again presented by Captain Don Dingman, and every participant will receive a free rod and reel.
• Navigation Made Easy – Presented by Captains Chris & Alyse Caldwell, this seminar benefits everyone who wants to brush up on his or her navigation skills.
• Miss Geico Racing Team – The show will also feature the Miss GEICO Offshore Racing Team, owned by AMF Riviera Beach, LLC. Miss GEICO holds multiple world speed records and has won more than 100 individual races.
• Bahamian Village – New for 2017, the Stuart Boat Show will feature the Bahamian Village, where visitors can browse wares from a variety of Bahamian vendors, including nautical-themed jewelry and crafts.
With balmy weather, the Stuart Boat Show welcomes everyone who's interested in the variety of seminars, music, delicious food and drinks, and the excitement that goes into the festivities. The Stuart Boat Show has plentiful FREE parking for easy access to the show grounds. Anyone who has spent time in the "Sailfish Capital of the World" knows how charming the area surrounding Stuart can be. Historic Downtown Stuart is home to a variety of locally owned shops, restaurants, boutiques and art galleries. Start the 2017 season in style in an old Florida atmosphere. stuartboatshow.com
By Susanna Botkin, Southern Boating Magazine December 2016