The Greatest Show on Earth
Historic cars, classic yachts, and antique aircraft took center stage at Ocean Reef Club's 24th Annual Vintage Weekend.
By Bonnie Schultz, Southern Boating January 2020
If you set the bar high, you create great expectations—and the Ocean Reef Club in Key Largo, Florida, certainly did not disappoint. The 24th Annual Vintage Weekend, December 5-8, 2019, showcased a wide array of extraordinary vintage transportation by sea, land, and air for aficionados of any or all to enjoy. And while P.T. Barnum's circus theme was only supposed to apply to the Saturday night gala, it was the vintage cars, classic boats, and spectacular aeronautical performances that became The Greatest Show on Earth.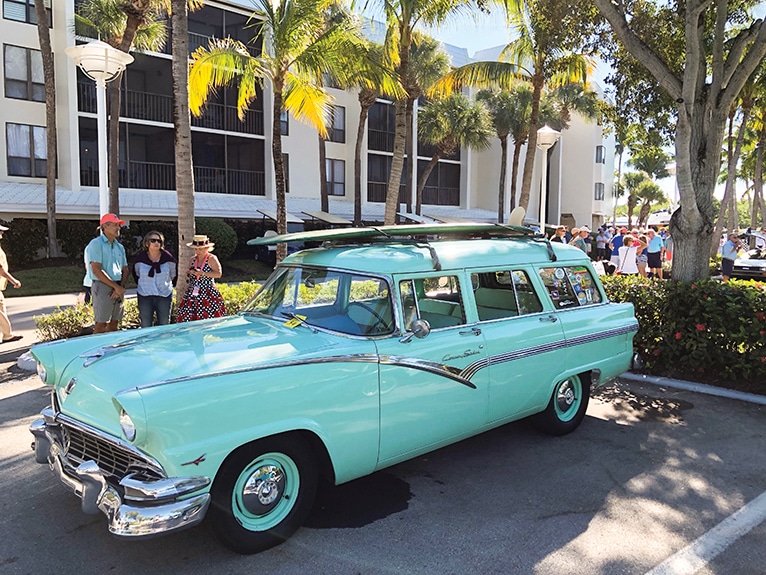 Surrounded by mangrove waterways and the natural beauty of several state and national parks, The Ocean Reef Club is a 2,500-acre private, all-inclusive, resort-style community that provides property owners and members a relaxing escape from the hustle and bustle of the "outside" world. This boating, fishing, and diving paradise has a full-service 175-slip marina for yachts up to 175 feet, a private airport, Buccaneer Island (that includes a private beach surrounding a saltwater lagoon, two oceanfront freshwater infinity pools, a restaurant, and a bar), two 18-hole championship golf courses, tennis courts, a full-service spa and salon, 12 restaurants and lounges, shops and boutiques, a medical center, and a public safety department that provides 24-hour fire, security, and medical services. Once you're on site, you never have to leave—everything is just a golf cart ride away.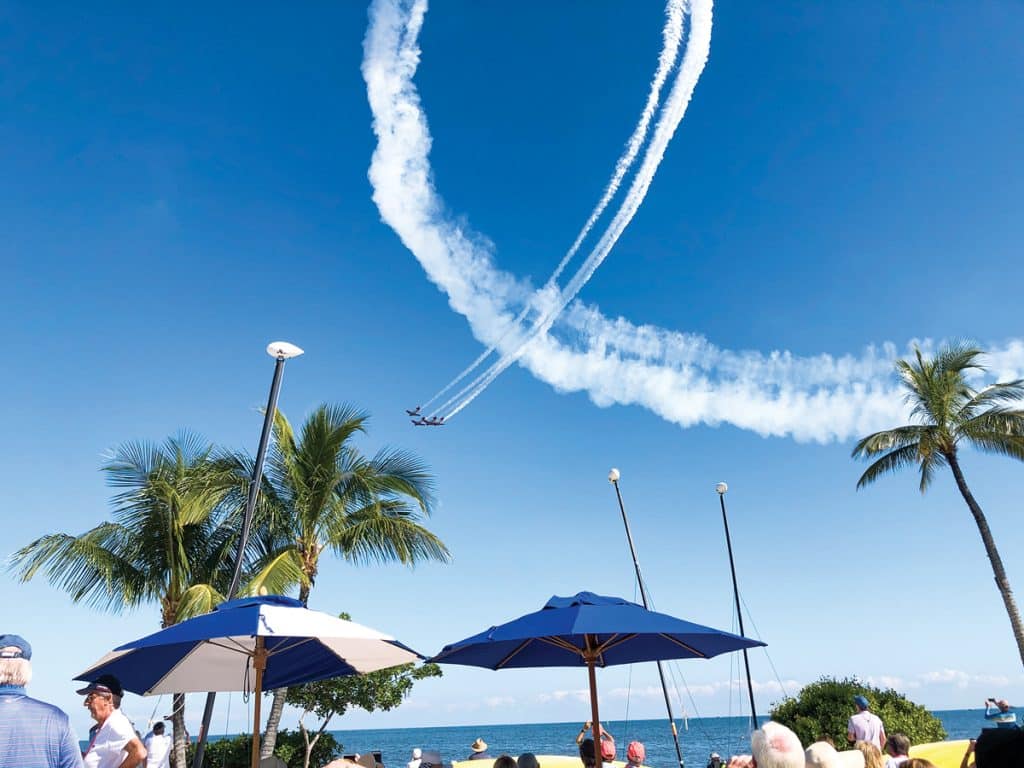 With temperatures in the high 70s and blue skies above, the weather was perfect for the kickoff classic car road rally over the bridge on Card Sound Road to Alabama Jack's, an open-air waterfront restaurant at the northernmost part of the Keys, for lunch and a chance to mingle with some old (and new) friends. Later that evening, guests met on Buccaneer Island for cocktails and dinner, hosted by Vicki and Alan Goldstein, and were treated to the AeroShell Aerobatic Team's thrilling night show. Red and green lights flashed on the wings and tails of the four North American AT6Gs while they chased each other through the dark sky, at one point lining up in formation like Santa and his reindeer. You could almost hear the last plane yelling, "On Dasher, on Dancer, on Prancer, on Vixen…" as they raced past the excited onlookers.
The next morning, the cars were once again in the spotlight as each made its way across the red carpet. A 1926 Rolls-Royce Silver Ghost Piccadilly Roadster, winner of the Most Elegant Early Touring, and a 1953 Jaguar C-Type Open Racer, winner of the Most Significant Race Car, were among the many classic vehicles that dazzled the crowd. Celebrating the 100th anniversary of Bentley, a 1927 dark green Bentley 4.5 Open Touring won the Spirit of Bentley award, but Best of Show went to a 1938 silver Peugeot 402 Darl Mat Special Roadster.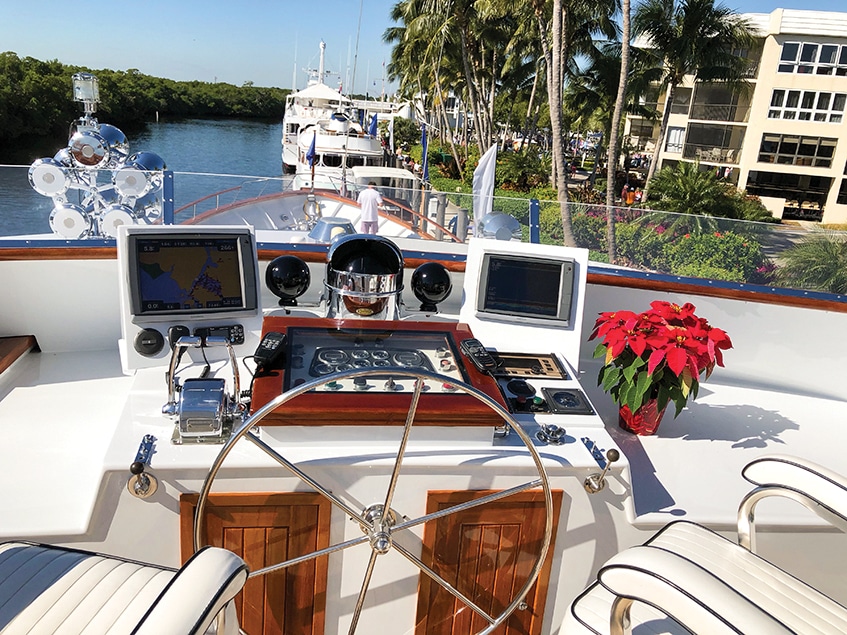 Later, attendees walked along the pristine Ocean Reef Channel face dock for a chance to climb aboard each of the elegant vintage yachts on display. From truly maintained classic interiors to a few that have been recently updated with some modern touches, every boat upholds the tradition she's carried over the years since she was built. This year, four yachts were awarded Better Than Best Restoration: the 1971 58-foot Trumpy Somerset, the 1972 26-foot Aurelia, the 1961 23-foot Pepper Pot, and the 1985 41-foot Apache. The John Trumpy Award went to the largest yacht on the dock, Blackhawk, the 1971 123-foot Feadship owned by the Chicago Blackhawks hockey team owner (the team's logo is displayed in several places throughout the boat). But the People's Choice Award went to Buckpasser, a 1985 120-foot Perini Navi, that had an interior restoration three years ago. Before and after pictures were placed in each of the four staterooms to show the transformation of the accommodations, most of which was paint, flooring, and décor. Teal walls are now cream-colored, floral bed coverings are gone, carpet has been replaced; simple touches that can really make a difference. She was definitely popular among the crowd—there was a very long wait line to climb aboard. Her owners were on board graciously greeting guests, and no room was off limits.
Back at Buccaneer Island, attendees gathered for an outdoor buffet lunch and another extravagant air show under clear skies. It was no surprise that Patty Wagstaff, flying a 1990 Extra 300L, won the Spectator's Choice. She spun that aircraft around and around until even the crowd got dizzy. The plane danced in the air doing twist and turns as the DJ played Steve Miller Band's "Jet Airliner" on land. It was perfectly choreographed although Wagstaff likely didn't hear any of the music.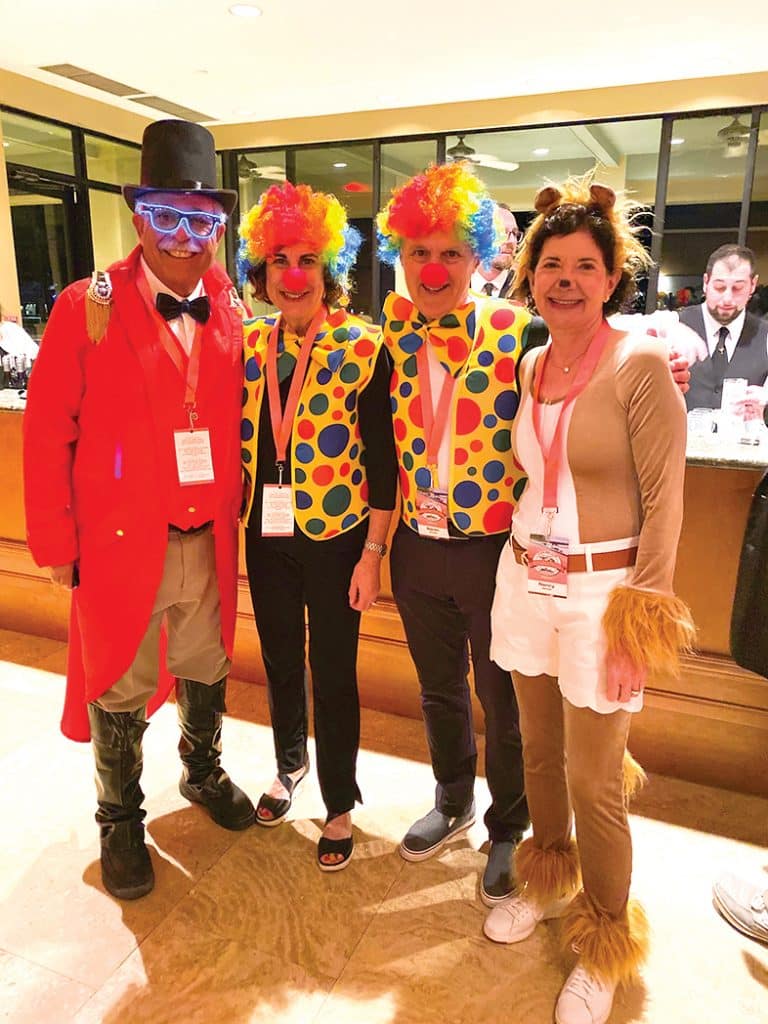 Guests donned their magnificent costumes for the Saturday night circus-themed gala and after dinner, bearded ladies, trapeze artists, ringmasters, and more danced under the big top until the wee hours.
"Vintage Weekend is a remarkable and very fun gathering of those who share a passion for vintage vehicles, yachts, and planes, in a community as special and rare as the conveyances it honors," said Richard Weinstein, Ocean Reef Club's senior vice president of membership and marketing. "It is a beloved annual tradition which has really grown over the years into a tremendous four-day celebration." Plans are already underway for next year's 25th anniversary of the event. oceanreef.com