Learn to Scuba in the Bahamas
Sure, you can learn to scuba dive in the swimming pool at the local YMCA or at a nearby high school, but wouldn't it be vastly better to learn in the crystal-clear waters of the Bahamas over a sugary-white sand bottom and surrounded by squadrons of tropical fish?
By Chris Caswell, Southern Boating January 2020
Learning to scuba dive is a natural for boat owners because you're already floating above an invisible, fascinating universe beneath the waterline. Chances are you already snorkel on reefs or at least have a mask to take a look below. Wouldn't you like a closer view?
The first beauty of learning to scuba dive in the Bahamas is that the water is benign. It's as clear as gin, warm, and it feels like you can see for miles, so nothing is sneaking up on you. Even at wintertime's coldest, the water remains bathtub warm at about 78 degrees Fahrenheit, and the visibility is usually at least 80 feet on most dive sites.
Second, there are dive shops on practically every street corner, all with approved diving programs, boats that run you out to interesting dive sites, and all the gear you need for rent or sale.
Third, it's inexpensive to reach the Bahamas by plane, ferry, or by your own boat. Even if you leave your boat on the mainland, there are ample lodgings available at all price points, and many of the dive shops even put together package deals.
Last, once you get your certification, you'll already have a feel for the Bahamas and its abundant wreck dives, wall dives, and more.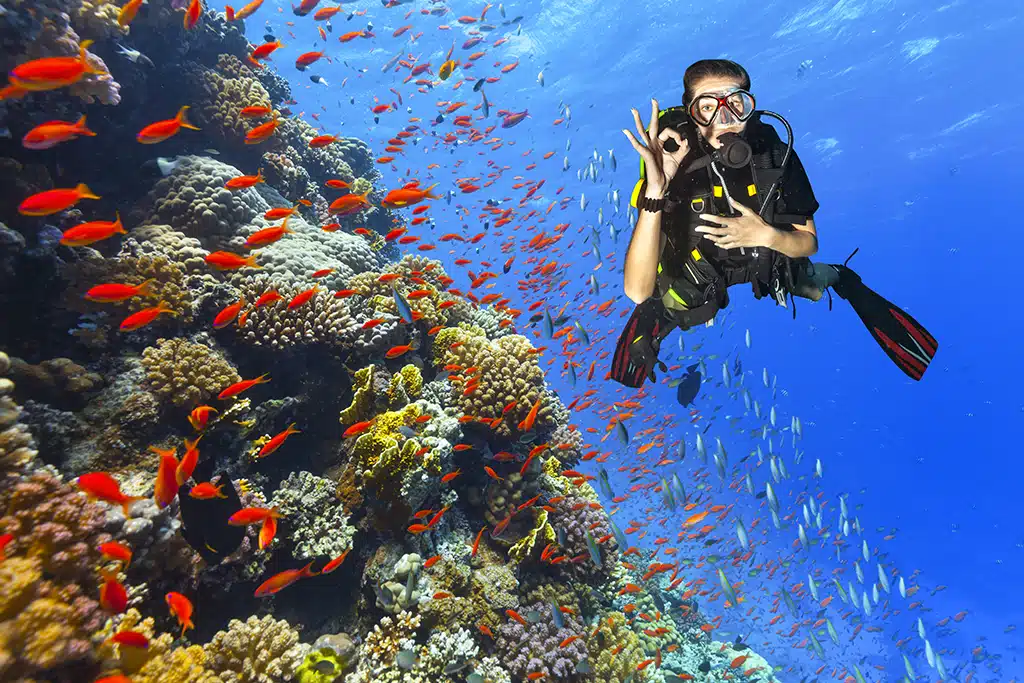 Getting Started
First and foremost, you need instruction and certification, which comes in the form of classes carefully planned and regulated by the Professional Association of Dive Instructors (PADI).
Make sure that any course you choose is certified by PADI. Without a PADI certificate, you can't buy or rent tanks or get tanks filled, you can't book onto commercial dive trips, and you're probably a danger to yourself (and others). Get certified. PADI has certified around 27 million divers over the past 50 years, and they teach the world's most popular dive curriculum that you can tailor to fit your own preferences.
PADI Certification
The basic course starts, like any educational program, with knowledge. You can complete this part of the course online or at a PADI dive shop. The PADI eLearning program provides instructional reading and videos as well as the opportunity to take tests on your computer or tablet. You must pass the final e-test in order to start with an instructor.
The next step is confined water diving under the watchful eye of an experienced dive instructor.  This is usually in a pool linked to the dive shop, and you'll learn the basics of dive safety and techniques in the water.
Next up are your four open-water training dives (usually over two days), again with an instructor, and this is when you'll really experience the freedom of floating effortlessly in a mesmerizing marine environment.
You don't have to do all your open-water dives in one place. Your PADI instructor can refer you to a school in another area for some diversity of dive training.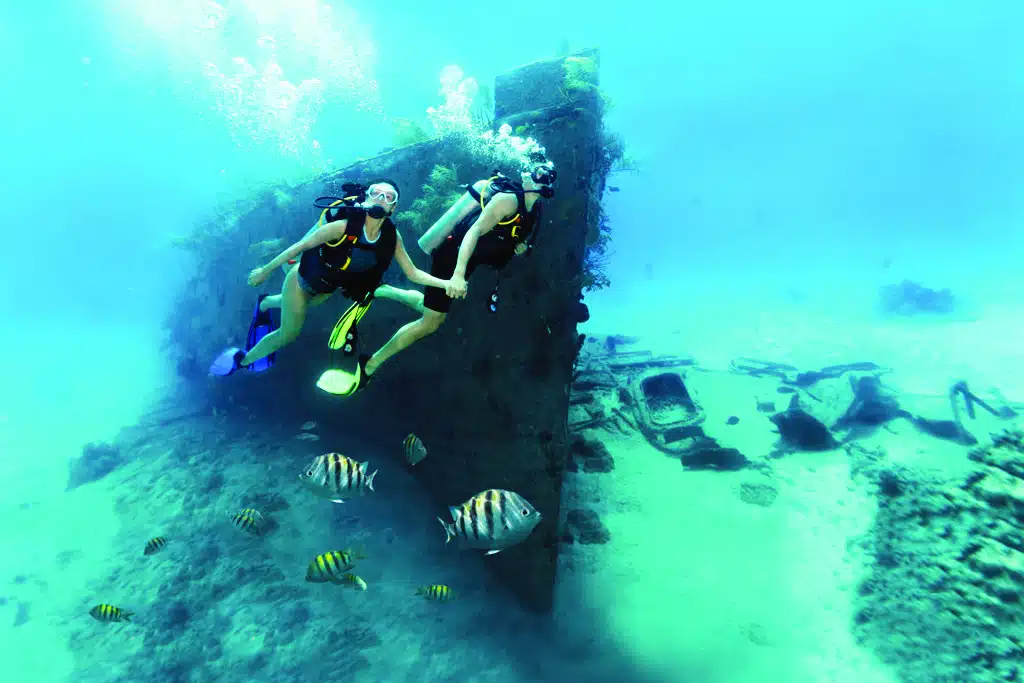 How Long Does it Take?
The PADI courses are based on your performance, so you move forward at your own pace, which ensures that you are both fully competent and prepared for your own adventures. PADI notes that while completion "varies by individual," the average time to go from landlubber to certified diver takes between four and seven days for a reasonably motivated diver-to-be.
How Much?
Again, prices vary, and you should check out several dive shops for their programs in different areas of the Bahamas. PADI likes to say it costs about the same as three hours of private golf lessons, whatever that means. The online PADI e-Learning course is less than $200.
What About Gear?
For the course, you don't need anything except a bathing suit, although most of us want our own mask, snorkel, and fins for several reasons. First, I don't like using loaner snorkels because I know they've been in someone else's mouth, and I always take my own snorkel and mask on bareboat charters for just that reason.
Second, you want your gear to be comfortable, particularly the mask (which should be watertight) and fins (if they don't fit, you'll get blisters).
You can, of course, buy all your own equipment from tanks to regulator to weight belts, but this is all available for rent if you don't want to lug it around. It's probably better to wait until you're certified. Then you can try different gear before committing.
Where to Start?
Take a look at the PADI website (padi.com) for several good videos that will hook you on diving as well as explain how to get your PADI certification.
Then What?
You can continue past the basic course with Advanced Open Water Diver courses that open the world of Adventure Dives, which include wreck diving, night diving, deep diving, wall dives, and more. Again, the PADI website has full information as well as beautifully produced videos guaranteed to whet your appetite for diving.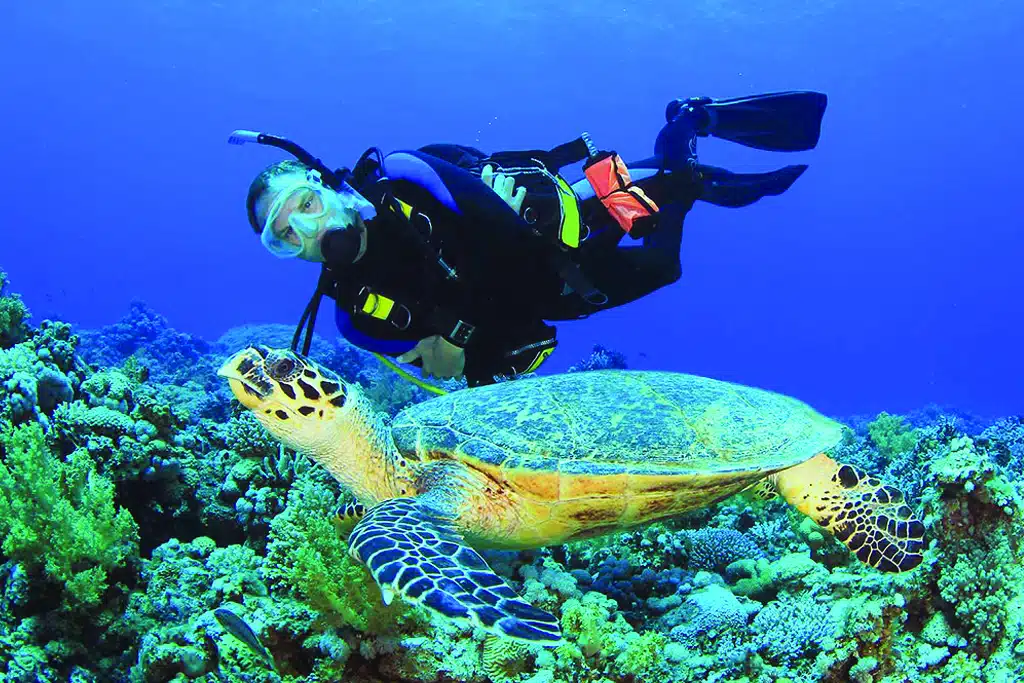 Dive the Bahamas
The Bahamas are famous for wreck diving, including props for James Bond films. Check out Thunderball Grotto, just west of Staniel Cay in the Exumas which was also featured in Never Say Never Again, and the Vulcan bomber from Thunderball is still off the end of New Providence.
But that's only a start. Current dives can carry you between islands, wall dives like Runway Wall off Nassau or the seemingly bottomless "Crater" off Andros offer spectacular sea life, and there's a lot to explore around the abundant elkhorn and staghorn corals in French Bay off San Salvador. Check out the sunken Civil War warship off the Abacos or the supposed remains of Atlantis, the Bimini Roadway.
Wherever you go, you'll find great diving in the Bahamas, the diving mecca of the Caribbean.  Now is the time to start enjoying what's going on under your boat.