Wanna Get Away?
Along a wide stretch of beach just south of Jacksonville, Florida, is a place to cast away and clear your soul.
By Steve Davis, Southern Boating January 2020
The last time I was in the BVI, I tucked deep behind a reef around the point from Marina Cay and Scrub Island to have a quiet, safe anchorage without the bustle of the charter fleets moored in front of the restaurants and bars on the islands. We were the only ones there because it's a spot few realize is navigable.
The reef broke the swell and provided that soothing, repetitive sound of breaking waves as the boat gently swayed with its rhythm. It's a soothing, somewhat secure feeling, but as a captain, there's always a little bit of caution knowing that as peaceful as it is, something could still happen that raises the hair on your skin and requires immediate action.
What if you could take away that uneasy feeling and sit on the deck staring out over an open sea or have the wave's rhythmic pulse lull you to sleep…without any rock and roll? A visit to Ponte Vedra Beach Resorts does just that.
When It's Time
All of us need to have a moment when it's time to put the world on hold and calm ourselves from within. Ponte Vedra Beach Resorts welcomes you to a retreat that allows you to reach that nirvana by doing nothing at all or letting your mind and body release its energy through a plethora of activities, relaxing at the spa, and savoring world-class cuisine.
There are two beach locations just a quick golf cart ride apart and only a 40-minute drive from Jacksonville International Airport, an easy trip for those up north with their boats wrapped and on the hard. If you're making the passage up or down the Intracoastal Waterway and need some time off the boat to, you know, play golf or tennis, have a spa day, let someone else do the cooking, or take a long walk, St. Augustine Municipal Marina is a 45-minute drive and Palm Cove Marina is only 15 minutes away, both with transient docking and services.
Room with a View
There's something to be said when just about all of the rooms have "oceanfront" in the description. It's easy to understand why that soothing, "behind the reef" comfort is felt; each room has a patio or balcony that opens to the ocean. Only the Historic Inn has rooms off the beach, but each has resort, lagoon, or ocean views. The Inn opened in 1928 and showcases the grandeur of that era. Guests have the convenience of shopping and dining within steps of the elevator, and the beach is just across the street. The Inn's Island View room overlooks the Ocean Golf Course's 9th hole island green.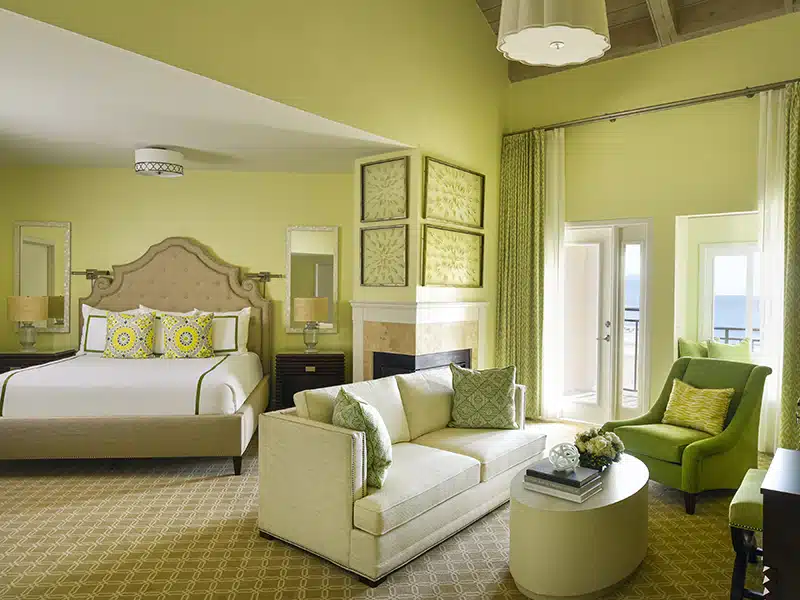 In addition, the resort offers 33 well-appointed, oversized suites that feature sophisticated interior design and furnishings in a variety of layouts. From the Presidential Suite to the oceanfront rooms, you'll have the sea at your steps with the comfort of a stationary deck.
So Much to Do
Whether you stay at the Ponte Vedra Inn & Club or The Lodge & Club, there are plenty of activities to keep you moving, if you so desire.
With numerous umbrellas and chaises lining the sand, laying out and doing nothing is a popular option, but even so, the wide stretch of beach goes for more than 25 miles without a break, one way, and for some, it's hard look down the infinite beachfront and not get up for a leisurely walk. Besides, there are really nice shells to collect. If jogging is one of your disciplines, then it's impossible not to get up and go. Playing in the water is exercise when boogie boards, surfboards, and kayaks are available, not to mention beach games, and it's just as much fun to take one of the beach cruiser bikes for a ride.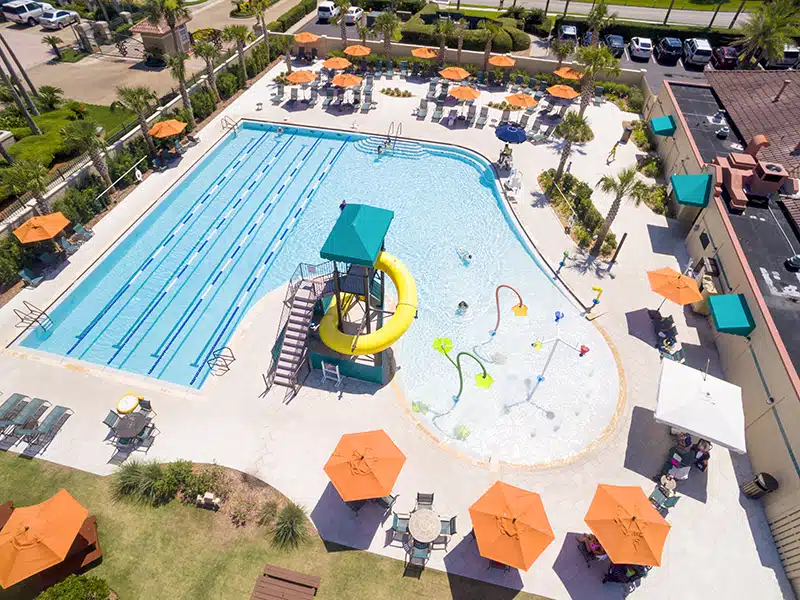 It's easy to spend all day on the beach, but with four pools at The Inn & Club and the two at The Lodge & Club, you certainly don't have to. Each have adult-only pools and fitness/lap pools as well as areas for families, not to mention spots to grab lunch and drinks.
Speaking of fitness, both locations have fitness centers with more than 40 exercise stations that include treadmills, elliptical trainers, Stairmasters, bicycles, rowing machines, free weights, and more. There are a multitude of exercise classes as well as the best of all: steam room, sauna, and Jacuzzi tub. Personal trainers are also available.
Every morning, the resort provides each room with a newsletter that lists the day's activities, including kids' programs, events, fitness classes, a chef's corner of daily delights, tide information, and descriptions of all the dining and lounge venues, shopping options, and recreation options along with times and what they offer.
The Court and the Course
Besides the beach, the pools, and the fitness centers, there's two other games that will get your heart rate up: tennis and golf. Sure, you'll need to walk the course to get your steps in, but being outside in the fresh air with that special "cut grass" aroma surrounded by palm trees, a cool sea breeze, and a park-like setting, golf is intended to ease the mind…assuming you don't let wayward shots interrupt your mental calm. Don't let the good walk spoil.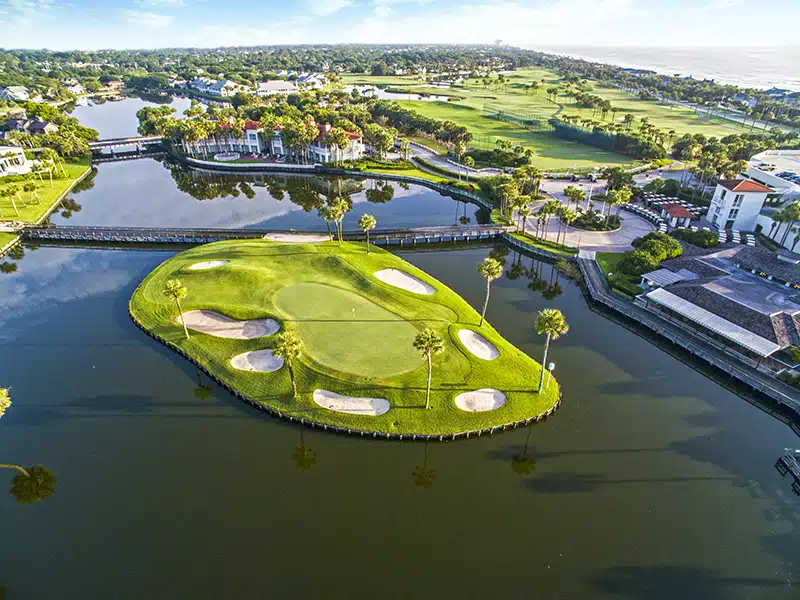 Ponte Vedra Beach Resorts has two 18-hole courses: the Lagoon Course (located on-site) and the Ocean Course (including the infamous 9th hole island green). The Lagoon Course winds through pine trees, palms, and oaks that provide narrow fairways and tight greens. The lagoons create a beautiful setting, but are in play on 11 of the 18 holes. Keep your shots straight. The Ocean Course was designed in 1928 and selected to host the Ryder Cup in 1939, but the event was canceled due to World War II. It shows the quality of the course design and has served as a site for U.S. Open qualifying rounds. It is currently going through an $8 million renovation with completion set for this fall. The course plays tough with 99 strategically placed bunkers, elevated greens, and dramatic undulations throughout the fairways, all to help provide a relaxing game, right? A complete pro shop, lessons, clinics, repair shop, practice areas, rental clubs (and shoes, in case you left them on the boat), and the 19th hole lounge and restaurant will keep your game sharp and celebrate a day better than being in an office.
If tennis is your game, the Racquet Club is an official ATP World Tour tennis club. Tomãs Gonzalez is the director of tennis and makes sure enthusiasts receive a full complement of training, instruction, and activities to make your time on the court fun. A fully stocked pro shop has all the gear you need.
There are 15 Har Tru clay courts with eight lit for night play, private teaching courts, and a full staff of USPTA and USPTR teaching professionals. The Club is known for its intense summer tennis camp, and since tennis is definitely a sport that gets your heart pumping, there's a steam room, sauna, and Jacuzzi waiting in the locker room, or you could walk next door to The Spa.
The Spa Treatment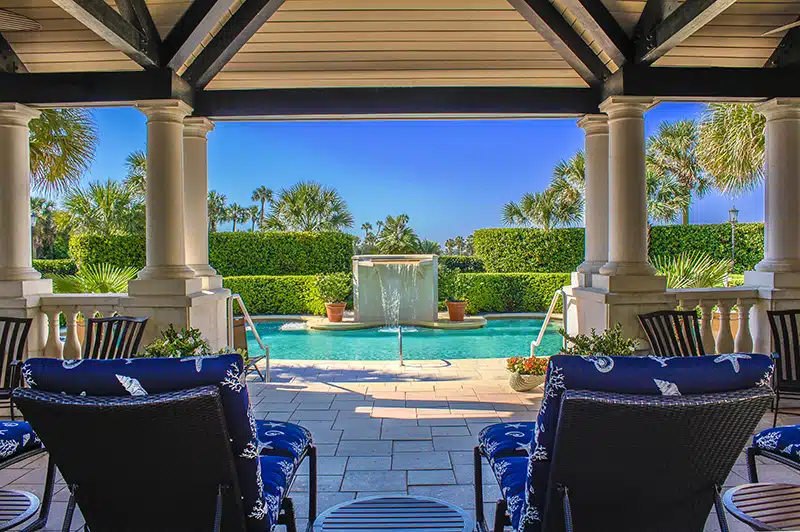 If you've never been to a spa before, you're in for a treat at The Spa at Ponte Vedra Inn & Club—a 30,000-square-foot, state-of-the-art facility that combines opulence with grandeur. High ceilings, statue fountains, a gourmet café, and gift shop set the mood for more pampering than you'll need in one day, meaning you may have to go back. A therapeutic massage melts the stress away, and the steam room, sauna, and hot tub will defrost any up-north cold and rejuvenate your well-being. A new cryotherapy center promotes natural healing and wellness, albeit using cold temperatures. Add a facial or scrub, a purifying wrap, or treat yourself to a manicure, pedicure, or a new hairstyle. It's all there to make you feel relaxed and refreshed.
On the Menu
Throughout the day, you have to keep your body nourished, and not just with water. Start your day at the Inn's Gourmet Shop that offers an assortment of pastry and Starbucks coffee or just stop by for homemade ice cream later, since the Inn Dining Room serves a full breakfast menu.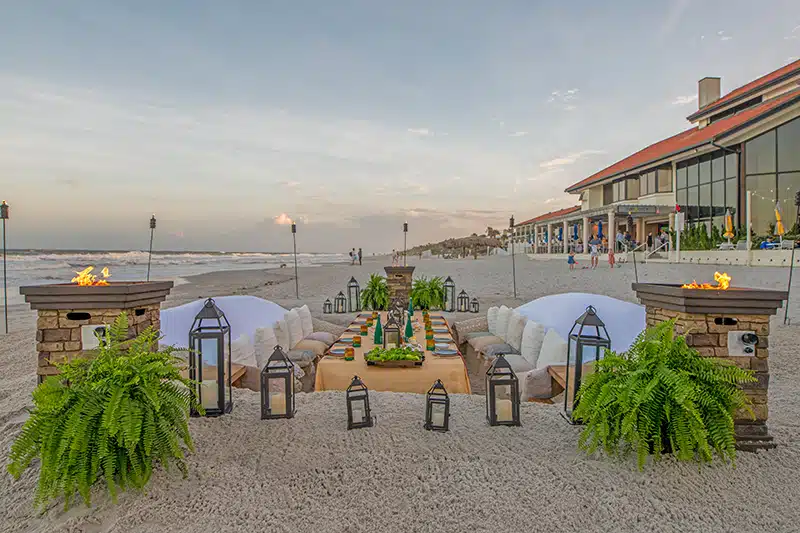 If you're at the beach, the Surf Deck Grille offers a variety of signature cocktails along with Florida coastal cuisine, which includes fish dishes, locally sourced vegetables and greens, and specialty pizzas, burgers, and sandwiches. The Beach Side Snack Bar also serves burgers, salads, cold-pressed juices, and more. Over at The Lodge & Club, the Barefoot Bistro is a poolside food truck with salads, sandwiches, a kids' menu, and frozen treats.
The Golf Club Dining Room overlooks the Lagoon golf course and has an awesome menu with signature sandwiches, soups, and salads for lunch, and steaks, local seafood, and specialties for dinner on the deck along the lagoon or inside with expansive windows to gaze at the course setting.
As the sun sets, freshen up and head to the Seahorse Grille for an oceanfront, "upscale-but-casual dining and cocktail experience." If you arrange it ahead of time, the Chef's Table is in the kitchen with room for four to watch the chefs in action up close and personal as you're treated to a 10-course tasting menu.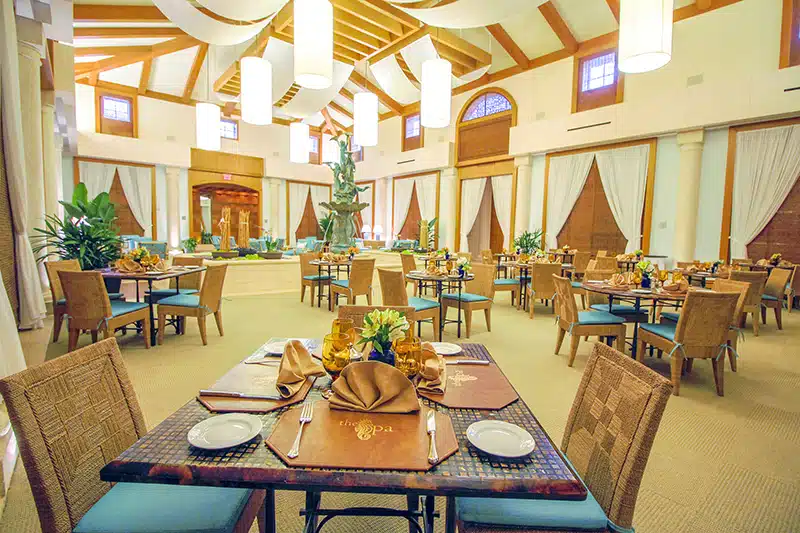 The tasting menu is a new twist to the Ponte Vedra Beach Resorts' culinary lineup and may see its way as a regular in the dining rooms. It's an innovative way to sample the chef's culinary style with portions that are just the right size. Chef Erik Osol produced a menu for a Health and Wellness weekend that started with Seminole Pumpkin Salad and was followed by Foie Torchon and Persimmon, Steak Tartare and Chicharron, Scallop and Finger lime, Miso Seabass and Chive sauce, New York strip steak with mushrooms and cured egg yolk, and ended with Bitterweet Truffle Mousse. Each course was paired with a wine chosen by Resort Sommelier Matheson Cory that made every bite a delight to the palate.
No matter how you put it, some places have what it takes to completely get away. You don't have to use the Wi-Fi if you don't want to, and surprisingly, playing tennis or golf, walking the beach, getting a massage, and enjoying the fine dining will trick your mind into thinking you've been away for weeks. Put your life on hold, if only for a few days, and feel rested, relaxed, and ready to face reality with a smile. Ponte Vedra Inn & Club is one of those special places. pontevedra.com