Steady Relief
Seakeeper develops its smallest stabilizer yet.
By Steve Davis, Southern Boating May 2020
Everyone knows the purpose of stabilizers on a boat—to keep it stable. In other words, to prevent the boat from rocking and rolling not only while underway but also at anchor. There's nothing worse than being at anchor trying to calm your body down from that swaying sensation after being out in the waves and swell all day and the boat can't sit still.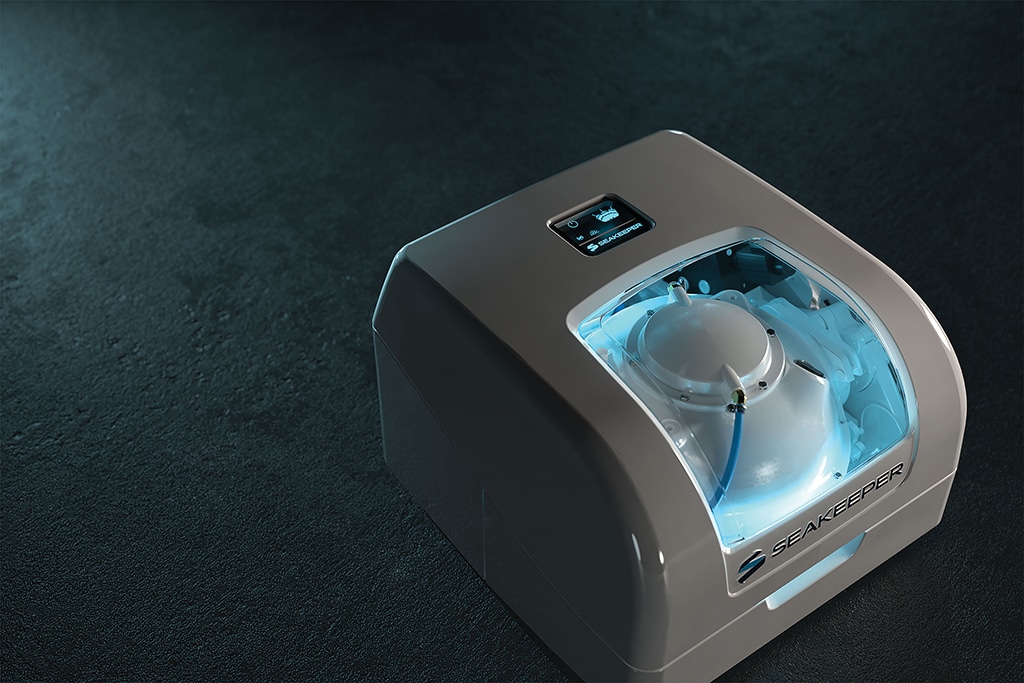 Marine stabilizers were primarily built and installed on large, ocean-going, commercial vessels, but as boating became more of a recreational pastime, it wasn't long before stabilizers found their way into the hulls of cruise ships, then superyachts, and now yacht lengths less than 100 feet. It wasn't just one design that followed that time line, but all of them, from fins to rotating tubes to gyroscopes, and as technologies advanced (and prices dropped), so did the ability for stab10ilizers to adapt to any size boat and for boat owners to have one.
Gyroscopic stabilization was in the forefront of that technology when Elmer Ambrose Sperry Sr. became seasick on an Atlantic voyage in 1898. Sperry built upon the work by Marinus Gerardus van den Bos in 1885 and Hermann Anschütz-Kaempfe's invention of a usable gyrocompass in 1906 that could accurately find the direction of true (geographical) north no matter the vessel's motion, weather, or amount of steel surrounding it. Sperry produced a gyrocompass that was easier to manufacture in 1908, but it was Sperry's seasick voyage that prompted him to figure out a way to use the properties of a gyroscope to counteract the effect of waves on ships. The gyrocompass uses a continuously driven gyroscope to find direction, but alone, a gyroscope, simply put, is a mounted wheel that can spin rapidly about an axis whose orientation is not affected by the tilt of the mount because of the physics behind the conservation of angular momentum. To avoid a physics class, the gyroscope detects the deviation of an object from its desired orientation, so when installed on a boat and the boat rolls, the gyroscope counteracts that roll.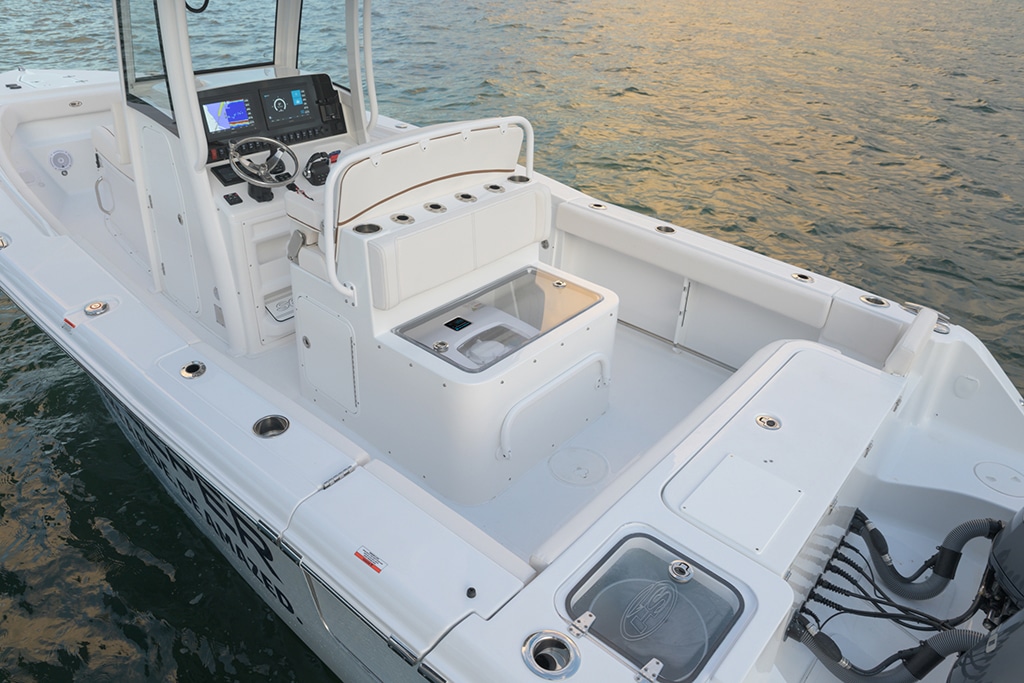 Sperry's compasses and stabilizers were adopted by the U.S. Navy, the first installation in the World War I transport ship USS Henderson in 1917. It had two 25-ton, 9-foot diameter flywheels and was able to reduce roll to three degrees in rough seas. In 1932, the Italian passenger liner SS Conte di Savoia had three flywheels 13 feet in diameter that weighed 108 tons. It was because of such weight and bulk that gyrostabilization gave way to other forms, but with the continued advancement of technology and manufacturing processes, the gyrostabilizer has made a comeback.
This past February at the Miami International Boat Show, Seakeeper introduced the smallest marine stabilizer ever designed for boats as small as 23 feet—the Seakeeper 1. Compared to the size and weight of the first gyrostabilizers, the Seakeeper 1 measures only 22.9 inches long, 23.6 inches wide, and 15.7 inches high and weighs just 365 pounds.
Shep McKenney, who introduced the Hinckley's line of Picnic Day boats and JetStick technology, and John Adams, a naval architect who pioneered Maritime Dynamics' ride control systems, joined forces in 2001 to develop a practical and modern gyrostabilizer system. Their first prototype went into a Viking 43 in 2006, and in 2008, Seakeeper officially formed and launched the M7000 for boats up to 55 feet. By 2013, it had produced 1,000 units and in 2014, Seakeeper launched its first line of five stabilizers and hasn't looked back.
The Seakeeper 1 has a new look and design that includes a window on top to show off the flywheel capsule and rounded edges for a streamlined, compact unit. Because of its small dimensions, the stabilizer can install beneath a seat. It is completely contained with no part of the sphere hanging below the point of installation for a flush mount. The Seakeeper 1 only uses 12V DC power. The flywheel capsule is vacuum sealed which cuts the power requirements in half, reduces the weight, and enables the flywheel to spin about three times faster (up to 557 miles per hour). In fact, the smaller package has the stabilizer up and running in 15 minutes. The capsule also keeps the flywheel, bearings, and motor isolated from the marine environment.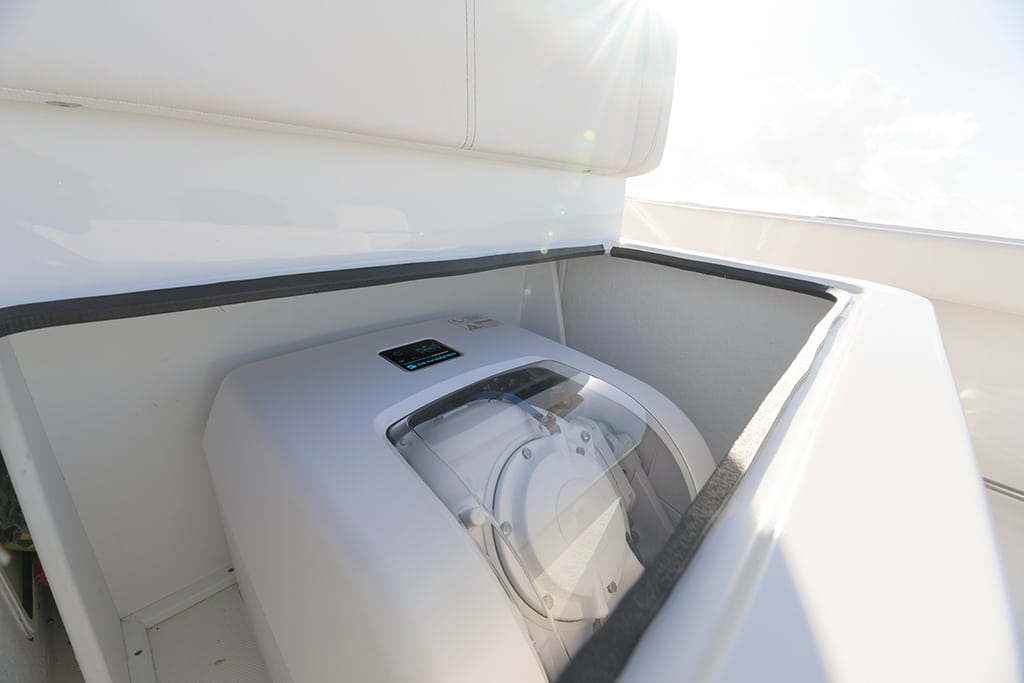 To keep the inner workings of the stabilizer cool, Seakeeper has patented a cooling system that removes heat from within the enclosure and dissipates it through a glycol/seawater mix. Smart technology gives the stabilizer active control to optimize torque so the Seakeeper automatically and instantaneously reacts to the sea state at all speeds and sea conditions. A passive-controlled gyro needs to shut down in rough conditions and faster speeds.
The Seakeeper 1 has a control keypad on top of the unit, and a new dash display allows control from the helm. All Seakeeper gyrostabilizers eliminate up to 95 percent of boat roll in vessels from 23 feet to 75 feet. More than 12 boat manufacturers have plans to integrate the Seakeeper 1 into their newest models, but don't let that stop you from fitting your boat with one. A simple leaning post installation usually takes only two days for small boats. The Seakeeper 1 will be available for shipment beginning June 2020 and will retail for $14,900. seakeeper.com