Follow the Emerald Gulf Coast
Head west along the sparkling green water from Destin to Orange Beach for great fishing and fantastic seafood.
There are stretches along the Gulf of Mexico coastline where time seems to run on the whims of an eccentric generator. Along Florida's Emerald Coast from Destin to Orange Beach, Alabama, the turquoise waters and sparkling beaches radiate a welcome stillness reminiscent of days long gone. As you walk the beaches, you leave footprints on the powdered-sugar sands that once were the tops of the Appalachian Mountains. The sand, made from pure-white quartz crystal, was transported from the mountains to the Gulf at the end of the last Ice Age.
The Gulf Intracoastal Waterway (GICW) lies inside the sandy barrier islands and crisscrosses a series of estuaries, swamps, captivating towns, and open waters for a good sail. Some of the best Gulf Coast sailing for smaller vessels is on Choctawhatchee Bay in the Florida Panhandle. There are three direct entrances to the GICW between Destin and Orange Beach, making offshore cruising less risky than in other sections of the Gulf.

Destin
Destin, once a tiny coastal hamlet on the bay's southern shore, now calls itself "The World's Luckiest Fishing Village" and is known for superb saltwater fishing. Due to quick access to the Gulf and the proximity of the famed 100 Fathom curve with its 600-foot depth, the opportunities are endless. 

Destin is home to many types of fishing: surf, pier, bay, deep-sea, and more. Each has its fans, and the catch depends on the season. Hook flounder, sheepshead, sea trout, and even tarpon inshore. Mackerel, cobia, amberjack, grouper, and red snapper lurk nearshore; wahoo, mahi-mahi, and tuna await in the deep. To get the real flavor of Destin's 175-year history, and maybe a couple of fish tales, visit the Destin History & Fishing Museum, a little gem near the foot of the Destin Bridge.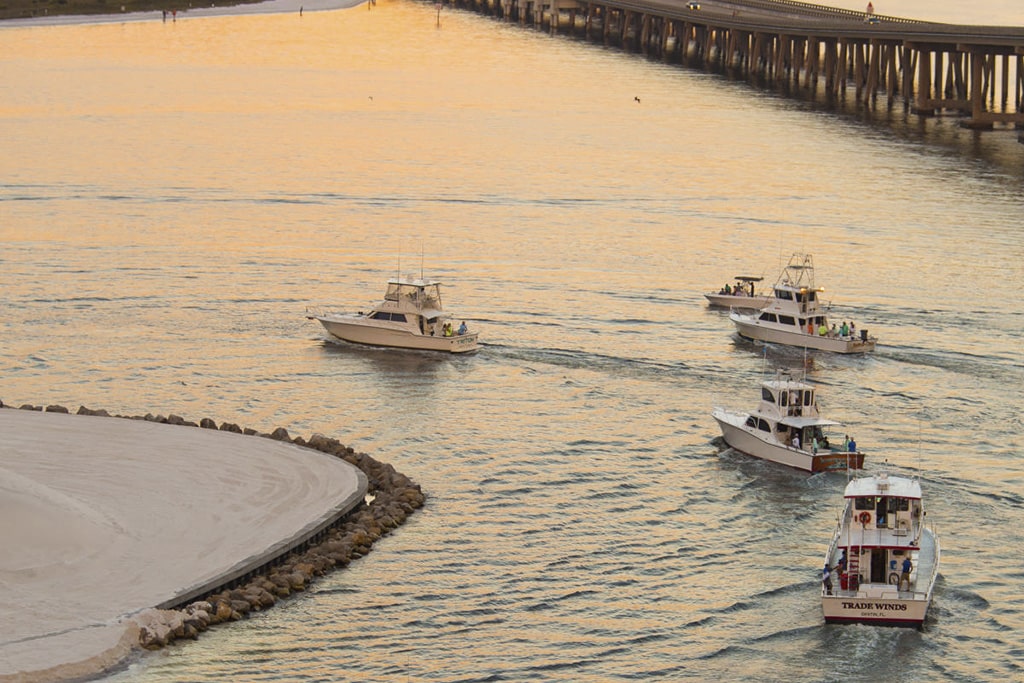 North America's largest private charter fishing fleet is docked at Destin Harbor. Some vessels hold up to 45 hopeful anglers; smaller boats accommodate a more private trip. Most charters include licenses, tackle, and bait. With more than 170 charter companies, FishingBooker might be the simplest way to find the most suitable.
Don't care about catching, but fond of eating fish? Brotula's Seafood House & Steamer is a rustic yet refined southern fish house specializing in local seafood and shellfish platters. Its name is borrowed from the tasty bearded brotula caught in local waters at depths of 350 feet. 
For a meatier meal in "New York Irish Pub" style, step into McGuire's Irish Pub. If reading the menu isn't entertainment enough, lively Irish musicians will get your feet tapping. Add a few bucks to the millions of dollar bills hanging on the walls left by visitors from around the world.
Slips to 85 feet are available at HarborWalk Marina in HarborWalk Village. A bustling entertainment/retail complex, the Village has live music, fireworks, and a variety of water sports rentals.
The southwest corner of Choctawhatchee Bay is anchored by laid-back Fort Walton Beach. Dock at the gated Fort Walton Yacht Basin on Santa Rosa Sound next door to The Shack, a historic seafood eatery.  
The area has two excellent museums. The Indian Temple Mound Museum in the heart of historic downtown exhibits 1,000 artifacts depicting 12,000 years of Native American occupation and impressive collections of prehistoric ceramics from European explorers, local pirates, and early settlers. The Air Force Armament Museum on Eglin Air Force Base is dedicated to military artifacts and memorabilia, including more than 29 different aircraft from the WWII era to the present. 
The Island Pier, jutting 1,262 feet into the Gulf on the west end of Okaloosa Island, is one of the best places to fish in the region. The fish are always biting, and there are spectacular views of dolphins, sea turtles, herons, and pelicans.
There are no entrances to the GICW from East Pass (Mile Marker 227.7 East of Harvey Lock (MM 227.7 EHL)) in Destin to Pensacola Bay (MM 179.7 EHL). 
For clear open water and peaceful beaches with few inhabitants, cruise the numerous islands in the waterway between Brooks Bridge in Fort Walton Beach and Navarre, where everyone embraces a lazy pace. 

Navarre
Navarre is a compact beach community with 12 miles of pristine-white shoreline and the longest fishing pier in Florida. Stroll 30 feet above the waterline along the pier's 1,545-foot length for a wide-angle view of sand dunes rolling for miles in either direction.
For sport divers, Navarre Beach Marine Sanctuary has three artificial reefs, two in Santa Rosa Sound and one offshore. At Soundside, or Gulfside, expect to see colorful fish, sea turtles, rays, jellyfish, and octopuses.
It's an easy cruise through Santa Rosa Sound to Gulf Breeze, yet another great fishing spot at the mouth of Pensacola Bay. Charter-seekers like Gulf Breeze Guide Service which, for 40 years, has specialized in fly and light tackle fishing around the area.
Above and below the horizon, there's a lot to see around Pensacola Bay. The Blue Angels often thunder overhead during practice maneuvers. The Pensacola Lighthouse and Maritime Museum, listed on the National Register of Historic Places, has been named one of America's Most Haunted Lighthouses. For divers, the world's largest artificial reef, retired aircraft carrier USS Oriskany, lies 24 miles offshore.
Sabine Marina is a 64-slip marina located in Little Sabine Bay inside Pensacola Beach. Its entrance parallels the southwest side of the Pensacola Beach Bridge. There are a number
of marinas, including the full-service Pensacola Shipyard, located on the southwest side of Pensacola in the protected waters of Bayou Chico at GICW MM 183 EHL.
Continuing on, Big Lagoon is a favorite anchorage west of Pensacola Pass in the lee of Perdido Key. Good holding ground, a one-foot tidal range, and plenty of open water just 15 feet deep make dropping the hook fairly uncomplicated.
With Gulf Islands National Seashore and three Florida state parks in proximity, Perdido Key safeguards some of the beach's most fragile and magnificent assets: wispy sea oats, critical dunes, and nesting birds and sea turtles. 
Orange Beach
Surrounded by water in all directions and in Alabama territory, charming Orange Beach is a boating and fishing wonderland nicknamed the "Red Snapper Capital of the World." From the bayous to the reefs, and all the way out to the oil rigs, catches include several delicacies besides snapper.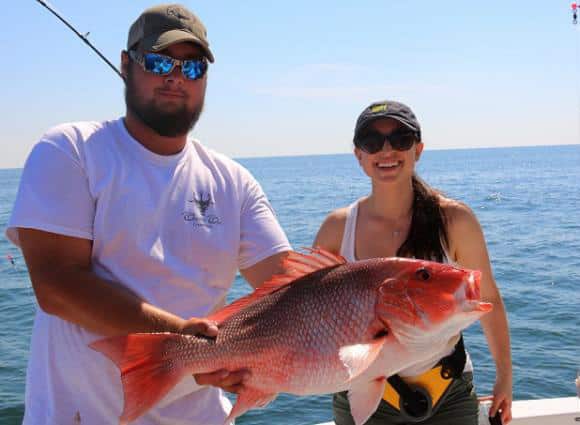 Perdido Pass offers up incredible fishing where the Gulf and inshore waters meet. Common inshore catches are mackerel, redfish, and speckled trout. A crew of proven fishermen run Orange Beach Fishing Charters and Saltwater Fishing Guides providing private and shared fishing charters.
Orange Beach (MM 159 EHL) has freshly caught seafood eating options from weathered beach shacks to fine-dining. SanRoc Cay and The Wharf are large retail and restaurant complexes with extensive options. 
Orange Beach Marina, a full-service facility in a fully protected harbor off Terry Cove, can accommodate yachts up to 130 feet. About five minutes at idle from the Gulf, it offers easy access to the GICW. 
There are several places to explore nearby. Robinson Island, just north of Perdido Pass in Terry Cove, is a pleasant place to anchor and spend the day on the beach. Nearby Walker Island has a lovely lagoon and a long strip of white-sand beach. Cruise the calm water and private canals of Ono Island in Perdido Bay for a view of gorgeous homes and, perhaps, a stray dolphin or two.
The Emerald Coast is likely to keep you hanging out for a good amount of time, but when you do decide to hit it, the Gulf Islands National Seashore continues west as well as New Orleans and beyond. 
-by Ellen Honey