Dining in The Bahamas
Dining in The Bahamas can be anything from casual to high-end and everything in between.
Dining in The Bahamas vary dramatically from eclectic beach huts, spring break-style bars, and restaurants to casual marina pubs and fine-dining establishments. Naturally, seafood is something that intersects all manner of culinary delights as Bahamians and local restaurateurs value the proximity to the sea.
Oddly enough, Bahamians are quite choosy when it comes to "fruits" they pick from the waters. Unlike in other territories where locals seem to eat everything that the human body can stomach, culturally speaking, Bahamians don't stray far from what they are most familiar with.
The invasive lionfish, now abundant in the waters of The Bahamas, has a negative impact on the marine ecosystem. As a part of its population control strategy, the government invested significant funds in public education to popularize the fine-tasting fish, but Bahamians are not taking the bait. More locals are familiar with lionfish and many enjoy its flavor, but it has not become a staple in the Bahamian diet and very few restaurants offer it.
Stingrays, eels, sea crabs, and octopuses are ubiquitous in the waters of The Bahamas, but you will rarely if ever, see them on the dinner table in most Bahamian homes. You might find a stingray taco on the menu in Mexico, and some Greek and Italian restaurants in The Bahamas serve octopus, but not at Sunday dinner in a Bahamian home. The same goes for eels, parrotfish, sea urchins, starfish, and many other edible marine species.
What can visitors expect to eat in The Bahamas?
There are supply and demand factors that affect the availability and accessibility of some species that Bahamians love; however, the main types of seafood you will find most common at restaurants and in Bahamian homes are conch, lobster, snapper (of which there are dozens of varieties), grouper, and certain pelagic fish like mahi mahi, wahoo, and tuna. Bahamians have a unique and delicious way of preparing seafood, and it usually involves a simple combination of seasonings—mashed salt and bird pepper, a lot of lime, and grilled or fried.
The edible species common in Bahamian homes but rarely served at restaurants include jacks, goggle-eyes, whelks, curbs, and barracuda, notwithstanding the risk of ciguatera fish poisoning.
New restaurants are ready to serve
The Tea Room, Rock Sound, Eleuthera
Rock Sound's latest restaurant, The Tea Room, opened July 19th . The casual, boutique dining establishment with a bright and earthy aesthetic serves breakfast and lunch during the week.  Wall-to-wall French doors and large windows let natural light flood into the restaurant to create a cheerful atmosphere.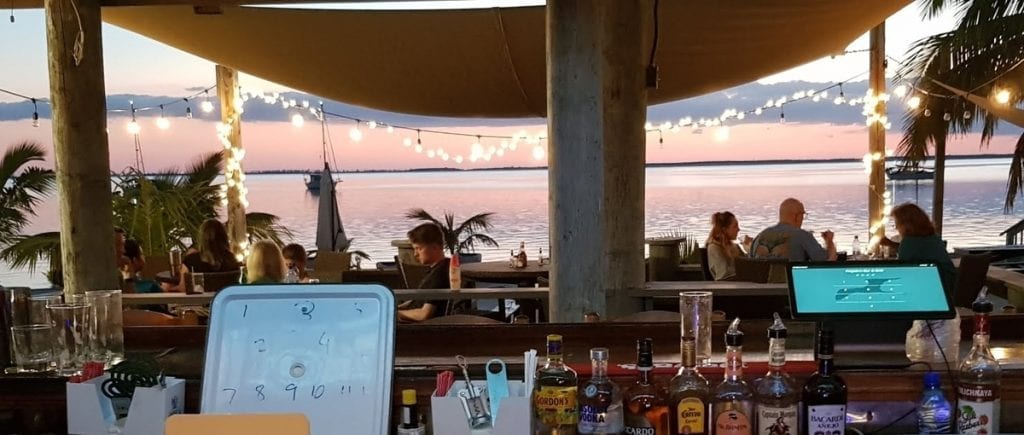 Vegetables are locally sourced from Eleuthera farmers including the restaurant's very own farm. The irrigation system, in fact, is partially powered with solar electricity derived from the panels sitting atop the Tea Room's roof.
There is another element that makes the Tea Room unique. It is a training restaurant and social entrepreneurship enterprise at the Centre for Training and Innovation which empowers young people in the community with opportunities to learn new skills, obtain job experience and break the cycle of poverty. Carpentry students made the dining tables, while hospitality students assist in the service and food preparation.
The Tea Room's menu changes fortnightly, serving Bahamian and American dishes, including vegetarian options like the chickpea veggie burger and avocado salad with mango vinaigrette.
Latitudes, Nassau
Dining in The Bahamas just got cooler. The historic Nassau Harbour finally has a new waterfront restaurant. Latitudes' ceiling-to-floor glass windows provide panoramic views of the harbor including the main boating channel, Paradise Island's most famed hotels, and marinas stretching to the east and west. It directly overlooks the Nassau Harbor Club Marina and features stunning sunsets that sometimes appear through the two arched bridges connecting Nassau and Paradise Island.
It's impossible to pin down the food to one type of style as the multiregional menu features Bahamian, Italian, and Asian cuisine that includes seafood, steak, freshly made pizzas, sushi, and teppanyaki. The interior design at Latitudes is ultra-modern with bold color blocking, stylized ceilings, and metalwork finishes. The restaurant is one of six under the umbrella of the Titan Hospitality Group, which also includes Wreckers in Spanish Wells and Smugglers in Nassau.
The Latitudes Bar is a trendy social spot that quickly became a feature of Nassau nightlife after it opened. It's still to be seen if Latitudes has longevity on the social scene, but the circular bar features local draft beer and a full lineup of top-shelf alcohol. The large parking lot for Latitudes is on the other side of a highly trafficked main road, so parking and accessing the restaurants is not the most convenient; however, valet service at the restaurant's entrance is free.
titanhospitalitygroup.com/latitudes/
Plenty of Options for Dining in The Bahamas
From luxury resorts to roadside stands, don't hesitate to stop and taste the Bahamian local fare.  Nassau's oldest, family-owned Bahamian restaurant and bar is the Bahamian Cookin' Restaurant, formally known as Bahamian Kitchen. For those wanting true,
authentic Bahamian island-style food, head to Trinity Place in Downtown Nassau (across from Central Bank) to experience three generations of Bahamian cooking, including conch fritters, grouper, and lobster.
Don't let its appearance fool you. Stuart's Conch Stand in Bailey Town, Bimini, is a rustic shack with piles of conch shells behind it, but the food is outstanding. Everything is prepared fresh while you wait. Visitors highly recommend the conch salad, paired with an ice-cold local beer. With generous portions, modest prices, and friendly staff, Stuart's doesn't disappoint. Open for lunch and dinner.
(242) 347-2474
Eleuthera and Harbour Island
Arrive by boat to Frigate's Bar & Grill in Rock Sound, Eleuthera. It has an easily accessible dingy dock (and the owners don't mind if you dock there while shopping for provisions). Beat the heat in Frigate's air-conditioned dining room and share a sampler platter of conch fritters, fish bites, chicken tenders, or wings with three or four friends. They'll even cook up your catch of the day. Make a reservation or place an order online.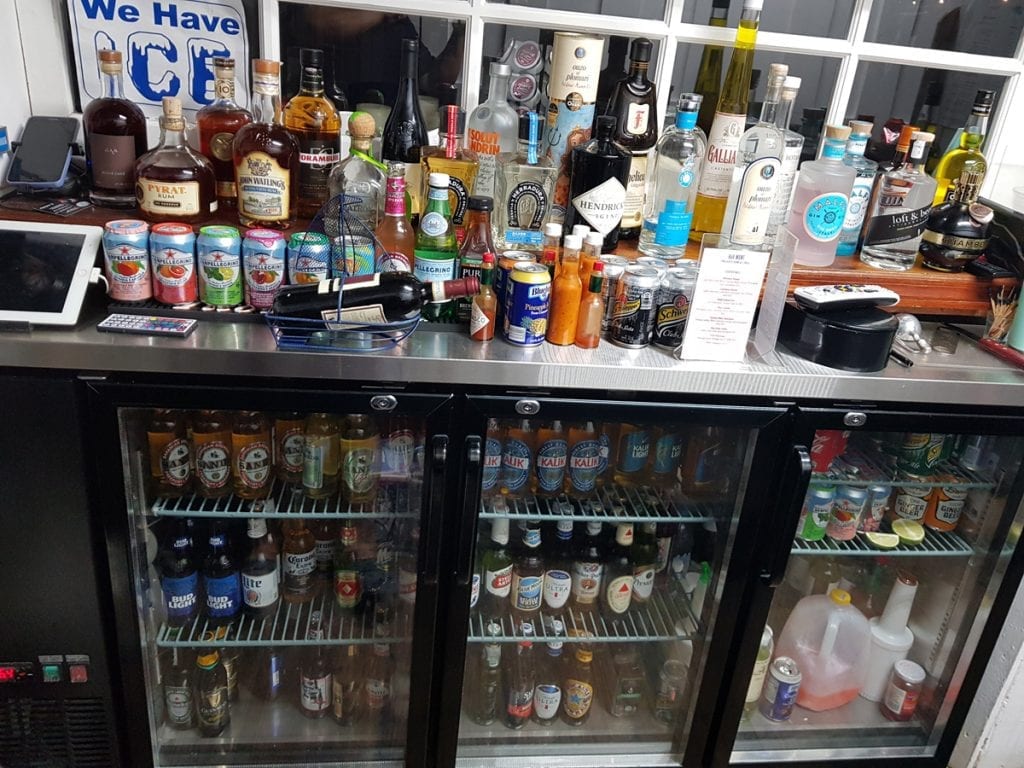 Sip Sip's menu changes daily based on what's fresh and in season. In Bahamian slang, sip sip means gossip or idle chat, which lends to why Sip Sip is a popular local hangout in Dunmore Town on Harbour Island. The waterfront view is quite the scene, but its casual atmosphere along with Chef Julie Lightbourn's classic Bahamian dishes make this a beautiful and tasty spot to have lunch. Try the Spicy Conch Chili or its famed Lobster Quesadilla. Sip Sip is open from Thanksgiving to August but has a sister restaurant at the Atlantis Paradise Island.
By Noelle Nicholls, Southern Boating August 2019