July 05, 2023
Weekly Market Outlook
By Donn Goodman and Keith Schneider
The stock market continues to grind higher
The markets finished out a profitable first 6 months of the year.  As we mentioned last week, pre-election years tend to produce good results, especially after a negative period the year prior. 
The first half of 2023 stock market returns are well above even the most aggressive analysts on Wall Street's expectations.  Many investors came into 2023 fearful of another leg down and have been more than surprised at the bullish and almost parabolic (NASDAQ 100) nature of the technology market.  Fueled by optimism and hope that AI (Artificial Intelligence) may solve many labor shortages and rising costs of workers, technology stocks have soared during 2023.
Recent economic numbers, including the US and Worldwide PMI (Purchasing Managers Index) and the Economic Surprise Index, point to growth and no imminent chance of a recession.
Additionally, first quarter GDP came in better than expected at 2.0%. This after many Wall Street Firms are calling for a recession in 2023. See charts below pointing to the better than expected readings:
The above economic growth, along with declining inflation numbers and robust consumer spending that stays strong, has resulted in the Economic Surprise Index surging (a positive) graph. See chart below: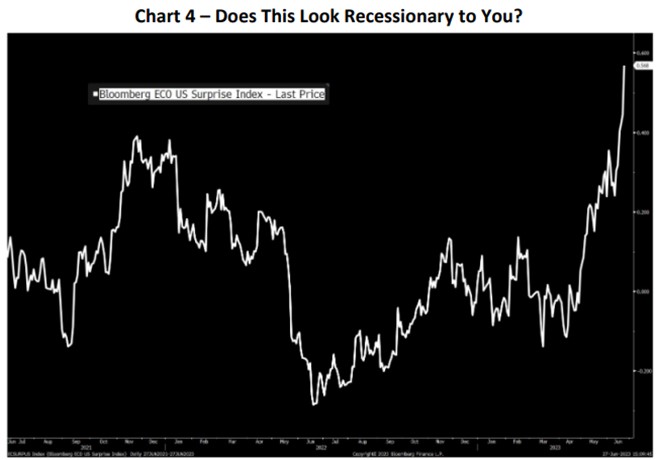 A surge in the Global PMI (Purchasing Manager Index)
Surprising and unexpected positive economic bias is also showing up around the world. Growth in GDP (Gross Domestic Product) is often preceded by the PMI. See chart below showing the recent move higher in the Global PMI. This is also why we continue to contend that the Fed will, in fact, raise at least one, if not two times more in the future: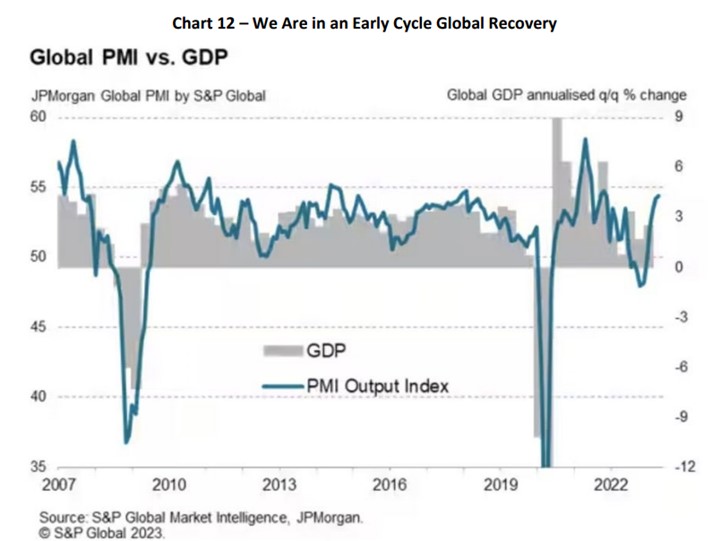 An even better indicator that people are adapting to this high inflationary period and NOT suffering through it as much as during 2022 is contained in the Misery Index (shown below). Given that unemployment is very low, most people are working (who want to), and rate of inflation is declining, the recent reading on the Misery Index provides a positive bias towards the economy.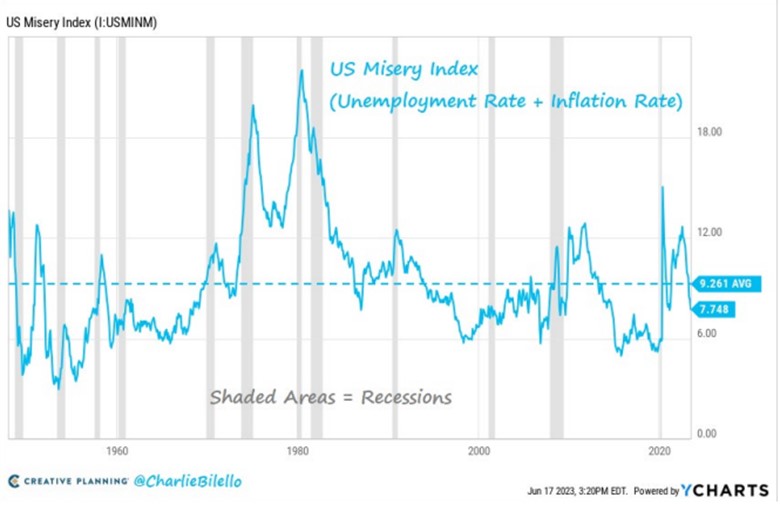 **************
Discover Your Investing Strengths
What's in store for the market for the remainder of 2023?
Truthfully, at this point, with all of the economic data contradictions, neither us nor any analysts know for certain what will occur in the markets for the remainder of the year. We are entering what is typically an unfavorable period (3rd quarter) and one that may be marked by a surprise in earnings, potentially to the downside.
We have written extensively in previous Market Outlooks about what happens if the market is up over 10% for the first six months. This is a FAVORABLE statistic, and you can review the chart we posted in last week's Market Outlook.
Here is another chart that further points out the positive bias the markets should have given the first half's stellar performance.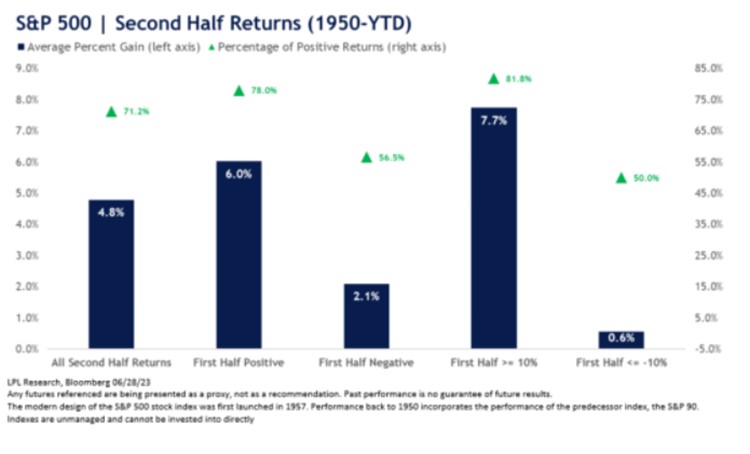 The news flow can be confusing and intimidating, but investing in this environment doesn't have to be. If you would like personal guidance and hands-on management of your assets with the assistance of tactical, risk managed, strategies, please contact me at donn@mgamllc.com or Keith at keith@mgamllc.com.