Sailing Towards Philanthropy: The Marine Industry's Charitable Impact
Behind the scenes are those who quietly serve and support others.
The marine industry contributes to the economy, supports thousands of jobs, and adds significant value to many lives. Many companies and their employees benevolently support charities, communities, and citizens that may or may not ever experience anything having to do with the marine industry. The marine industry charitable efforts come from notable companies like MarineMax, Brunswick, Grady-White, and Denison Yachting. Southern Boating's sales rep, Vince Scutellaro, spends time building homes for others through Habitat with Humanity. That's what giving is all about. 
Founded in 1998, MarineMax, an integral part of the marine industry's charitable efforts, goes beyond the typical boat dealership to offer recreational boat buyers the most enjoyable ownership experience possible. The company's core value statement of "Always Do What is Right" is more than just a corporate marketing slogan. Each time a new store, marina, or business joins MarineMax, employees are encouraged to make time to give back to the community by volunteering during the workday and by raising money and donating funds to causes that directly tie to their work team's interests. MarineMax supports regional and national efforts but also addresses needs at the local level.
Charitable organizations supported on the national level include the American Red Cross, 4Ocean, the American Cancer Society, and Habitat for Humanity in Pinellas County, Florida, and in various cities around the United States. Additionally, MarineMax stores and marinas champion a variety of local initiatives from regional hospitals to chamber of commerce groups across the nation, such as Toys for Tots, Junior Achievement, blood drives, and sponsoring children's sports teams.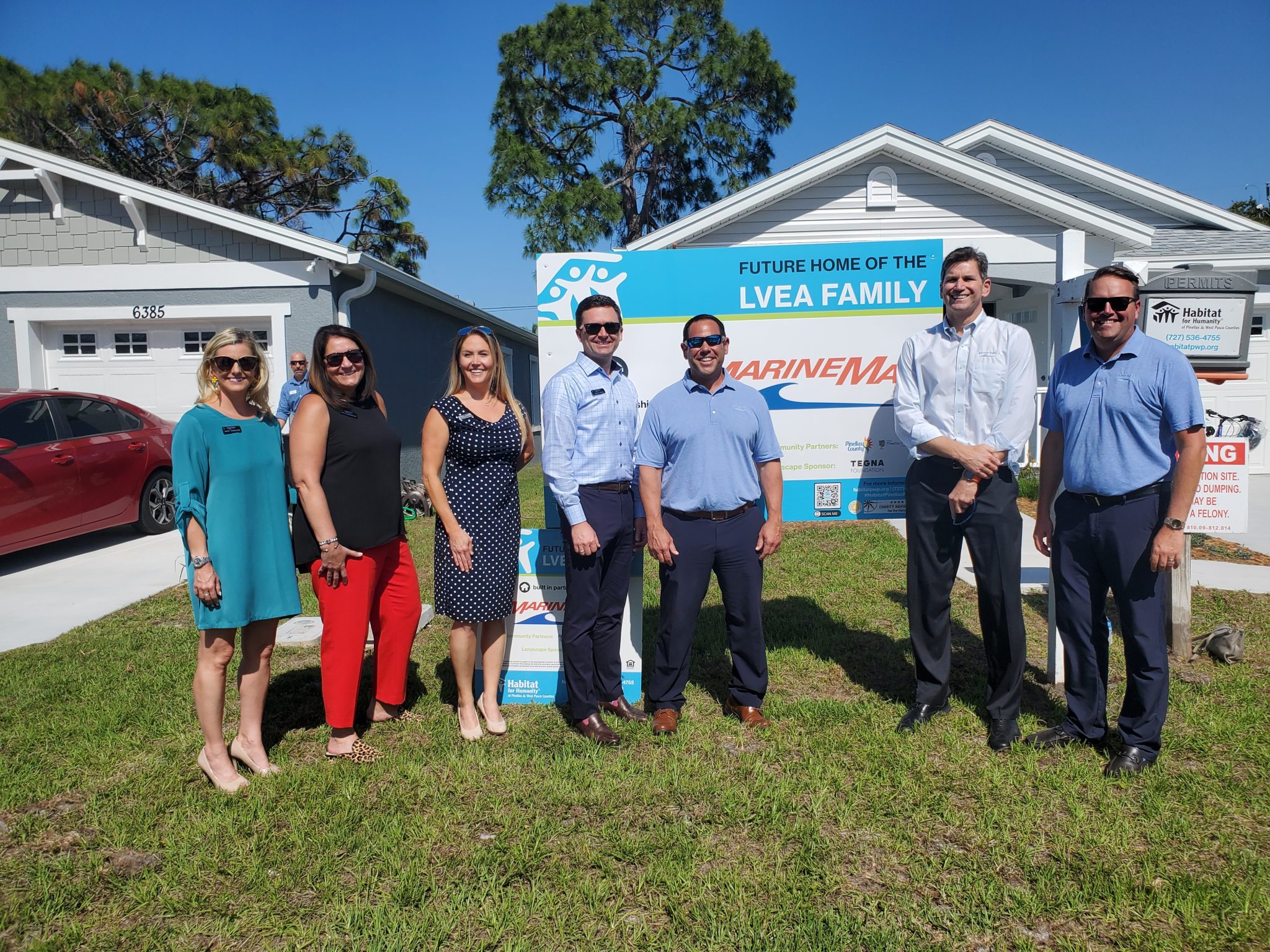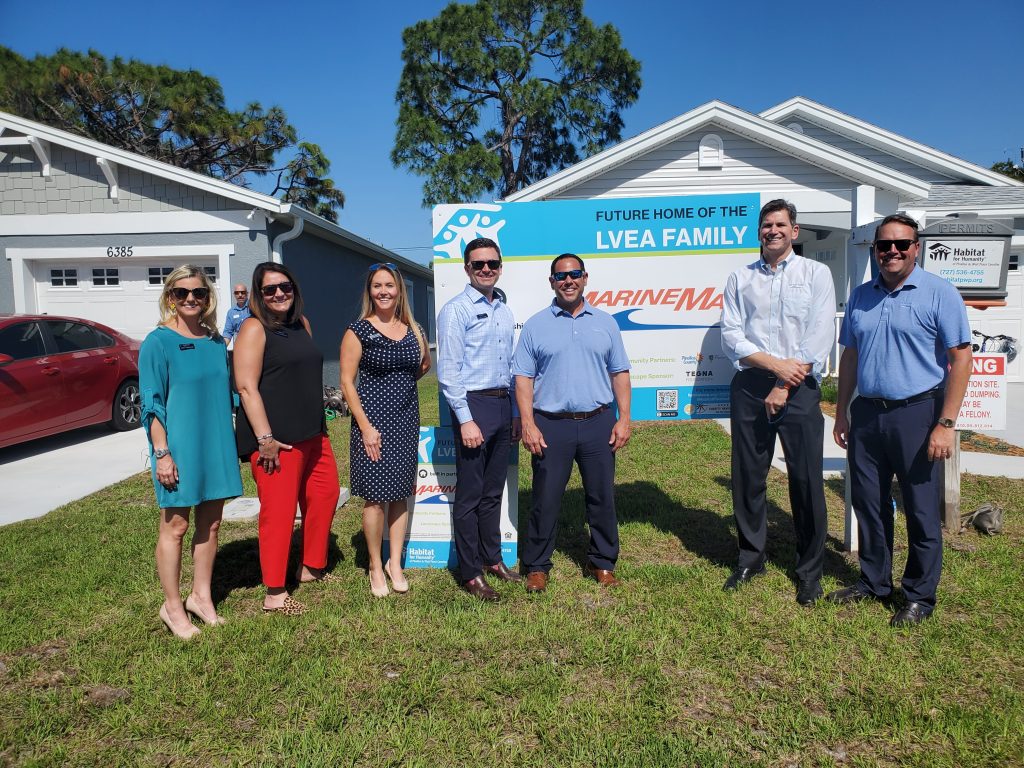 The MarineMax location in Fort Myers has hosted a yacht gala for the last six years that has raised more than $1 million for the Golisano Children's Hospital, the only stand-alone children's hospital between St. Petersburg and Miami that offers pediatric emergency medicine and ongoing care to families in Southwest Florida.
MarineMax has supported Habitat for Humanity since 2016, and in 2022, a house was sponsored for a single mother of two children in Clearwater, Florida. Employees are encouraged to help build houses, and for the company's general manager meeting each year, more than 100 team members work on a house under construction in Pinellas County and fund the building of the house itself. Likewise, employees around the country volunteer with their local Habitat for Humanity programs.
MarineMax supports local charities as a regular sponsor and hosts fishing tournaments, galas, and events across the nation that raise funds for many causes. marinemax.com
Making a Splash: The Charitable Side of the Marine Industry
As a world leader in recreational boats, marine engines, and marine parts and accessories, Brunswick Corporation is another key player in the marine industry's charitable efforts. They have a strong commitment to championing organizations that protect waterways. The company is also committed to supporting employees and their communities with initiatives that provide access to the water while expanding entry to careers in the marine industry for traditionally underrepresented populations. The Brunswick Foundation, a 501(c)(3) charitable organization founded in 1957, distributes conservation and community-focused grants to a variety of recipients around the world and educational scholarships to children of Brunswick employees and dealers.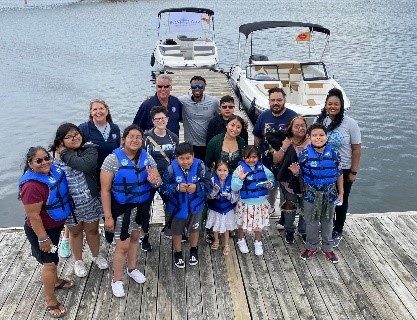 Brunswick also launched All Blue Planet, an initiative focused on inspiring a movement for all to enjoy the restorative power of water. Based on the belief that connection to the water is critical for fostering sustainable communities and healthy living, All Blue Planet promotes expanding access to water for increased opportunities to experience water in all its forms. As a global leader in recreational marine, Brunswick and its industry partners are uniquely positioned to engage communities on the cognitive and emotional benefits of time on, in, and around water.
A few of the beneficiaries from Brunswick's support in recent years include the Make-a-Wish Foundation, Girl Scouts of Chicago and Northwest Indiana, Boys and Girls Clubs, CharterAbility, The May Youth Foundation, Alliance for the Great Lakes, American Rivers, Billion Oyster Project, FishAmerica, Lurie Children's Hospital of Chicago, Ocean Aid 360, Ocean Conservancy, Perry Institute for Marine Science, Rhode Island Marine Trades Association, Shedd Aquarium, and United Way. brunswick.com/corporate-responsibility
When Eddie Smith bought Grady-White Boats in 1968, another stalwart of the marine industry's charitable efforts, he and his wife, Jo, incorporated "sharing your blessings," a lesson from his parents, as one of the core values of the company. This foundation remains at the forefront today under the leadership of President Kris Carroll, a 47-year company veteran, and her team.
In 2004, Grady-White partnered with the Pitt Community College Foundation and created the VISIONS Program to identify, mentor, and educate at-risk youth to help them graduate from high school and then, if they qualify, receive a scholarship to earn an associate degree. Of the more than 1,100 students accepted into the VISIONS Program, 99 percent graduated high school and 42 percent completed a degree or certificate at Pitt Community College, including Tutaw, a political refugee from Myanmar who came to the U.S. in 2007. Tutaw is now a U.S. citizen and personally supports the VISIONS Program so that other students can succeed as he did.
Grady-White Boats has supported the Boys and Girls Clubs of the Coastal Plain (North Carolina) for more than 30 years by contributing to clubs being built, including one in Greenville completed in 2007. 
The company also helped establish and fund Club Academy, a program that mentors local schoolchildren in grades K-5 in reading and math. The indices have been shown that these mentors have been crucial to students later completing high school.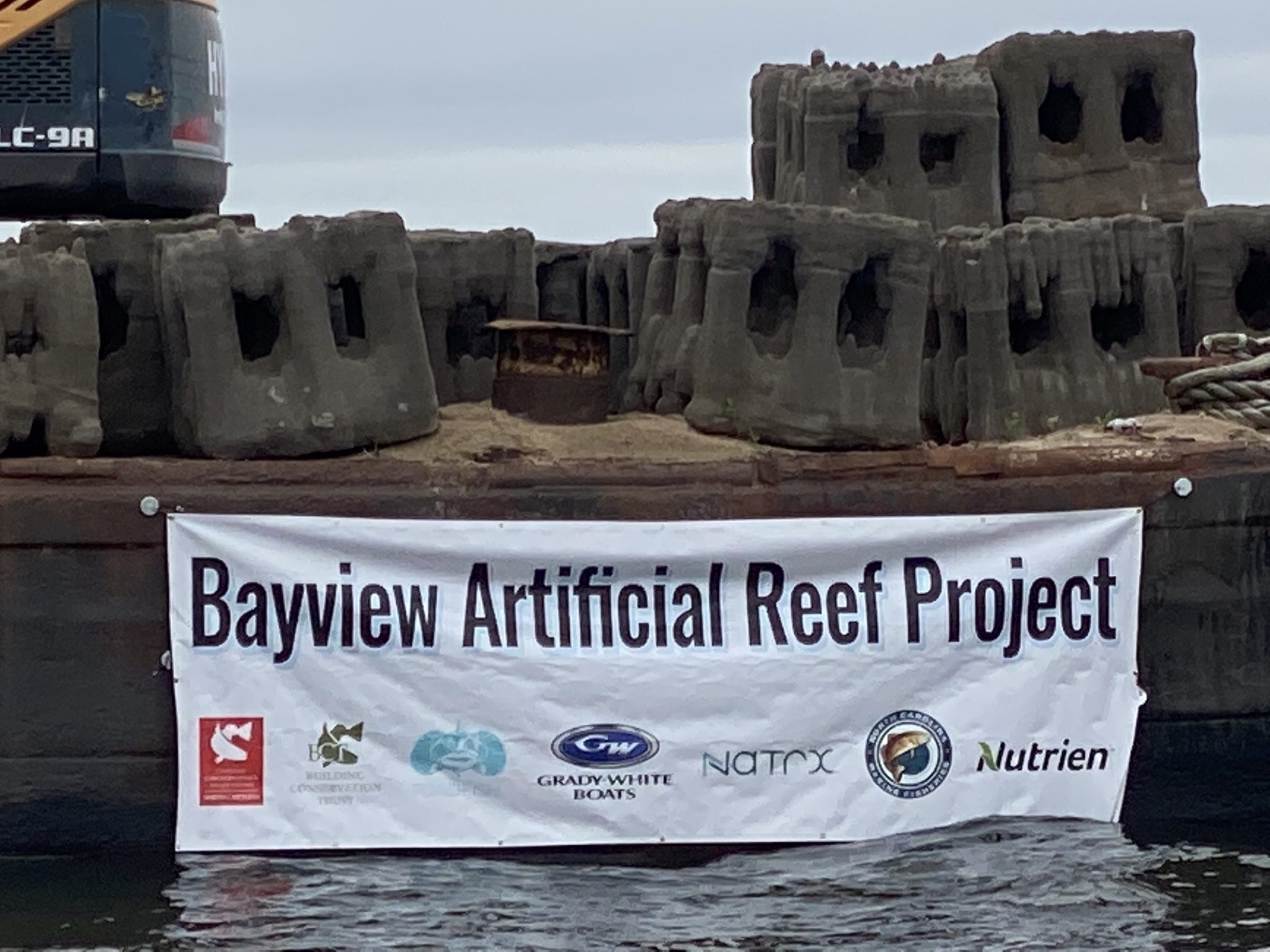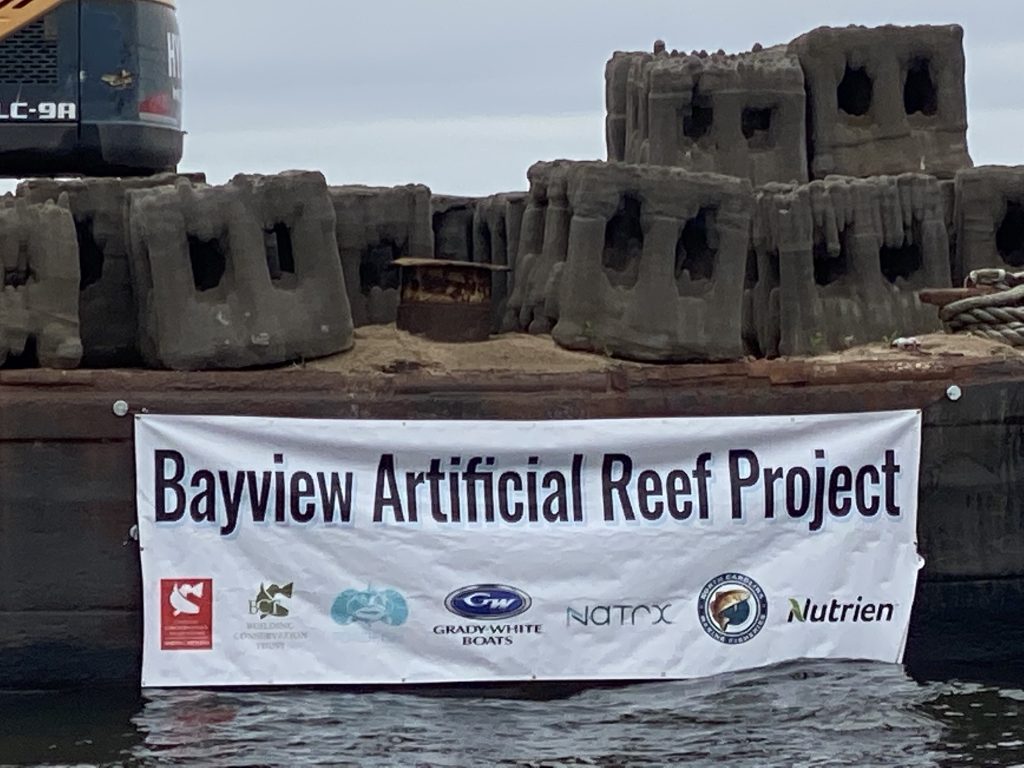 Grady-White has demonstrated a long-term commitment to natural resource conservation for many years. Smith has been a contributing member as have other team members of many organizations such as the North Carolina Coastal Conservation Association, International Game Fish Association, Billfish Foundation, American Sportfishing Association, Center for Sportfishing Policy, Recreational Boating and Fishing Foundation, Congressional Sportsmen's Caucus, Nature Conservancy, Tar River Land Conservancy, Sound Rivers, Theodore Roosevelt Conservation Partnership, Chesapeake Bay Foundation, Tag-A-Giant, Stanford University's White Shark Tagging Program (Dr. Barbara Block), and the Dolphinfish Research Program/Beyond Our Shores Foundation.  
Many oyster and fisheries restoration projects have been funded by Grady-White, including the North Carolina Coastal Federation "50 Million Oysters" Initiative which was able to almost triple its goal and established 140 million oysters in the Pamlico Sound from 2017-2020. Grady-White also joined an effort to re-establish a fish and oyster habitat on the Pamlico River near Bath Creek, a collaboration that included the North Carolina Division of Marine Fisheries, the North Carolina Coastal Conservation Association, residents, and local businesses who placed one hundred 4,000-pound cement cubes designed to foster fisheries and oyster habitat. Additionally, Grady-White and the Eddie and Jo Allison Smith Family Foundation contributed to a large-scale project in the Neuse River called the Oyster Highway. 
Grady-White Boats gives back in many other ways too numerous to list with a company culture dedicated to sharing time, talent, monetary resources, and a commitment to doing so because it is the right thing to do. gradywhite.com/explore/the-grady-life/conservation-advocacy
The Marine Industry's Charity Voyage: A Journey Towards Giving Back
Bob Denison and Denison Yachting, embody the marine industry's charitable efforts as well. Bob Denison began by serving the South Florida homeless community as a teenager. That interest became a commitment, which is shared by his wife, Daniella, as well as many colleagues in his yacht brokerage and charter firm which has been active with local homeless causes since 2004. 
"We're big fans of what local church groups and nonprofits are doing for the homeless here in South Florida," says Denison.
He also supports multiple local charities as well as a few on the national level, including the American Heart Association. 
"We'd like to see things like heart attacks as a thing our grandkids ask about, not experience themselves," he says.
Denison encourages marine industry companies and individuals to fundraise for causes by providing auction prizes that include cool experiences on the water. 
"Never underestimate a great raffle prize that includes a fun day on the water," he says. denisonyachtsales.com