July 12, 2023
Weekly Market Outlook
By Donn Goodman and Keith Schneider
It seems to be the summer of travel and vacations!  Before and during the July 4th holiday weekend, the TSA reported that they screened more travelers than in 2019 before the pandemic.  People are on the move and of course with the weather not cooperating everywhere, many people have been stuck in airports on their way to resorts and cruises.
Having been an avid "cruiser" myself over the past 20 years, I understand the allure of a big ship with all the available activities, all you can eat food (food is expensive these days and to have an endless supply – who doesn't want to just "dig" in?), music, sun, beaches, exciting new ports, and fun, fun, and more fun.  One can understand why cruise ships are full and their stock prices are soaring. 
Since June, Carnival has been one of the most profitable stocks to own.
This operator of cruise ships that struggled mightily during the restricted travel pandemic of 2020 and part of 2021, has sailed right into the top of the list of June hot stocks.
Shares of the cruise ship operator of a fleet of more than 90 ships are up more than 67% in just about a month's time.  (MarketGauge subscribers and MarketGauge Asset Management investors are big beneficiaries of our quant models catching this and another travel operator recently).
The company's profitability is suddenly turning around.  Analysts think the company this September will report a profit of 76 cents per share for the August-ended quarter.  If that happens, it would be the company's first profitable quarter since prior to Covid-19 in the quarter ended February 2020.  See Carnival 2023 stock chart below: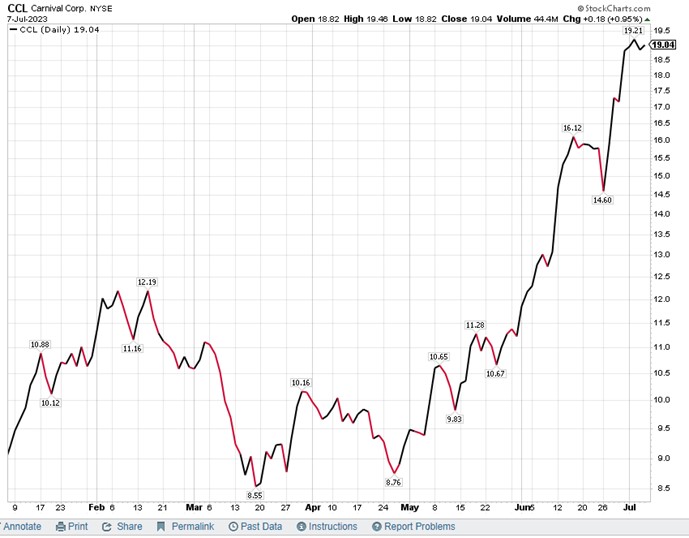 I would guess that most of the readers to this column enjoy the many benefits of cruising, sailing, racing and generally being on the water.  Therefore, it would come as no surprise to all of you that the rest of America seems to be taken with the enjoyment of the getaway adventure that large cruise ships offer.
Add to that the YOLY (you only live once) mentality many Americans feel after being cooped up for more than 18 months due to COVID, and you have a recipe for travel and leisure stocks being the new darlings, supplanting technology (at least since June 1) as the new hot stocks to own.
**************
Discover Your Investing Strengths
Buying S&P 500 stocks is back in fashion. Investors are scooping up stocks again and here are their favorites (since June 1).
Ten stocks in the S&P 500 have become the new investor favorites.  You would think Apple, Nvdia and Microsoft. But you would be wrong.
No matter how much the media is fixated on the purchases of the top 7 (we have covered this the past few weeks, click here to read last week's article), investors are scooping up plenty of stocks outside those 7 and you would have to think less tech.  Enter travel & leisure. 
Big $ Inflows in stock ETFs in June.
More than $53 billion poured into stock ETFs in June-showing the strongest demand among all asset classes according to State Street Global Advisors.  That's ETFs' biggest inflow of free cash in a month since October 2022.
State Street points out that nearly $70 billion went into all ETFs in June.  That was the biggest inflow in eight months, and the first-time monthly flows topped the average.
But investors aren't just bullish with their money.  "Bullish sentiment jumped to 46.4% from 41.9%, according to the weekly survey of individual investor sentiment from AAII," Bespoke Investment Group said.
This week the indicator's reading was the highest level of bullish sentiment since November 2021.
S&P Travel Stocks have taken off.
It's the summer of leisure, adventure, and fun!  A similar story to Carnival Cruise lines is that of Norwegian Cruise Lines (NCLH), Royal Caribbean Cruises (RCL-another MarketGauge holding), Delta Air Lines (DAL), and Southwest Airlines (LUV).
Starting June 1 is an important time frame to consider.  This period kicked off a flood of investors' interest in buying stocks again.  And the latest rally looks different than the big-cap tech focused rally raging so far in 2023.
Here is a chart showing the top 10 stocks in the S&P 500 since June 1: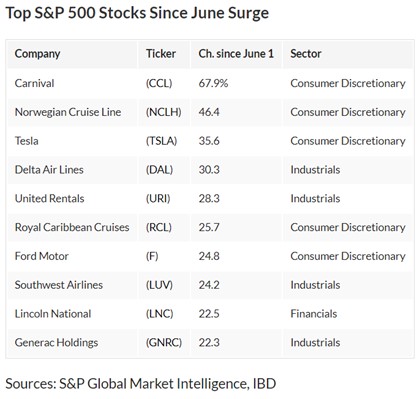 Except for Tesla, there is really no mega caps on the list above nor any tech focused company.
"With the S&P 500 rallying into bull market territory and new 52-week highs, investors have become bullish," says Bespoke.
This is a positive for the markets as it shows investors are branching out beyond the biggest, and mostly tech-oriented stocks and into areas of the market that they feared could falter from a (predicted) recession that has not yet materialized.  Here is a chart of the equal weighted S&P 500 ETF (RSP) versus the market cap-weighted S&P 500 (SPY).
We are looking for a slowing and softening economy which should be reflected in July 12's CPI number.
By now the CPI (Consumer Price Index) has been released.  Our expectations were that it would likely be a surprise number.  We feel that the economy is slowing and that the CPI will be softer than expected and the number will likely be to the DOWNSIDE.
Inflation has been persistent.
This writer has been consistently saying "higher for longer".  Our firm (both Mish and I) have also been stating that inflation is sticky, persistent, and can last a lot longer than expected, especially when the Fed maintains its 2% long-term objective.  Mish was early in calling for the dreaded "STAGFLATION" in many of her commentaries on National TV back as far as late 2021.
According to Mish, an experienced reader of the tea leaves, it was an inevitable state for the economy to enter.  Of course, the current administration's desire and ability to pass major spending bills has helped keep inflation higher for longer with added stimulus in the economy.
Then, of course, the Treasury's need to create emergency liquidity for the regional banking crisis earlier this year probably contributed to inflation lingering longer.
Why my thinking has been changing.
Last week I said that inflation may soon break to the downside.  I maintain that position and want to reinforce why this writer believes that.  Much of my recent investigation into what might occur was gleaned from a Fisher Investment Report that recently came out (thank you Fisher Investments).
Forward-looking charts and indicators show that inflation is slowing much faster than many expected.
The news flow can be confusing and intimidating, but investing in this environment doesn't have to be. If you would like personal guidance and hands-on management of your assets with the assistance of tactical, risk managed, strategies, please contact me at donn@mgamllc.com or Keith at keith@mgamllc.com.