Unveiling Ten of 2023's Top RIBS - A Buyer's Guide
Nine RIBs and one inflatable make up this year's buyer's guide.
Tenders come in all shapes and sizes, and really, anything that floats can be a tender in some fashion, but we'll stick with those (except for one) that are inflatable with a hard bottom, also known as a rigid inflatable boat or RIB. They're more stable than an all-inflatable boat for carrying passengers and gear and are sturdier for more activities such as diving or water sports. Let's take a look at 10 that fit the bill.
Novurania of America DL 430: The Iconic Tender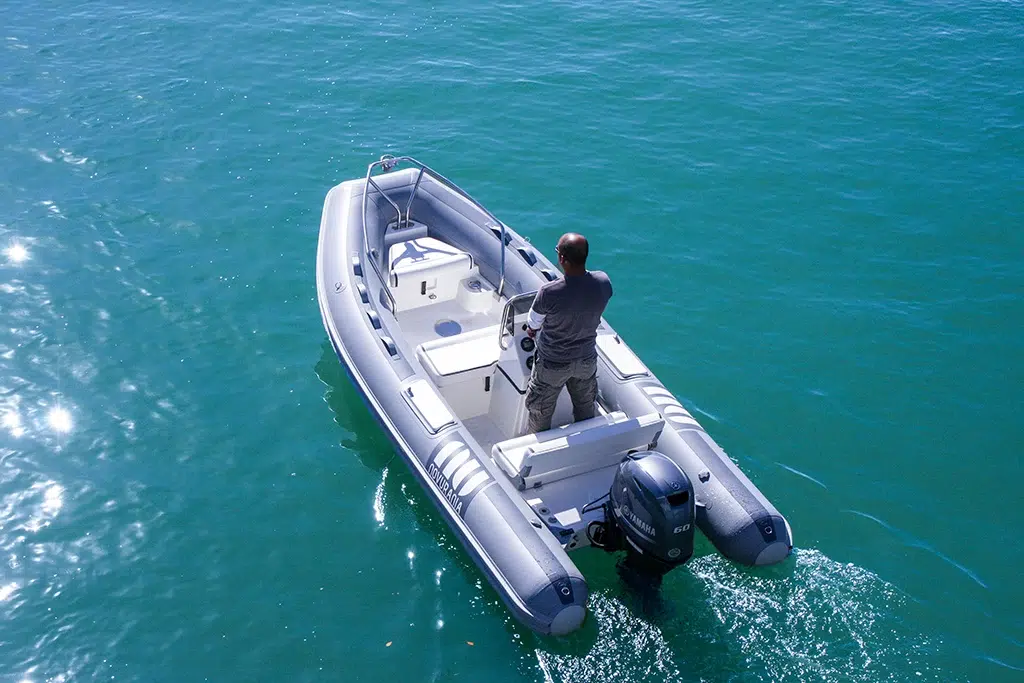 Novurania's iconic DL line, ranging from 11 to 18 feet, is perfect for exploring local bays and islands as well as transporting guests back and forth to the dock or beach and for water sports.The DL 430 (14′ LOA, 6′ 2″ beam) is powered by a Yamaha outboard engine (up to 70 hp) that provides seating for up to seven passengers and a smooth and stable ride. Build her to match the mothership yacht with optional gel coat, upholstery, tube colors, and custom logo. novurania.com
Argos Nautic GT14: Luxury and Style on Water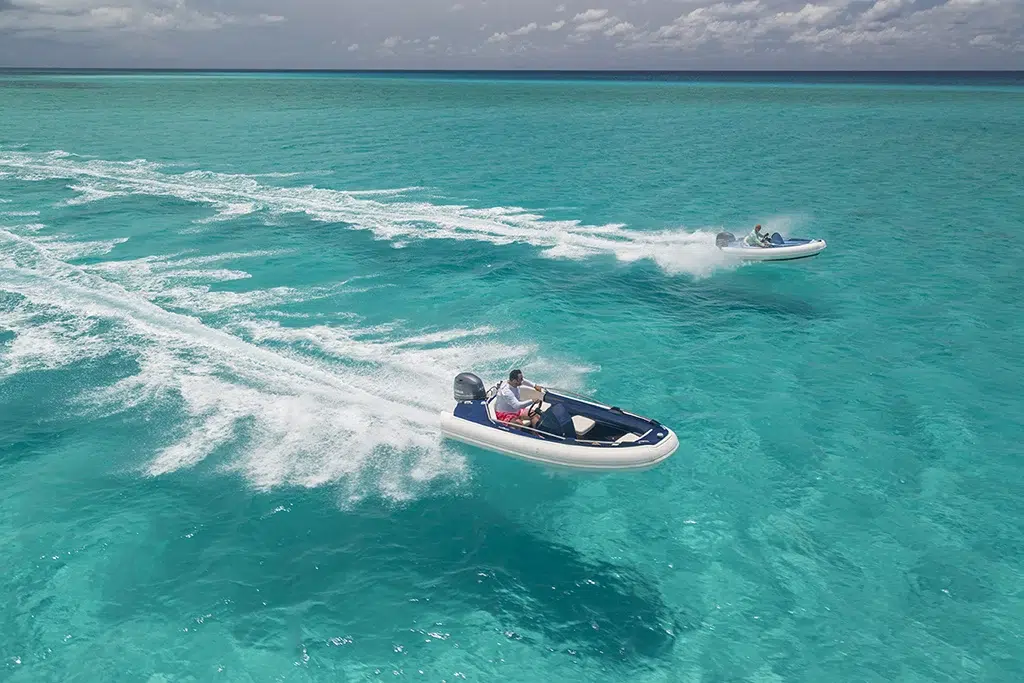 The Argos Nautic GT14 (13′ 10″ LOA, 6′ 10″ beam) is the epitome of luxury and style on the water. This tender is the perfect addition to any yacht with its sleek, ergonomic design, deep-V hull, and its ability to plane in less than three seconds. The GT14 is designed with ample internal space and can accommodate up to six passengers with bow and aft seating and a bench next to the console. Its custom options put a personal stamp on your tastes through paint colors, upholstery, and flooring choices. Max power is 70 hp. argosnautic.com

Northstar ORION 6: Industry-Leading Features in a RIB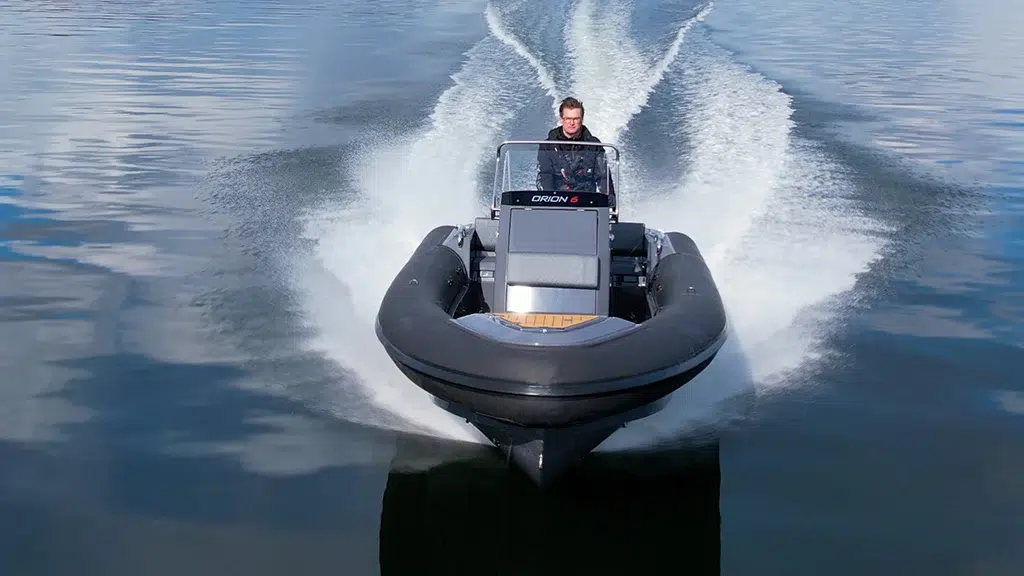 All new ORION RIBs offer a lot of industry-leading features and come equipped with a long list of standard equipment. The ORION series have stepped hulls designed by Adam Younger and provide the ideal combination of efficiency and seakeeping. The ORION 6 (19′ 4″ LOA, 8′ 2″ beam) is the first member of the "cruising" RIBs that carries on the NorthStar tradition of attractive but minimalist designs. She has seating for up to 14 passengers, plenty of storage, a swim platform with retractable ladder, and power capabilities to 350 hp. Options include a shower system, electric windlass, and more to make the ORION 6 a cruising master. northstarboats.com
Highfield Sport 660: Military-Grade Durability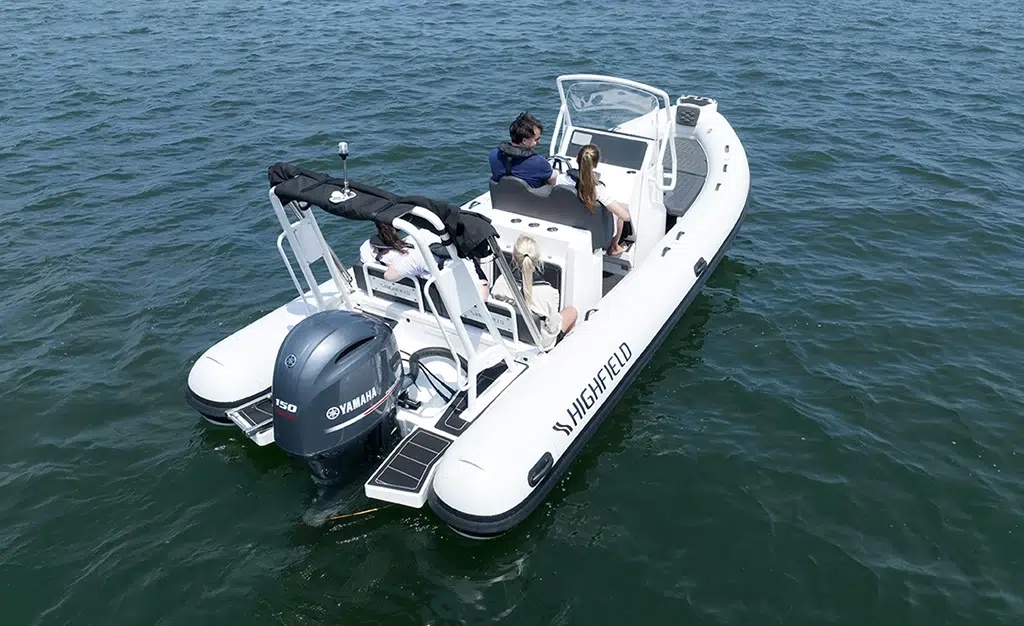 Highfield Boats launched five new offshore Sport RIB models, including the rugged Sport 660 (21′ 4″ LOA, 8′ 6″ beam). With a 13-passenger capacity and max power to 200 hp, her military-grade aluminum hull enhances performance and durability and cuts smoothly through rough seas for a comfortable ride and a top speed approaching 50 mph. The two-person helm has a dash with space for two 12-inch multifunction displays. Upscale features include sport arch, flip-up table, extended rear platform with telescopic ladder, diamond-stitched upholstery, and faux-teak decking. highfieldnorthamerica.com
Airship 340: Quality and Passion Combined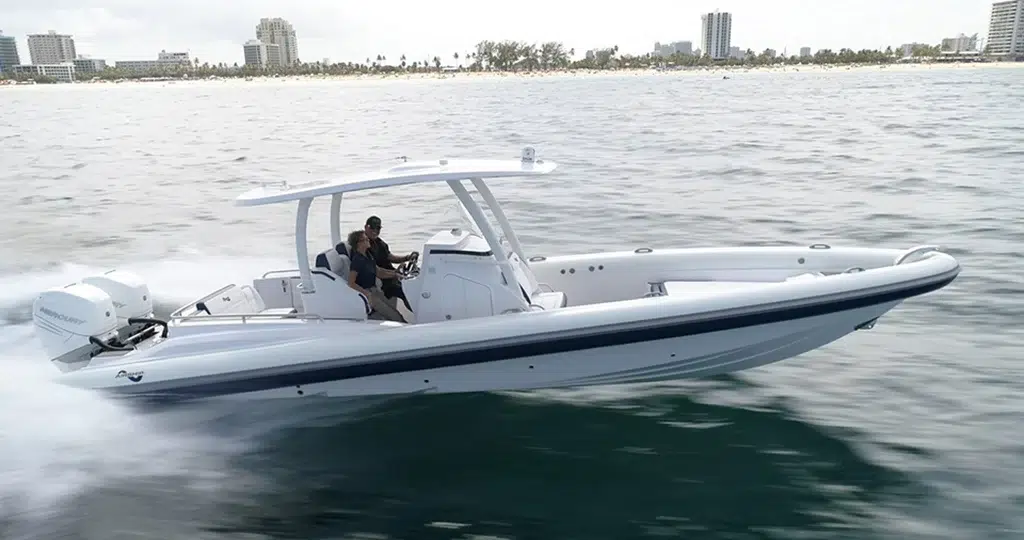 Airship Ribs continues to upgrade its models as shown with its flagship, the Airship 340 (34′ LOA, 10″ beam). Built with a passion for quality in the U.S., the base 340 comes with a long list of standard equipment, including SeaDek flooring. Powered by twin outboards up to 450-hp each, there are a load of options from a macerator head with holding tank to sunshades, marine stereo system, and an aluminum trailer. Resin infusion reduces weight while adding strength to provide excellent speed, handling, and fuel economy. The 340 withstands the demands of a yacht tender and as a family day boat. airshipribs.com
Walker Bay Venture 13: A Blend of Comfort, Performance, and Style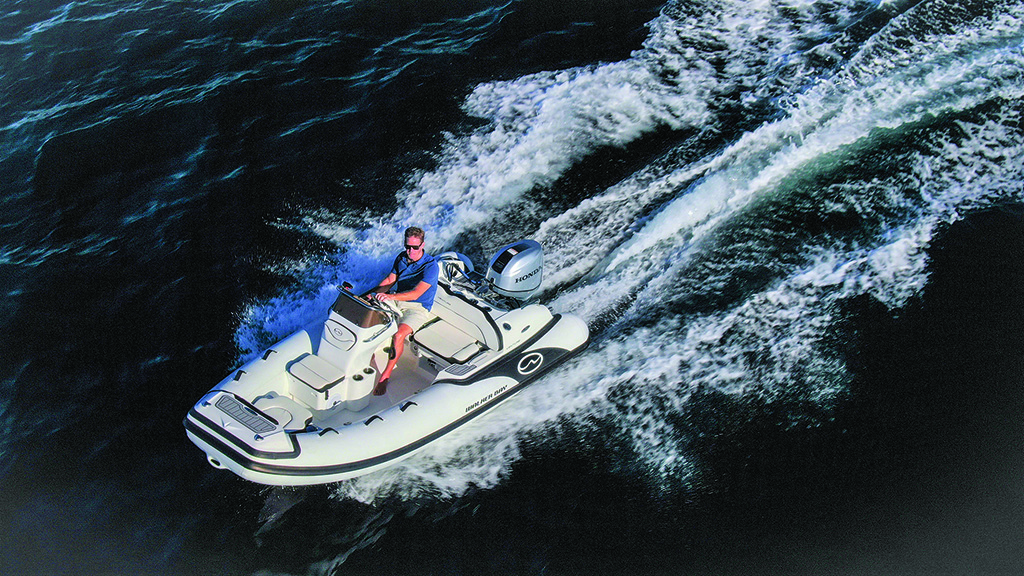 Walker Bay calls its new Venture 13 "The World's Most Versatile 13-foot Tender." Its outstanding versatility is the result of extensive testing, refinement, and the use of the latest technology to combine comfort, performance, and style. What makes the Venture 13 (13′ LOA, 6′ 5″ beam) so unique is how the amenities incorporated into its design allow you to do more with it. There are features for entertaining, exploring, diving, fishing, tow sports, surfing, and cocktail cruising. The Venture 13 can accommodate up to seven passengers comfortably and can reach 40 mph with a 60-hp engine. walkerbay.com
Zodiac Nautic Medline 9: Perfect for Family Outings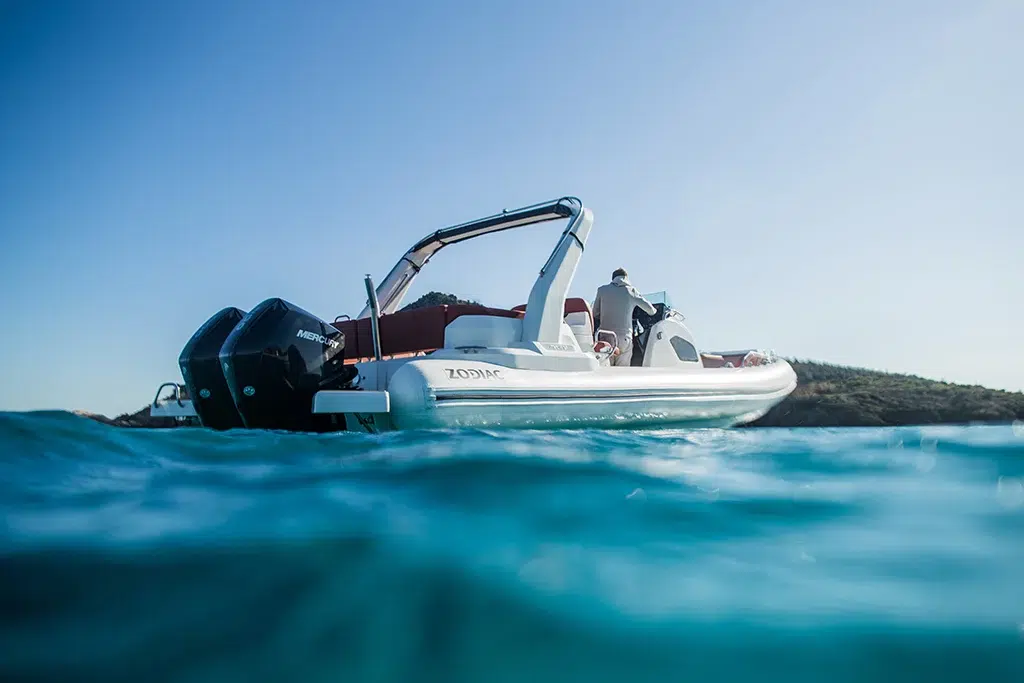 The Zodiac Medline 9 (29′ 2″ LOA, 10′ beam) is the perfect family boat for unforgettable days on the water. A double bow lounge is complemented by a U-shaped lounge at the stern. A modern cockpit awaits the captain, with a sink standard and grill (optional) behind the driver's seating area. There is also a console integrating a day cabin with head and repositionable bolsters to accommodate up to two adults plus one child. At the stern, two swim platforms offer easy access to the sea. Equipped with the twin 350-hp outboards, she is capable of more than 65 mph. zodiac-nautic.com
Takacat T340 LX: The Innovative Catamaran Design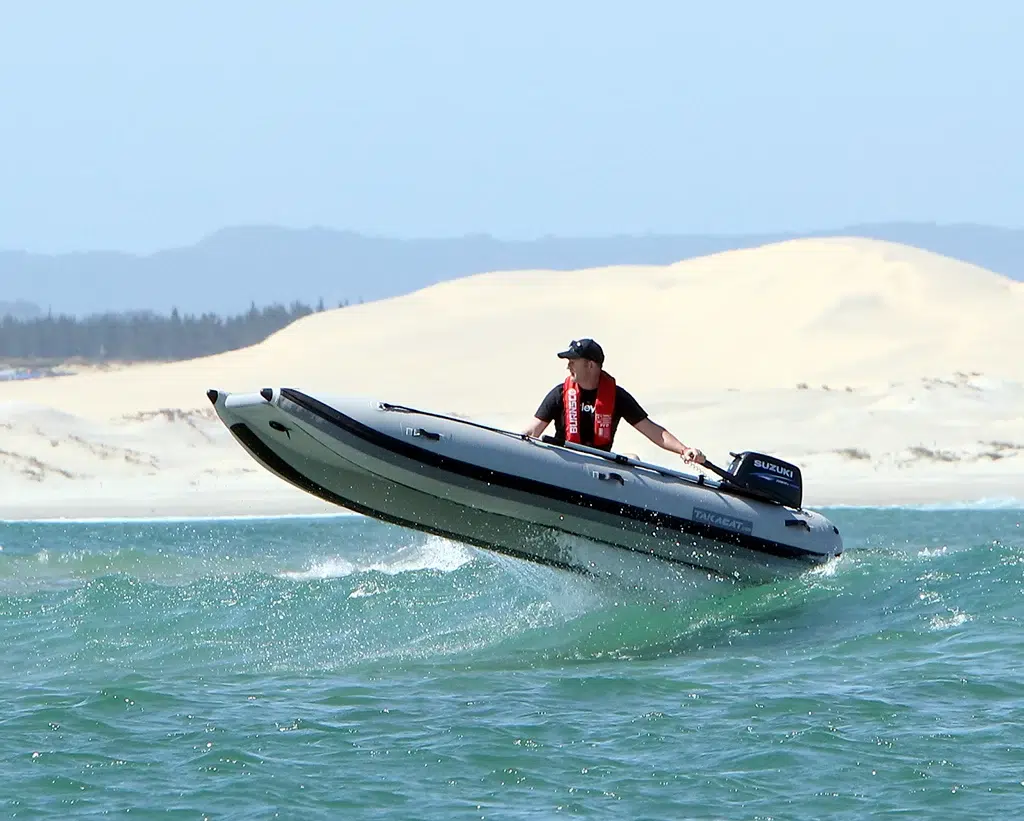 We're including the inflatable Takacat in this guide because of its innovative catamaran design developed in New Zealand by Greg Sowden. Whether fishing, exploring, or carrying passengers from your yacht, Takacat's foldable sports boats are a tough, stable, versatile, lightweight, and fun option on the water. The T340 LX (11′ 2″ LOA, 5′ 5″ beam) can handle up to a 20-hp engine, but the hull design allows a 9.9-hp to reach speeds of a 20-hp on flat or V hull boats. The raised floor and catamaran design create a very stable platform. takacatamericas.com
RIBCRAFT 4.8T: Smooth, Dry, and Reliable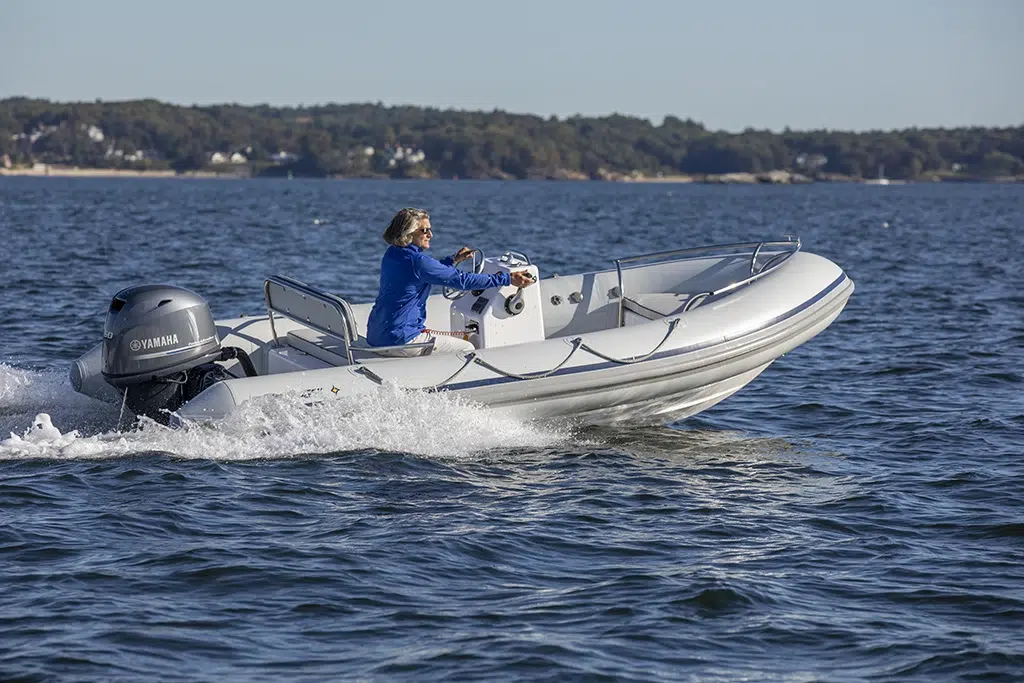 The latest update in RIBCRAFT's complete model line is the RIBCRAFT 4.8T (15′ 7″ LOA,
6′ 11″ beam), the smallest offering that still provides a smooth, dry ride you can count on every time. The 4.8T features the most internal space of any similarly sized RIB on the market with an open deck that accommodates passengers, water sport and beach equipment, and various seating options to satisfy all types of boaters. Powered by a single outboard engine up to 70 hp, the RIBCRAFT 4.8T will reach speeds of 30 mph. ribcraftusa.com
ABJET 450 Diesel: Designed with Love and Comfort in Mind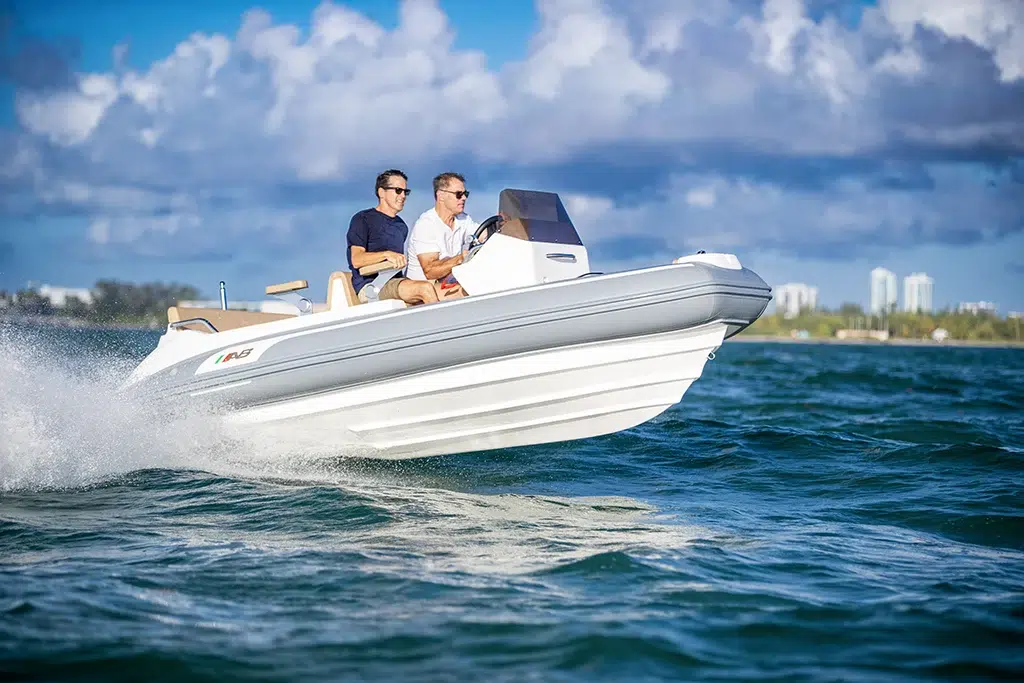 The new ABJET 450 Diesel (14′ 8″ LOA, 6′ 8″ beam) was designed with the owner and loved ones in mind. It is powered by a 110-hp turbocharged Yanmar engine which, combined with the Italian Castoldi Jet pump and its hull and inflatable tubes design, guarantees a seamless performance on the water. The ABJET 450 Diesel sports a foldable console, has a seven-passenger capacity, wide upholstered seats, cupholders, an ample bathing platform, stainless steel ladder, and boarding pole, among other options. abinflatables.com