Top Tenders and RIBS of 2021
Here's a look at some of today's top Tender and RIB builders and their models.
A tender by another name is…a boat. And just like boats, tenders are getting bigger, fancier, faster, more versatile, and a bit more complex. As big boats have transformed into SUVs on the water, so has the tender, particularly the rigid inflatable boat (RIB), that often serve as the family boat for picnics, day trips, and watersports, or a runabout from your dockside home to the waterfront restaurant or a happy hour cruise when the mothership is just too much.
Most cruisers choose the largest tender they can afford, carry or tow. Size and weight are tradeoffs. Single-skin bottom RIBs are lighter, 10- to 20-percent lighter, but they don't handle rough water well. Meanwhile, a center console RIB with a double floor and all the goodies can be a handful to get onto the swim platform chocks. More and more cruisers in the 40- to 80-foot range are towing tenders rather than carrying them feeling bigger is better.
Because RIBS have become, faster, stronger, quieter, and feature-packed, they've also migrated to becoming the primary vessel for some or at least a strong second for the lion's share of daily use when the big boat is dock-bound. As electronics get smaller and less expensive and add-ons become lighter and more practical, tenders are gaining advanced features that allow them to perform duties well beyond a simple dinghy. Sunpads, rear swim platforms, tow bars, sleeping cabins, freshwater showers, underwater lighting, cupholders, depth transducers, stowage space, and swanky cushion arrangements are de rigueur.
Let's look at some of these uber-toys that can commute, cruise, fish, and be part of the playground.
Highfield Sport 390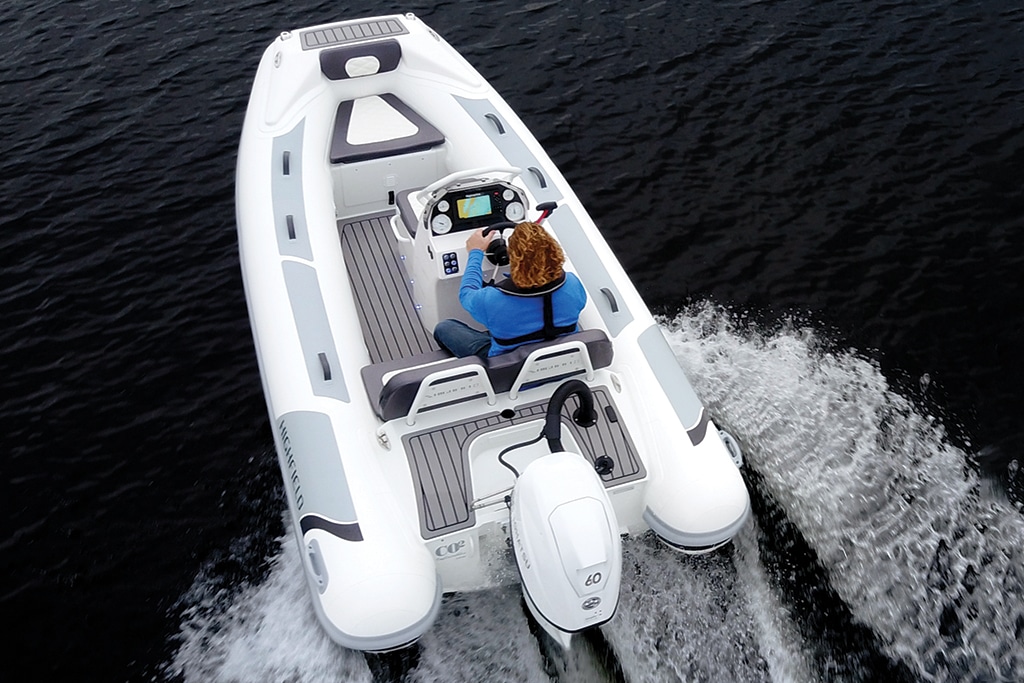 Highfield Boats just introduced 11 new models from 10-26 feet. These aluminum bottom RIBs are tough, so you don't need to worry about dinging the bottom on a beach or a trailer, but they're also posh with diamond stitched upholstery, faux-teak decking and bathing platforms. The SP 390 (12' 10" LOA) has a high tensile chromated and powder-coated aluminum hull, a low-profile console offset to starboard, a heavy-duty rub strake, and a full-length keel guard. If you want to spiff one up, add the optional roll bar, Bimini, and carbon console dash. This model could even serve as a lightweight option for a larger dinghy garage. highfieldboats.com
Lomac Adrenalina 8.5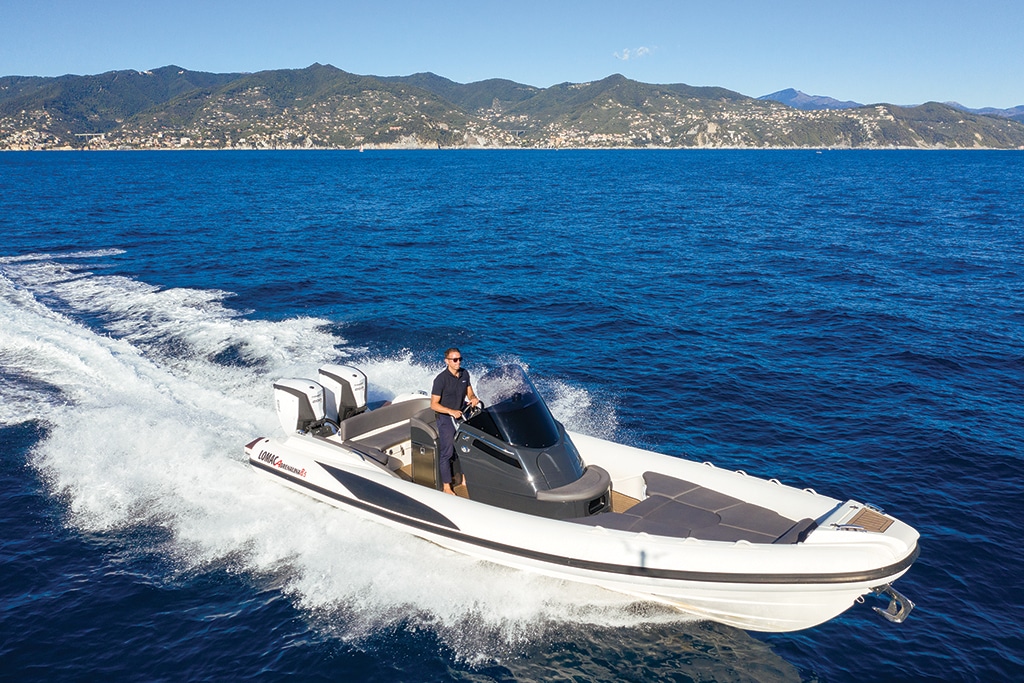 Looking for a sexy Italian? Check out this luxurious maxi RIB from Lomac with aggressive styling by Federico Fiorentino. Powered by single (220-350 hp) or twin outboards, this RIB carries up to 16 people, six of whom can gather around the drinks table in the bow. The aft settee morphs into a sundeck, and the center console hides a space that can become either a stowage room or a head with an electric toilet. For exploring farther afield, there's an electric windlass and a freshwater shower, and with twins (up to 200 hp each), there's mind-blowing performance. Add Garmin instruments, a Fusion stereo and a bow thruster (yes, on a tender), and you've got a boat that will announce that you've arrived. lomac.it
Argos Nautic 450 and 515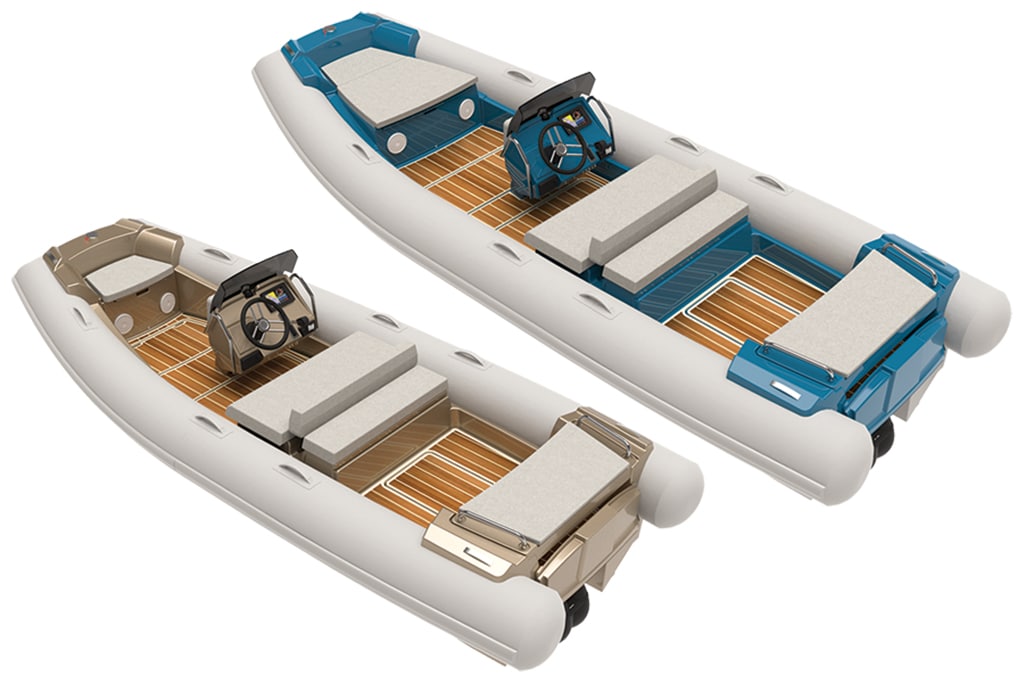 For something quite different, check out two new models from Argos Nautic that are powered by diesel engines. The 450 (15' 6" LOA) carries seven while the 515 (17' 8" LOA) accommodates nine. Both are powered by a 110-hp Yanmar and are expected to deliver a top speed of 33 knots. Customization is the word of the day. There's triple stitching upholstery, a leather-wrapped steering wheel, and the option to color-match to the mothership. These models are minimalist in design with clean lines, stainless steel accents, and little ornamentation, so they'll complement contemporary yachts and turn heads as they speed by. argosnautic.com
Williams Jet Tender DieselJet 415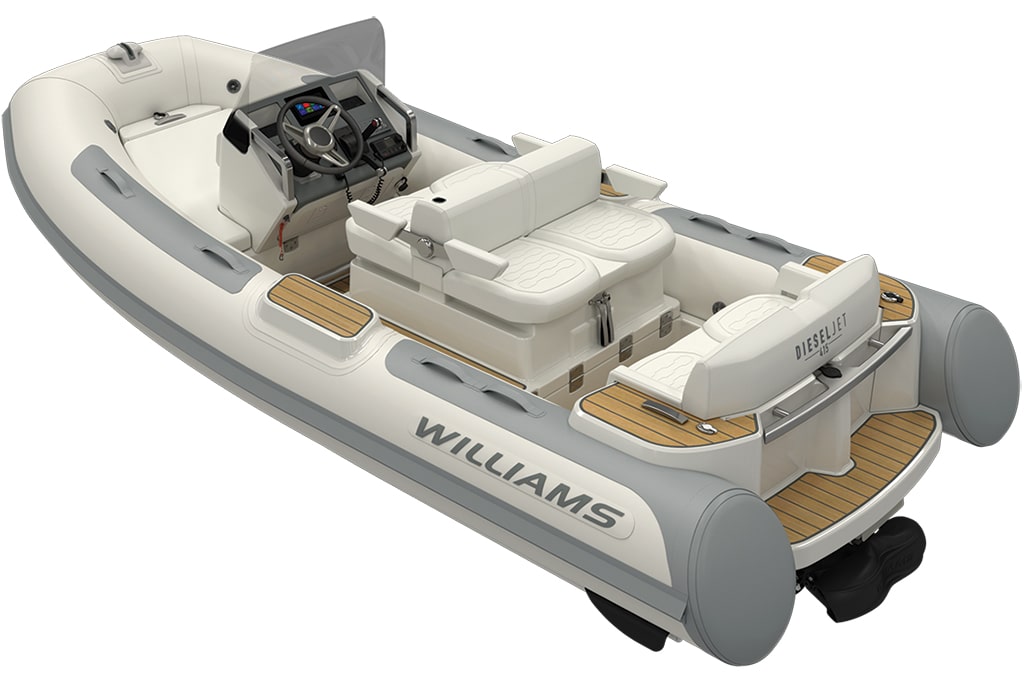 Another diesel option is the DieselJet 415 (13' 6" LOA) by Williams Jet Tender. Also powered by a 110-hp Yanmar and likely to reach the same speeds as the Argos Nautic (33 knots), the compact DieselJet is fully customizable, including tube colors and upholstery. With a 7-inch Raymarine Axiom MFD on the center console and six seats (both forward and aft-facing), this little speedster is a tender, a toy, and a runabout in one. Now you can have one fuel source for both the mothership and the tender. There's even an option of a folding helm station so you can tuck it up into an onboard dinghy garage. Other options include automatic tube inflators, a 9-inch MFD, and shore power for ultimate flexibility. williamjettenders.com
 Walker Bay Venture 16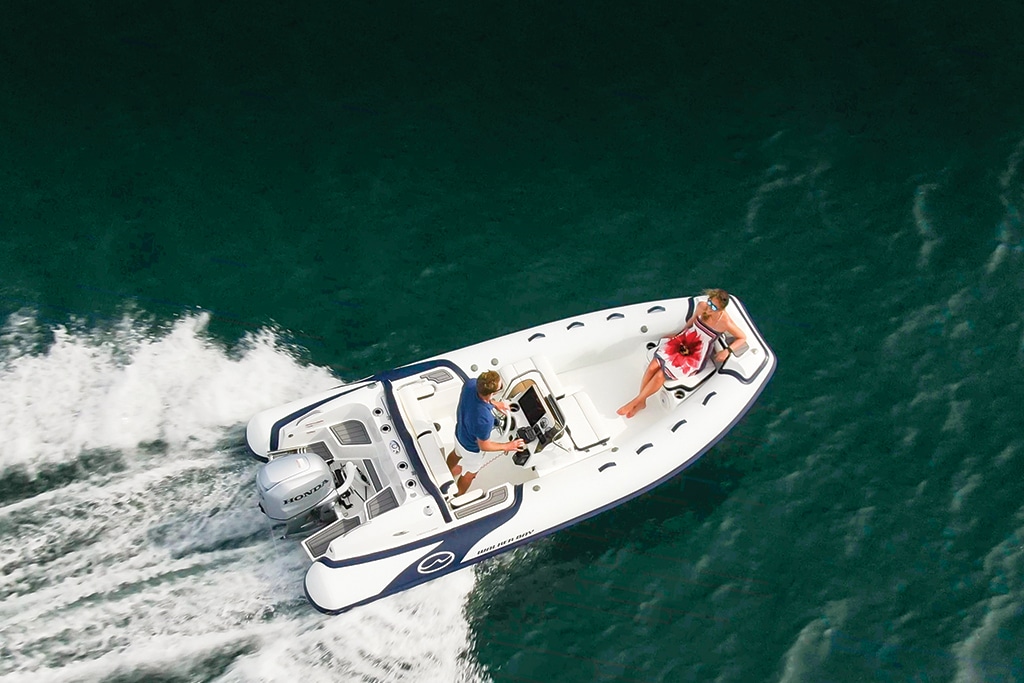 A new addition to the company's Venture line, this 16-footer offers three driving positions with a helm seat that has a flip-up bolster so you can drive standing, sitting, or somewhere in between. Rated for 10 passengers, the Venture 16 weighs 725 lbs. and with a 100-hp outboard, it has an estimated range of 241 miles. The tall and upright console provides protection from the wind and accommodates a 12-inch chartplotter, VHF, a stereo head, and multiple gauges. Six cupholders and a freshwater shower are included, and there's even an integrated cooler in front of the console so you can stay out and explore all day. walkerbay.com
Onda Tenders 341P

Specially adapted from a patrol boat, Onda Tenders' 341P is a 34-foot RIB with Scandinavian design flare by Ted and Ocke Mannerfelt. Although redesigned for the leisure market, the 341P has a rugged feel that can take on the elements with aluminum seat frames, a hardtop, and a 25-gallon freshwater tank for rinsing off after a rough ride. Powered by twin outboards (up to 400 hp), this boat delivers speeds of 50 knots and slices through rough conditions as if through hot butter. This Greek speedster has a deep-V hull but with a shallow draft and carries 158 gallons of fuel so it can venture anywhere. ondatenders.com
Zodiac Medline 6.8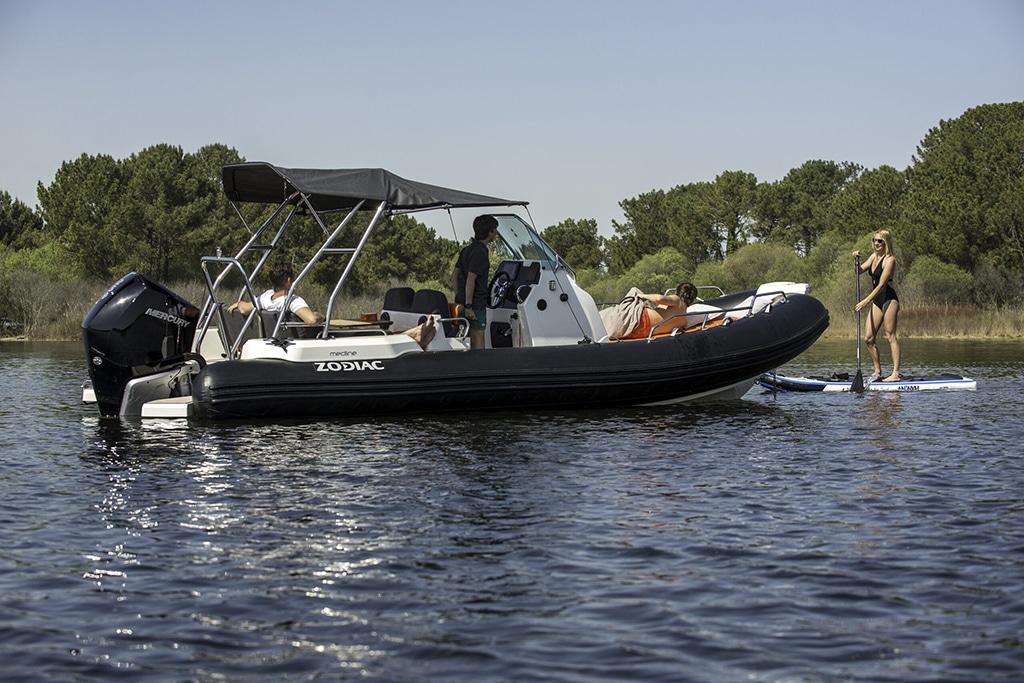 Replacing the Medline 660, the new Medline 6.8 is a mid-range offering (just under 22 feet) from Zodiac. Rated for up to 14 passengers, this new model has five lockers, sunpads forward and aft, and a fully equipped offset console. It comes in 64 color combinations and is powered by a single outboard (maximum 250 hp). The reverse arch holds a soft Bimini and the tall windshield will keep the driver and her companion dry. There's even a self-launching anchor so you can tuck away in a secluded cove for the afternoon. The U-shaped settee aft, when not set up as a lounge, has a hi/lo table and will seat four for dinner. zodiac-nautic.com
Airship 300 Diesel Sport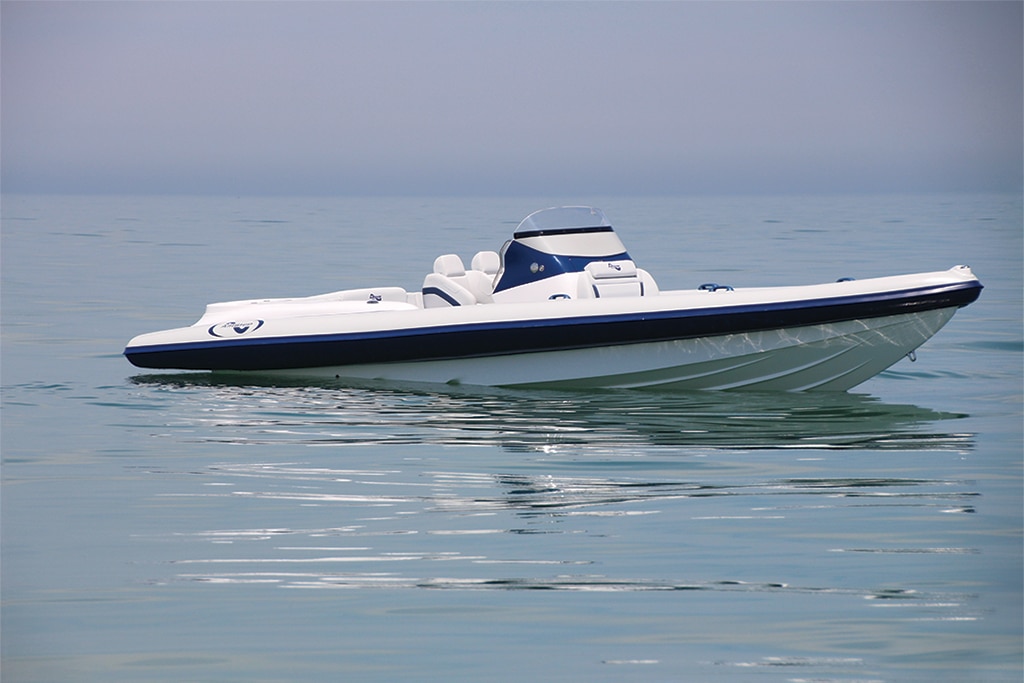 The diesels have it on this list. Introducing the Airship 300 DS, a 30-foot RIB with a 3.0L Mercury and a Bravo 3X sterndrive. There's also a deep-V hull and a 24-degree deadrise for excellent handling. Expect a top speed of around 50 knots and with a 67-gallon aluminum tank, you'll be able to run a long day without worrying about fuel. This model has a long options list including an upgrade to a 120-gallon fuel tank, an aluminum 5×7 T-top, a choice of brand in MFDs, Lenco trim tabs, a shore power plug, transom shower, stainless steel Sampson post, and Mercury's VesselView screen. airshipribs.com
Technohull Explorer 40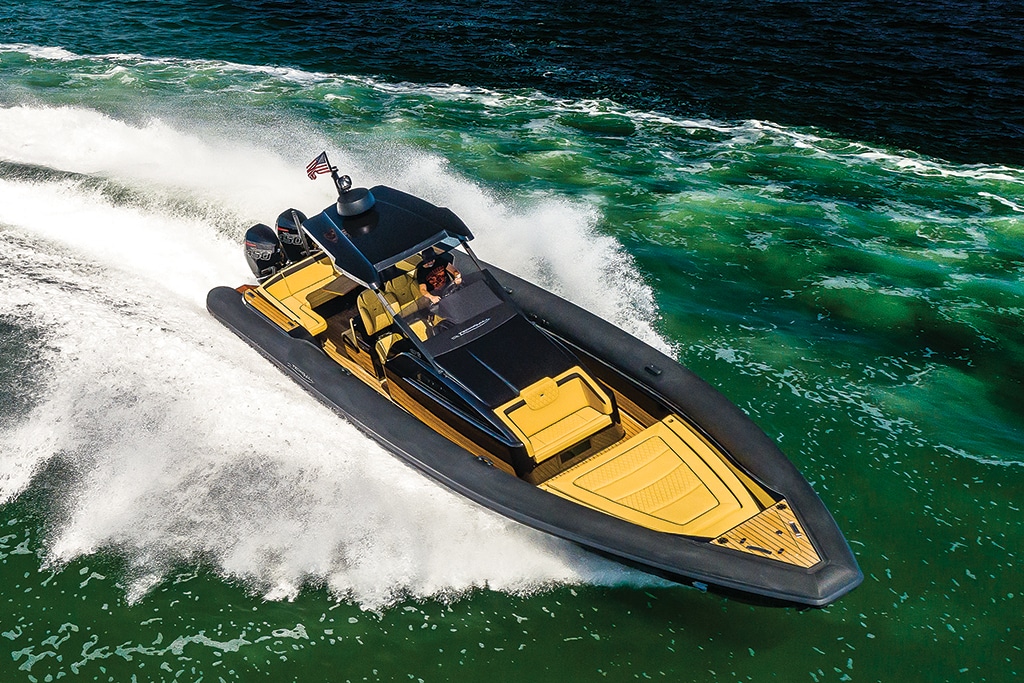 A truly multifunctional vessel, the Explorer 40 by Technohull is a showstopper. Whether island hopping or entertaining, this one makes a great stand-alone primary vessel. Choose twin Mercury outboards (350-450 hp) or a single Yamaha 425 hp with a joystick. If you'd rather leave the gasoline for others, opt for twin Mercruiser Diesel 370 Bravo 3s. With 211 gallons of onboard fuel, you'll have plenty of destination options and with the deep-V ventilated hull, you'll get there quickly and comfortably. This is one sexy beast that showcases premium upholstery and teak and carbon finishes. There's even a cabin if you'd like to weekend on this demon. technohull.com