They're baaaaack!
Sunday is the official start of manatee season. This means that slow-speed regulations in South Florida's network of waterways take effect. Manatees can't tolerate water temperatures below 68 degrees (much like the other snowbirds that join us around this time of year), which is why the gentle giants swim south from Georgia and North Florida to bask in warm waters near power plants and other sun-soaked areas.
Sadly, 80 manatees have already been killed by ships and boats in Florida this year. Wildlife officials urge anyone operating watercraft to take precautions and watch out for these docile creatures. "Watching these large plant-eating mammals swim slowly through Florida waters, often accompanied by their calves, is a special experience," says Carol Knox, of the Florida Fish and Wildlife Conservation Commission. "Boaters following posted speed zones for manatees migrating to warmer waters help conserve this iconic Florida species for future generations."
While manatee numbers have risen over the past few years, cruisers should still do all they can to protect these defenseless animals from harm (particularly from engine props). Last season, a record 6,063 manatees were counted across Florida in a single day. The state wildlife service will attempt to coordinate another survey this season, weather permitting.
If you are boating in the next few months, be sure to go slow and keep an eye out for manatees. You may see a swirl on the surface caused by a manatee when it dives down. Or you may see the manatee's back, snout, tail, or flipper break the surface of the water. You may only hear the manatee when it surfaces to breathe. In all of these instances, keeping your distance and passive observation are the best ways to view manatees.
If you happen to see a sick or injured manatee, be sure to call 1-888-404-FWCC (3922), *FWC or #FWC on your phone or send a text message to Tip@MyFWC.com.
You can also use VHF Channel 16 on your marine radio.  Make sure to give dispatchers the exact location of the manatee. For more information about manatee safety, check out the Save the Manatee Foundation.
Want more manatee cuteness in your life? Check out our article on Florida's Crystal River, a manatee haven!
Gentle Giants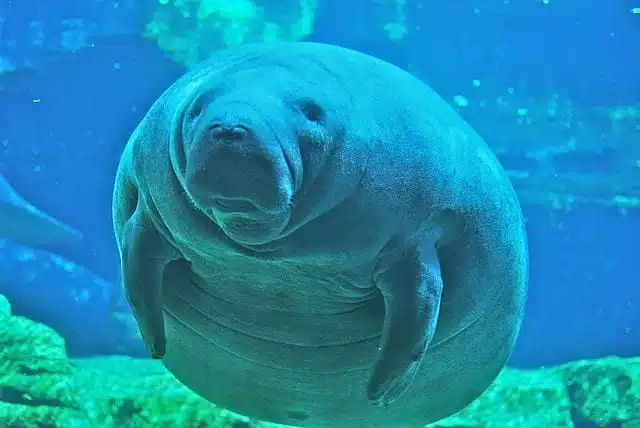 Adult manatees average 9-10 feet long and 1,000 pounds, but can grow to 13 feet and more than 3,500 pounds.
Boaters Beware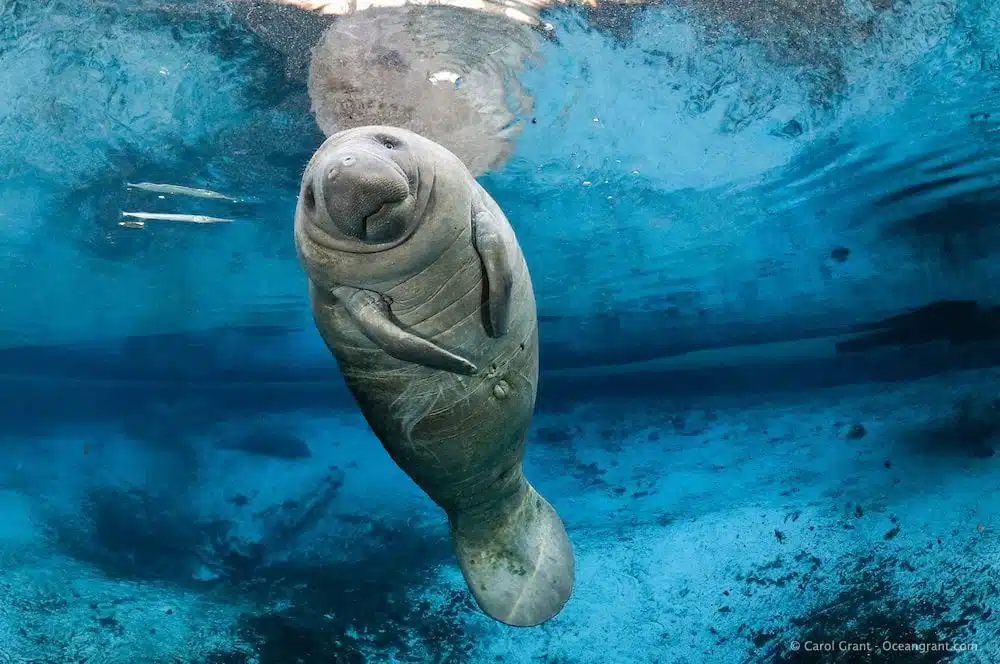 You'll find manatees in coastal waters, canals and rivers, in both fresh and salt water.
Long Range Cruisers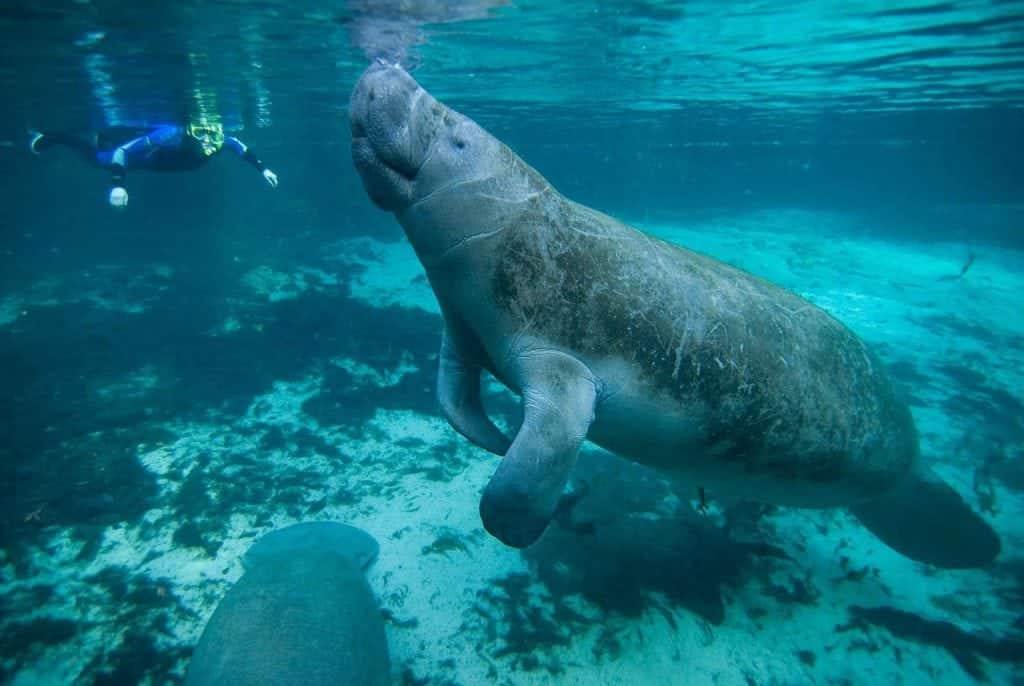 Generally, manatees can be seen in the Caribbean, Central America, and parts of  South America. In the United States you'll find them in Florida, Georgia and the Carolinas, although they have also been seen in Texas and Massachusetts.
Eating Machines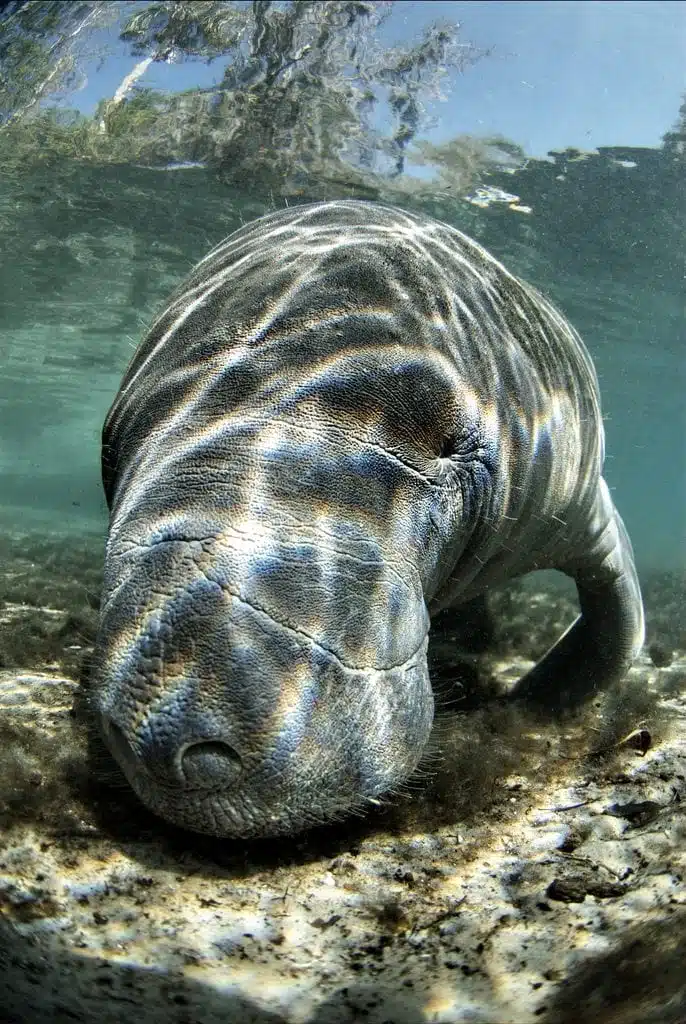 Manatees love to eat and can consume up to 10 percent of their body weight in one day of  freshwater and marine plants.
Just Playing Around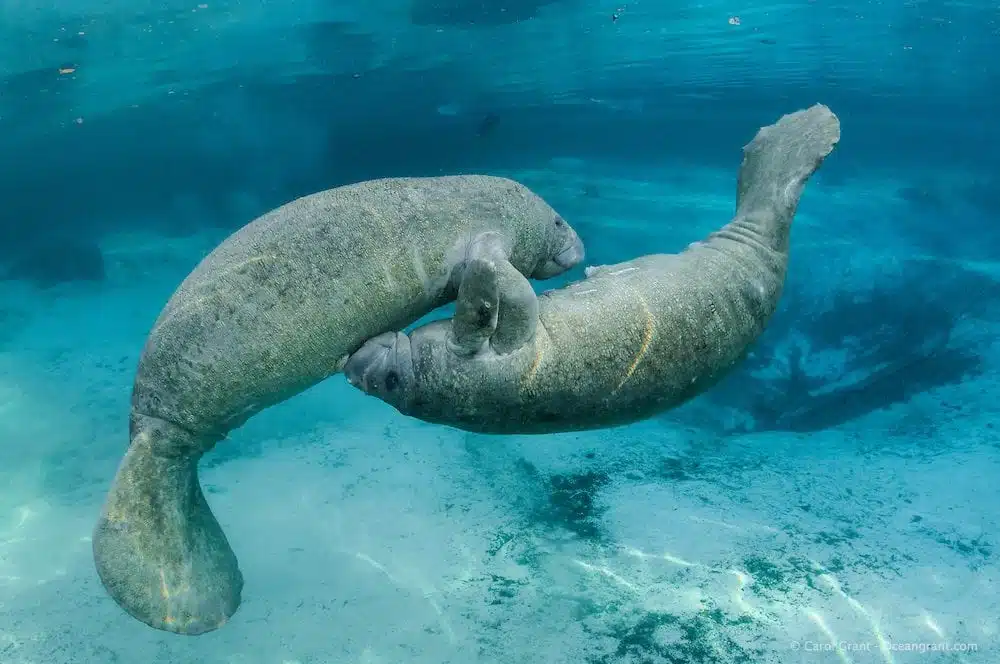 Manatees are actually quite funny. You'll see them display acrobatic agility in the water, turning somersaults, rolling and swimming upside down.
Big Baby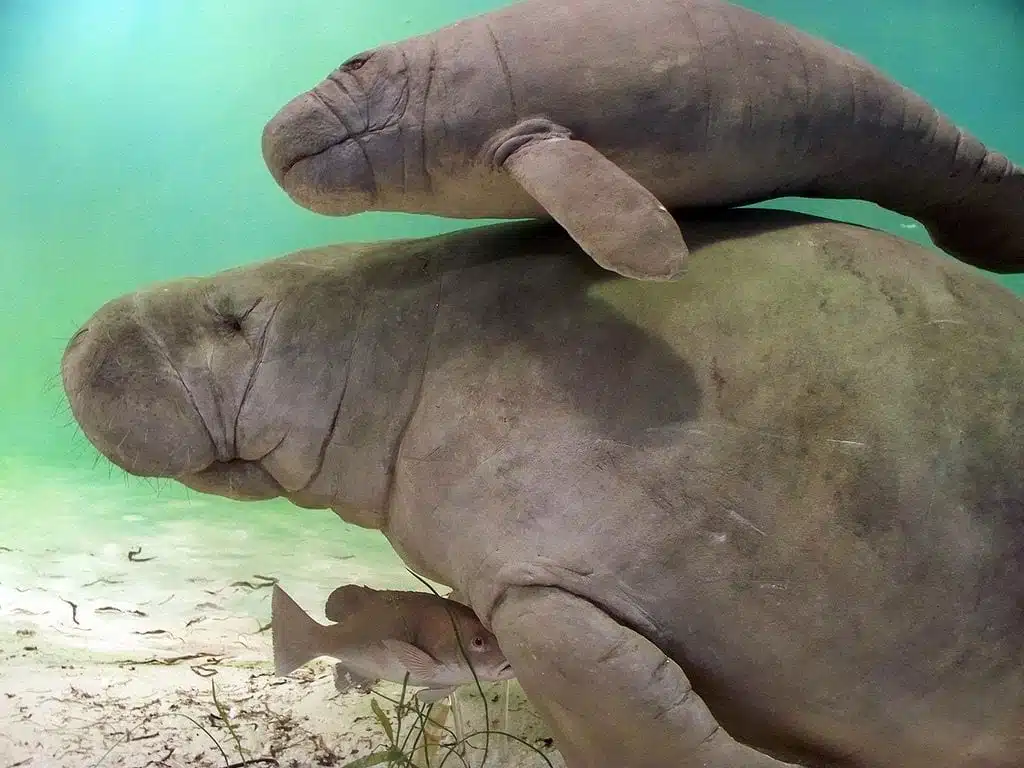 Females bear a single (incredibly cute) calf, which stays with its mother for up to two years.