Freedom Boat Club enables anglers to go where the giants freely feed.
For anglers who don't own a boat but dream of landing a record-worthy trophy, fishing can quickly become frustrating. Freedom Boat Club bridges the gap for not only active anglers but also nearly any type of water activity. With more than 150 club locations—both corporately owned and franchises—in 30 states and Canada, Freedom Boat Club services 16,000-plus memberships. That's more than 30,000 individual members with a fleet of 1,600-plus late-model boats.
How it Works
According to Freedom Boat Club President and CEO John Giglio, similar to belonging to a golf or health club. Boat club members pay a one-time entry fee and a fixed monthly payment based on their choice of membership plan. Fuel is the only additional cost. Entry and monthly fees vary across the country based on marina fees and local market conditions.
Reservations are made through the proprietary online reservation system or Android mobile app. Book up to four reservations in advance, along with spur-of-the-moment availability options. Freedom has built its reputation on a proven 10:1 membership to boat ratio to ensure accessibility.

Members have access to a fleet of national boat brands, traditionally bowriders, deck boats, pontoons, inshore/ offshore fishing boats, and in some locations, wake/surf boats, sailboats, small cruisers, kayaks, and paddleboards. Franchise owners choose and purchase boats according to local market preferences.
"It's fun to load up the family on the pontoon for an afternoon cruise and swim at the sandbar, and the next day, enjoy an action-packed inshore or offshore fishing adventure or a wake surfing or tubing session with the kids," says Giglio. "Our members appreciate that they aren't limited to one boat or boating activity.
Plenty of Training
Freedom Boat Club Members receive free, unlimited training conducted by U.S. Coast Guard licensed captains, involving both classroom and one-on-one on-water training. Initial mandatory training ensures members are proficient and confident enough to operate on local waterways. Some clubs also provide free advanced offshore training and the popular ladies-only courses.
Freedom Boat Club has a special training program designed for its female members, the Freedom Boating Diva. Corporate clubs offer twice-monthly Diva training sessions. The training rotates to different club locations and features four boats with four captains and four "divas." Classes include on-water beginner or intermediate training.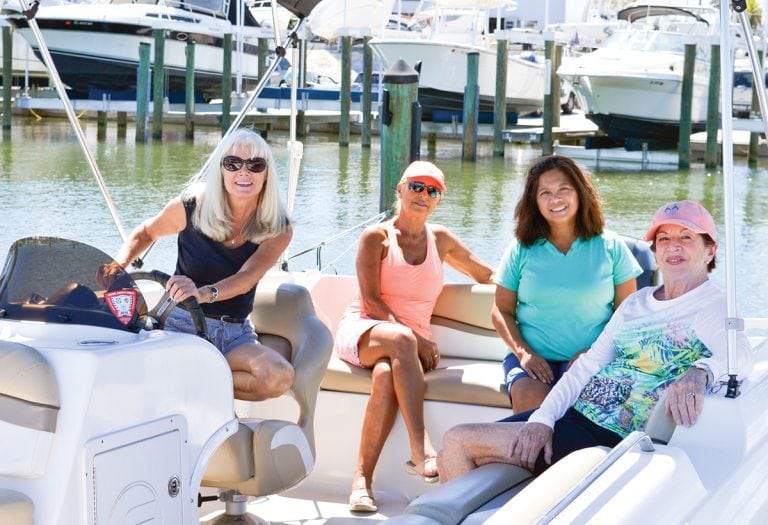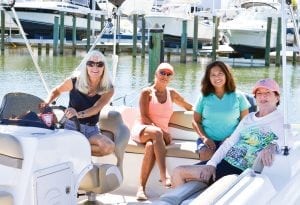 "In southwest Florida alone, we have trained more than 300 women in the past year," says Chelsea Smith, Freedom Boat Club's corporate events and marketing coordinator. "The ladies really enjoy getting to know one another and many have since partnered up and go boating together."
Take Lori Jett of Englewood, Florida, for example, who signed up for a free Diva training class. Not only did she improve her skills, but she made fast friends in the process. "I participated in Diva training last summer to improve my personal boat handling skills," says Jett, a nine-year member who boats primarily from Cape Haze Marina.
Divas Stick Together
"During my training, I met a few other women, including Sheila Cloonan, Sally Rob and Vanessa Tinsley, who shared my same goals. The four of us now go boating together regularly a few times each month. The Diva training program is very empowering  and has boosted our confidence tremendously and allowed us to more fully enjoy the boating experience."
Capt. Marti Wagley and Capt. Elaine Devito head up the corporate Diva training initiative. Having two highly skilled female experts serves as a motivator to many. "The Diva program is very fulfilling to operate because we see so many women gain skills and confidence from the small group training program we offer," says Wagley. "The best thing though, is seeing them take a more active role in boating. We know many who now boat together on a regular basis, while others share how they now participate in both driving and docking activities with their husbands."
"Some women are perfectly content not to assume a more active boating role, but we believe they still need to understand the basics of operation in case of an emergency," adds DeVito. "Knowing how to communicate on the VHF radio and how to safely return to the boat to the dock just makes smart sense."
Expanded Access
Another key attraction to join the club is its reciprocal access to the Freedom Boat Club fleet at all locations. Members boat on an unlimited basis at their local club and can access other locations up to four times each per year.
Michael and Tina Campbell of Fort Pierce, Florida, moved to the Treasure Coast three years ago and decided to pursue the boating lifestyle. Campbell, a passionate angler, consulted with a yacht broker to help assess the best value for his boating investment. He originally considered buying a used boat, but couldn't find the right fit for his budget. After seeing Freedom Boat Club TV ads, he explored the club option and determined it offered the ideal solution.
"Besides using boats throughout this area, I've boated in New Smyrna Beach as well as in the Florida Keys through the reciprocal program," he says. "This summer, we're visiting our children in Los Angeles and have already planned to go boating at the Freedom Boat Club there."
Besides the national reciprocity, Freedom Boat Club plans an international launch in France this year. It has partnered with Jeanneau dealers in Europe under the Groupe Beneteau umbrella and is in the process of developing franchise clubs in cooperation with several retail dealerships.
"Our members will soon enjoy reciprocal access throughout Europe and elsewhere around the world," says COO Louis Chemi, who oversees the franchise business. "The club concept is a proven business model for franchise owners and members alike, and we're responding to dozens of inquiries from multiple continents."
Boating is a Social Activity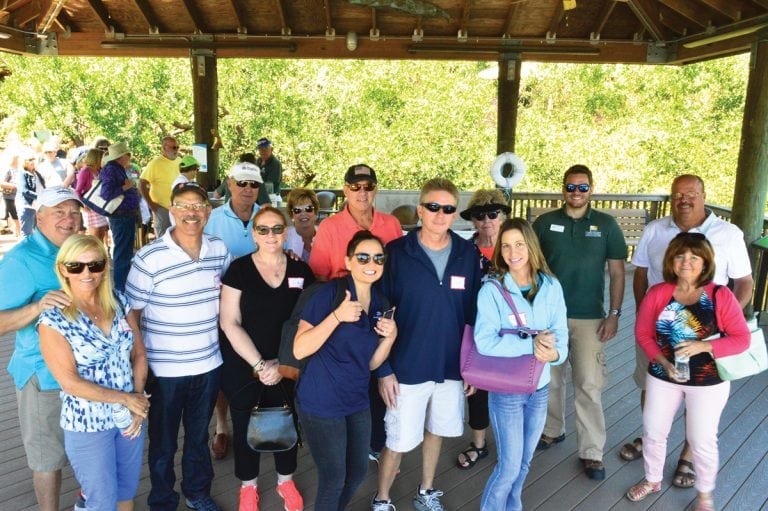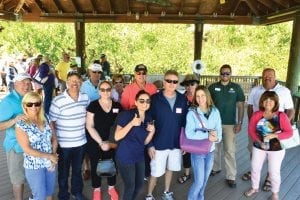 Sharing the boating lifestyle with family and friends is fun. To show that, clubs host social events and additional programs afforded by national and local business partnerships. Smith says the Club plans more than 100 events per year. Events range from monthly socials to open houses, fishing seminars, Diva parties, and charitable activities. "Our social calendar is very full as our members really enjoy the camaraderie and love meeting others who share the same interests and lifestyle," she says.
Social events include restaurant parties with live music, club dockside gatherings and group outings to local attractions and sporting events. In Smith's market, upward of 100 members often sign up to attend.
Richard and Cynthia Royd relocated from New Jersey to Southwest Florida and joined Freedom Boat Club in 2012. "We tell people that the best thing we ever did was move to Florida, and the second best thing was joining Freedom Boat Club," says Cynthia. "My husband and I love boating. Also, we really love the monthly social events and meeting other members." Monthly open houses are also on tap and feature free boat rides for prospective members, while fishing seminars are held in partnership with West Marine or local bait and tackle shops. Some of the clubs post a private "buddy list" so that members can connect with others to share boating activities.
Not Only for Beginners
While the club offers obvious advantages to boating newbies, the concept is also gaining fans among seasoned skippers. John Allen of Lake Park, Florida, has owned multiple boats in his lifetime. He was ready to trade his 22-foot center console for a new boat when he learned about Freedom Boat Club.
"When I first heard about the club, it sounded too good to be true. I had to check it out," he says. "Two years in and we have nothing but praise for the organization and the business model. Being able to utilize any style boat that aligns with your plans on the water is a huge value.  As is paying one very low payment monthly to have access to the fleet of boats. All without having to worry about depreciation, storage, trailering, maintenance, engine services, etc."
The boats are meticulous, gassed up and waiting for you when you get to the dock. The dock attendants greet you by name and couldn't be more helpful and thoughtful as you load your gear aboard. Every friend we take boating remarks about the seamless arrival and departure process and experience. The Freedom Boat Club clearly represents the greatest boating value on the waterways today, bar none."
Dial Up the Boating Fun
"From the minute of our arrival to our return, being a member of Freedom Boat Club has really dialed up the fun in our life," says Campbell of Fort Pierce, Florida. He appreciates the freedom the club offers. "I have gone offshore fishing on several occasions on a Sunday. When we return to the dock and get into a deck boat to go to the sandbar and swim with friends in the afternoon. What a great life!"
By Kent Smith, Southern Boating June 2018