Catchy Tunes
Rock bassist Dale Stewart of Seether balances touring with a fishing life.
Rock stars have a reputation for being a little weird, passionate, and a touch rebellious. Bassist Dale Stewart of the rock band Seether likes to fish. Okay, that's not weird, millions like to fish. But the 42-year-old can't just chill before entertaining thousands with songs like "Fine Again," "Remedy," and "Broken," so he'll rig up his travel rod to go fishing on ponds, streams, rivers, or oceans—whatever is near the gig.
Where it gets weird is learning about what Stewart ponders while on the water. He starts thinking like a fish, of how the world of a fish changes when it gets hooked by a lure, how it is pulled from the water into the air—a form of alien abduction—and is examined, measured, perhaps tagged, and released.
"Yeah, then the fish comes back down and explains to his fish friends what happened," says Stewart, who grew up in South Africa and is now based in the seaside town of Savannah, Georgia. "The fish says to his buddies, 'I got pulled up onto the futuristic vessel, tagged, and then I got away. It was an alien abduction.' His buddies think he is crazy. It parallels to our abduction stories; maybe another species abducts us for sport."

The struggle between the fish and the angler is one of life and death—especially for the fish, Stewart continues, and here's where the passion comes in. "We have completely over-run the planet," he says. "Humans are the most dangerous animal on earth. We used to fish for survival and now, for many of us, it's just for sport. There's a deep need to provide for your family successfully and catching a fish fulfills that need. Now, I'm mostly a catch-and-release angler. But I will keep a fish for fish and chips, especially a delicious one like a cobia."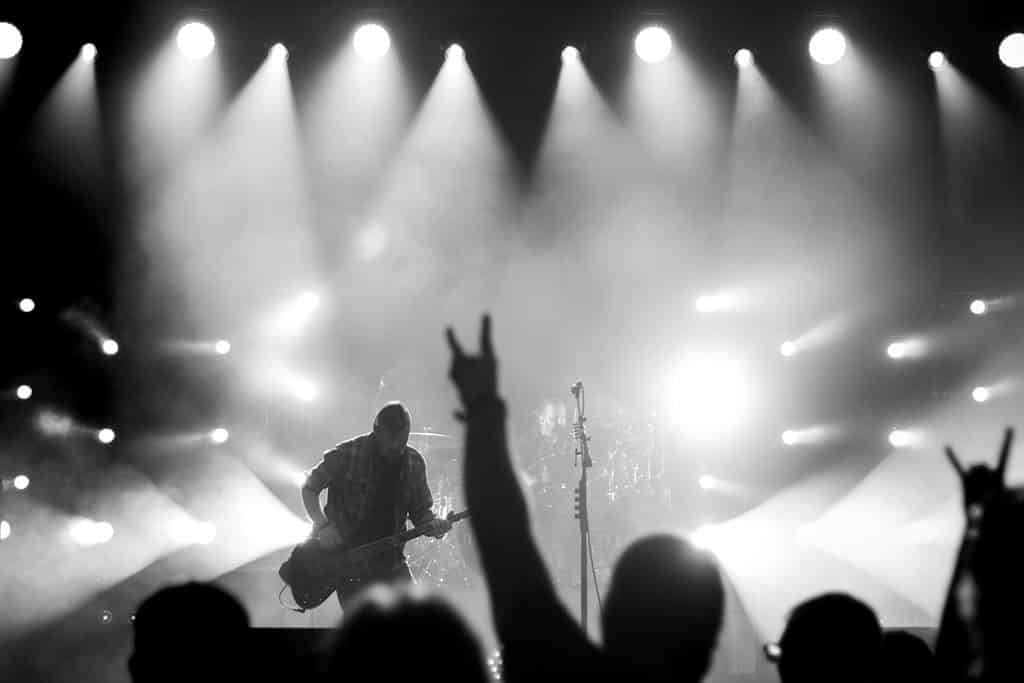 Before concerts, Stewart can't sleep the day away like some rockers. And while drinking whiskey can take up a lot of time and make just about anything fun, he believes partying has a time and a place.
"While we are on the boat with family and friends, we get the music going and find a sandbar to let the dogs and kids run around, and we'll do a bit of drinking," Stewart says. "Time off was a silver lining of the pandemic. I fished with Matt Franklin, a friend who I met five years ago when we both came to Savannah. He has a twenty-foot Sportsman, and we fished around Tybee Island and Hilton Head. We figured out how to catch redfish. We patterned the fish and paid our dues."
Stewart guesses the first fish he caught was a rainbow trout with his father, Charles, who owned a tackle shop in South Africa and is still involved in the fishing tackle business. "I have great memories with my dad fishing, and actually, the first known picture of me is holding a ladyfish from the ocean," he says. "But I bet the first one was a trout."
Stewart grew up in Irene, Gauteng, South Africa, and joined Seether in 2000 with lead singer Shaun Morgan. The band moved to California in 2002, the same year they recorded and released their first album Disclaimer with the hit song "Fine Again." 
"We lived in the San Fernando Valley. We started making music, got bigger record deals and tours, and it's been rinse-and-repeat for the last twenty years," says Stewart. Today, the band consists of Morgan, Stewart, guitarist Corey Lowery, and drummer John Humphrey.
The band has toured with acts like Evanescence, Nickelback, and Staind, and has produced eight albums. The latest album, Vicennial – 2 Decades of Seether, was released in 2021 and features a collection of hits from the past 20 years.
"We had such big dreams, and we were so eager to do anything we could to make it happen," Stewart said in an October 2021 interview in the online magazine The Rockpit. "And it worked out for us, but it could have gone either way. But it went well, and it continued to go well which is even more rare. We've played with so many bands over the years who have come and gone, so the odds that we're still out there doing it are so astronomical."
Stewart married Michelle Thomas in 2019, and their daughter, Olivia, was born this past January. Starting a family during the pandemic turned out to be great timing, for both the band and his personal life.
"Our daughter came out of COVID, which is just remarkable," Stewart says. "Now I'm in the market for a twenty- to twenty-four-foot boat, something I can take the family on. I have such great memories of fishing with my dad that I want to carry on to my daughter. 
"When I look at boats now, what I think most is, 'Can I fish from it?'" he continues. "It's got to be able to get me into ten inches of water and be able to handle the ocean when it's not too windy. I've been looking at bay boats from Mako and Sea Hunt."
Stewart and Franklin enjoy the high-tech equipment that helps anglers nowadays, such as the Spot-Lock feature with the Minn Kota trolling motor on Franklin's Sportsman. 
"Instead of having to drop an anchor in forty feet of water when we go seven miles offshore, Spot-Lock uses GPS to lock the boat onto the fishing spot," says Stewart. "That makes life so much easier, and you spend a lot more time fishing and a lot less getting set up. We can target cobia, jack crevalle, and king mackerel."
Stewart primarily uses a spinning reel with artificial lures when he's fishing inshore, though for years, he used a baitcasting reel. He found that casting for distance is more valuable than accuracy for the fish he is targeting.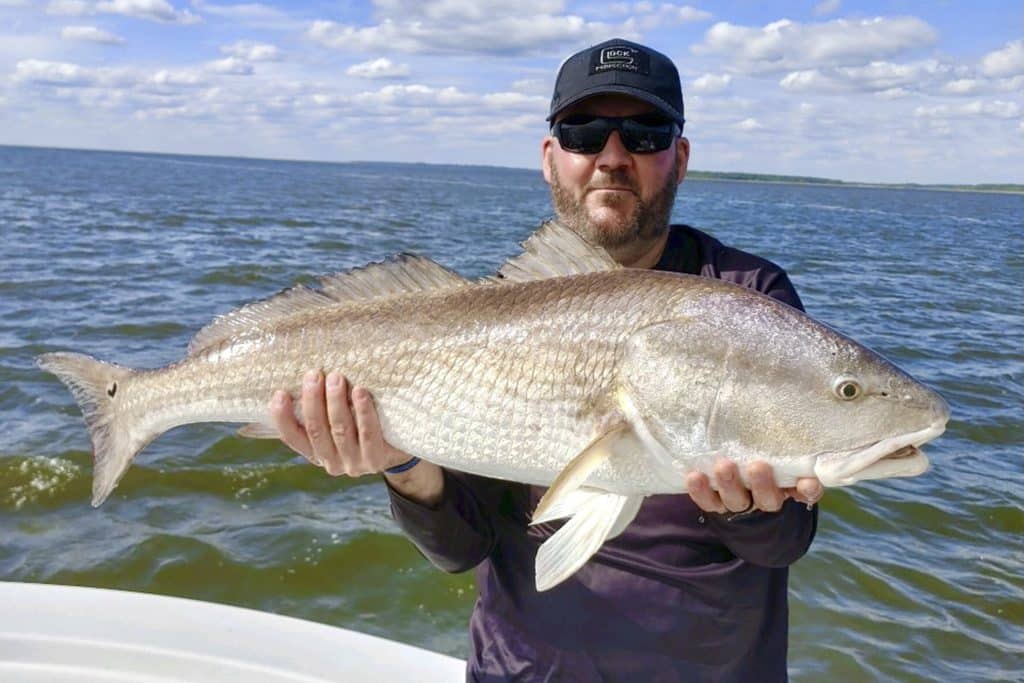 "The baitcasters give you the precision, but for the red drum, you want to cast for distance," Stewart says. "I would rather use an artificial, but I'll use bait when that's the thing to use."
No matter what the rod-and-reel setup, Stewart simply wants to catch fish. He can be found flyfishing for largemouth bass in his neighborhood pond. Nestled squarely in the center of his Savannah neighborhood, the pond is full of bass, bluegill, and huge grass carp. Stewart will use a 6-weight fly rod and wooly bugger fly to catch just about any species, but it was on an ultra-light fishing rig that he caught his biggest bass.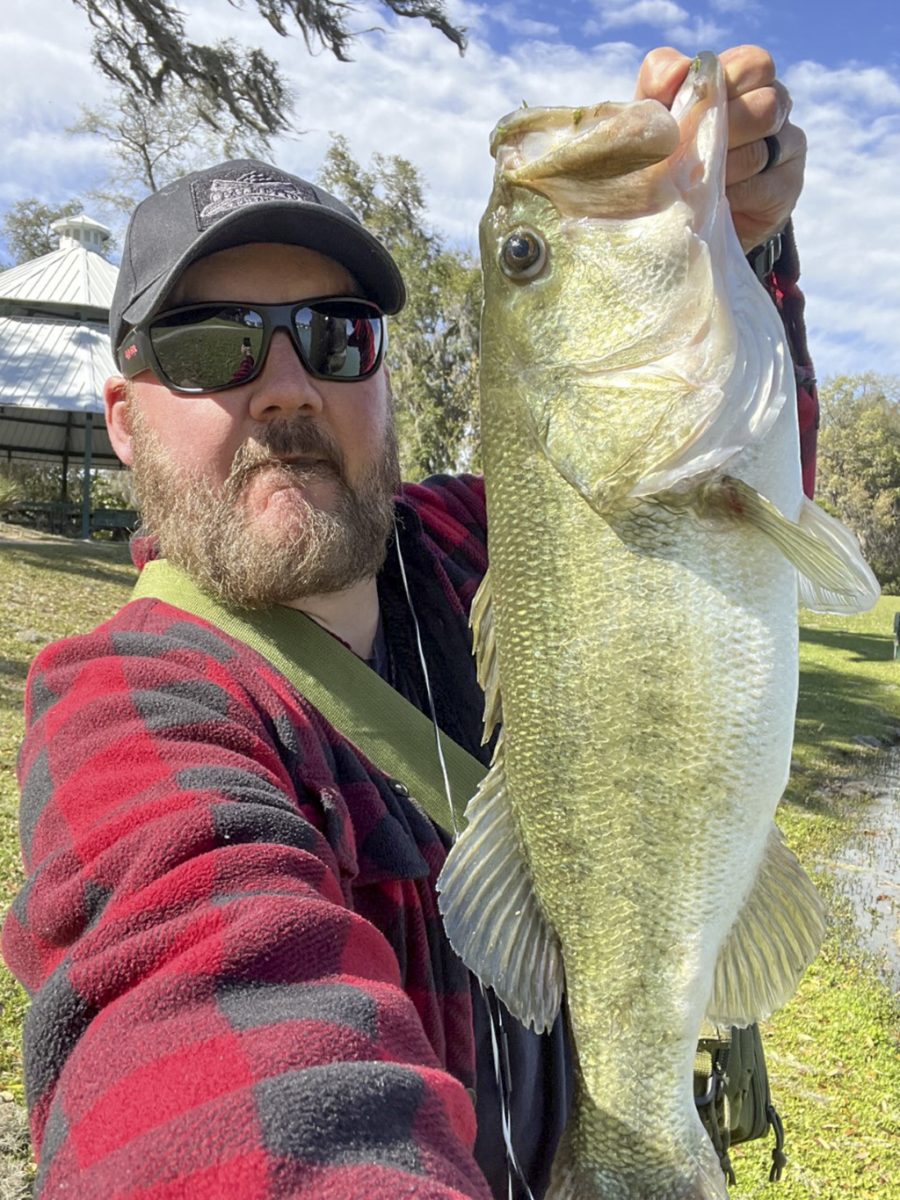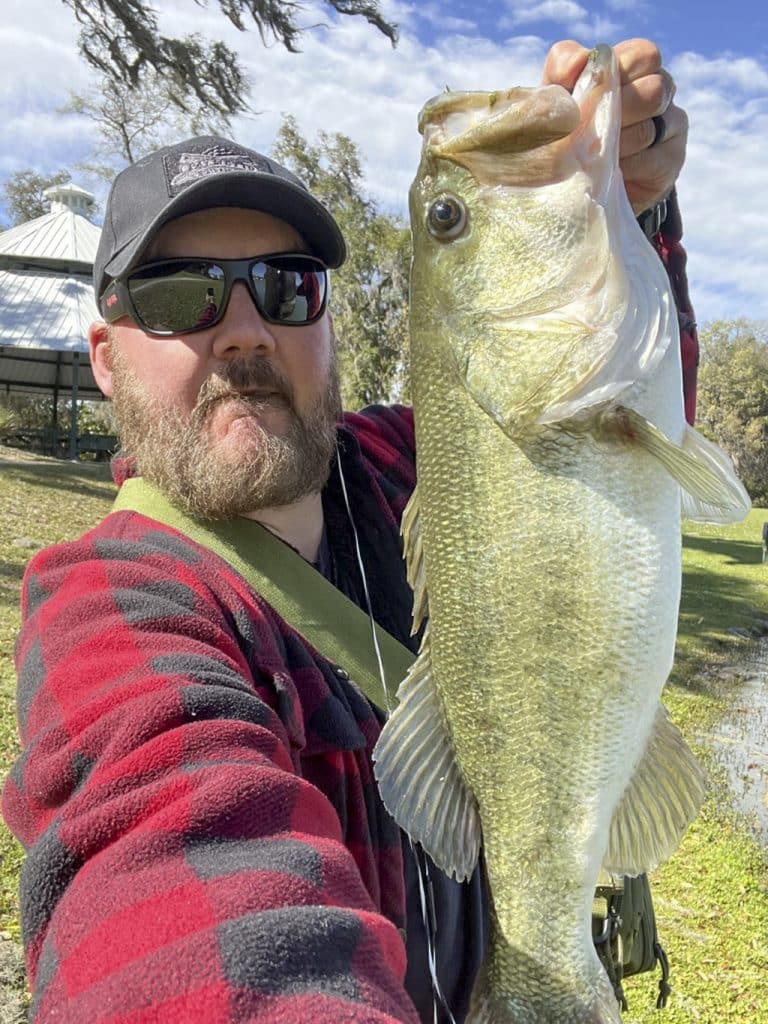 Here's where the rebellious part of him comes into play: the badass rocker takes on a monster bass with, well, a little kid's fishing rod and reel.
"I had bought a micro-rod because I thought it would be fun to catch bluegill on this little thing," Stewart says. "Our little neighborhood lake is open to the public and gets a lot of fishing pressure, so I was just casting near the bank and hooked a fish. Then it's like, 'Wow! It's a huge largemouth bass.' I could have put both fists in its mouth, and I'm on this little rod, and it's bending in half. I am like, 'I can't lose this fish; no one is going to believe me.' It had to be twelve pounds. I know there is at least one monster bass in this little lake." 
-by Doug Thompson