Over the past year, we've all had a bit more "reality" than might be ideal. An escape from it, even briefly, is wildly overdue. Enter Staniel Air and the Bahamas "Bucket List Day Tour." It's the best way to quickly infuse a dose of unreality back into your life.
Staniel Air & Exuma Adventures, a boutique airline located in Fort Lauderdale, Florida, offers tours and air service to Staniel Cay in the Exuma islands of the Bahamas. Considered part of the "out islands," the Exumas offer a completely different experience than what often comes to mind as The Bahamas. Absent are large tourist resort hotels, cruise ships, and casinos. Present are pristine aqua waters, sandy beaches, unique natural sites, and unexpected creatures, all worth exploring.
Staniel Air began its Bucket List Day Tour in 2017 and briefly paused it last year to combat COVID-19. The TripAdvisor 5-star rated tour (2020 Travelers' Choice Award) is now back and more popular than ever. With the ability to reach the Exumas in about 90 minutes, Staniel Air opens a window to an entirely different world that allows wannabe explorers the opportunity to step out of everyday life and into paradise almost instantly. Wrapped into a single day, the tour provides travelers with that "different world" feeling without incurring significant resources to do so.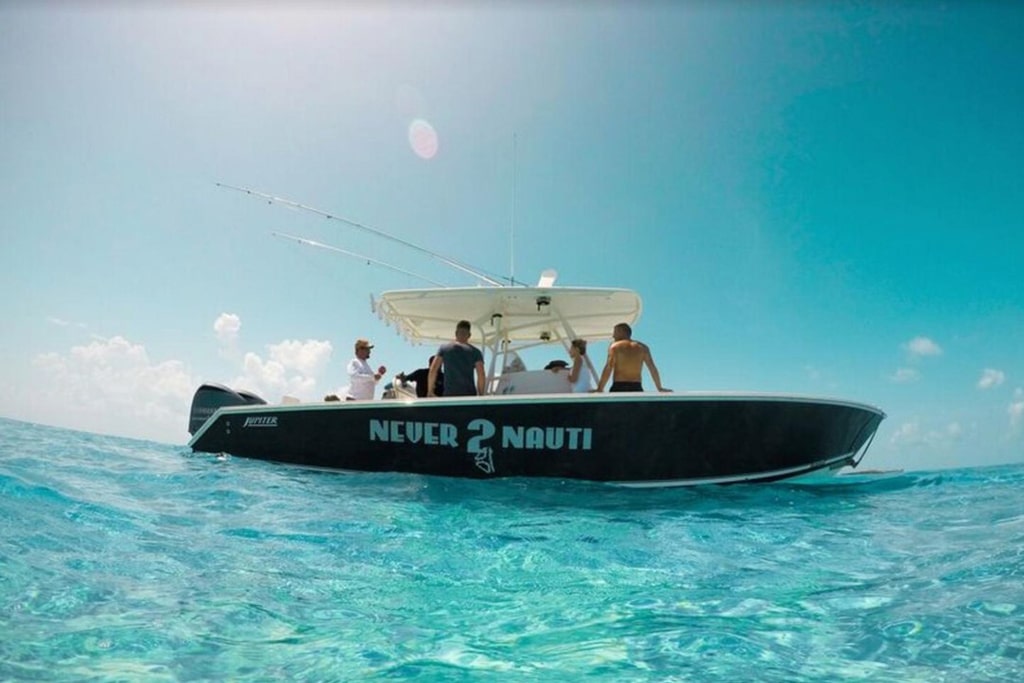 What a Difference a Day Makes
Imagine waking up and knowing that today will not be an ordinary day because you've got a ticket booked to get away from it all. You'll take a 7:30 am flight from Fort Lauderdale Executive Airport (FXE) on a Cessna Grand Caravan with up to eight other travelers about to enjoy the stunning views and blues from 10,000 feet. Over the next 90 minutes, the backdrop of your day will completely transform into a postcard paradise. If gray has 50 shades, you won't be able to fathom how many blues you're about to encounter.
Upon landing, you'll be escorted onto the Never-2-Nauti, a 34' Jupiter center console piloted by a local Bahamian captain with great knowledge and lore of the area. Captain and crew will regale you with island stories, offering snacks and cold beverages along your tour.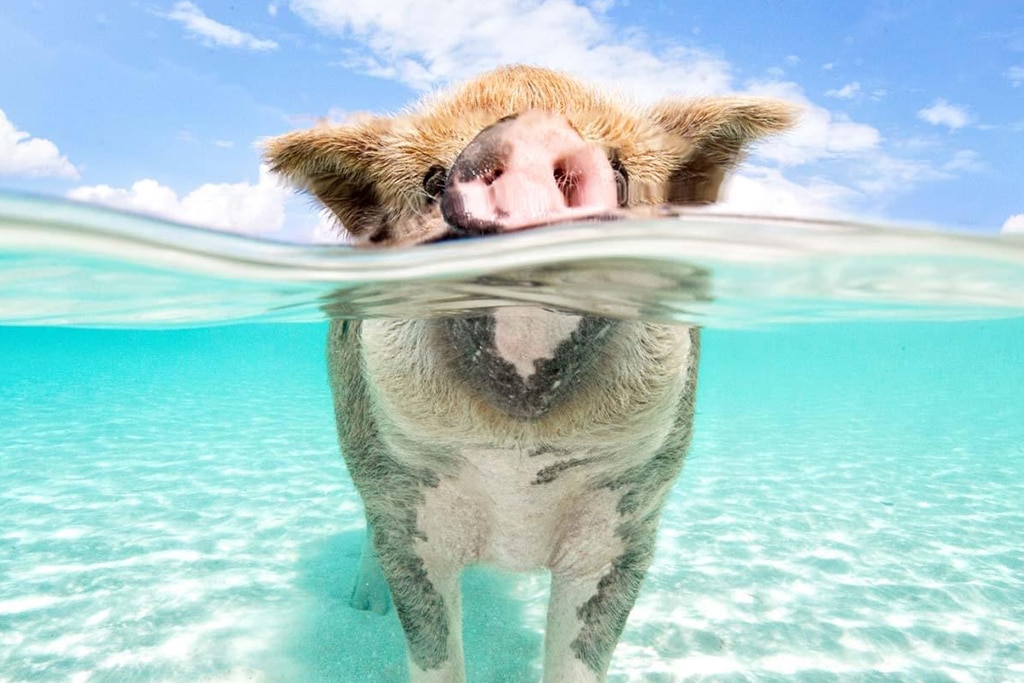 From there, you'll spend the day exploring the wonders of the Exumas. You'll visit the famous swimming pigs of Big Major Cay, who paddle out to greet your boat as it arrives. Friendly and gentle, they'll nuzzle up to you for a sampling of whatever is on the menu.
You'll also visit Bitter Guana Cay and its thriving population of Rock Iguanas, currently listed as an endangered species and protected by the Wild Animals Protection Act. They are not shy and will happily pose for photos in exchange for fruits or vegetables.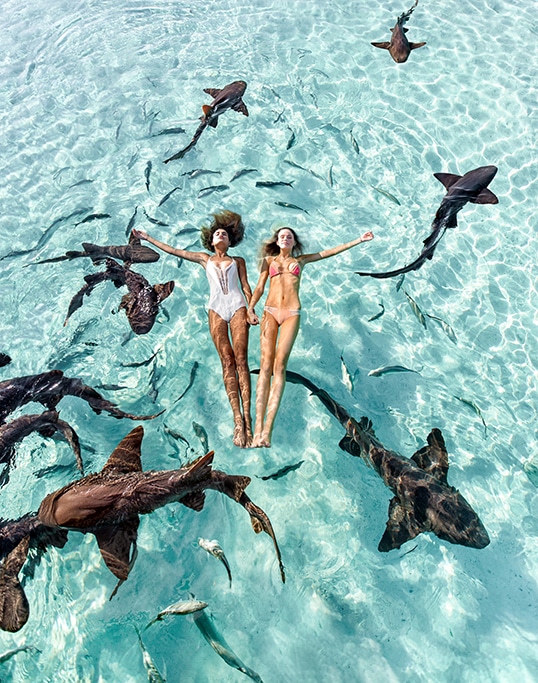 To round out your "wildlife" agenda, you'll spend time at Compass Cay, swimming with the nurse sharks. If you dare to dive in, these friendly creatures will swim up to you and accept a pat (or even a belly rub) as they cruise by.
The Day Tour will also take you to sites with a more "man-made" notoriety. You'll visit Thunderball Grotto, a filming location from the 1965 James Bond film and again in 1983 in Never Say Never Again. A naturally occurring limestone cave, the grotto's interior reveals exotic marine life and brilliantly colored coral reefs and fish. No need to bring snorkel gear, as the Day Tour provides it all.
After you've gotten your Bond on at the Grotto, you might be ready to take on the bad guys, so a visit to a sunken plane wreck may take on a whole new feeling. Per the locals, the submerged plane was used for drug trafficking during the 1970s and abandoned in an effort to elude authorities. Regardless of its origins, it's a great place to snorkel in the shallower waters. It's included on the tours when time and tide allow.
With the excitement of sharks and iguanas and sunken planes, you might crave a bit of serenity along the way, so the tour will stop at a relaxing spot where you can leave the boat and take a stroll on a pristine sandbar. Because all of this will likely encourage a healthy appetite, the tour will ensure that you don't miss lunch, stopping at a local eatery during the day. Rest assured, there will be rum runners on the menu, a must-do while in the Exumas.
And just about the time you're ready to send your resignation email to your boss, toss out your cell phone and stay forever, the captain will deliver you back to the airport for a 4:30 pm return. You'll find yourself safely home before dark, daydreaming about your next Exumas escape.
BOOK YOUR TRIP TODAY!

The Door is Always Open
Keenly aware that this little paradise appetizer has left guests wanting more, Staniel Air has recently introduced an extended tour package that offers day trippers a lengthier stay in its private villas at Staniel Cay. Lazy Bay Villas has three private modern cottages located side-by-side-by-side, each offering 1,400 square feet in a two-bedroom/two-bath layout that comfortably sleeps six, with expansive decks and boat dockage. The newly introduced "Stay and Play Day Tour Package" offers round trip air from FXE, a two-night villa stay, a day tour, and two golf cart rental days for parties of two or four per villa.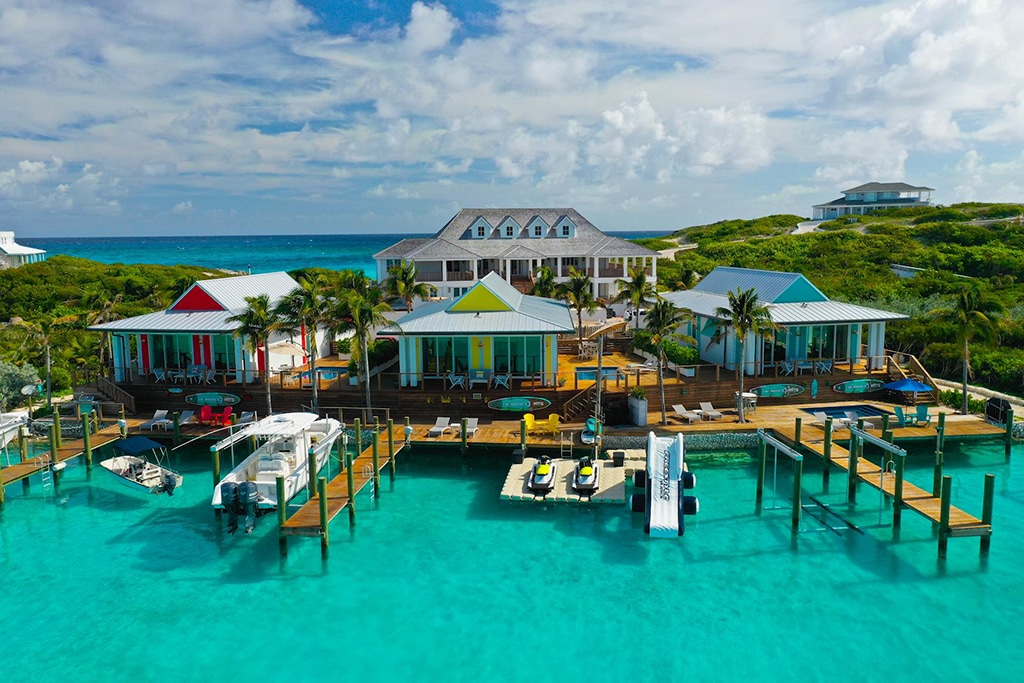 Understanding that some feel tentative about traveling right now, Staniel Air and Lazy Bay Villas are highlighting their private and exclusive features as COVID-Smart travel choices.  Starting with requirements that every passenger provide proof of negative COVID test and extending to the unique configurations of the villas (low density lodging, expansive outdoor decks, private splash pools), Staniel Air has crafted an escape experience that should foster confidence in even the most diligent traveler.
Check out the website or call to learn more about Staniel Air's services, flights, air charters, day tours, private villas, and to book your next unreality check. www.stanielair.com; www.stanielrental.com; (954) 900-2739