Born from History
Bertram's new 39 CC evolves from a boatbuilder's noble lineage.
It may have been cloudy and cool with a slight drizzle and a fresh breeze, but it wasn't enough to stop me from heading out on Tampa Bay to test the new Bertram 39 CC. When it's the first center console from a builder known for sportfishers that are built upon an historic hull design and combined cruising amenities with traditional sportfishing equipment, you go. Besides, being out on the water is one of life's joys.
Bertram Yacht's hulls developed out of the Ray Hunt designed Hunter, a 23-foot chase boat that had a deep-V shape. The design allowed the boat to speed through six-foot waves with ease, and after Richard Bertram saw the boat zip through a rough chop with ease during the 1958 America's Cup regatta, he was intrigued. Bertram commissioned Hunt to design a 30-footer for personal use with a hull design that carried the deep-V section to the stern, had a 24-degree deadrise at the transom, and longitudinal strakes to give lift and direct spray away from the boat. He wanted a hull that could keep speed in sizeable chop yet cushion the landing after each wave and keep him dry doing so.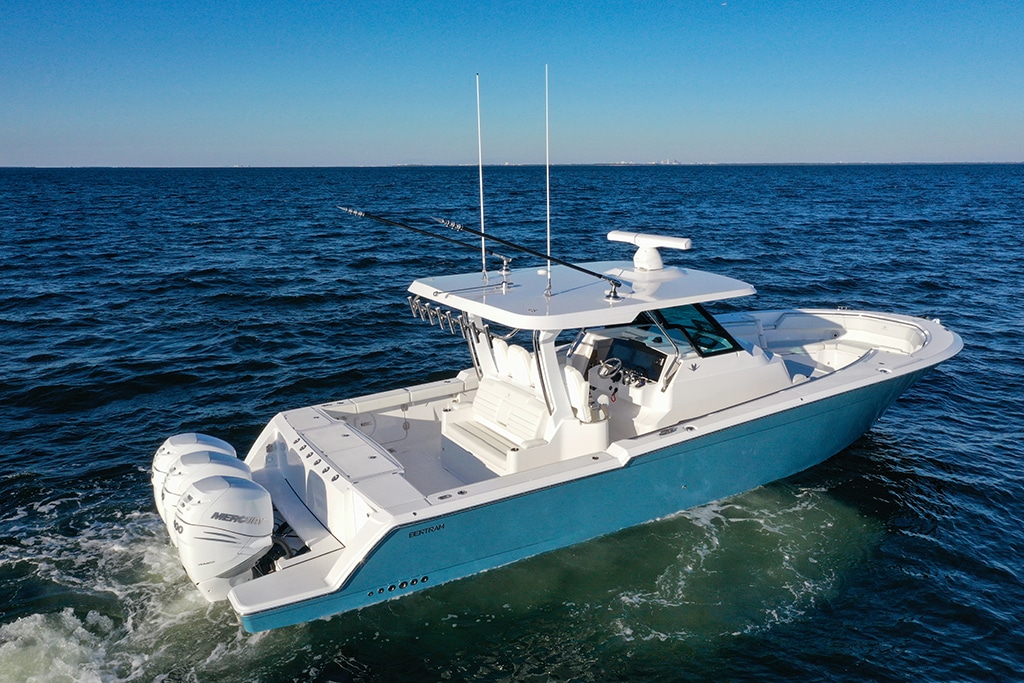 Keeping with Tradition
Fast-forward 60-some years, and the legendary hull design is still the mainstay of Bertram Yacht's builds, including the new 39 CC, the first model of Bertram's 2021 center console line. A wider beam (13 feet, 2 inches) provides more stability and comfort without losing performance and can accommodate a 7.1kW diesel generator with 25-gallon diesel tank, an optional Seakeeper stabilizer, and offers plenty of space for accompanying electrical and mechanical systems and batteries as well as room to fish and entertain. It's a boat that not only caters to serious fishermen but also to their families.
"Part of Bertram's hull design will always be a deep-V hull that carries the beam back," says Dan Hamilton, P.E., Bertram's director of product development. "This hull is wide in order to carry the weight of all the systems that have to go into it including a generator, Seakeeper options, large fuel capacities, etc. If the hull does not have enough bottom area to support the weight, you end up with a wet ride. It also has a keel pad which allows for better flow around the engine, better running angle, and fast planing. Finally, the hull is slightly convex which softens the ride."
Bertram built his first boat, Moppie, out of wood based on Hunt's deep-V design and after winning the 1960 Miami-Nassau race, used the hull as a plug to cast a mold. That mold produced a fiberglass version, and he never looked back. Out of the benchmark Bertram 31, the 39 CC is not only built as a day boat for sportfishing, but its hull is also fiberglass, only now constructed with modern techniques that use an infused vinyl ester/epoxy blend finished with a white gel coat surface. "The hulls are infused," says Hamilton. "The stringer grid is built in a separate mold outside of the boat as are the secondary bulkheads. Then it all gets bonded together with a structural adhesive. This allows for a fully (Grade A) finished bilge and machinery area and provides a consistent build every time."
Bertram began his love for boating as a kid and became a competitive sailor before relocating to Miami to start a successful yacht brokerage. With the development of Moppie and its design a huge success, the Bertram 31 became an iconic sporfisherman. The roomy cockpit, built-in transom livewell, comfortable salon, accommodation forward, and plenty of storage lockers carry on in the Bertram 39 CC.
Let's Go Fishin'
The wider beam provides room for the mechanical systems belowdecks as well as for comfortable spaces on deck. There's seating for at least five in the bow, three in the cockpit, and four at the helm. If you decline the full fishing option, then add three more with the forward-facing electric, fold-down transom seat. That extra seating doesn't mean you lose the bait wells. You'll still have the standard dual 45-gallon tanks instead of the dual, see-through 60-gallon wells.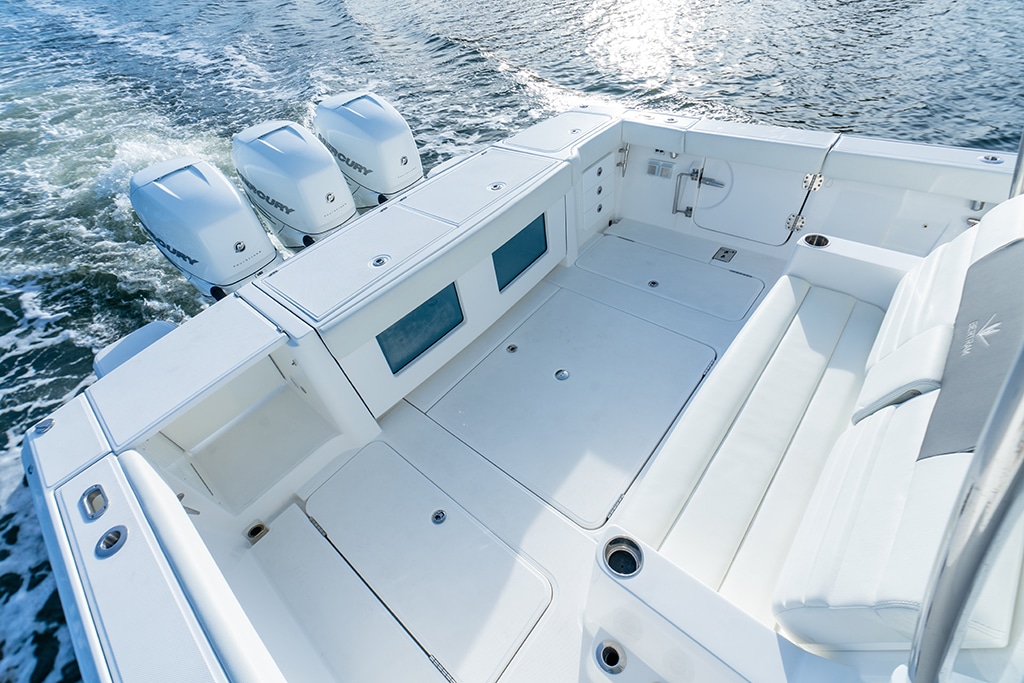 The large cockpit has plenty of space to move around while fishing with easy access to the transom bait wells and rod holders. Speaking of which, there are 18 stainless steel, flush-mount rod holders: six in the transom, four in the gunwale (two on each side), and eight in-floor holders (four on each side of the mezzanine seat) when rods aren't in use. You can add an optional eight-rod, stainless steel rocket launcher on the hardtop as well as Gemlux Bluewater Carbon hardtop-mounted outriggers. There are two big insulated in-floor fish boxes with pump-outs, a transom sink with cutting board and tackle drawers, raw- and freshwater washdown valves, and a hot/cold shower at the transom walkthrough door. Another cool feature is that the mezzanine seatback flips down to become a prep surface with a tackle center behind. Below the seat is an additional large cooler/storage area with drain plug.
The molded-in swim platform extends on each side of the engine set and because the Mercury Verados have their exclusive Advanced MidSection, which allows the engines to tilt at a different point than other outboards, a covered motor well makes for easy passage from one side to the other. For swimmers or water sport enthusiasts, a pull-out reboarding ladder is integrated into the swim platform starboard that is accessible from the water. A dive door with coaming gate to port not only provides access for easy boarding or hauling in a catch but also allows another opening for swimmers via a clip-in ladder.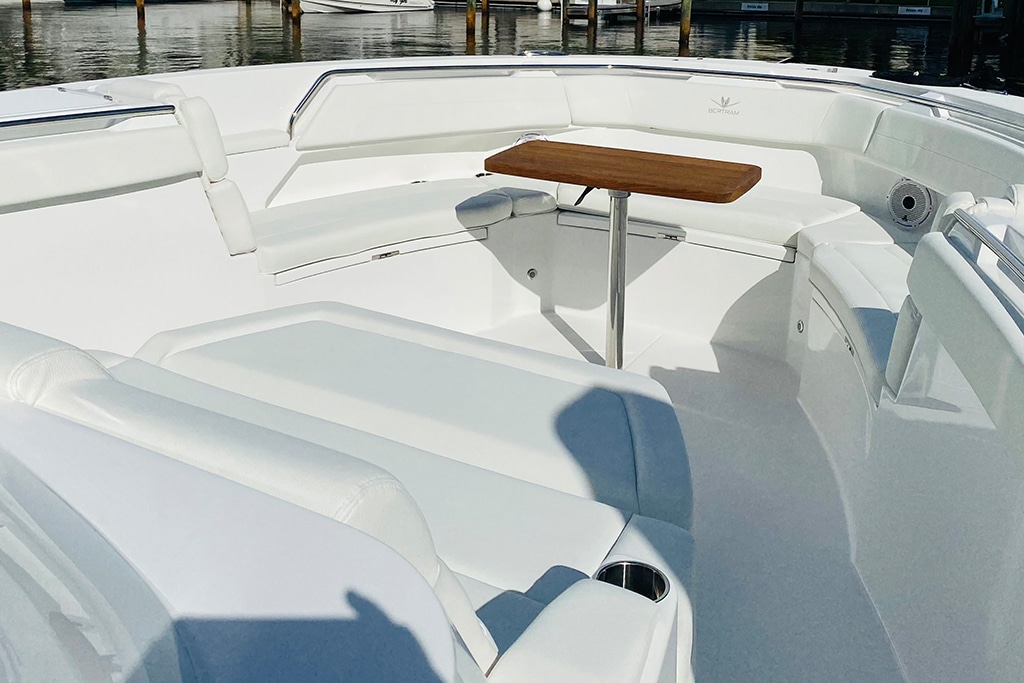 Soak Up the Sun
A main reason to get out on the water is to be in the fresh air and, for many, catch some rays. The open bow has a huge sunpad centered in front of the helm console with a forward-facing backrest, a flip-down armrest with cupholder, and another large cooler/storage locker underneath. There's also wraparound seating along the gunwale with forward-facing backrests at each end and under-seating storage on both sides. The peak bow seat locker is home to a portable table that mounts in the bow or aft cockpit which creates a place to gather around and enjoy drinks and dinner or to play a game. A sunshade with support poles is available as an option. There's also an optional sunshade with support poles or an electric shade system for the aft cockpit.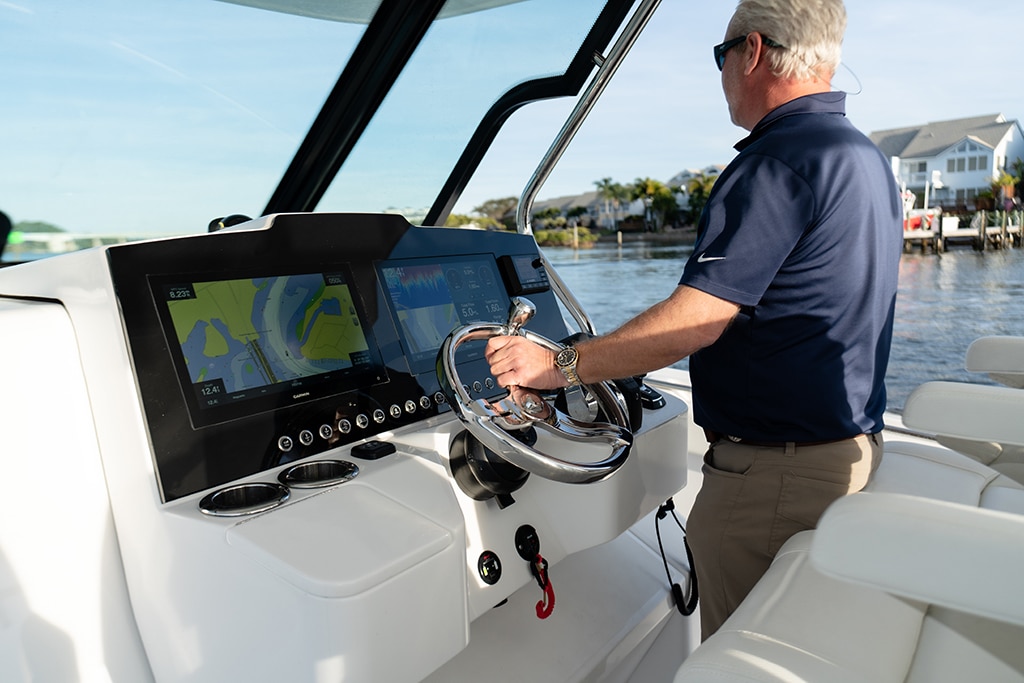 Under Control
The helm is the boat's control center, and the Mercury Joystick Piloting for Outboards system is standard. That includes the dual digital throttle and shift binnacle control, electric power assist hydraulic steering, Skyhook digital anchor, integrated AutoPilot and Auto Trim, matched with the Mercury VesselView seven-inch color touchscreen display. As with most new boats, the dash is empty for you to choose your screens. On this test boat, there was a dual 16-inch Garmin multifunction display, as Garmin packages are installed in the factory. Other systems will need outside installation.
Electric running surface-mounted trim tabs with position indicator are also standard as is a JL Audio sound system with speakers in the bow, midship, and in the hardtop. Lights include an integrated port and starboard running/docking light combo and electrically actuated all-around lights that add color schemes above and to the optional underwater lights below. An overhead lockable glove box keeps valuable safe.
Then there's the robust, yet comfortably cushioned seating. Four custom Bertram-designed helm chairs made by Llebroc feature adjustable positioning, fold-up arm rests, and flip-up bolsters. A molded-in footrest under the helm and on the cabin door provide stability when seated.
The mechanical space accessible by the cockpit floor hatch houses the generator, which is standard, an optional Seakeeper stabilizer, and water heater along with the system filters, valves, and hookups. A cool feature on the 39 CC is the use of a sea chest with a high-speed pickup system to charge it.
"There is an integrated sea chest from which multiple systems pull their water," says Hamilton. "This sea chest is fed by one electric thru-hull which automatically shuts down when the boat is not in use. This eliminates many thru-hulls that would otherwise go through the bottom."
The sea chest also has an electric shutoff for the generator's seawater intake valve to prevent water from being forced into the system if the generator is not running. When the boat is turned on, the valve opens, and when shut down, the valve closes all the systems.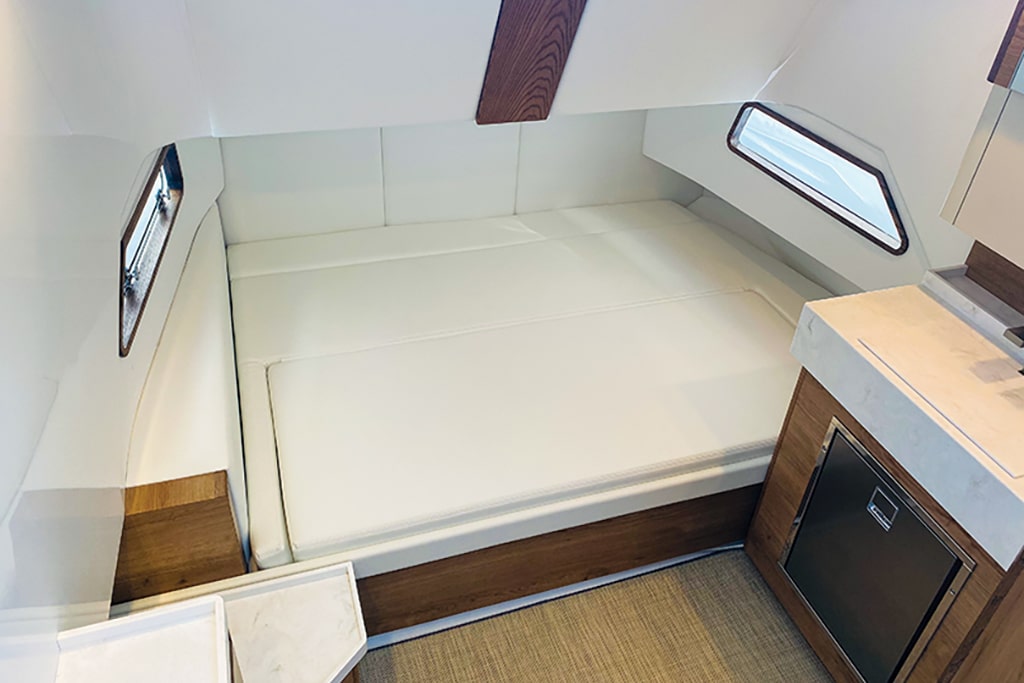 Rest Easy
The lockable cabin door to port of the helm is under the hardtop and behind the windshield to keep weather at bay. The cabin interior features a queen-size berth with dedicated, lockable rod storage underneath. A private wet head with porcelain macerated toilet and freshwater hot and cold shower, refrigerator, microwave, vanity with infinity-style sink, and overhead skylight make for comfortable accommodations. A 10,000 BTU air conditioning system will keep those hot summer days cool. Air conditioning in the helm is an option, and the vents are behind the seats for more direct contact with passengers instead of on the dash where they can lose their effect when underway.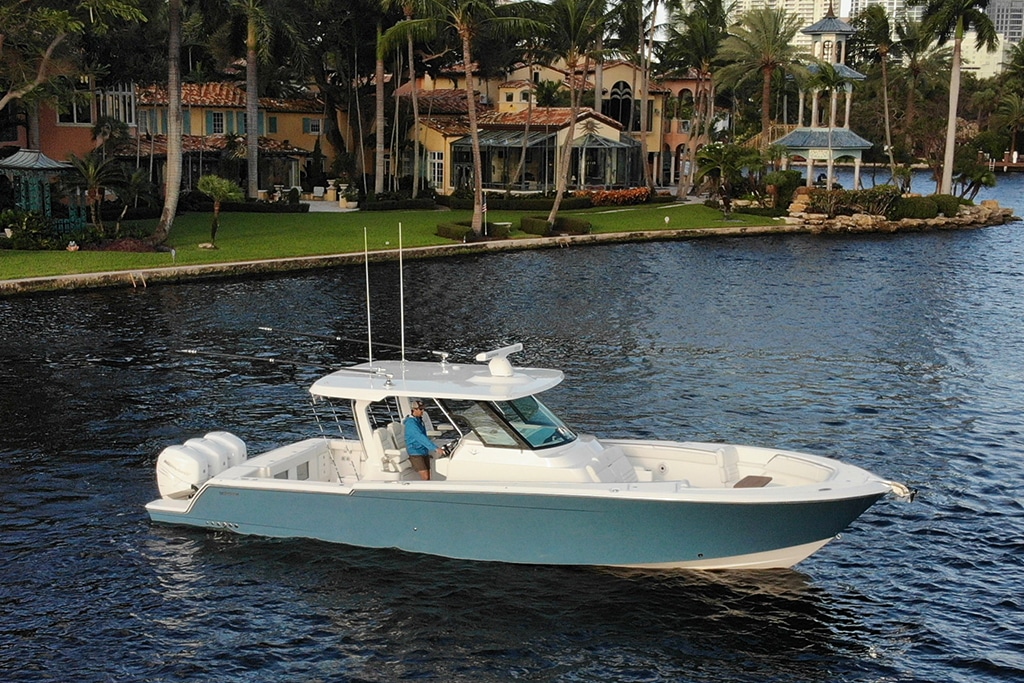 What a Ride
It didn't drizzle for long as we sped out into Tampa Bay at 50 mph. The boat felt solid, secure, and without a rattle when it got bumpy. Even my teeth didn't chatter. I was able to take a sharp turn at 45 mph without a slip, and she held her ground, losing no more than 3 mph as I pulled out of the turn. The engines were quiet and reached plane within five seconds. The boat cruised back at about 47 mph, but optimum cruise is around 37 mph that burns 0.9 mpg and provides approximately 374 miles at 90 percent fuel. Whether fishing or cruising around, any day on the water is better than a day at work, well, except for maybe those who enjoy building boats and those who write about them.
---
Specs
LOA: 40′ 4″
Beam: 13′ 2″
Draft (Engines up): 2′ 4″
Draft (Engines down): 3' 4"
Displacement (Dry with standard engines): 17,300 lbs.
Fuel (gas/diesel): 500/25 U.S. gals.
Power (Standard): 3x Mercury Verado 300 JPO Black
Contact:
Bertram Yachts
Tampa, FL
(813) 527-9899
bertram.com