Celebrate the Grazing Board
A simple way to share a large meal without all the hassle
When we are cruising and don't feel like cooking, we often share a platter of assorted cheeses, meats, pickles, jams, nuts, fruits, and veggies as a grazing board for a meal. I use a cutting board or large tray and arrange the food into bite-sized pieces that feature a variety of flavors and textures that can be eaten alone or in combination.
During isolation due to the COVID-19 pandemic, the concept of these grazing boards has emerged as an alternative way of dining (in lieu of exhausted families preparing yet another meal) among the foodie and gourmet press. Some of these boards are spectacular, while others are simpler, but they offer cruisers some terrific ideas for creating a grazing board for breakfast, lunch, cocktails, dinner, or dessert that please even the fussiest eaters, while reducing waste and keeping work and cleanup to a minimum.
There are no rules for these kinds of boards; peruse your freezer and cupboards for ingredients and leftovers: a few slices of ham, a block of cheese, an end piece of Spanish chorizo, half of a container of olives or marinated mushrooms, a couple of cherry tomatoes or radishes, the remains of a jar of marmalade, some berries, and some focaccia that can be sliced and toasted.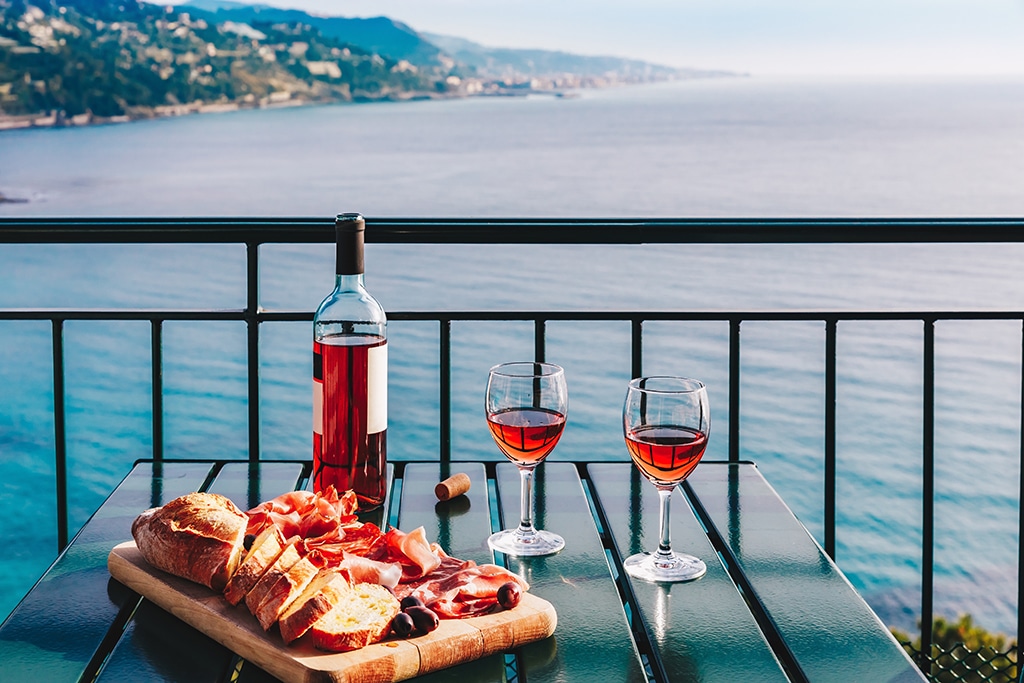 When arranging the board, place your biggest items first, then group your pairings. Cheeses will serve as anchors on your plate, so space them apart from one another and give them plenty of room. Next, place your accompaniments closest to the cheeses and meats with which they pair the best and are meant to be enjoyed together, like pickles and a dish of mustard snuggled up to a mound of crumbled farmhouse cheddar or cured meats. A scattering of nuts, olives, and dried fruit across the board makes it clear that those bites will work with everything. Here are some ideas that have worked for me. Use your imagination and creativity!
Breakfast/Brunch Boards:
Assorted sliced fruit, yogurt, granola, sourdough bread or a baguette, butter, sliced cheeses, bits of ham or smoked sausage, jelly, and sweet muffins or scones.
Bagels, flavored cream cheese, onions, dill, radishes, capers, pickled peppers, smoked salmon or whitefish, sliced tomatoes, lettuce, caviar, hard-boiled eggs, oranges, figs, and dates.
Lunch or Dinner Boards:
Leftover sliced steak, pork, or chicken with baguette, mayonnaise, horseradish sauce, mustard, chunks of cheese, flavored salts, black olives, capers, and sliced onion, tomatoes, lettuce, relish, and pickles and pretzels.
Tuna, shrimp, or crab salad or a fish dip with crackers, bread, potato chips, pickles, onions, carrot, and celery sticks, and Cheeze-Its or Goldfish crackers.
Spanish jamon, manchego cheese, green olives, white anchovies, tomatoes, toasted bread, marcona almonds, figs, and honey.
A Cocktail Board for 8 guests:
Feature three cheeses (½ lb. each): a soft cheese (brie, camembert, goat), a slicing cheese (Swiss, cheddar, edam), and a hard, crumbly cheese (pecorino, parmesan, aged gouda)
For meats: ½ lb. mixed meats such as thin-sliced pepperoni, salami, or sliced prosciutto
½ cup each of salted and unsalted nuts
1-2 cups fresh fruit: whole figs, grapes, berries, or sliced kiwi, stone fruit, melons (use fruit that doesn't brown) or ¼ cup each of nuts and dried fruit to sprinkle throughout the board
½ cup sweet jam or pepper jelly in a small bowl
1 cup olives or pickled vegetables in a separate bowl
1-2 cups raw vegetables: radishes, fennel, celery, carrots, scallions, all sprinkled with salt
Basket of crackers and/or bread slices
Have plates, forks, napkins, toothpicks, and serving pieces, especially when social distancing as well as a bowl for pits and stems.