Sailing with Sound: The 2023 Guide to Marine Audio Speakers
Music motivates the senses, so make sure to have awesome speakers.
Elevate your boating experience with the top marine audio speakers of 2023. To get that crisp, clear, accurate sound from your music player, you need high-quality, high-sensitivity, and durable speakers that are able to handle increased power and minimize resonance. There's a lot of technology that goes into making a marine speaker worthy, and Southern Boating readers acknowledged their favorites this past January in the Readers' Choice Awards, no doubt based on the sound quality. Here are the top four.
The flagship speaker for JL Audio is the M6. Its models are optimized for open-air boating taking into account the boat's materials and its environment, including exposure to saltwater and UV exposure. JL uses a proprietary Dynamic Motor Analysis system, a Finite Element Analysis-based modeling of loudspeaker motors and suspensions, to understand the true behavior of loudspeakers under power and in motion. Through the analysis, reduced distortion, improved performance, and exceptional sound quality prevail.
JL Audio builds its speakers at its Miramar, Florida-based factory and has the added impact of its patent-pending Transflective RGB LED lighting technology for a smooth lighting effect in various colors. New this year, JL Audio has a custom shop for boat owners to match their desired aesthetic.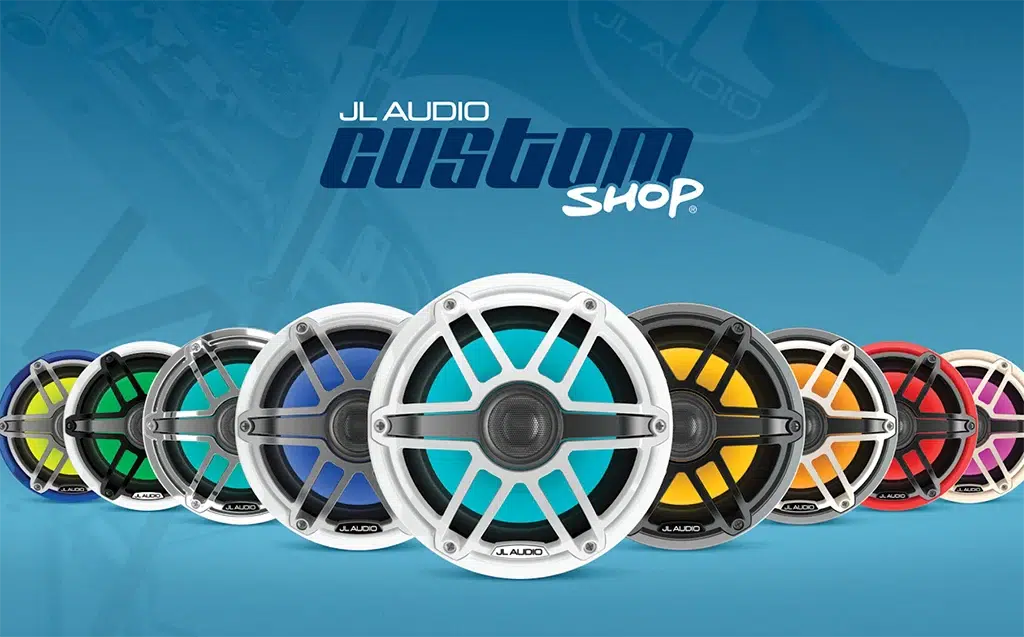 "Off-the-shelf, JL Audio M6 and M7 marine speakers and subwoofers already look excellent, but JL Audio Custom Shop provides customers a way to personalize them to fit the exact look they're after," says Michael Farino of New Era Communications. To customize the speakers, head to the JL Audio Custom Shop online. "From there, they can change the JL Audio badge color, and pick from a variety of custom paint colors or patterns for the speaker grille and trim ring. For further customization, JL Audio M6 and M7 marine speakers and subwoofers can be optioned with Transflective RGB speaker cone illumination, which can be connected to an RGB controller for unlimited color options, or hard-wired to achieve one of seven color options."
The M6 ranges from 6.5-inch to 8.8-inch and starts at $405. jlaudio.com
Designed for use in the most demanding marine audio installations, KICKER Marine's new KMXL horn-loaded coaxial loudspeakers incorporate several unique features that set them apart from traditional marine speakers. A proprietary high-frequency horn design gives the KMXL series superior sound performance, providing incredibly smooth and easy listening, even at extremely high volumes. This proprietary horn geometry prevents acoustic resonances and standing waves, for fatigue-free, long-term enjoyment. Super-efficient, lightweight midrange cone assemblies and advanced built-in crossover networks round out the KMXL designs.
The KMXL series comes with UV-treated grilles in both charcoal and white while its cones, baskets, and grilles are UV and salt fog tested and certified to withstand the marine environment. Speaker hardware is forged from rustproof 316L stainless steel for years of enjoyable use. Neodymium magnets in the motor assembly provide tremendous power, while being extremely lightweight. The KMXL speakers come in three sizes: KMXL65 (6.5-inch) KMXL8 (8-inch) and the KMXL69 (6- by 9-inch). While the smaller speakers have a Recommended Amplifier Power of 15-150 watts, the 8-inch speakers have been tested to run all day from 15-250 watts. KICKER Marine Audio speaker lines incorporate RGB LED lighting. MSRP $649.99-$869.99; kicker.com/marine-audio
Fusion Audio Entertainment 
The Fusion Signature Series 3i 8.8-inch wake tower marine speakers are acoustically optimized to produce premium sound that cuts through the air on every run. They are offered in both Sports White and Sports Black with an all-new Sports Gray metallic grille color.
The Signature Series 3i wake tower speakers feature innovative CURV cone technology, a woven fiber composite that contributes to a lighter and stronger speaker design that provides excellent sound definition and a strong power output to project high-quality audio over engine noise, even while cutting through the waves.
Built to last year after year in the harsh marine environment, the full Signature Series 3i range is water rated to IP65 with ISO12216 strength and watertight compliance and engineered to Fusion's signature True-Marine standard for protection against marine elements like salt fog, water, dust, and UV.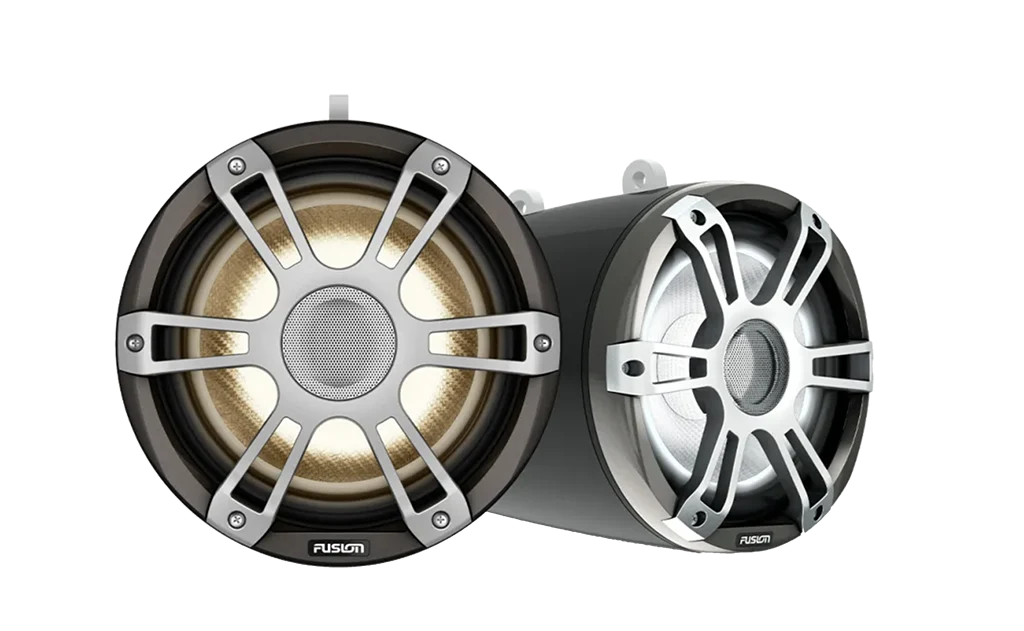 The Signature Series 3i wake tower speakers combine traditional red, green, and blue LEDs with cool white and warm white for a spectrum of color that can match each unique boat and style preference. For more customization on board, the intuitive wireless remote allows full control over brightness, mode (static or dynamic), and speed.
From wake and tow boats to pontoons, the Signature Series 3i wake tower speakers are designed to complement a variety of boat types and preferences. The Sports Black 8.8-inch wake tower speakers boast a new Sports Gray grille with a metallic-painted finish, which can also be found on the trim pieces and end caps on both the Sports Black and Sports White styles. MSRP $1049.99; garmin.com/fusion
Wet Sounds is going big with the world's first 12-inch tower speaker. The REV 12 HD adds a higher level of high-definition performance to the marine audio industry and brings unprecedented volume and sound quality to a tower speaker design never achieved before. 
With world-leading performance and cutting-edge design, Wet Sounds took a ground up approach for the Revolution-HD series and developed a new REV TEC driver using proprietary materials to provide amazing mid-bass with a smooth yet powerful high frequency response.
The REV 12 HD is built with the REV-TEC HLCD (horn-loaded compression driver) with integrated front and rear RGB LED rings within an advanced composite enclosure and stainless steel hardware to withstand the harsh marine environment, and utilizes the Wet Sounds patented TC3 swivel clamps or the new X-Mount. There are three grille styles available in black or white, including the all-new XZ style grille. wetsounds.com  
-By Jeremy Peters