Pump up the volume with the best stereos and speakers for your boat
Music is a universal language, and it's usually the foundation for entertaining on board along with food, cocktails, and a scenic view. Here are the best stereos and speakers for boats.
Good speakers matched with a high-quality amplifier can really make a difference in sound. Like anything in electronics, the technology continues to improve and these components provide crisp, clear audio in the marine environment.
From the BOSS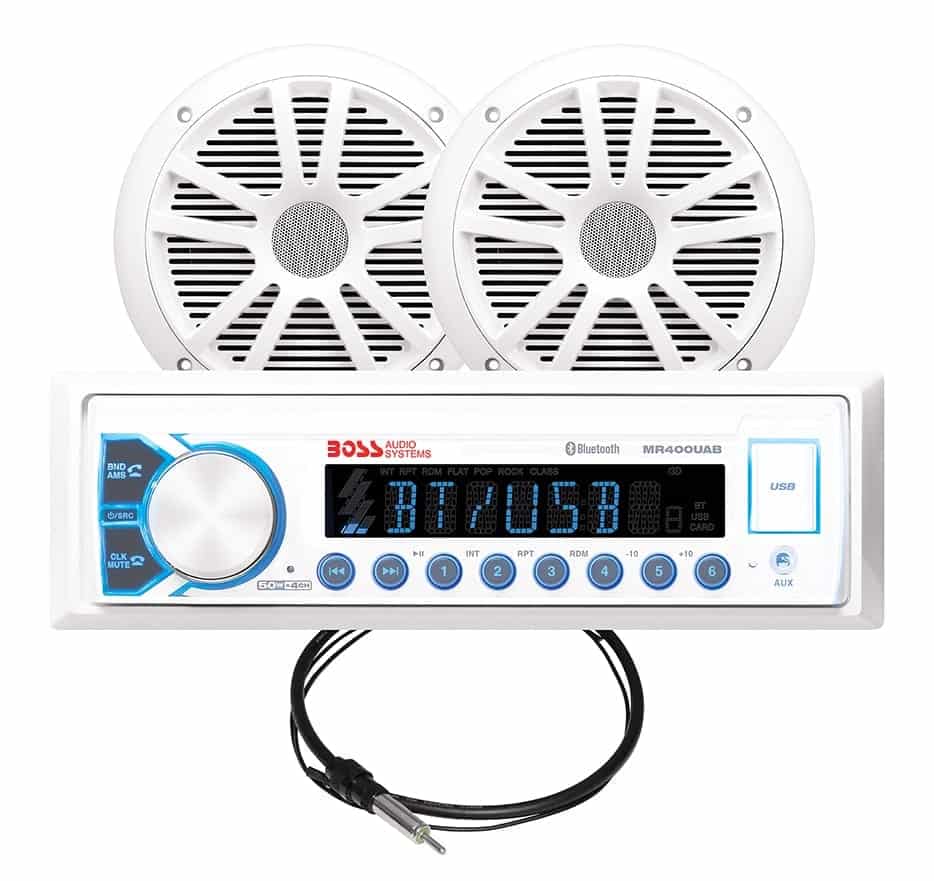 Beef up your sounds on board with the weatherproof BOSS Audio MCK400WB.6 Marine Receiver & Speaker package. Recently added to the BOSS marine line, this affordable, all-in-one bundle includes a single-DIN, 50-watt x 4 max power, MECH-LESS multimedia player, marine-rated head unit with built-in pre-set EQ, USB, and auxiliary inputs, front and rear pre-amp outputs, wireless remote, USB charging, and hands-free Bluetooth operation. The package also contains a pair of 6.5-inch marine speakers that combine 90/180 watts (RMS/max) power utilizing a poly carbon cone and rubber surrounds. The unit is compatible with smartphones, MP3 players, and several audio-streaming apps, and has an AM/FM radio with a dipole hideaway marine antenna.
MSRP $79.99.

BOSS also introduced new tower speakers built from state-of-the-art waterproofing materials and special UV coatings for plastic surfaces, coated circuit boards, and connections to protect against harsh outdoor elements and resist corrosion from water. A pair of 4-inch, full-range, two-way speakers blast 400 watts and have RGB LED illumination with 20 color options.
MSRP $144.99
bossaudio.com
Find out how to install a stereo on your boat
Stadium Sound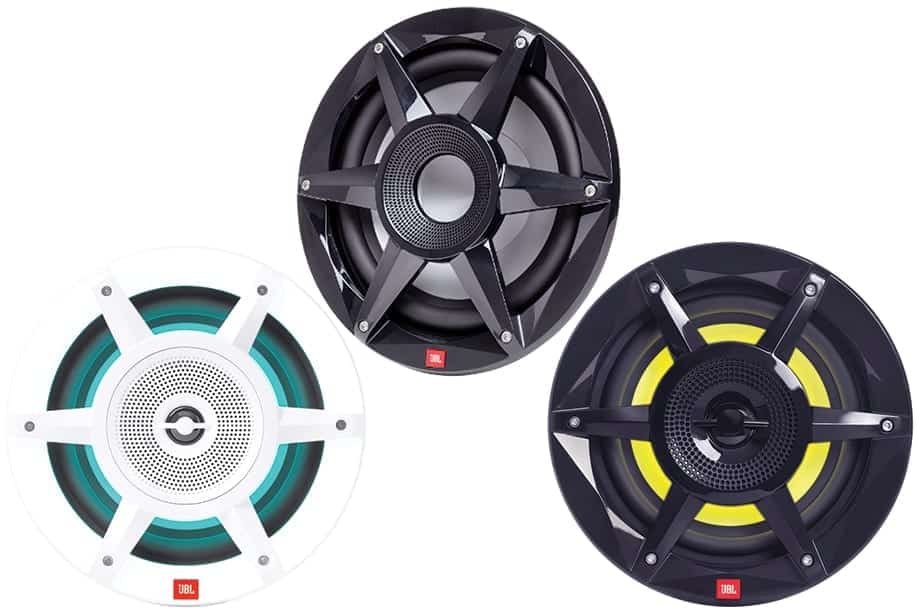 JBL Stadium speakers are purpose-built for use on a boat. They have the power necessary when throttled-up and blasting through the chop to provide volume without distortion, yet have a level of clarity and subtlety when anchored in a quiet bay.
The Stadium speakers are available in a 6.5-inch coaxial (100-watt RMS output with 300-watt peak power), 8-inch three-way (200-watt RMS output with 500-watt peak power), and a 10-inch passive subwoofer (300-watt RMS output with 900-watt peak power). The 8-inch speaker has a removable 3.5-inch mid-tweeter that can be relocated higher to bring the mid- and high-level sounds closer to ear level for improved accuracy.
An insert is included to replace the tweeter if moved. The subwoofer is mounted low in the boat. All three speakers are available with white or black grilles and have built-in RGB perimeter and center lighting.
MSRP, from 6.5-inch to 10-inch, is $299.95/pair, $399.95/pair, and $349.95/each prospecelectronics.com
JBL also offers its new Apex Powersports Amplifiers that are small enough to fit in the palm of your hand (and hide in the boat) yet pack a high-performance punch. Designed to withstand extreme outdoor conditions, the Class D Apex Series amplifiers feature small heat sinks for fast and simple wiring in tight installations. Moreover, three models are available, two which incorporate high-pass, low-pass, and all-pass crossover capabilities.
MSRP from $179 to $299
jbl.com
Like these speakers? Try this marine stereo article for more.
Light It Up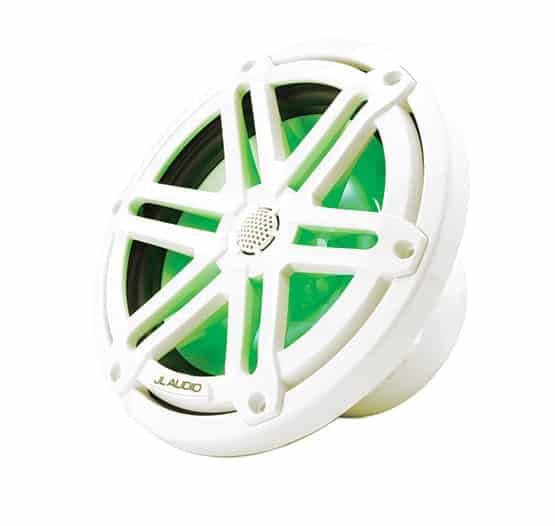 JL Audio expands its marine line with the M3 series of high-performance marine loudspeakers, subwoofers, and tower speakers with optional RGB illumination. Suited for all types of boats from runabouts and pontoons to center consoles and towboats, the more affordable line maintains JL Audio's audio quality and durability.
M3 speakers are purpose-engineered to deliver a powerful, smooth sound in open-air boating environments and feature long-excursion, high-efficiency woofers and treated silk dome tweeters. Subwoofers are built to operate without a dedicated enclosure to deliver a deep, rich bass. Two grille designs are available to match most boat styles: Classic and Sport.
The Sport's split-spoke grille is available in two color schemes, gloss white or gunmetal, and has the option for built-in LED RGB illumination for a variety of lighting color options. JL Audio tests its marine products to ensure they can withstand intense UV and salt exposure.
MSRP for the 6.5-inch Sport with RGB LED lighting is $279.99
jlaudio.com
App Ready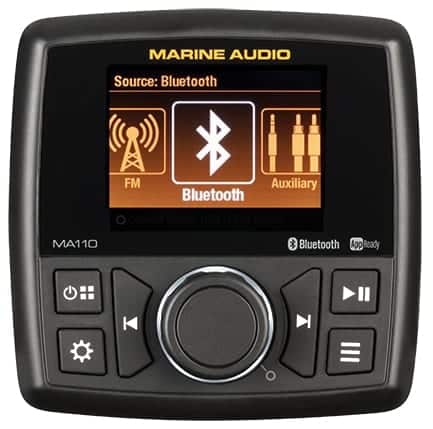 The latest from ASA Electronics is the Marine Audio MA110 App Ready Bluetooth Stereo. Boaters to take control of their music entertainment by using apps on their smartphones, tablets via Bluetooth. It supports up to four speakers with 160 watts of power to pump up the volume on the water. The 2.8-inch full-color display is viewable in direct sunlight and surrounded by control buttons with white LED backlighting.
The display has a day and night illumination control as well as dimmable backlighting for the buttons that make the display and controls easily visible at all times. The MA110 is also an AM/FM radio with 36 programmable presets. Additionally, the water-resistant stereo has an IPX6 protection rating. There's also a built-in USB port that charges devices, so the party can go on all day long.
MSRP $379.00
asaelectronics.com
Summer Fun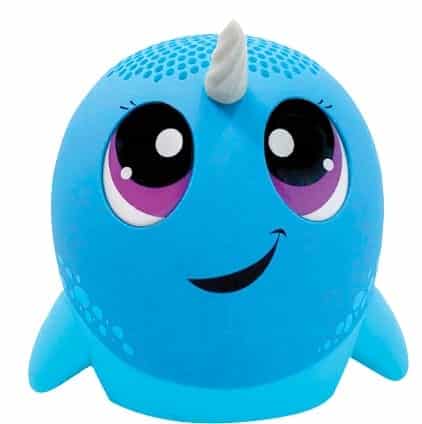 Entertain the young ones with My Audio Pet speakers. They're cute and put out a big sound, but more importantly, they're IPX7 waterproof rated. The Bluetooth speaker incorporates true wireless stereo technology, and the rechargeable battery provides up to eight hours of play time. With names like Megalosong, Narmony the Narwhal, Rocktopod the Octopus, and AuROARa BEARealis, you can't go wrong. Splash pet speakers are perfect for summer fun around the water.
MSRP $39.99
myaudiopet.com
By Jeremey Peters, Southern Boating August 2019