An Electronics Voyage
Sail through a half-century of innovation.
Our 50-year marine electronics journey begins in 1971 aboard our Chris-Craft Commander 35 Salon powerboat. Our vessel is magical and, as time passes, our electronics array transforms. Day by day, we aren't aware of the improvements; however, friends that climb aboard once a decade say, "The years tell of sweeping electronics changes the days cannot."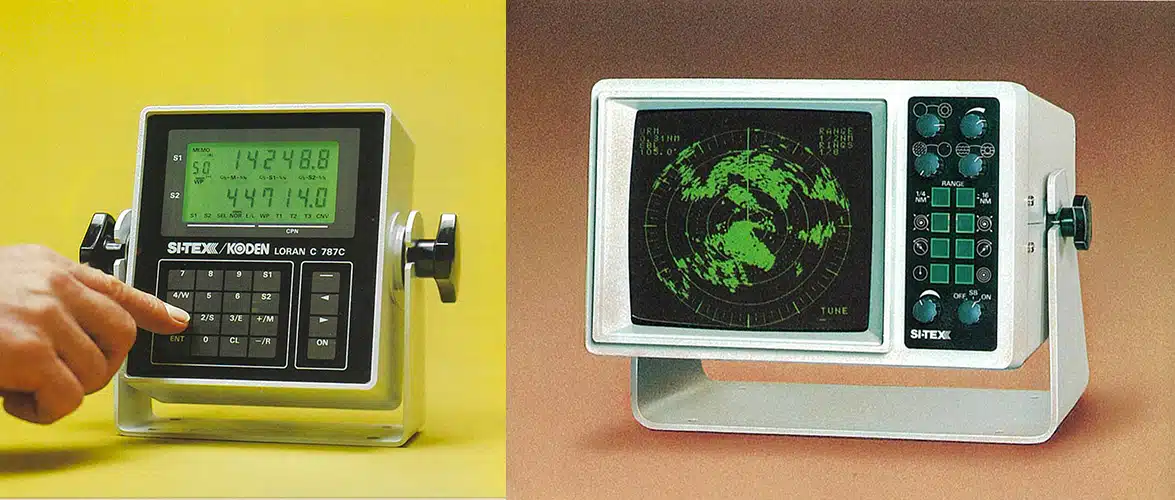 Our helm in 1971 is fitted with the best electronics available—a Simpson crystal VHF-FM radio with 12 channels, a Furuno marine radar system, a Lowrance sounder/flasher, and a Ray Jefferson Loran-A unit. As our vessel moves through the years, the equipment that comes on board isn't necessarily the first of its kind, or the best, but simply representative
of the tremendous improvements made over a half-century. 
So we press onward. As we move into the mid-1970s, Loran-A is replaced by SI-TEX 777 Automatic Loran-C, which is a more stable system and easier to use. Furuno introduces an Ultra-Compact Radar in 1976, and in 1979, we have a Lowrance LDD-1800 digital depth sounder. 
As we venture into 1980, our Alden Marinefax Weather Chart Recorder gathers data from multiple sources and provides a more reliable forecast for trip planning, while our SMR 7800-X VHF marine radio is watertight, will remain corrosion-free, and can be set to constantly monitor five of 78 VHF channels.
Finding the bottom just got a little easier in 1982, with the introduction of the Lowrance X-15 sounder. We also locate a NARCO EPIRB (emergency position-indicating radio beacon) on board, first invented in World War II to find downed fighter pilots but updated in the late 1980s for the average mariner to use. 
Our boat cruises along using an Autohelm Autopilot, and in 1988, the Trimble 4000SLD GPS receiver comes out using U.S. satellites to pinpoint your exact latitude-longitude, with an error built in called standard deviation. GPS is very expensive, but we see how it aids mariners and is a game-changing nav tool. We also like our Datamarine Link 8000 display that provides wind, depth, and speed information on a single interface.
Our vessel crosses into the 1990s, and now we can plug in a regular household 120-volt appliance into a 2,000-watt Xantrex inverter. Voila! We can make coffee just like at home, and even a slice of toast. 
In 1990, Garmin introduces the GPS 100, one of the first marine GPS units, and follows with the GPSMAP 185 in 1999, one of the first chartplotter/sonar combo units. In 1996, the MariStar-M satcom from Scientific-Atlanta offers two-way voice, fax, and data satellite communications, so we can call or fax from anywhere.
Everything is getting smaller and more powerful, like our Uniden HH980 Handheld VHF radio, which is also watertight. In 1998, the Motorola Iridium Satellite telephone arrives, promising the ability to call from anywhere on the planet. Iridium works, too, though it is short-lived. However, with all these new gadgets, how can we connect them all so viewing the data is easier?
NMEA 2000 protocol finds its way into the marine landscape, a plug-and-play communications standard used for connecting marine sensors and display units. Communication runs at 250 kilobits per second and allows any sensor to talk to any display unit or other device compatible with NMEA 2000 protocols. The stage is set for our autopilot, wind instruments, depth sounders, navigation instruments, engine instruments, and nautical chartplotters to all connect and be displayed on a single screen.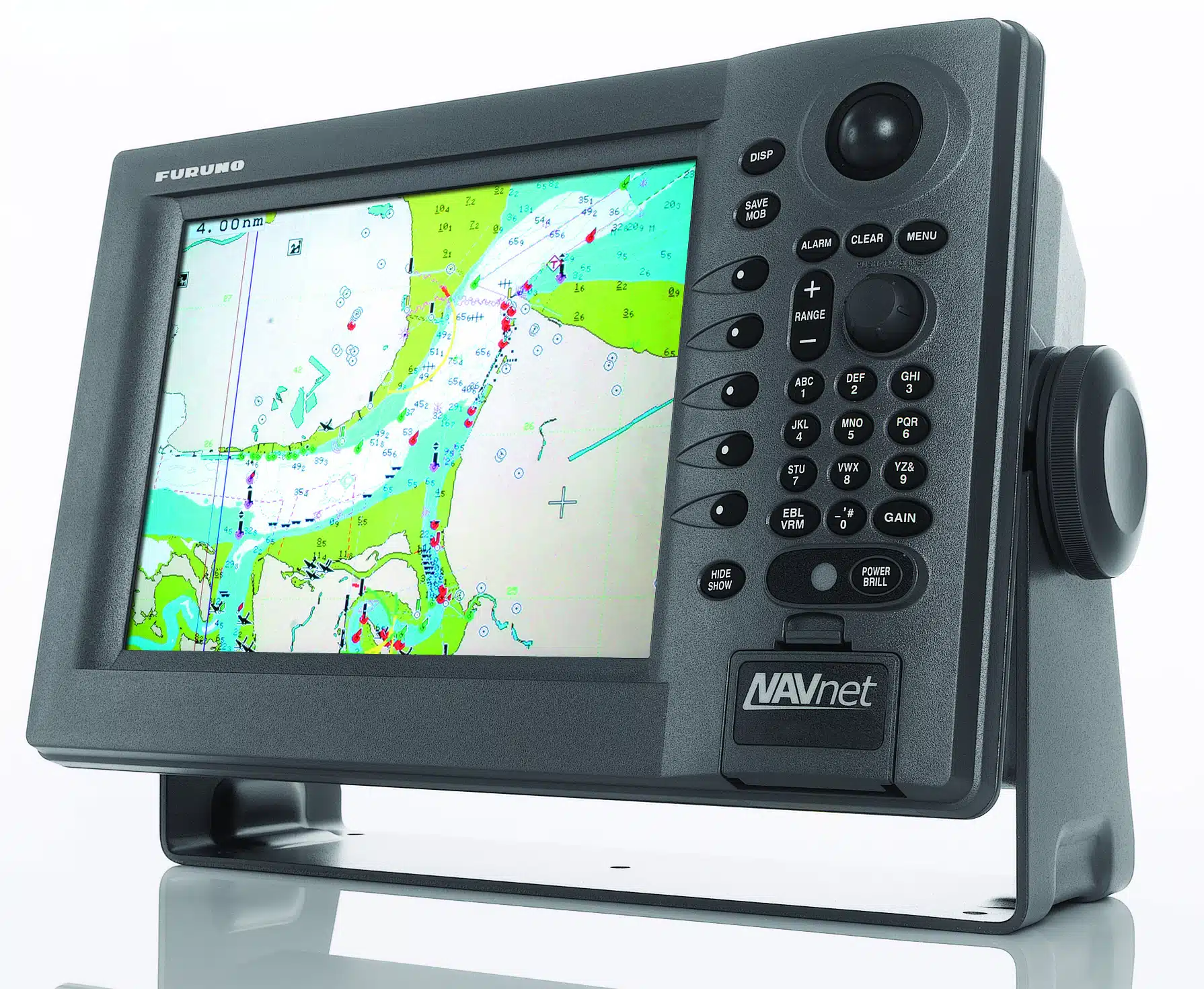 However, in 2001, Furuno's NAVNet offers color radar, chartplotting with C-Map NT, Navionics or Furuno cards, 600W fish finder, and 12-channel GPS receiver on a 10.4-inch LCD color display. It's a powerful bundle for the captain.
In 2004, the Raymarine C Series Multifunction Displays are introduced, and later in the decade, a slew of other MFDs come onto the market. It's a game changer made possible by NMEA 2000, as data that was once scattershot is all collected in one place for the captain. 
Chartplotters and cartography are also becoming much better as we motor through the early and mid-2000s. We're constantly updating our C-Map cards to get the latest maps for the water we are visiting, but it's a must-have because we're seeing how paper charts could become a thing of the past, to have and to hold but never actually look at again.
Our sonar becomes more powerful in 2006, as Furuno's Searchlight Sonar can reach 5,000 feet, while Simrad's SL30 and Wesmar's Focused Beam reach more than 3,000 feet. Our powerful laptop is now a chartplotter, and with Maptech's U.S. Boating Charts DVD, we can view all of NOAA's electronic charts on a disc.
As the 2010s roll around, our vessel now looks very modern: MFDs, small VHF units with handhelds to complement the base unit, satellite TV to watch our favorite shows, and Sirius radio and weather. Our MFDs in the mid-2010s are getting bigger and with touchscreen displays, our MFD becomes the ultimate "pinch-swipe-zoom" toy. Only those still using a flip-phone are unaware of the technology.
We can also now monitor our boat from afar, and in 2011, we are using Siren Marine's tracking systems called Pixie and Sprite, with text messages sent to our phones informing us  of any change to our vessel's state or position. 
Also in 2011, SI-TEX introduces its AIS products including the MDA-1 Metadata Class B Transceiver, and our first glass helm from Garmin, the GPSMAP 8000 series, is installed in 2013.
Even the bottom of the boat is transformed, as our underwater lights illuminate the sea, while inside LEDs offer more lumens on far less power. Digital switching from C-ZONE is making the connection and power supply for our electronics even easier and more secure.
Today, autopilot is more dependable than ever with our Garmin GHP Reactor system, and our boat can now dock itself as the propellers twist and turn. We also saw our smoky generator replaced by Lithium Iron Phosphate (LiFePO4, LFE) batteries and a Xantrex Freedom XC 3000 PRO Marine inverter to supply all the AC power we need while on the hook.
Space and weight have always been limiting factors with electronics and because everything is smaller and lighter as we power through 2021, we are more electrified than ever. Fly Solartech solar panels are sewn into biminis. The apps on our smartphones allow for monitoring and controlling our boat from anywhere in the world. The Siren 3 Pro even lets us check engine data and remotely control lights, cabin air conditioning, and other systems with our handheld devices.
What is next? And how will our electronics array look after another 50 years? Only time will tell. 
— by Doug Thompson