Introducing the Aquila 28 Molokai
Perfect for extreme offshore adventures, fishing outings, and family fun.
The challenging waters surrounding the Hawaiian Islands has given rise to a tested and proven hull design that provides the new Aquila 28 Molokai a better air cushion and reduced hull noise when out in the ocean.
Designer Kirk Clark, who has spent 30 years building power catamarans on the island of Molokai, joined with multihull pioneer Lex Raas to refine the hull design and establish Aquila Power Catamarans. The 28 Molokai is the first model in Aquila's new Offshore segment in which the company's expertise in big boat construction is brought to a smaller platform. The advantage is the new model has all the strength, fuel efficiency, reliability, and durability known with the larger Aquila models in their Sport, Yacht, and Luxury classes.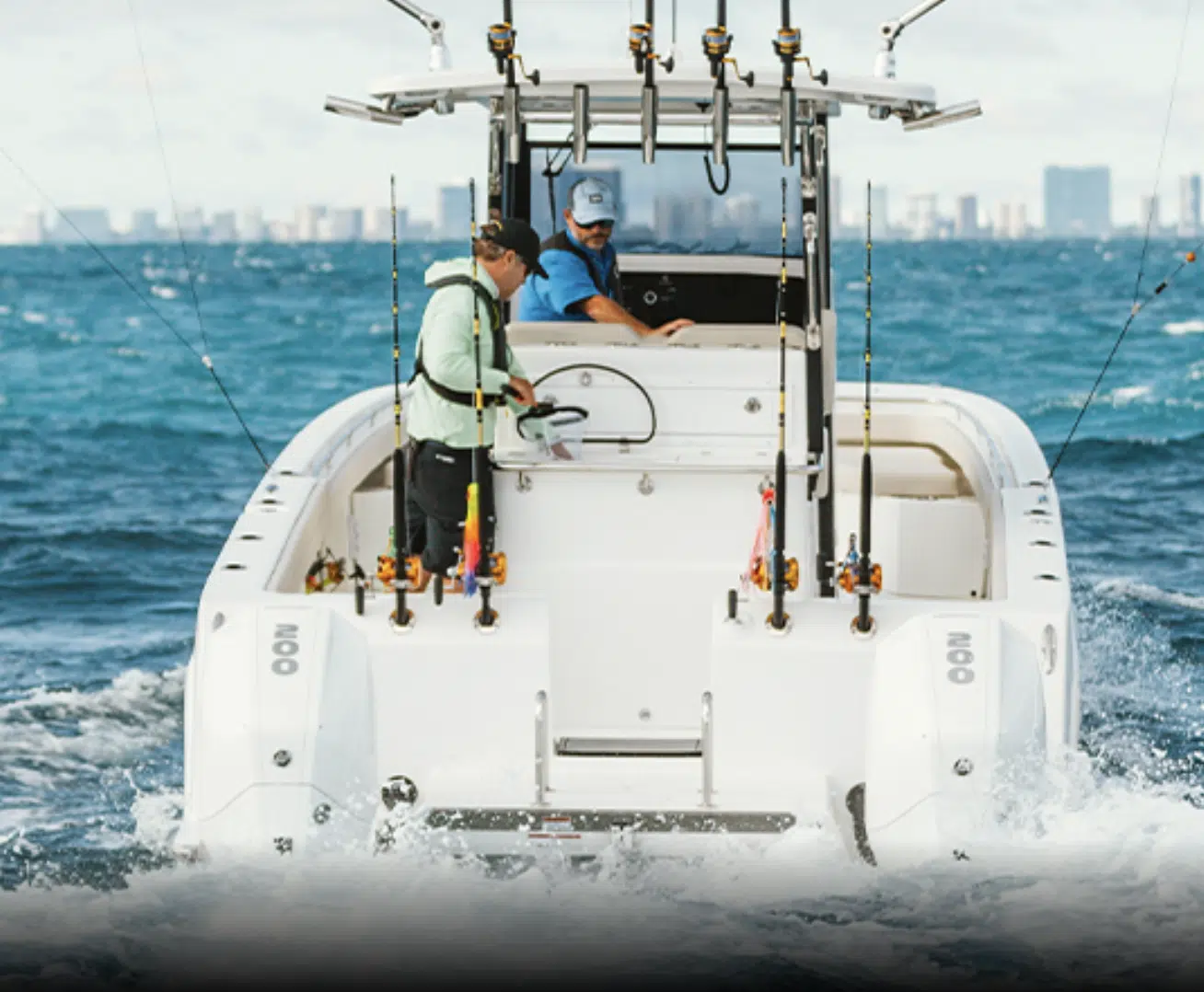 Built with 100 percent vinylester resin infusion throughout, there is no wood used in the boat's construction, including the supports for the high-tech composite hardtop made to handle larger seas. The hulls are spaced wide apart to give better stability and handling (and more comfort), while the center console with a wraparound glass windshield offers a 360-degree view with protection from the elements.
The helm dash is large enough for two multifunction displays, the Mercury engine monitoring display, system push-button controls, and a Fusion sound system unit. Primarily designed as a fishing platform, the Pro Comfort Package includes side bow seating, Kingfish rod holders, underwater lights, blue LED under gunwale deck lighting, and a Lumitec razor spotlight with options for additional gunwale rod holders as well as engines. There are four electronics packages from no electronics (for custom systems) to two 12-inch Axiom screens, transducers, and VHF.
Aquila offers two layouts for the 28, the center console and the cuddy. The cuddy version is designed as a semi-pilot house for cooler climates or commercial fisherman running six-pack charters. Center consoles are popular throughout the U.S. and because of its wide, stable characteristics, the Aquila 28 is well-suited for all water sports activities. Whether fishing, diving, towing the tube, hanging at the sandbar, or cruising to a dockside restaurant, the Aquila 28 Molokai Power Catamaran is a versatile boat adaptable to your boating lifestyle. aquilaboats.com