A Common Rail
YANMAR's latest inboard diesel is compact and powerful.
One of YANMAR's initiatives is to "explore technologies that combine efficiency, high performance, and environmental friendliness" into its products, including recreational marine engines. Its been doing so since 1971 with the introduction of its first purpose-built engine for recreational use. Fifty years later, YANMAR debuted the 6LF series, a six-model lineup of common rail marine engines from 485 mhp to 550 mhp (478.3 hp to 542.4 hp). Installations of the new 6LF series began earlier this year, and the first one in Europe was a repower last August in a Magnum 40.  
Environmentally Friendly
Keeping in line with YANMAR's "environmental friendliness," the 6LF line of marine engines meet EPA Tier 3 emission standards. The series also keeps in step with YANMAR's "Best in Class" efforts for all its common rail marine diesel engines by making them fuel-efficient. Common rail engines are built with a direct fuel injection system that feeds solenoid (electromechanical) valves instead of a fuel pump feeding unit injectors that combine the injector nozzle and injection pump in a single component. 
The 6LF engine "features YANMAR's proprietary fuel mapping and a larger mixing elbow for reliable and consistent output performance," says Jules Riegal of Saltwater Stone, YANMAR's marketing firm. The YANMAR 6LF series and all its common rail engines minimize fuel consumption and optimize performance with precise, digitally controlled fuel injection that increases efficiency as well as reduces emissions and noise.
Electronic Control
Another aspect of YANMAR's best-in-class efforts is interconnectivity. The engine is designed to integrate with the latest electronic components and multifunction displays for engine monitoring and control. 
"It is custom engineered to offer direct connectivity to NMEA and J1939 CAN bus networks," says Riegal. "It comes available with a number of standard and optional features, including single- and two-pole (12V/24V) installation, various ZF gears, and custom secondary alternator options to meet nearly any complex application."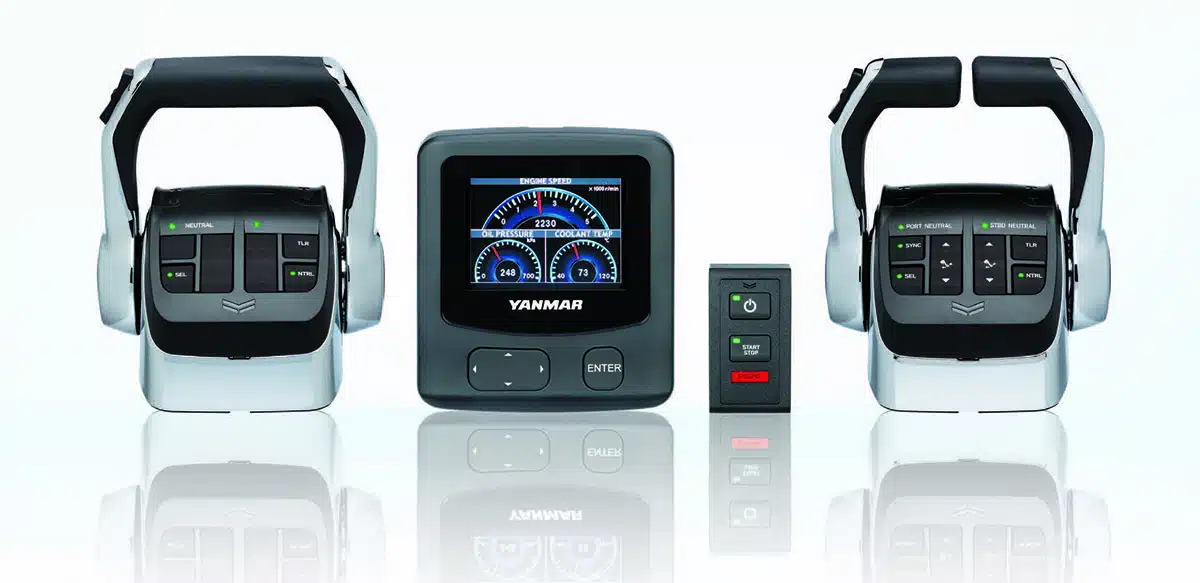 The 6LF series is operated by the VC20, YANMAR's second-generation vessel control system. Based on the J1939 CAN bus system with a dedicated network to the engine, the system directs all engine and transmission functions, including joystick controls, and shows engine alarms and diagnostic codes in the display. 
The control system also integrates with YANMAR's complete lineup of common rail engines, ZF transmissions, and drives for sail, power, and light-duty commercial vessels to
55 feet. 
Time to Repower
The compact and powerful 6LF series engines are a good choice when your boat is still comfortable but the engines have lost their efficiency. Old engines can lose horsepower, consume too much fuel, and require increased maintenance that makes for more downtime.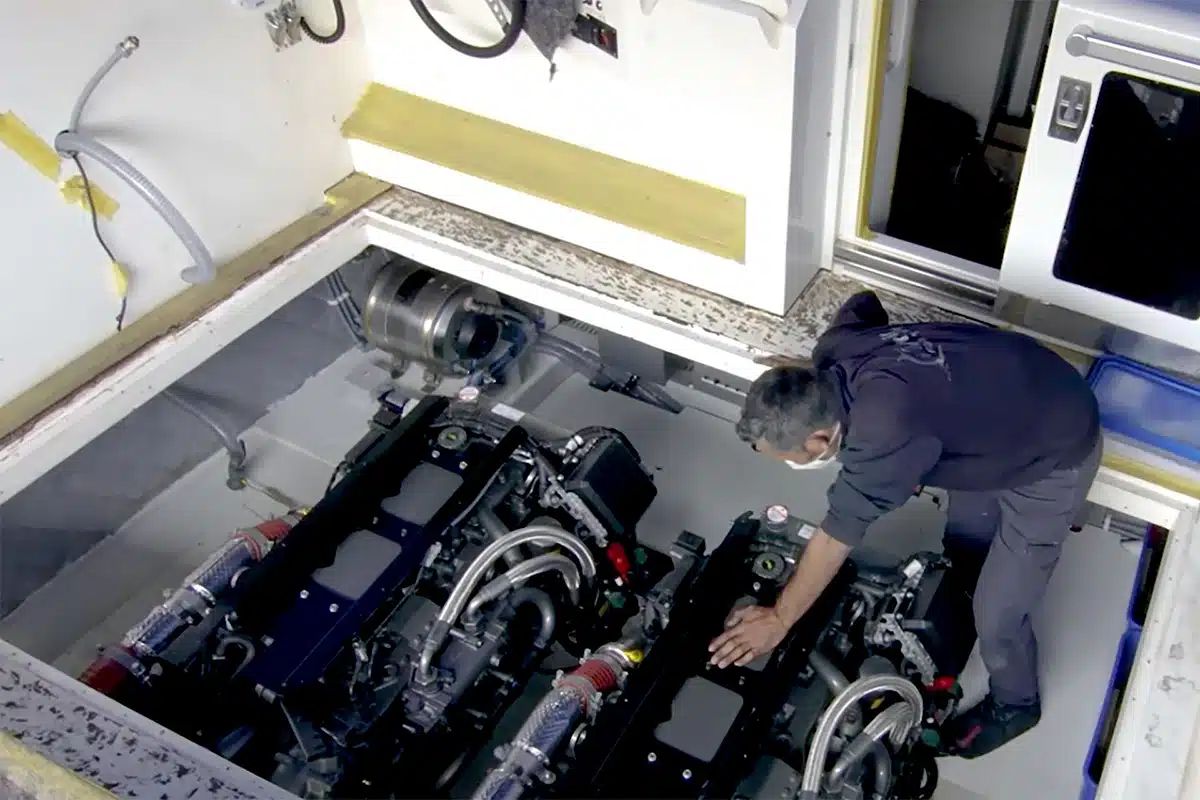 The Magnum Marine 40 was known for its speed and agility back in the '80s and reached into the 60-mph range. It was a one-of-a-kind model, so it's a keeper, but it had two 20-year-old mechanical 420-hp diesel engines and, over time, the performance didn't compare with today's engines. The boat was repowered with twin 6LF 530 engines along with new components, and the results were obvious: improved speed and fuel efficiency with low vibration and decreased engine noise. 
There is the option to rebuild the engines, but YANMAR suggests that it might be worth the investment to repower if the rebuild costs 40 percent or more of the price to install new engines. Life expectancy, warranty, and the latest technology are also things to consider.  
YANMAR's 6LF series is available in three outputs: 485 mhp, 530 mhp, and 550 mhp, all with a 3,000 rpm rated speed. The inline, 4-stroke, 6-cylinder, water-cooled diesel has a number of accessory options along with a global service network. yanmar.com 
-by Steve Davis