Maryland gas changes for the better 
Mariners will soon find a new fuel at Maryland marinas that's better for their boat and for the environment. Largely due to the work of the nonprofit Marine Trades Association of Maryland, Delegate Herb McMillan and the Gevo fuel company, isobutanol-blended gasoline is now legally available for marinas to dispense. The fuel solves the problems associated with the use of ethanol.
According to testing completed on isobutanol, it offers a 30 percent higher energy content than ethanol, elimination of phase separation issues, reduced emissions, increased octane, and no water solubility glitches.
The EPA-approved fuel is made from renewable resources such as cereal crops, sugarcane, sugar beets, and other cellulosic raw materials. Tested by the National Marine Manufacturers Association (NMMA) in collaboration with the Department of Energy's Argonne National Laboratory, isobutanol is fully compatible with marine engines. Its performance — validated by Mercury, Evinrude, Johnson, Volvo Penta, Honda, Yamaha, and others — demonstrated that internal combustion engines have no problems running with mixtures of isobutanol and regular ethanol gasoline.
In Maryland, isobutanol is currently available only to on-water fuel facilities. Greg Roda, of Gevo, said he's been "working like a dog" to make it accessible since it was legalized. "I believe there's a big market there, and I believe everybody wants it. As you would guess, the supply chain is the hard part." gevo.com
Non-ethanol fuel on the OBX
Speaking of gas, while Maryland changes gas for the better,  you can find non-ethanol fuel this summer at Dock of the Bay Marina, the only marina on North Carolina's northern Outer Banks with gas, diesel, deepwater access, and just about everything else you need for an adventure on the water.
The convenience store at this Kitty Hawk marina has ice, sandwiches, sodas, chips, and plenty of snacks to load up on. For adults, it also offers wine and beer. The marina also has crabbing supplies and fishing bait and tackle. The friendly and helpful staff can update you on the weather, provide directions and answer any other questions you may have. outerbanks.com/dock-of-the-bay-marina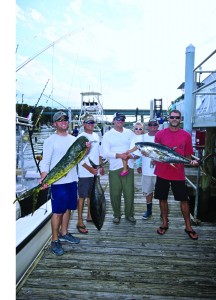 Tournament time
Summer is fishing tournament time in the Mid-Atlantic with competitions throughout the region for charities and cash prizes ranging from $50 to more than $1 million. Charter boat operators and professional guides will be on-site to provide the know-how and stress-free entertainment. Daily tournament parties are also a big part of the fun.
For example, the 13th Annual Virginia Beach Tuna Tournament is June 21-24 with weigh-ins at Marina Shores marina in Lynnhaven Inlet and the Virginia Beach Fishing Center in Rudee Inlet. In 2016, anglers aboard Skiligal reeled in a 216-pound bigeye tuna for first place and nearly $65,000. Sixty-eight boats participated in the tournament with a total payout of $122,850.
The big daddy of tournaments is the White Marlin Open in Ocean City, Maryland, in August. The 2016 purse was $4,450,000 with 1,412 fish caught. The money is so good, if you win, you'll need to pass a lie detector test. Last year's "winner" didn't pass.
By Chris Knauss Southern Boating Magazine June 2017