A Big Impression
Intrepid's 409 Valor catches your interest at first sight.
First impressions are an important tool in life. "We sea trial every single boat we build," says Ken Clinton, president of Intrepid Powerboats. "We take it out on the Gulf of Mexico, we put four or five hours on it and…shake things loose because it needs to come loose on us not the customer. …Having real-world testing…is crucial. You can never buy back a first impression, so for every person that goes out on a boat that didn't get put through the rigors and has some kind of a failure—that's the first impression that person got on that boat."
When the Intrepid 409 Valor made its public debut last fall, the elegant design of the interior and the distinctive style line of the inset hullside windows made a lasting first impression, but it was when the boat powered up its triple Mercury 450s and delivered a smooth, dry ride that made that impression stick.
Hull Design
The 409 Valor is sleek and stylish. And while many boats offer beautiful interiors, it's the hull design that really makes the boat. "There's always times that everyone thinks you only go boating on a beautiful day," says Clinton. "Well, it may start out that way, but you don't know what's going to happen to you when you're out there, and it's those people that have been stuck in the s#!t…that realize how important hull performance is."
Intrepid has been making boats with outboards for more than 30 years. "One of the biggest things is that we were doing outboards back when outboards weren't cool," explains Clinton, noting that they were building big boats (37- to 40-feet) with outboards back in 1991-92 when big outboards were 200s. "What it forced us to do is to engineer a good bottom. It couldn't have been more critical because you didn't have the power available to push a boat of that size efficiently. It forced us to experiment over and over and over, so what you get when with an Intrepid is more experience and history on a step-bottom boat with outboards than anybody in the industry"
He's had people joke with him these days about adding more engines asking if they can add more motors because they saw another boat with that many, but, "My biased opinion is that boat manufacturers today have a luxury that I never had back then, and that's big power." he says. "You can literally take a short cut on hull performance because it's not as important as it used to be because you got four-fifty-hp or six-hundred-hp. You have all these engines that will overcome too much beam and not enough deadrise and not enough ventilation under the step or putting too much weight in the boat or too much displacement."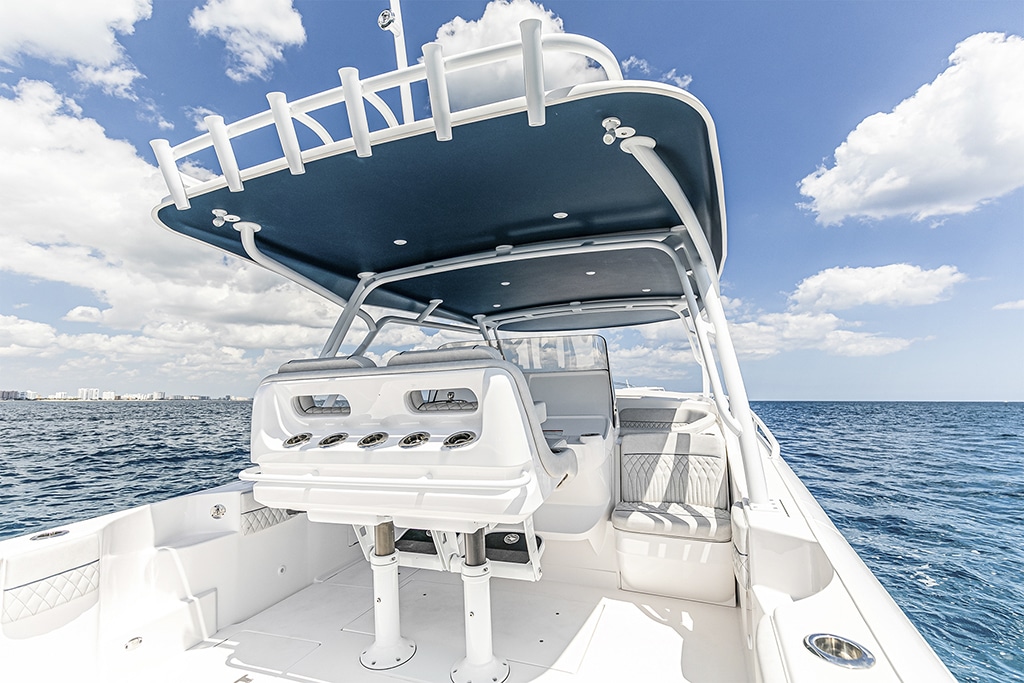 Clinton has made a point to make sure Intrepid's hull designs continue to push the limits of performance, which is why the distinct stepped hull design put the center of gravity in the perfect position to produce an extraordinarily well-balanced ride. "One thing that is cool about our boat is that we build a lot of trim into the hull bottom. In other words, it's not a lot of 'drop your tabs all the way down and once you're up on plane, bring the tabs back up.' We try to build as much of that trim into the boat and with a step-bottom boat, it's nice because it breaks the suction on the bottom of the boat. It vents and allows it to get on plane and up on top. It kind of gets up like on an elevator, it's more of a like a parallel rise more so than a 'here comes the bow, I can't see anything, eventually I'm going to transition and I'll be able to see what's in front of me.' Not the case."
The 409 Valor takes that hull performance and includes features and amenities that will impress any boater. No two Intrepids are alike because each boat is built from owner feedback. They have the time on the water and each model, each hull, each deck layout, each innovation is driven by their experiences.
Innovation
One change over the last 25 years was the addition of windows to bring natural light to the boat's interior. "That came from the wives," says Clinton. It was dark down below and made people feel claustrophobic. Skylights came first, then hull side windows, which "takes away the feeling that you're in a box." One thing he wanted to do was come up with a different hull window design. "It's a really cool window set that has an inset style line that connects the front set of windows to the aft window that's in the aft sleeping berth area, the k-berth area in the back of the cabin," he says, warning his staff that it was going to be tough to build because all those windows in that inset style line have to be inserts in the hull mold. "After the hull is laid up, the only way to pull that hull out of the mold is to unbolt all of those inserts that are through the hull mold." It's an immense amount of labor and people would ask, "Why would you do that?" Clinton's response? "Some things are so beautiful that it's worth the labor, it's worth doing."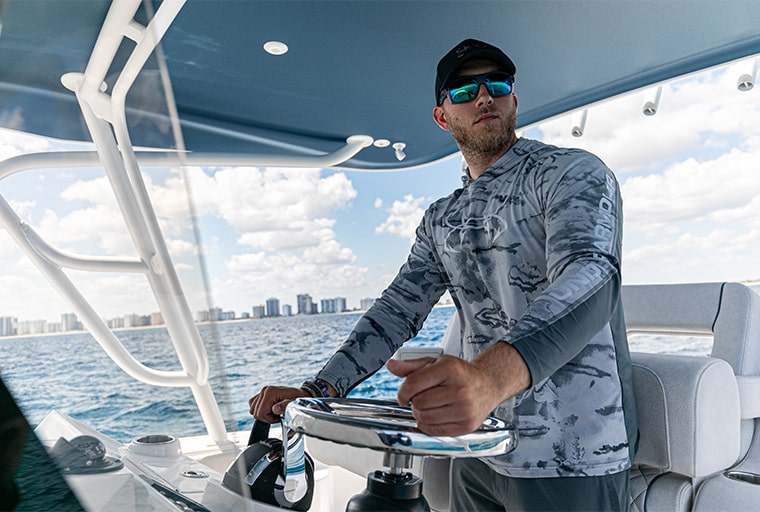 The other thing that is popular for the 409 is the large cockpit seating area just for the helmsperson. "Being able to run the boat and be a part of everyone's conversation is so nice," he says. "Usually, most consoles are mounted forward, up against the cabin bulkhead, everybody sits behind you, you're the captain of the boat, you're the helmsperson, you're doing nothing more than running the boat. It's kind of like being Jeeves driving the limo and everybody's in the back having fun. Not the case with the 409 Valor. Cockpit seating is forward of the helm, so the captain can not only stay focused on what's ahead, but can also be a part of the conversation with the group. Another nice feature is the seating and helm station are all under cover for protection from the sun and weather.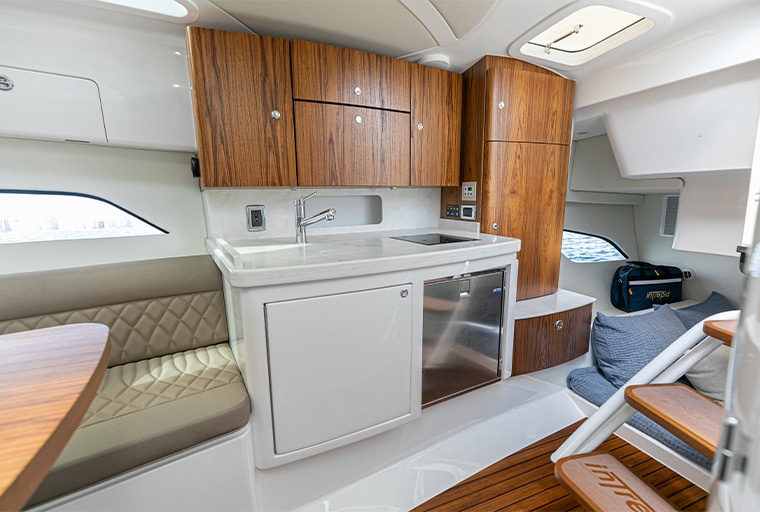 Down below, accommodations are more than you'd expect. The spacious, sunlight cuddy cabin features a master berth with queen bed aft, a full galley, head with separate shower stall opposite, and a large forward wraparound settee that converts to a second queen berth at the touch of a button.  On deck, an expansive bow allows for plenty of sunpads, the forward cockpit lounge seating is a cozy gathering place, and behind the helm, the open aft deck features plenty of room and options for divers, swimmers, and anglers with rod holders, tank storage, baitwells, a hullside door with step ladder, slide out cooler, washdown hoses, and engine service platform aft.
Optimum power packages are chosen when designing the hull, what's available at the time. "Triple Mercury 450s, triple Mercury 400s, and Yamaha twin 425s are usually the package this boat loves the most." The Mercury Racing 450s are popular because they are under 700 pounds each, create 450 horsepower, and the transition is nice because it's not a ton of weight on the transom with plenty of power.
"Our people are customers that on Saturday they might go out hard core fishing with the boys, and they want to be able to know that if they want to enter a fishing tournament and fish it, they can," say Clinton. "Then the same guy wants to know that if he wants to take his wife and his kids to the sandbar on Sunday to make up for not being home on Saturday that they can pack a lunch and go hang out on the sandbar. We build boats that cover the gamut because that's what our customers do."
---
Specs
LOA: 40'
Beam: 11' 1"
Power: 3x Mercury Racing 450 hp
Top/Cruise Speed: 68/50 mph
Range @ cruise: 306 nm
Fuel/Water: 438/50 gal.
Contact:
Intrepid Powerboats
(954) 922-7544
intrepidpowerboats.com