Bahamas Bones
There's nothing like experiencing bonefishing in the Bahamas firsthand.
Bahamas bonefishing. It's a simple alliteration that conjures marvelous visions of silver flashes slicing though beautifully pristine, calf-deep waters, a brightly colored fly-line tightly stretched in the foreground.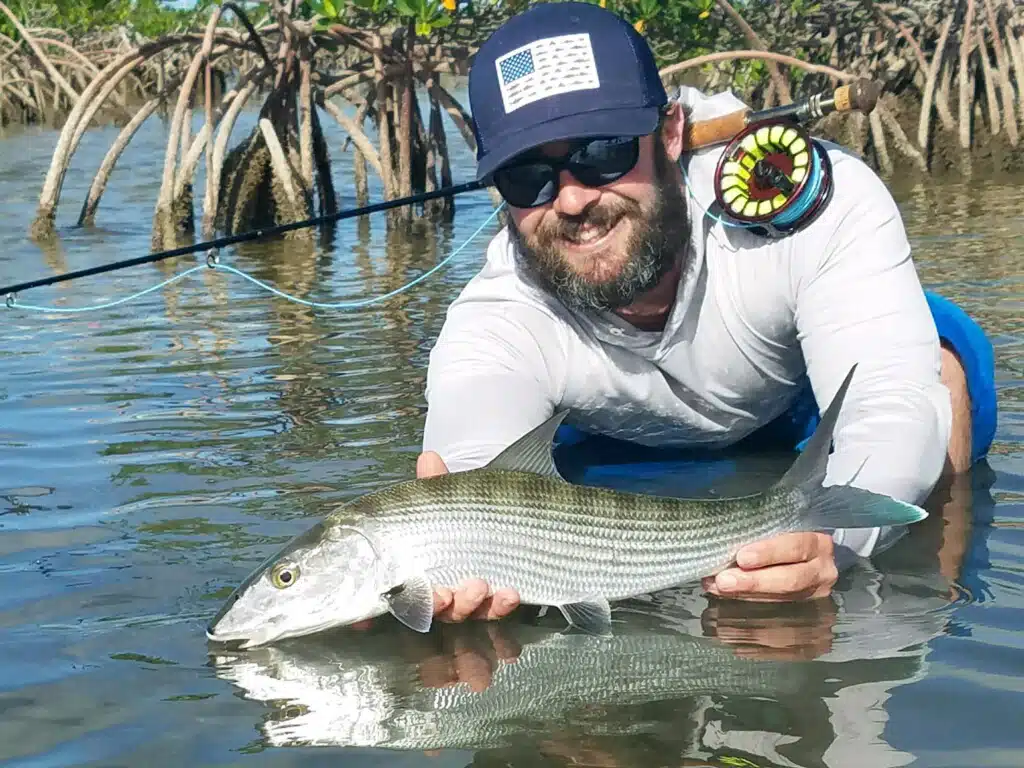 "That shouldn't come as a surprise," says Greg Vincent, co-owner of H2O Bonefishing lodge on the isle of Grand Bahama (h2obonefishing.com). "After all, the name Bahamas comes from the Spanish word bajamar (pronounced ba-ha-mar), meaning 'shallow sea.' That's the defining attribute of our country. We have two thousand, four hundred cays (coral reefs) and seven hundred islands, of which only thirty are inhabited. Almost all of them are edged by significant flats where bonefish and bonefish habitat flourish. It truly is a magical place to wet a line for the 'ghost' of the flats."
Tremendous Resources
Indeed, it's a phenomenal wealth of marine resources that draw both the shy bonefish and anglers looking to stalk them to this Caribbean-based archipelago that stretches some 760 miles from near the Florida coast in the northwest almost to Haiti in the southeast. The flats, of course, are simply massive, extending for miles in some areas. Vincent says that were you to compare the total acreage of all the other bonefish flats in the world to those in the Bahamas alone, they couldn't match the total here.
"He's right," confirms Prescott Smith, veteran bonefish guide and proprietor of Stafford Creek Lodge on Andros Island (staffordcreeklodge.com), and president of the Bahamas Fly Fishing Industry Association. "It's the totality of our marine resources that make these waters so wonderfully rich. Many areas support huge swaths of red mangrove which provides cover for juvenile fish to hide and larger predatory species to ambush their prey."
The Bahamas not only sport the largest set of shallow flats in the world, continues Smith, who is also president of the Bahamas Sportfishing and Conservation Association, and a founding member of the Bahamas Natural Resources Foundation, "We host the largest population of bonefish on planet Earth, the third-largest barrier reef, the premier mangrove nursery in the Western Hemisphere, plus the most coral reefs in the Caribbean. It's all one huge, interconnected system; a classic example of a sum far exceeding the value of its individual components."
No arguments there. Still, for anglers, it's the nitty-gritty of pursuing "bones" that is the draw. To be successful at this game, you need plenty of bonefish to target, a decent shot at trophy-sized fish for an extra adrenaline rush, and ample area with minimal fishing pressure. You'll find all three prerequisites in the Bahamas, but if this is one of your first trips to the region, you'll need a guide to unlock the secrets as bonefish are notoriously shy and easily spooked. Don't worry though, that's part of their charm.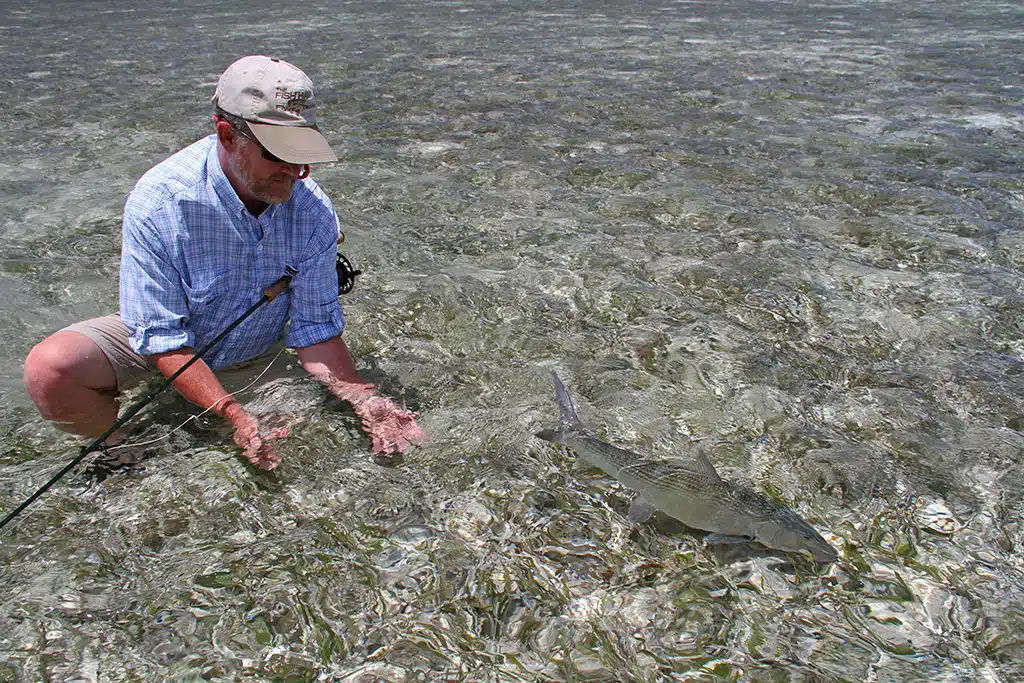 Come Prepared
New York fly-fishing enthusiast Howie Solomon has been making trips to the Bahamas in pursuit of bonefish for more than 30 years. For him, as for many other bonefishing fans, the Bahamas have far surpassed their reputation for super action in spectacular surroundings.
"This really is a bucket list destination for anglers," he says. "If you love shallow-water sight fishing, a visit will be worth every penny. My wife and I like to go to Grand Bahama Island and stay in Freeport because there are ample hotels, restaurants, and entertainment venues to choose from, plus plenty of guides available. If you want to be more off the beaten track, try Abaco, Andros, Bimini, Long Island, or Crooked Island. Each has plenty of bones in the two- to four-pound class, and some offer shots at fish that push into the double-digits. No matter which island you choose, a guide is vital in the beginning to locate safe and productive water, learn where to look and how to spot the fish, and to coach you on the gentle presentations necessary to entice bonefish without scaring them off."
Solomon also advises bringing everything you need for fishing as there are few places in the Bahamas to purchase gear. To be sure, most outfitters can supply basic fly-casting and spinning outfits, but you'll be more comfortable casting your own rod and selecting offerings from your personal fly box. Standard tackle for bonefishing here is an 8- or 9-weight fly rod with a 9-foot, fluorocarbon leader, tropical floating fly line, and a 12- to 16-pound tippet. That should be sufficient to battle any bonefish you hook while still offering a fair shot at landing surprise encounters like barracuda, permit, or small tarpon.
"Don't forget to bring sunblock, a buff, wide-brimmed hat, long-sleeve fishing shirts, long fishing pants, waders or hip boots, and polarized glasses. Keep in mind that the sun on the flats is merciless. If you aren't fully prepared, you'll get burned in places you never knew you had," adds Solomon, only half-jokingly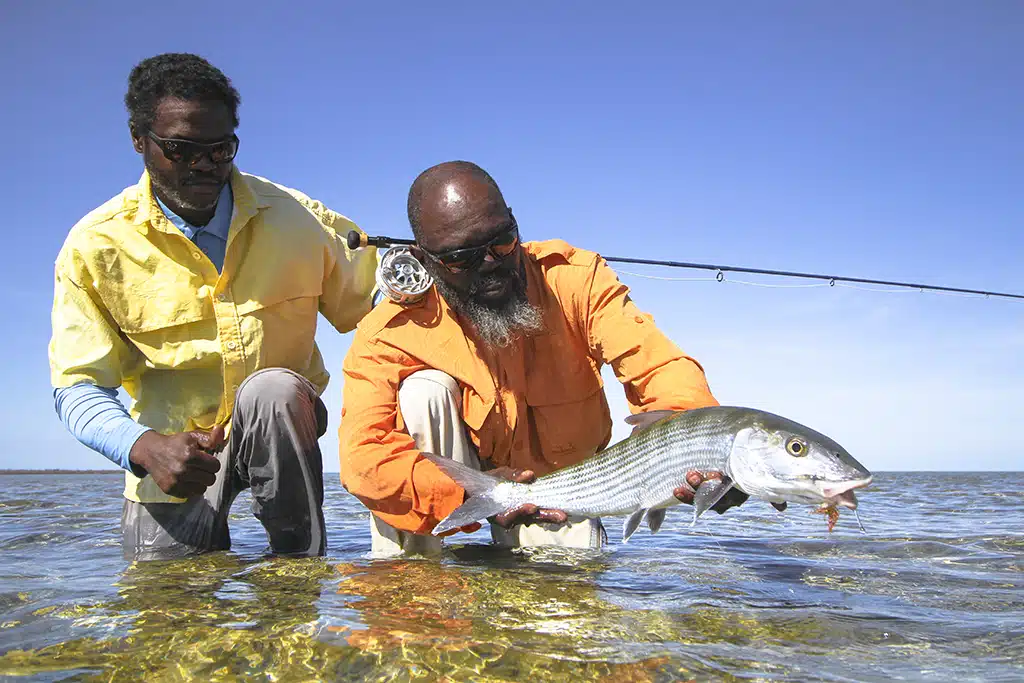 On the Hunt
"One thing newbies to the bonefish game need to understand out of the gate," says Capt. Vinny Catalano, a fishing guide who runs charters out of Biscayne Bay, Florida, in the colder months and Greenport, New York, during the summer and fall (longislandflyfishing.com), "is that bonefishing is more like hunting than actual fishing. You'll be scouting a lot of water and trying to spot fish without being spotted yourself. Working with your guide, your goal is to quietly sneak close enough to drop a cast in front of your quarry, leading it by three or four feet. That approach builds a lot of anticipation and the fish win out more often than not, which makes every hookup something to savor.
More important than which fly you choose is keeping a low profile as you cast, advises Catalano, although he does admit to strongly favoring size 2, tan, Peterson's Spawning Shrimp or Mantis Shrimp patterns, and lightweight flies with rubber legs because they land softly on the water. "Be as delicate and stealthy as possible with your presentations," he cautions. "You've got to think of yourself as a ninja. You're in your quarry's house, they have big eyes, and they are exceptionally aware of their surroundings."
Vincent agrees with Catalano's assessment. "When it comes to sight fishing, it's all about presentation. It's about getting the fly where it needs to be and having it land as quietly as possible. You don't have to cast huge distances—forty- to sixty-foot casts will get you plenty of action. My favorite patterns also include Peterson's Spawning Shrimp, plus the McKnight Crimp, and Puglisi Spawning Shrimp."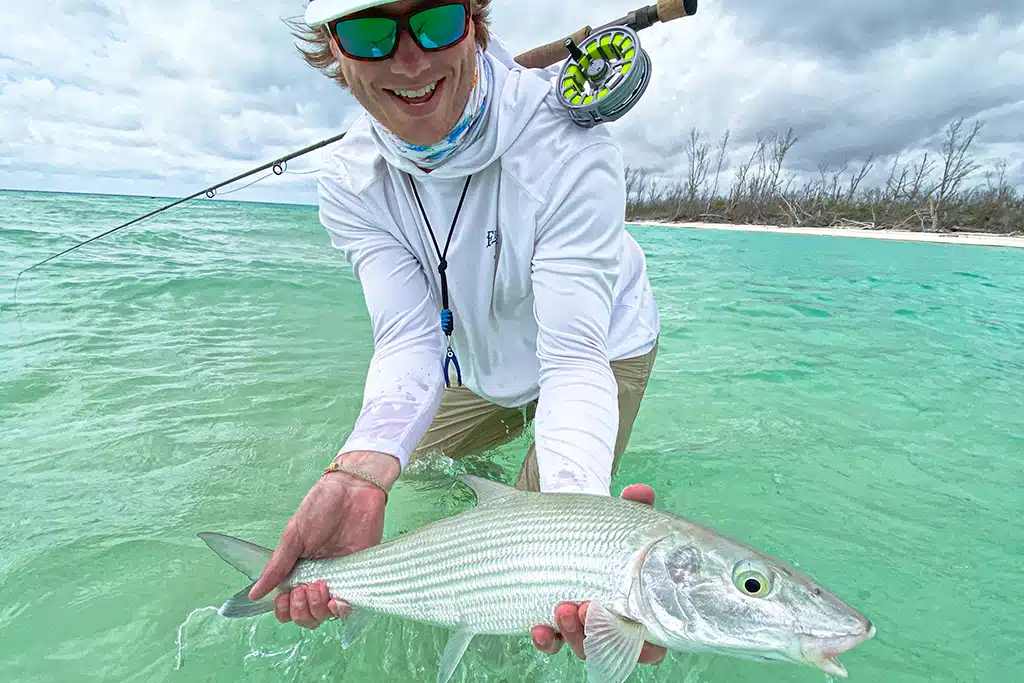 Can It Last?
As for Smith, he'll throw the world-famous Crazy Charlie bonefish pattern as much as possible. "My father, Charles Smith, invented that pattern right here on Andros Island in the late 1970s," he revealed, "and it still works great today."
It was Smith's late father who opened the first bonefishing lodge, Charlie's Haven, on Andros Island in 1970, and he offered his son some great fishing advice. "He told me once that you get only one life," recalls Smith, "but it takes two lifetimes to learn all the intricacies of bonefishing, so keep an open mind. I've followed that credo all of my life, and it's paid off with some amazing fishing opportunities."
You can read about bonefishing in the Bahamas all you want, concludes Smith, but you must come to the Bahamas to experience the best of it. "I'd get here as soon as possible," he says, with a hint of concern in his voice. "This place is amazing, but it is under a lot of pressure from developers and big business these days. I hope we stay on the right path and continue to protect our resources because, once destroyed, they will be gone forever. The more anglers we can introduce to this unique ecosystem, the more the world will realize how valuable it is. That, in the long run, may be our best hope for keeping it so productive and pristine."
By Tom Schlichter, Southern Boating April 2021