Scandinavian Midsummer
Anchor out to celebrate the longest day of the year. Recipes serve 4.
One weekend in late June, a few years ago, several of us decided to do a midsummer cruise to celebrate the longest day of the year. We rafted our boats together in a beautiful, quiet cove, explored the area with our kayaks, and gathered on our boat to watch the late sunset and toast the coming cruising season. Inspired by Scandinavian Midsummer merriment, I created a menu for the longest day of the year that featured Scandinavian fare: simple salads, seafood, and summer fruit.
While Scandinavian Midsummer was traditionally celebrated on the summer solstice, it now takes place anywhere between June 20-25. Some Scandinavians just head to a bar or gather with friends. Others host extravagant parties that feature regional folk dances, vast smorgasbords, and live music that goes on for days. Our very conservative midsummer celebration featured a beautiful sunset and the following picnic fare along with iced vodka and aquavit. Skål!
---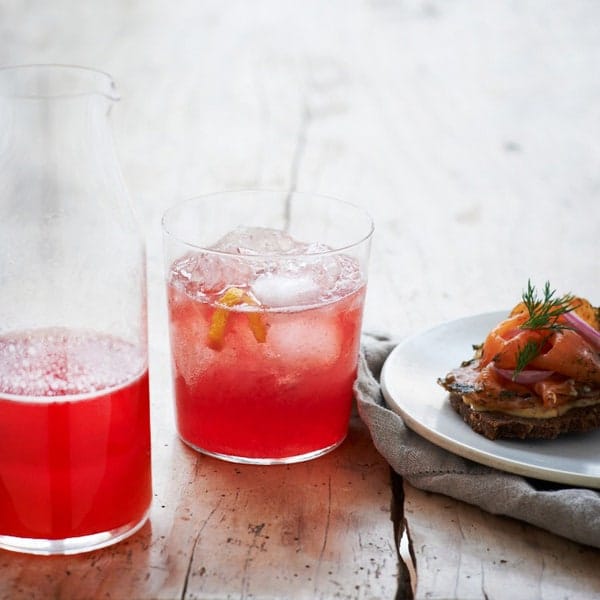 Aquavit Spritzer

1 Tbsp. sugar
1 Tbsp. hot water
3/4 cup berry preserves
4 cups soda water (32 ounces)
4 cups aquavit or vodka
4 slices lemon for garnish
Combine sugar and hot water in a pitcher. Stir to dissolve. Add preserves. Use a wooden spoon to stir, loosen, and mix preserves. Gently stir in soda water and aquavit. Fill tumblers with ice. Divide aquavit spritzer equally among glasses and garnish each with a lemon slice.
---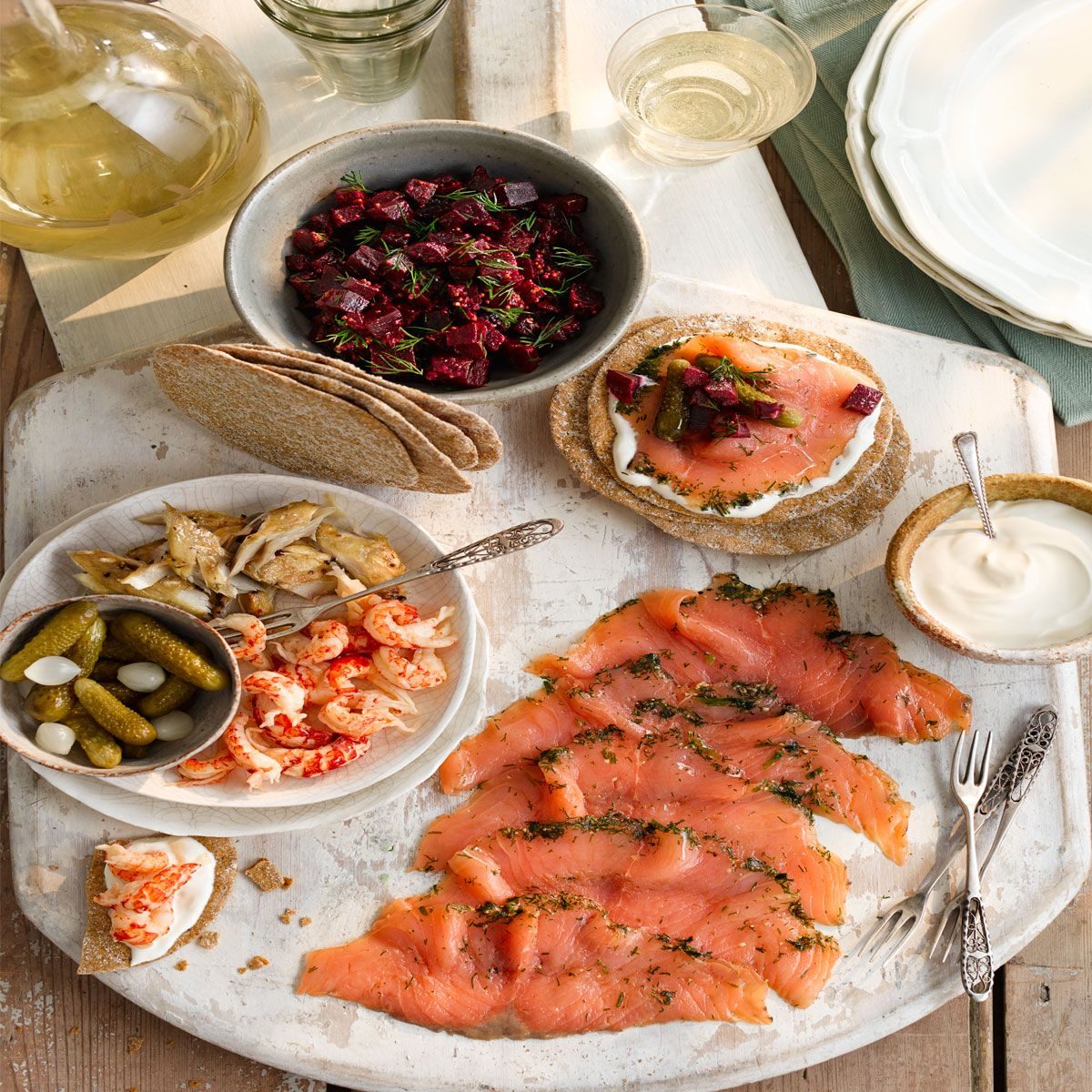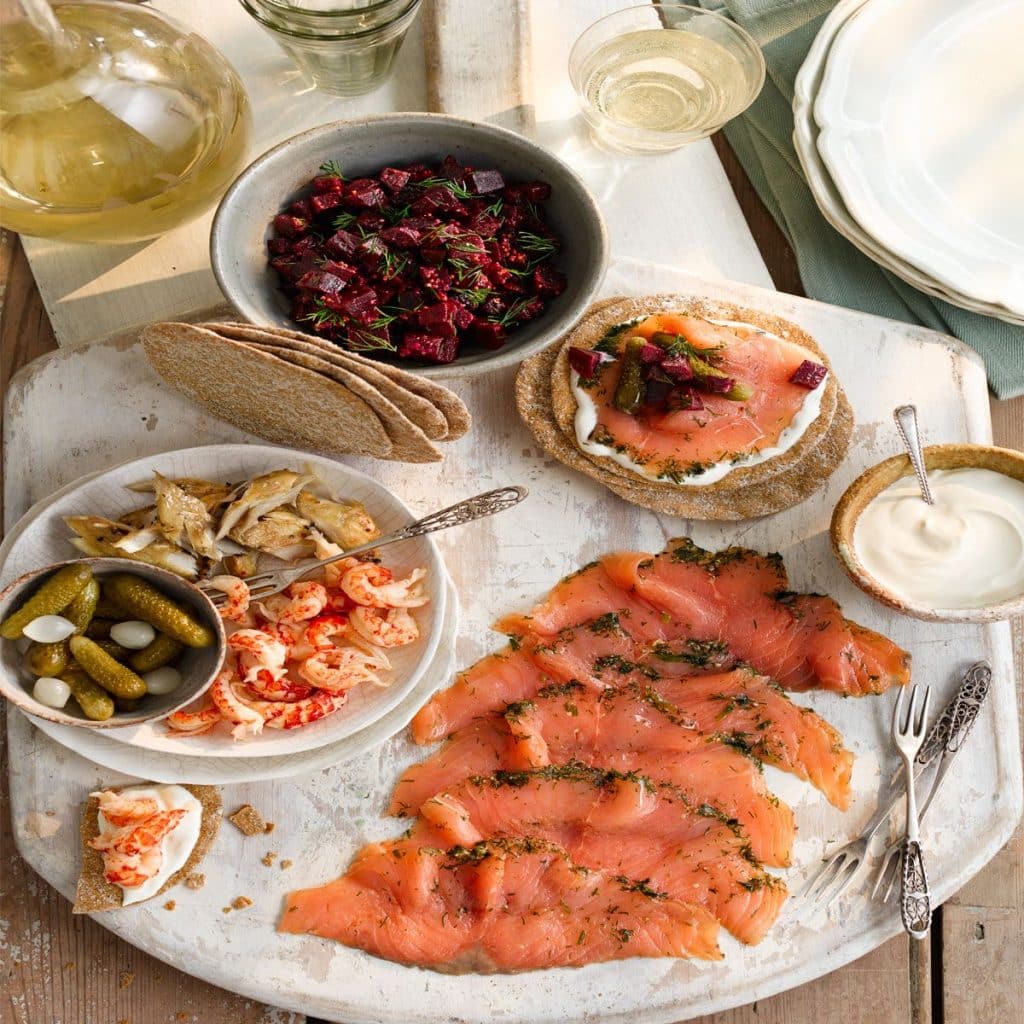 Midnight Sun Smorgasbord
16 oz. package Rye Crisp Crackers (Wasa or similar crackers)
8 oz. dense rye or pumpernickel bread
8 oz. Havarti cheese with caraway or dill, thinly sliced
8 oz. cream cheese
16 oz. steamed shrimp, peeled
8 oz. jar of pickled herring
16 oz. smoked salmon or other smoked fish (mackerel, sardines)
1 lb. of warm new boiled potatoes tossed in butter and scallions
½ cup each of sliced onions, scallions (or chives), radishes, and chopped dill
Mustard | Horseradish | Sour cream | Cocktail sauce | Quartered lemons | Salt and pepper
On a large platter, place sliced cheese, a scoop of cream cheese, shrimp, slices of smoked salmon, and a jar of pickled herring. Serve crackers and bread in a basket and potatoes in a warmed bowl.  Encourage diners to top crackers or bread with cheese or cream cheese, then a layer of shrimp, or some herring or salmon, and a dab of sour cream, mustard, cocktail sauce, or horseradish, then some herbs or a squeeze of lemon.
---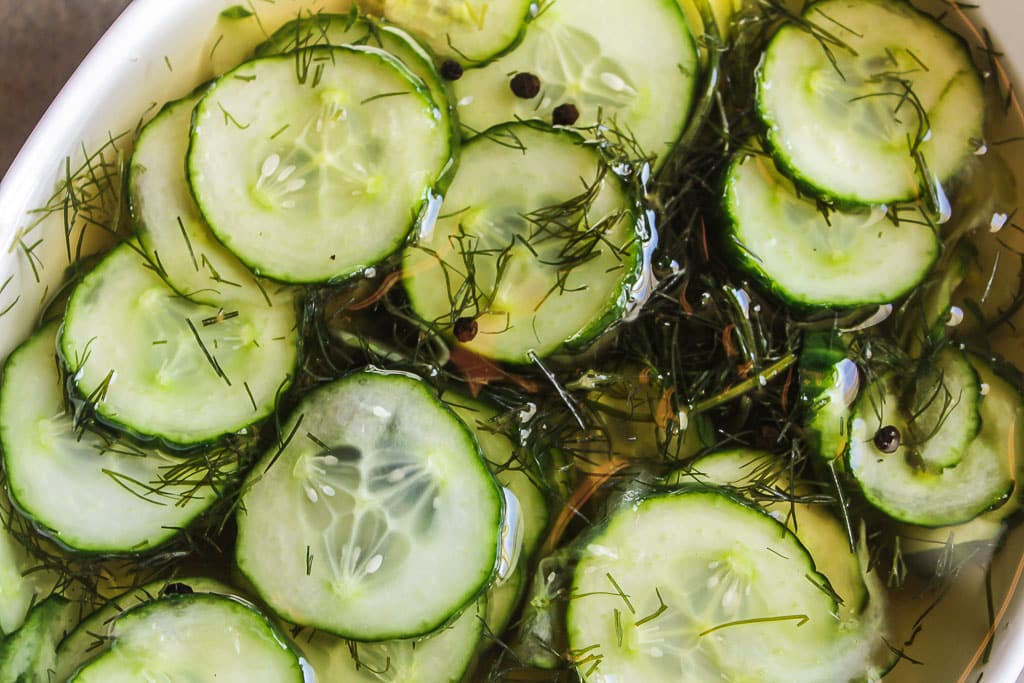 Danish Cucumber Salad
2 large cucumbers, cut lengthwise, seeded, and sliced ¼-inch thick
2 Tbsp. salt
2 Tbsp. lemon juice
2 Tbsp. chopped dill, chives, or scallions
In a medium bowl, toss the cucumbers with the salt and lemon juice; set aside for 15-30 minutes (the longer the cucumbers rest, the less water they will have and the saltier they will taste). Drain and discard the excess liquid, taste the cucumbers, and adjust the lemon juice and salt as needed. Add half the herbs and toss to mix. Transfer the mixture to a bowl and garnish with the remaining herbs.
---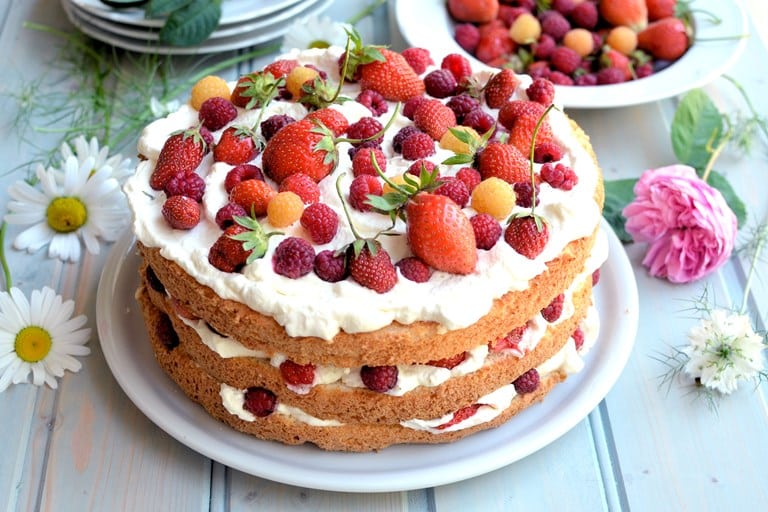 Swedish Strawberry and Cream Cake
2 cups strawberries
1-2 Tbsp. sugar
1 oz. Framboise or Cointreau liqueur
1 sponge cake or angel food cake (store-bought or homemade)
2 cups whipped cream or sour cream
Fresh mint leaves (optional)
Slice strawberries. Add sugar and liqueur, let macerate for 1-2 hours. To serve, place a slice of cake onto each plate. Spread a generous layer of whipped or sour cream on each slice. Top with ¼ of macerated strawberries and a sprig of mint. Serve with additional sugar to sprinkle on top.