Float Into Mardi Gras
Plan a stopover along the Mississippi River to join the festivities at New Orleans' biggest celebration of the year.
It's a little after eight in the morning. There's a slight chill in the air, but the sun is shining on the assembled throng milling around in front of the Lost Love Lounge. They're an otherworldly group who seem to have been beamed down from Mars. Two bare-chested men at 12 o'clock appear to be channeling centaurs? unicorns? sporting gold and silver foil lamé chaps, horns, and metallic face paint. A cute little family sidle by, mom and dad dressed like Thing One and Thing Two and pulling junior as…the Grinch? in a sequined wagon that also holds a cooler of beer. Just then a brass band with a Klezmer accent marches by, trombones swinging side to side in the breeze.
Welcome to just one of the ways that the locals celebrate Fat Tuesday, the culmination of Carnival season that kicks off on twelfth night, ushering in weeks of King Cakes, parades, fancy balls, marching bands, and lots and lots of beads, 12-and-a-half tons at last weigh-in.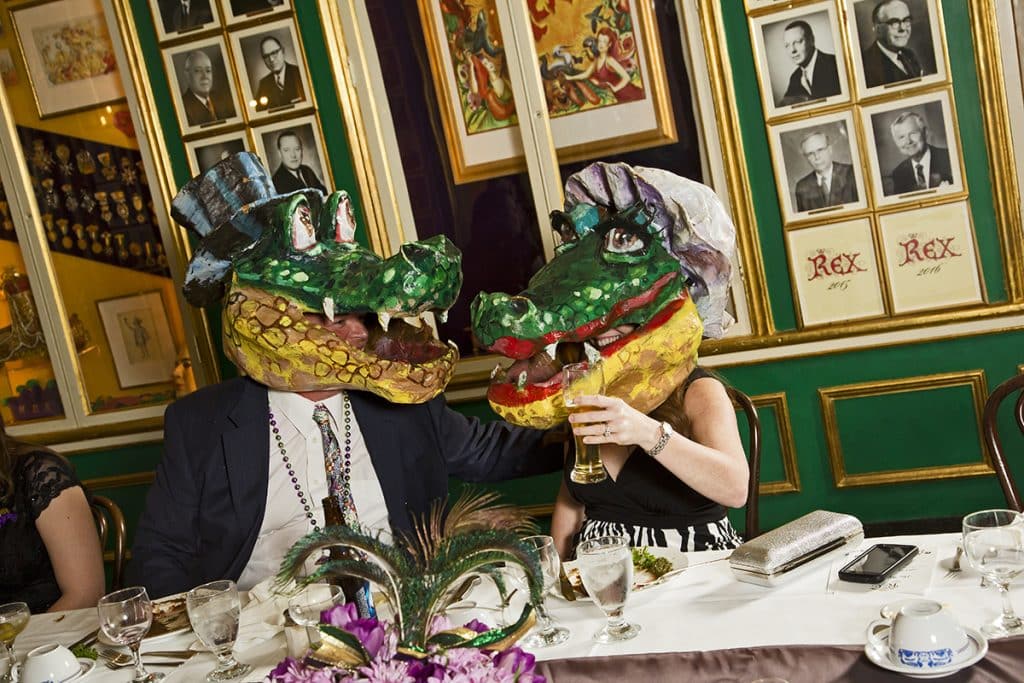 Forget the drunken revelry on Bourbon Street, that's for tourists. The real Mardi Gras is a family affair, a massive street party that rejoices in traditions new and old. It's also a citywide event that's still gloriously free of charge and sponsors.
'Tis the Season
Organized by krewes, the social clubs that work all year on themes, floats, and costumes, most parades roll from uptown down St. Charles Avenue to Canal Street, all primo viewing areas, with high school marching bands, 50-foot-long floats tricked out with LED lights and gobs of glitter, and dancing krewes with names like the Cherry Bombs and the Disco Amigos.
A season of nonstop action, Mardi Gras includes an endless array of parades, masked and unmasked balls, pageants, and King Cake parties. King Cakes are a coveted, usually sweet, cake topped with purple, green, and sugar. Pastry chefs around town get creative and add savory flavors and unusual fillings into the mix. Don't miss a stop at Bywater Bakery, where eight flavors of King Cake, including three savory options, deliver the best of the season. Each cake has a tiny plastic baby placed inside. Getting the slice with the baby is a good omen and, traditionally, means you have to throw the next King Cake party.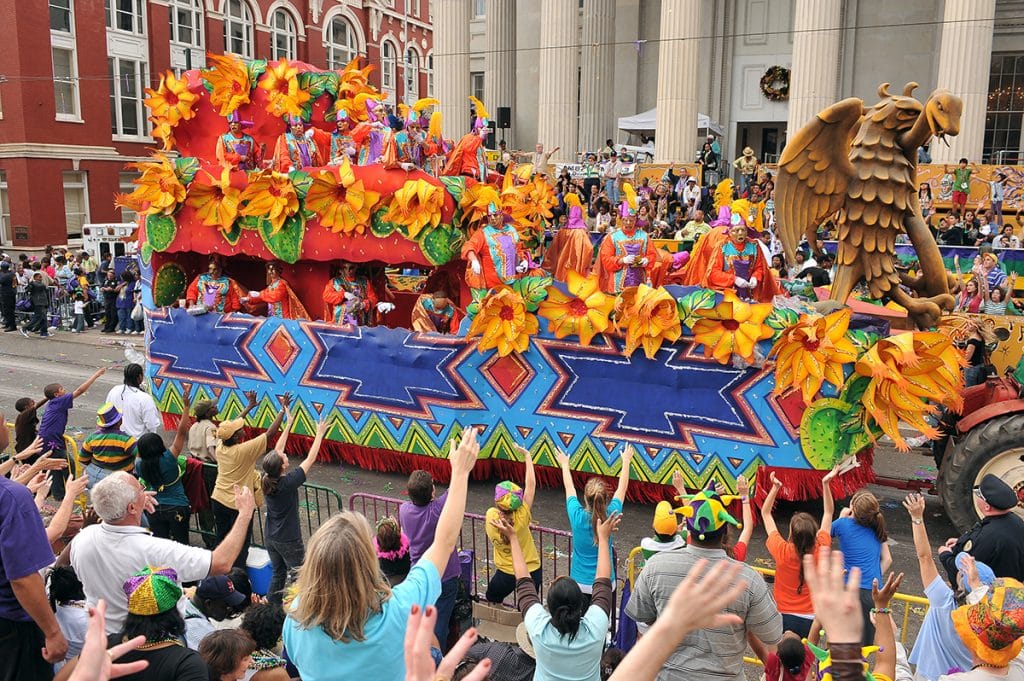 There are some 80 parades in and around New Orleans, and it's impossible to catch them all. But for Carnival lovers, the three original super krewes, Orpheus, Endymion, and Bacchus, are at the top of the viewing list—spectacular parades known for intricate floats, high-tech wizardry, awesome throws, and grand costumes and themes. The all-female Muses, with their shoe theme, and Nyx, who claim purses as their krewe symbol, also claim super krewe status, rolling between 25 and 42 elaborate floats. The biggest parades feature celebrity kings and queens with the likes of Kid Rock and Britney Spears holding court for a day.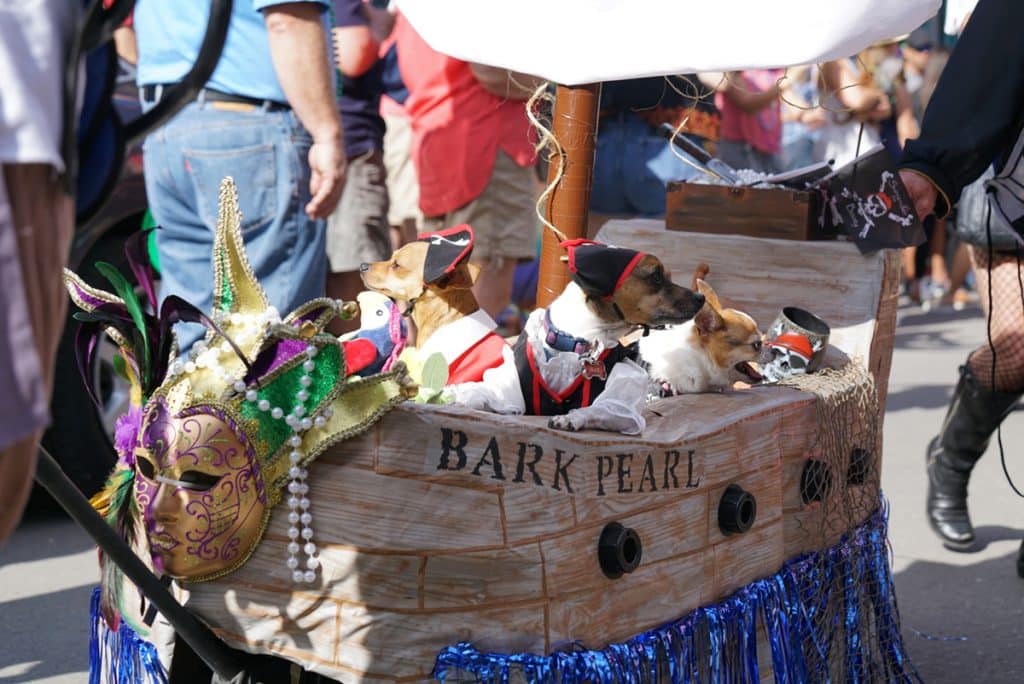 Leading up to Fat Tuesday, visitors and locals adore the smaller, quirky, neighborhood parades like Chewbacchus, powered by sci-fi enthusiasts and rolling UFOs of wacky design; 'tit Rex, a lineup of darling shoebox-sized mini-floats, and Barkus, a four-legged parade of costumed canine stars. The sassiest parade is definitely the racy and irreverent Krewe du Vieux, known for wild satire and adult themes lampooning local government and politicians, but in reality, anything goes.
Mardi Gras Day is always the day before Lent begins, which is determined by the Advent calendar and when Easter falls, so it's different every year. On Mardi Gras Day, there are tons of options, from roving dance parties in Jackson Square to catching Zulu coconuts on Claiborne or seeing Rex, the King of Carnival, uptown. Step along with the brilliantly costumed march of Societé de Saint Anne, an array of nutty creatives that collect costumed marchers from Bywater into the French Quarter and stop at bars to celebrate along the way.
If you stay away from Bourbon Street and catch parades uptown in Mid-City, Metairie, and the West Bank, these celebrations are a family affair with multiple generations following traditions that have ruled Carnival since the French brought the fête to the Mississippi shores in the late 1600s.
Where to Stay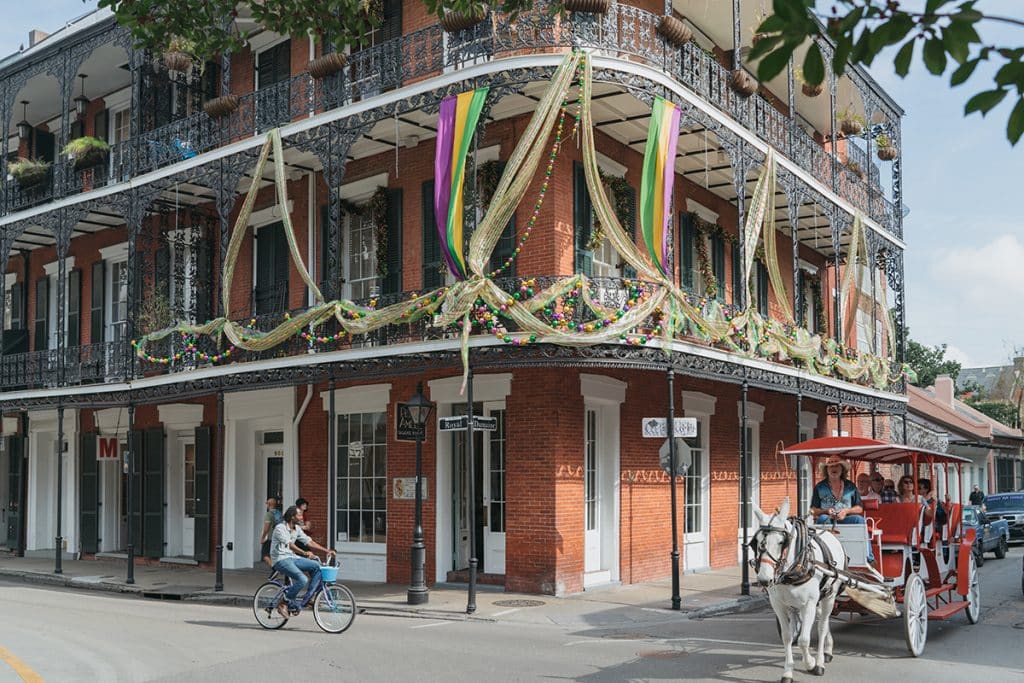 Mardi Gras is the highest of seasons, so it's best to plan ahead. Prices spike, minimum-stay requirements, and "no cancellation" policies apply. That said, there are more than 22,000 rooms in the downtown area and more than 38,000 in the greater metro area, so there are options. The Eliza Jane, Jung Hotel & Residences, NOPSI, Holiday Inn Express, and HI New Orleans are just a few newish-hotels close to parade routes. Visit NewOrleans.com to source hotels of all stripes.
Marinas
There are a handful of full-service marinas available, close to the south shore of Lake Pontchartrain.
Schubert's Marine: (504) 282-8136; schubertsmarine.com
Seabrook Harbor and Marine: (504) 283-6001; seabrookharbormarine.com
South Shore Harbor Marina: (504) 245-3152; marinasinneworleans.com
Getting Around
Traffic and navigating during Mardi Gras is a challenge because so many streets are closed. Bike, walk, take a cab, or rideshare, but expect premium prices and delays. Don't let it get to you; it's as much about the journey and who you meet and greet as the location. There is public transit, but check Regional Transit Authority for schedules. norta.com
Restrooms
Finding a bathroom along parade routes is a thing. There are several bars along the way. Some charge for wristbands and access, but it's worth it. Some homeowners rent theirs, and the city brings in the ever-popular porta-potties. Go when you have the chance.
Safety
There's plenty of police presence to make the walk from uptown to downtown safer than at other times of year. Still, pay attention to your surroundings and keep your stuff close.
Beyond the Parades
Order a Sazerac at Sazerac Bar. Cocktail wags largely agree that the Sazerac is one of the oldest examples of the American cocktail. Worship at the altar of Sazerac at the impeccable Sazerac Bar in the gorgeous Roosevelt Hotel where the 19th century original recipe is favored. therooseveltneworleans.com
Stay up late with Rebirth at the Maple Leaf. Rebirth Brass was founded in 1983 upon the notion that New Orleans brass doesn't come in just one flavor. The Grammy Award-winning band, known for its legendary Tuesday late night gig at the Maple Leaf, uptown on Oak Street, upholds the tradition of brass and plays it forward by bringing funk and hip-hop into the mix. mapleleafbar.com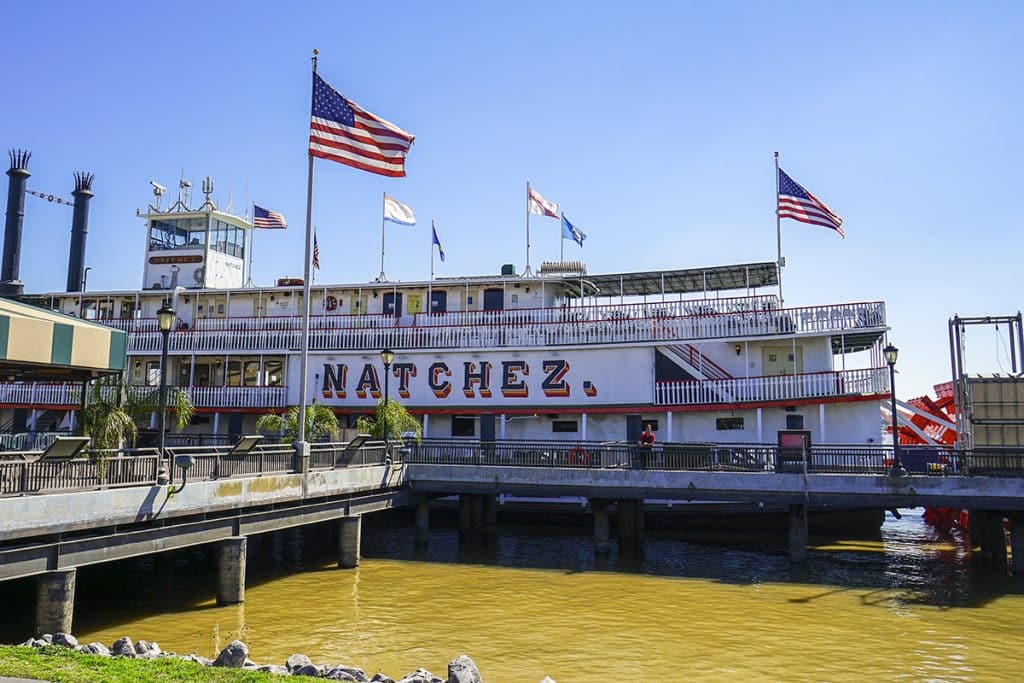 Roll on down the river. A ride on the Steamboat Natchez isn't just for tourists. A throwback to the days when steamboats cruised the mighty Mississippi for commerce and pleasure, the Natchez reveals just how busy this working river remains. It's a real treat to travel the river the old school way, sipping a fine bloody Mary and dancing to the Dukes of Dixieland, a brass forward jazz band that never disappoints. steamboatnatchez.com
Visit a Mardi Gras Museum. While you're at Arnaud's drinking a French 75 at the bar, extend the festive mood with a visit to the Germaine Cazenave Wells Mardi Gras Museum upstairs, a lavish costume display that will have you longing for carnival season. arnaudsrestaurant.com
Eat This
Off the beaten tourist track, the family-run Katie's in Mid-City is a friendly neighborhood restaurant that serves a winning "cochon de lait" sandwich, a two-hander stuffed with tender, slow-roasted pork and topped with horseradish Creole coleslaw. katiesinmidcity.com
Although Central Grocery is the original spot for the Italian muffuletta sandwich, head to Donald Link and Stephen Stryjewski's Cochon Butcher, a swine palace of piggy goodness that dishes a killer version stuffed with house cured meats. cochonbutcher.com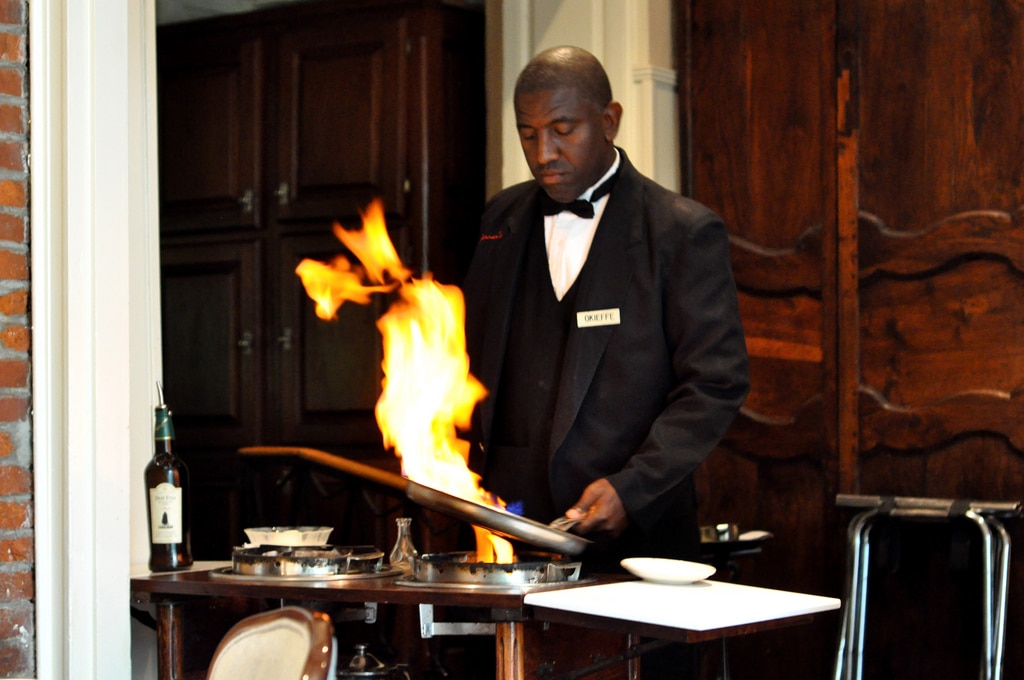 Save room for dessert at the handsomely redone Brennan's on Royal Street. After a cocktail-fueled Breakfast at Brennan's, a three-hour process powered by the likes of turtle soup and eggs Sardou, it's time for the floor show and tableside bananas foster, a dramatically flambéed dessert that was invented right here. brennansneworleans.com
It's quite a show, and the Mardi Gras Parade Tracker app (mardigrasparadetracker.com) can help you navigate your way. Another resource is Arthur Hardy's Mardi Gras Guide (mardigrasguide.com), which is also sold at most French Quarter stores. Enjoy, and laissez les bons temps rouler!