July 18, 2023
Weekly Market Outlook
By Donn Goodman and Keith Schneider
This cooldown in inflation reported last week, may give the Federal Reserve reason to ease up on its rate hike campaign.  However, we caution against the euphoria as the CME futures rates show most traders still see odds above 90% for an increase in July.
Pepsico and Delta Air Lines got the earnings season off to a good start on Thursday. Continuing with the banks on Friday, JP Morgan, Wells Fargo, and Blackrock all beat expectations, but Citigroup had mixed results.
The cooler June inflation reports most likely altered future expectations with investors now pricing in just one more interest rate hike from the Federal Reserve this year.
We also saw a falling dollar which gave investors a reason to cheer. You may recall that during most of 2022 with the Fed raising rates every month, we also witnessed the US Dollar strengthening during that time.  Until the fall this worked to make the stock market move lower.  Once the US Dollar stopped strengthening, investors began to come back into stocks in earnest. 
Therefore, this week's slide in the Dollar meant two things. 1) that the Fed is getting closer to halting its hawkish campaign and may be close to the end of raising rates; and 2) that international trade will soon benefit from potentially lower interest rates and a softer US Dollar.  Investors took stocks higher.  See chart of the US Dollar below: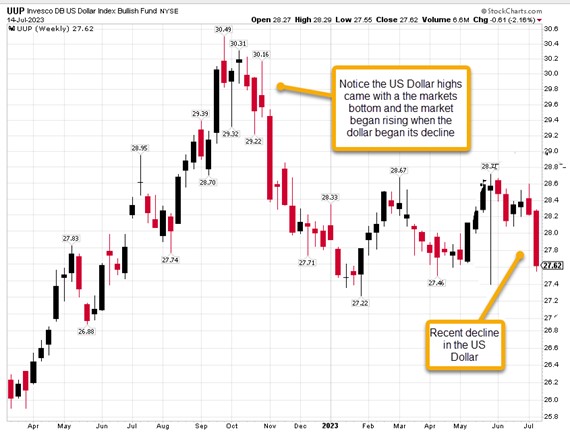 Some areas of the market are making new highs
I am amazed at how much I am still reading about the narrow breadth of the market and the heavy influence of just a few stocks. While this has been true during most of 2023, the number of S&P stocks that are above their 50- and 200-day moving averages continues to grow indicating that this is a much healthier and robust market than many suggest.
Speaking of signs that the market is far healthier than many investors believe (especially short sellers who have been trounced this year), we offer the following:
The engine of our economy includes these important sectors: Technology, Semiconductors, and Home Builders. All 3 of these sectors just hit new highs. We believe this is a major positive for the markets. See below:
The industrial sector, a major component of our economy, has also broken out to new highs as well. See below.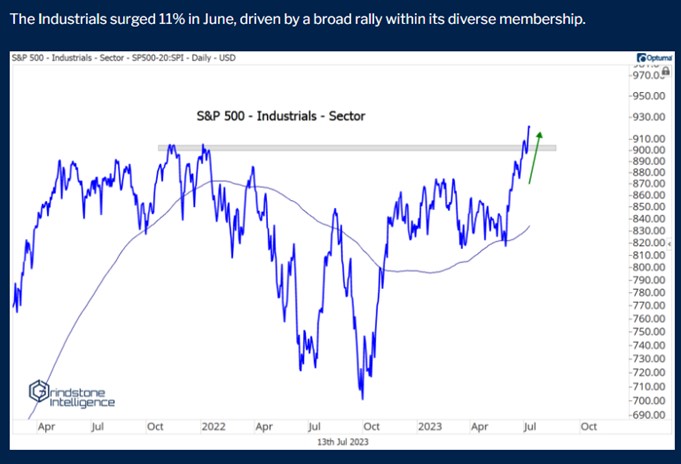 **************
Discover Your Investing Strengths
Investor Sentiment is also climbing higher
This bodes well for stocks in the near term. See the NAAIM (National Association of Active Investment Managers) chart below: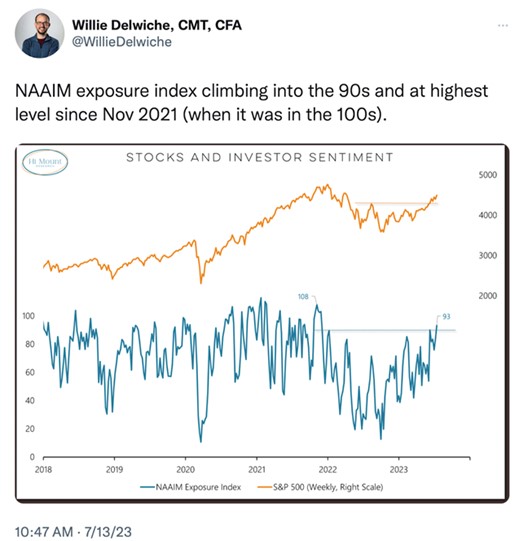 Ostensibly this number is getting a bit stretched but investors are liquidating their money market funds and putting more assets to work in the markets. See the favorable chart below showing the increasing weekly outflows of money out of money markets. For retail investors this was the 12th straight week of liquidation from the "sidelines":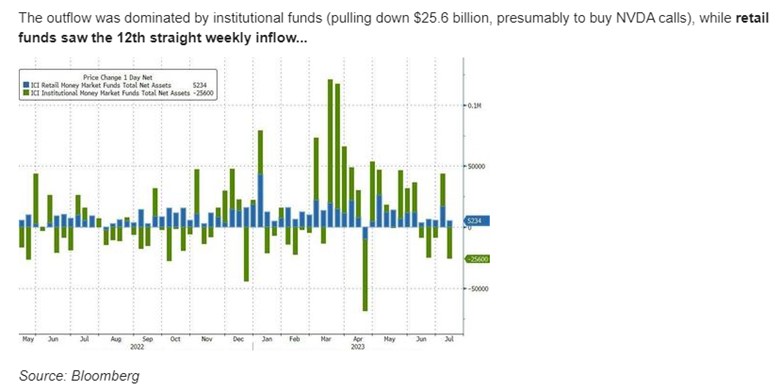 So is everything a "green light" and indications to get more invested?
Unfortunately, there are some signs that we may be getting a bit over extended. Plus, the indication from a few Fed Governors is to keep raising rates? What effect might this have on the markets? Is it really a good time to invest in stocks? Read on further to get the whole story.
The news flow can be confusing and intimidating, but investing in this environment doesn't have to be. If you would like personal guidance and hands-on management of your assets with the assistance of tactical, risk managed, strategies, please contact me at donn@mgamllc.com or Keith at keith@mgamllc.com.