The latest synthetic boat decking is rugged, simple to clean, and easy on the feet.
Most boaters have a love-hate relationship when it comes to diamond-pattern or grit-style nonskid on a boat's deck. It serves an important purpose by providing traction and preventing injuries when the sole is wet, but it's hard on bare feet and knees, and tough to clean after years of abuse. Mariners have turned to alternatives, such as traction mats, teak material, and paint, to get out of the grips of diamond-pattern nonskid. 
Crossing over from the personal watercraft industry more than a decade ago, nonskid EVA foam offers the best of all worlds by providing traction, comfort, and instant eye candy to any boat.
Leading the way in boat decking is MarineMat, one of the largest suppliers of EVA foam products in the marine industry. MarineMat has patented tear-proof, Stick-it and Snap-it products that are an affordable upgrade for older boats.
The installation process is straightforward and while it could be a weekend project for a do-it-yourselfer, it's best to leave it to the professionals. The installer will often include
a warranty and have the proper certifications.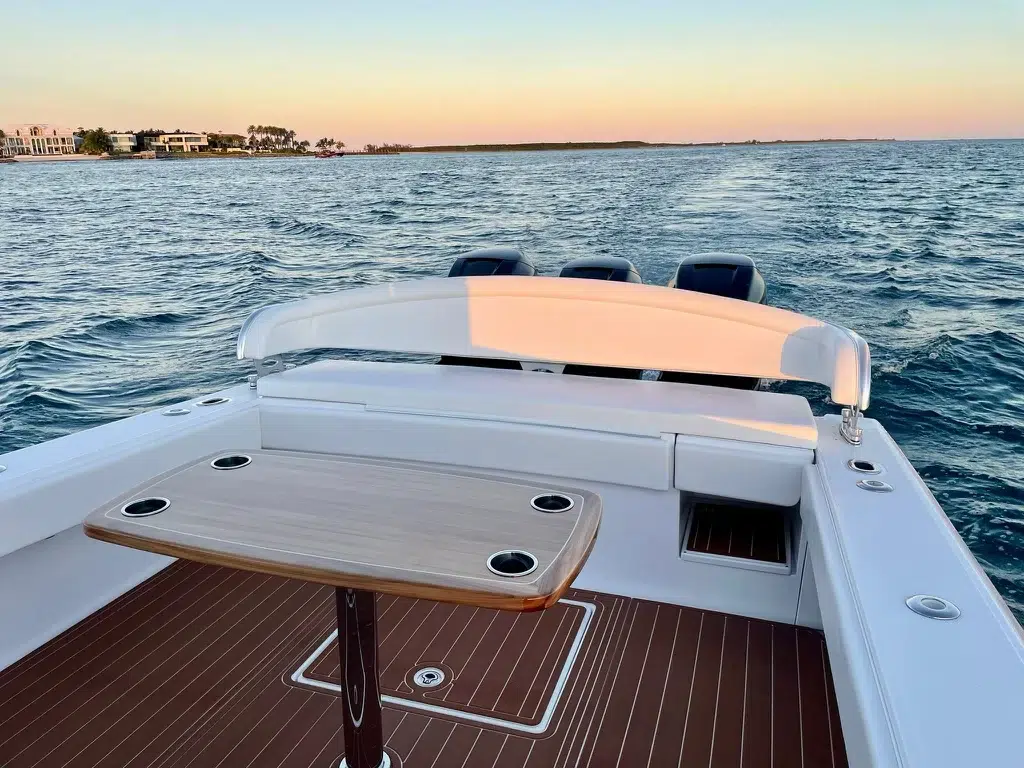 Whether the boat is straight out of the factory or an older model, it's going to require measurements. While MarineMat has boat decking templates for hundreds of models, it's a fact that not every boat is equal.
"The overall geometry of the pattern may be very similar, but the actual layout of the kit, the way it's cut, and the way the boat is manufactured may be different," says Brian Schneider, MarineMat's director of aftermarket operations. "Most boats are hand-laid, and the consoles and leaning posts are installed by different people. That's why accurate measurements should be done."
Dealers will use Proliner software or take photos to create a digital rendering of the cockpit. Templates can be created for the sole, gunwale, seating, and swim platforms. Consumers can even provide physical renderings, but Schneider discourages it because the process is time consuming and not as accurate as digitizing.
Choosing the Right Boat Decking: Factors to Consider
When it comes to picking the right thickness for your boat decking, James Diffily, founder of Florida Marine Decks, says the standard is 6 millimeters (mm) for flooring, although he recommends 9 mm if it's frequently walked upon. "It's just a little bit more comfortable and takes a lot off of your body, especially if you're in rough seas," he says.
For hatch liners and drawers, Diffily says 3-mm thickness is fine and that the EVA foam won't scratch or dent. MarineMat sells its mats in 3-mm increments up to 27 mm (for helm pads or bolsters).
Once settling on a thickness, it's time to pick from 35 colors and countless color combinations. Schneider recommends going with lighter base colors because it stays cooler in sunlight and improves sun reflection.
Every mat kit that comes out of the MarineMat factory in Oldsmar, Florida, is unique to each vessel. MarineMat offers nine laser designs from fish scale to woodgrain finishes and can add boat names and logos for a custom feel.
Installation Day: The Process of Boat Decking Installation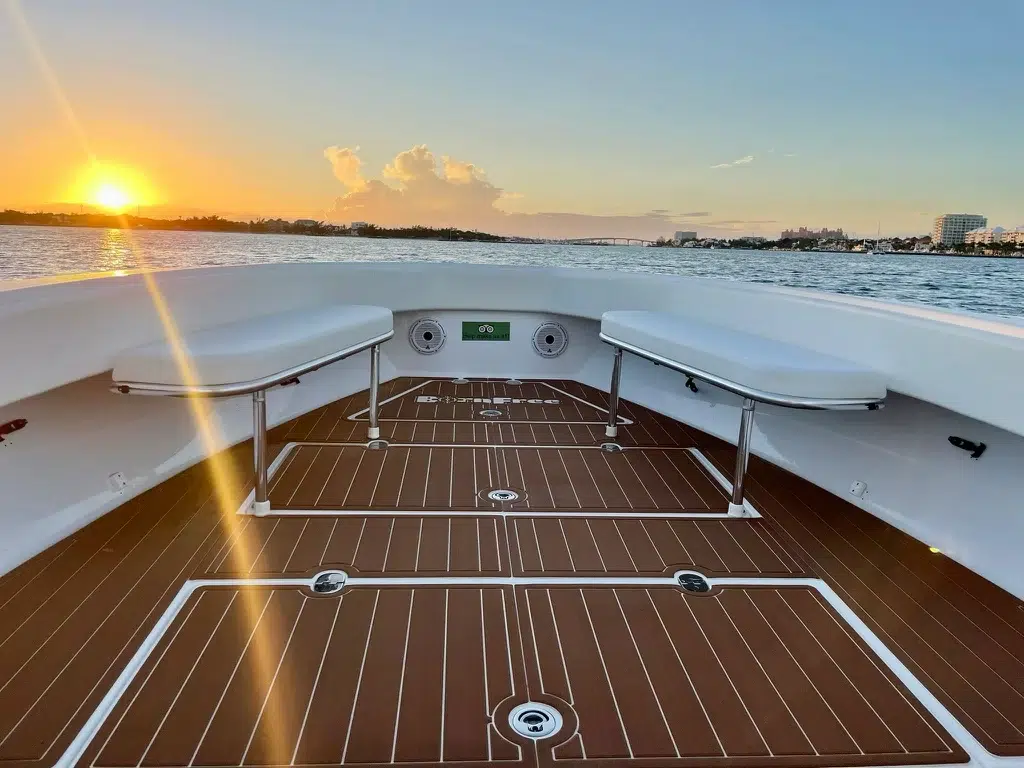 Offshore fisherman John Davis has had EVA foam boat decking installed in four boats, most recently in his new Robalo 246 Cayman. He believes every boater should have the EVA foam under their feet.
"It's not just the feet, but also the knees when you're down on the deck pulling stuff out of the hatches," he says. "It's amazing to be able to walk around and work on, and the coolers don't slide."
The day before the installation, Davis rinsed the boat off and pulled it into the garage. Diffily's Florida Marine Decks took over the installation that included the entire deck, top of the gunwales, casting decks, and the tower.
The process starts by taping down each piece to ensure a proper fit. If everything looks good, Diffily wipes the area down with 90 percent denatured alcohol and follows up with microfiber cloths to make sure there is no remaining alcohol and that it's free of dust. The installation can't be completed during rain or temperatures cooler than 65 degrees because the glue won't adhere properly.
For boats that have pronounced diamond-plate nonskid, Diffily advises against sanding it. Installers will prep the nonskid with a primer solution from 3M and attach the mat to a smooth surface to ensure adhesion. Go with a thicker mat if there is a concern.
"I personally don't suggest sanding it down because if you go to resell the boat and you've got to pull up the decking and you want to make it look new again, it's not going to be there," he says. "You're going to have to paint the boat. It's not going to be worth the hassle in the long run." Installing the MarineMat should take about four to six hours, depending on the size of the boat.
Care and Cleaning: Maintenance and Durability of Synthetic Boat Decking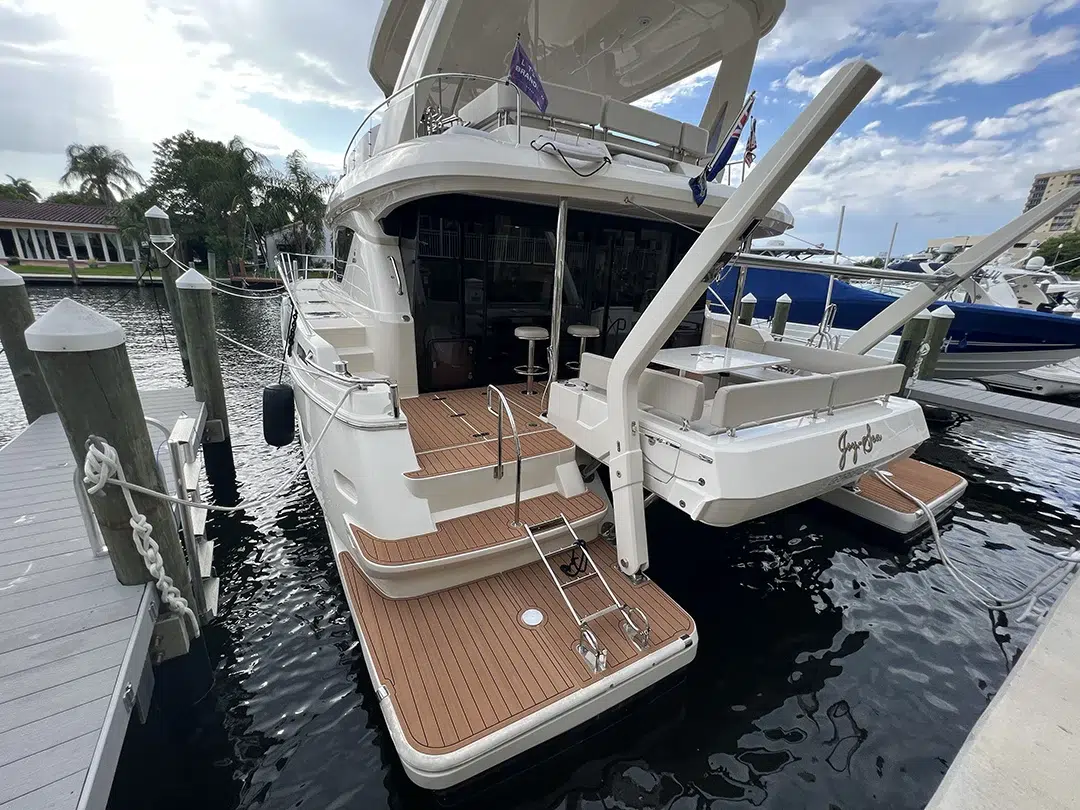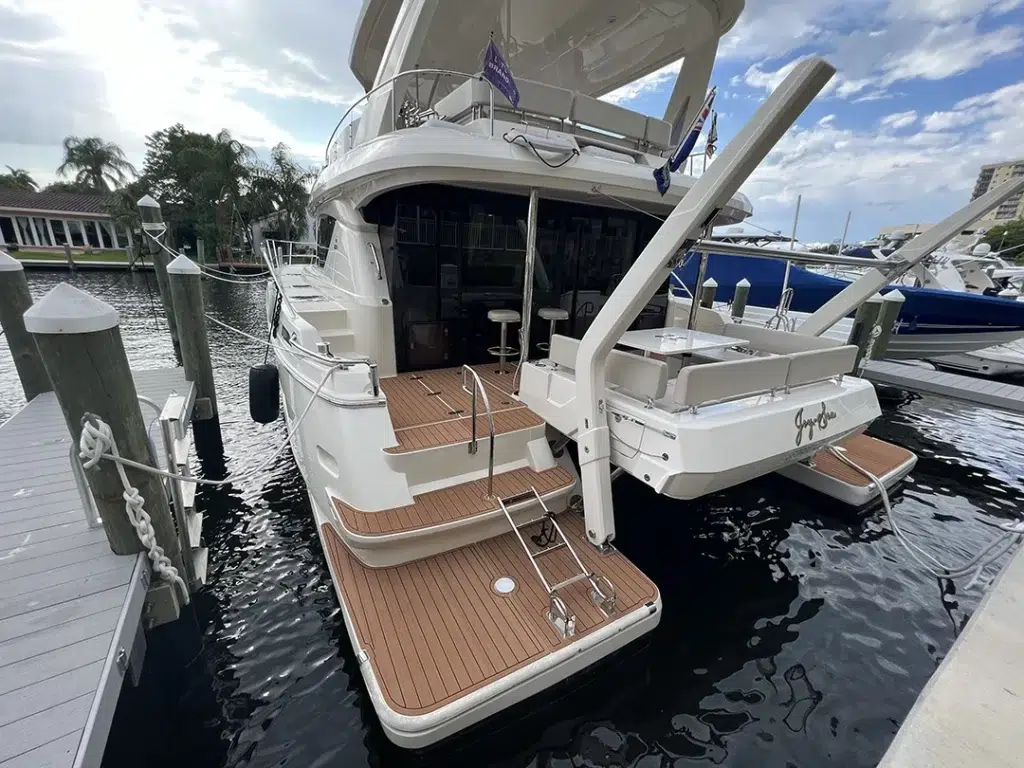 To clean the boat after a fishing trip, Davis uses regular deck soap and electric power washer to remove any blood or guts. A gas pressure washer has a little too much firepower, so the electric version does a good job lifting grime and dirt from the surface. Diffily recommends cleaning the mat quickly after blood and guts get on it. While the mat won't stain, it's going to require extra work and the use of a cleaning solvent to get the job done.
MarineMat will last about four to six years with normal use, while the tournament fisher teams will replace the decking every two to three years.
Installation of MarineMat will run between $1,000 and $6,000, depending on the scope of the project. The flooring is an affordable upgrade, especially for a mariner who may sell the boat in a year or two. MarineMat offers a three-year limited warranty on its product.
"It's just a nice look and a warmer feel when you get on the boat," Schneider said. "The look and feel changes entirely, especially on older boats. It really gives them a face-lift." marinemat.net