Treat your tootsies—and your boat—to new synthetic decking.
Boat decks frequently get blasted with a witch's brew of organic and synthetic liquids. Punishing substances— greasy sunscreen, juice, saltwater, beer, potato chips, motor oil, and bird droppings—are ground onto the deck or into the fibers of your carpet and are spread into every nook and cranny. No matter how much you scrub and rinse, sometimes it's impossible to dislodge the gunk. Even worse, your nasty old carpet might be glued down with rubber cement or an equivalent adhesive that chemically bonds it to your deck. Consequently, the only way to fix this mess is complete removal and replacement.
Replacement product options have never been so plentiful or versatile. Various forms of plastic are the primary ingredient for many of today's leading marine decking products, are soft to the touch, impervious to fading for many years, stain-resistant, can look like teak, and frequently offer a non-skid quality. The durability and ease of manufacturing has made plastic one of the most common elements in boat construction, and nowadays, even your feet reap the benefits.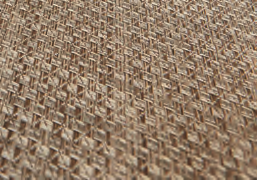 Plastic boat decking is typically made from ethylene-vinyl acetate (EVA) foam, polyvinyl chloride (PVC) and woven vinyl fabric. Some boatbuilders use these synthetic decking materials on new builds.
For the do-it-yourselfer who considers refurbishing his own boat with the new synthetic decking, preparing the old surface for the fresh covering can be the most challenging phase of the project. It involves removing not only the worn-out carpet or decking but also chemicals like contact cement. There's also a substance called mold release that boat manufacturers use during construction. Removing mold release with acetone or a similar cleaner is important because it inhibits the bonding agents for the new material.
Consequently, many boat owners opt to hire a professional to do the job to ensure a high-quality result. All of the companies mentioned in this story provide resources for the do-it-yourselfer—from videos to customer support lines and online forums—and also have a stellar network of professional installers.
"Infinity's Luxury Woven Vinyl flooring can revolutionize the look and feel of your boat deck," says Warren McCrickard, vice president of corporate sales for Infinity Woven Products, LLC, based in Dalton, Georgia. "Our woven vinyl is versatile and can be installed either as a snap-in or glued down."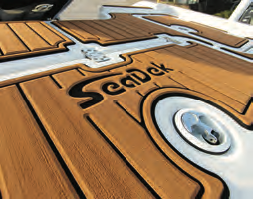 Removing all the dirt, grease, old glue, and/or contact cement, as well as mold release, is crucial in preparing the boat surface. After it is clean, the decking is applied using different types of adhesives depending on the type of synthetic decking, either in strips to make patterns or in a single piece that is delivered by the manufacturer and is custom-made after measurements are taken.
Boat owners get to enjoy today's rugged decking before, during and after their day on the water. Not only do the products look good, but dings, scratches and dents are diminished, and when you drop a tool, piece of fishing tackle or similar heavy object, the noise is minimized. "The great thing about EVA foam is that it is soft and comfortable, yet doesn't hold water and doesn't get stinky," explains Jason Gardner, vice president of marketing and advertising for SeaDek Marine Products in Rockledge, Florida.
"EVA foam is closed-cell, meaning water can't get absorbed into it. It sticks to the deck and it doesn't get scalding-hot. SeaDek is applied using a pre-applied 3M™ pressure sensitive adhesive (PSA). We have expanded our certified installer and fabricator network so customers get great results if they choose to use a professional."
SeaDek's foam provides excellent traction, and the cushioning of the foam can lessen fatigue when standing while fishing. Furthermore, gasoline, motor oil, spider and bird droppings can't penetrate or stain these new materials. In fact, salt water, which corrodes and destroys many boat parts, cannot ruin EVA foam, PVC or woven vinyl, even after long periods of exposure.
"We changed the recipe of the plastic itself for our PVC (polyvinyl chloride) decking," says Eve Gribble, co-owner of PlasDECK in Akron, Ohio. "We have one of the highest-grade ultraviolet stabilizers on the market, and our product includes an anti-fungal. That means mold may grow on the product, but not into it."
Carpets made with the same fibers you have at home trap odors, and once the mildew takes hold there's no way to shake the smell. Today's new synthetic decking of EVA foam, PVC or woven vinyl is either neutral in smell or infused with much more pleasant aromas, such as a sandalwood scent with SeaDek's closed-cell foam. Infinity's woven vinyl has a neutral smell and dries quickly. It is available in more than 18 collections and 180-plus color choices, while PlasDECK and SeaDek offer more than 20 assorted color choices.
Real teak is luxurious, natural and expensive. However, the myriad of patterns and materials that can closely imitate the look of teak make offerings from today's decking manufacturers worth considering and can be achieved without the expense or need for constant maintenance.
The payoff for replacing your decking with today's synthetic decking materials comes in two forms: Cleanup is much easier, and the material will last three times (or more) longer and look better than what was originally installed.
"You save money in the long run and put value into your boat," McCrickard says. "Carpet needs to be replaced every two to three years. Our flooring is manufactured to last up to 10 years. That's five times longer than carpet, and the resell value speaks for itself."
For more information, visit infinitylwv.com, seadek.com and plasdeck.com
By Doug Thompson Southern Boating June 2017