One-stop Shop
Nautical Ventures is a marine superstore for boating enthusiasts.
Thirty-five years ago, Nautical Ventures was a modest Hobie kayak and sailboat store that primarily focused on wholesale and export sales to resorts. In 2010, Roger Moore and Jeff Garcia purchased Nautical Ventures with the belief that water sports equipment would work synergistically with QPS Marine, their yacht brokerage, yacht management, and yacht refit service company.  
Both men have exceptional boating experience: Moore sailed 42,000 nautical miles about the globe with his wife on a 63-foot Cheoy Lee motorsailer. Garcia grew up in a family-owned shipyard before he started Swan Charters in St. Martin and then spending time as a project manager at Derecktor Shipyards. Together, with a solid, experienced staff, they've grown Nautical Ventures into a $100 million business through quality sales and service with product lines featuring yacht tenders, pleasure and fishing boats, a broad selection of water toys and equipment, and a 10-acre, full-service marina.
"In 2013, we expanded to include new boat sales via Nautical Ventures Marine, and we are now leading dealers for Axopar Boats, Beneteau, Antares and Flyer boats, Sailfish, Starcraft, De Antonio, Highfield, Northstar, Windy, and many others," says Moore. They recently announced that they are the new Florida dealer for Fairline Yachts. 
Nautical Ventures has come a long way from that tiny strip mall location, which says a lot about the quality of sales, service, and products. "Our flagship store moved into a twenty-thousand-square-foot, state-of-the-art retail facility located on U.S. 1 in Fort Lauderdale," says Moore. "We've also expanded with additional dealerships in North Palm Beach, Stuart, Sarasota, and Tampa, Florida." 
Don't be surprised to see more growth in the future. "We're moving into larger and more expensive boat lines to satisfy our clientele's desire for boats that offer added accommodations and cruising range," continues Moore. "We're expanding our water toys division to our Tampa and Stuart locations as well as adding more hi-tech products to our inventory. We're venturing in to the rental boat arena, too, and we're strategically expanding into key cities that offer the demographics suitable for our business model."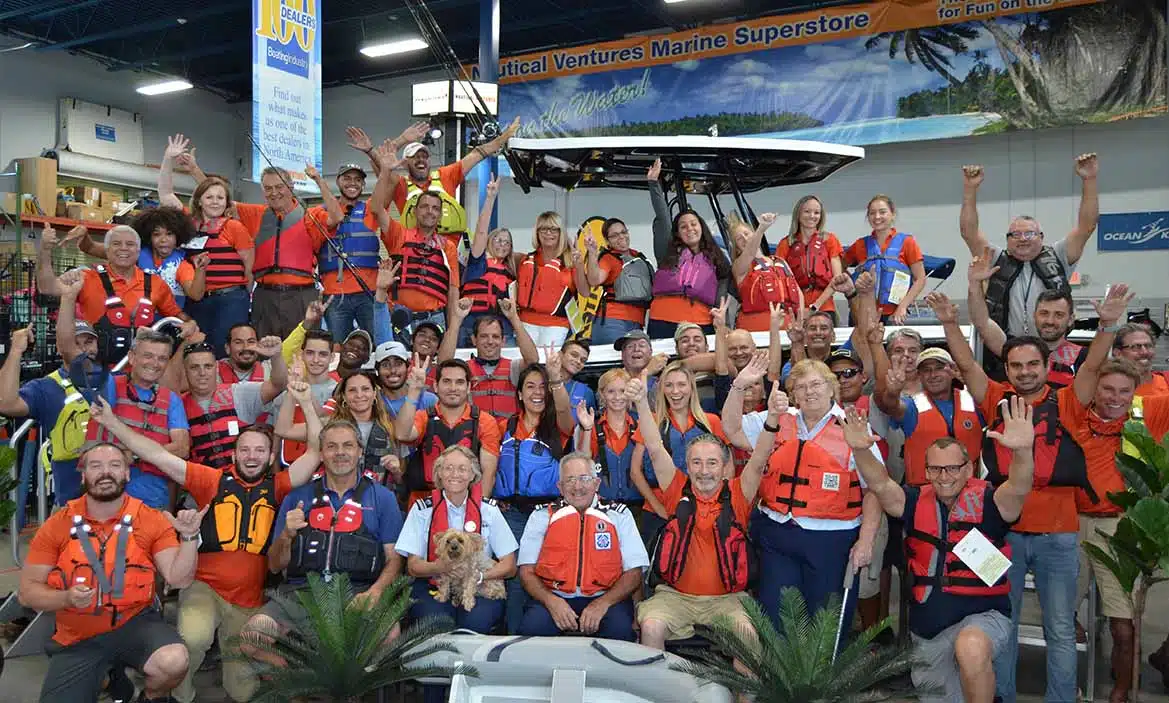 Nautical Ventures started with about 15 employees and have now increased its staff to more than 150. Watching them grow, personally and professionally, is one of the many rewards Moore enjoys about the business.
"We have developed a culture of trust and respect for each other as well as with the customers who come here," he says. "Yes, we need to sell products…but we want to sell the right product to meet the customers' needs. There are no hidden agendas, no pressure sales tactics. We want to win customers for the long haul and build a repeat customer base that is happy with our service, staff, and dedication. When you think of us, we want to be known as the 'go to people for fun on the water!'" nauticalventures.com 
-by Steve Davis