Boat Builder Stephen Dougherty
Building a better boat takes experience and fine skills, but it's a passion for the industry that will set it apart.
Stephen Dougherty doesn't take things lying down, unless he's inspecting in great detail the hull mold for his new SOLACE 345 center console. The first model in a new line of boats in the 30-foot range, the design is a culmination of a lifelong passion for boatbuilding.
SOLACE isn't a name that came out of distress or sadness, it's a testament to finding comfort in your strengths and abilities learned throughout a lifetime. "When I was a kid, the thirteen-foot Boston Whaler was a stand-up console for me. That's when I started driving a boat," says Dougherty. "I would go out with my dad up in Massachusetts, and we would test boats in the middle of the winter when I was seven years old. That was a regular thing for me. That was normal. We'd break ice at the launching ramp, put the boat in and go out and test it."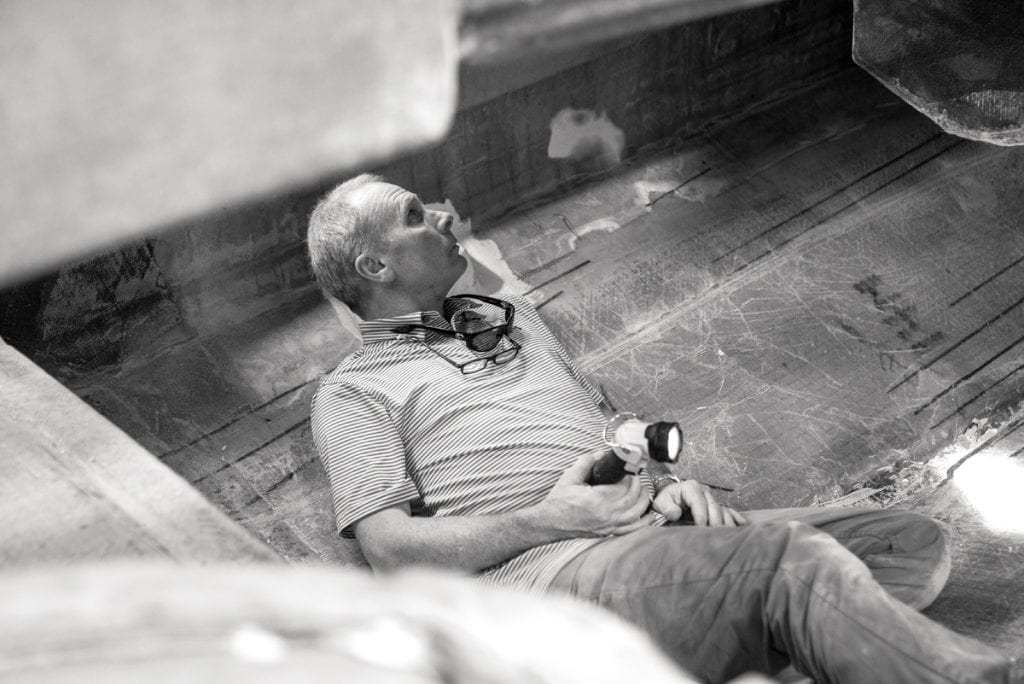 Runs in the Family
His father, Bob Dougherty, a former senior vice president and chief engineer for Boston Whaler, was a positive and meaningful influence. "I would go to boat shows, I would go to Boston Whaler on Saturdays and go to the pattern shop and work with the guys on the floor," he recalls. He built things. It was his way of life and didn't think anything different.
The "Dougherty Difference" was strengthening. His dad was instrumental in the design and techniques that created Boston Whaler's innovative hulls in the 1960s. He refined Dick Fisher's and C. Raymond Hunt's unibond construction technique of the famed unsinkable boats. He was a creator, a teacher, a builder and did things the best way possible without cutting corners. He treated his fellow workers like family which nurtured his son's progression into the industry.
At 19, after years of "playing" in the shop and honing his manufacturing skills, Stephen Dougherty joined his father at Boston Whaler. The Dougherty Difference of cutting-edge designs, original ideas, and a strong commitment to the customer and family was set.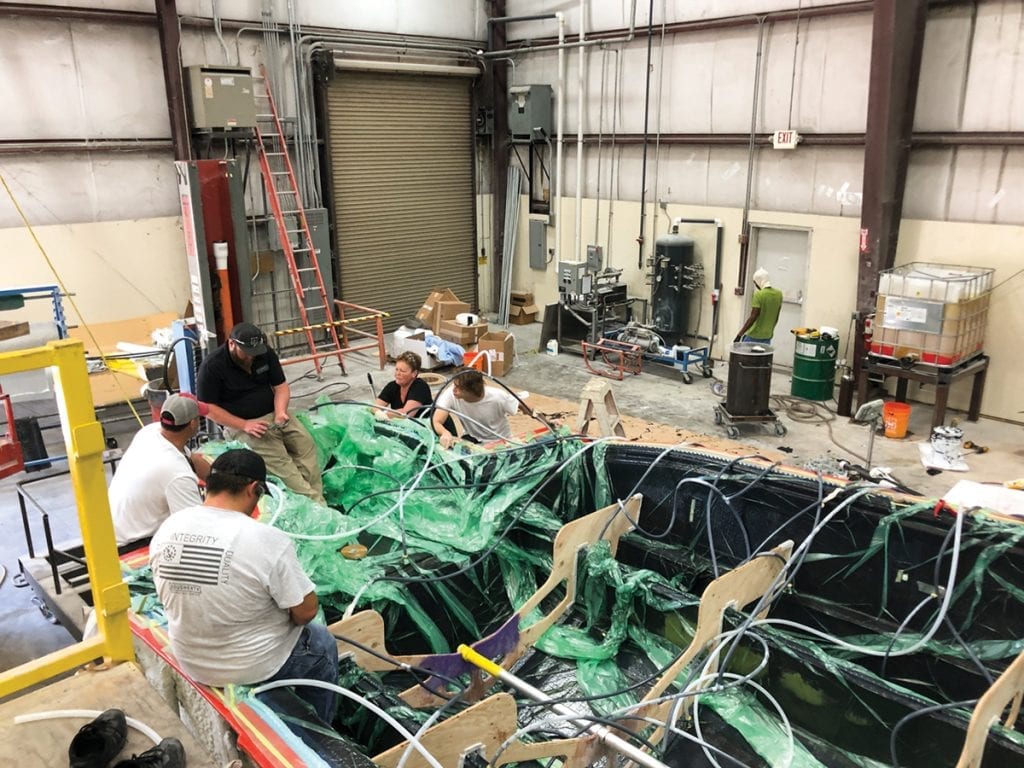 "I grew up in a boat factory building boats. I knew I wanted to do that since I was very young," says Dougherty. "It was in my dad's blood for years as well and when he was young, he wanted to build boats. He was a schoolteacher first and was teaching industrial arts and lots of different things, but he wasn't making enough money, so he ended up going into building boats."
Movin' On Up
Times in Massachusetts were tough for manufacturing companies and Boston Whaler had to relocate. "My father had to find a new home and found a plant in Edgewater, Florida, that was manufacturing lifeboats," recalls Dougherty. "Schat Watercraft was on the water. They moved in, built an addition and moved the entire facility down. My job coming to Florida was to set up and train people how to assemble every Boston Whaler. I and about six other guys opened the Boston Whaler facility."
Teaching local fishermen and farmers how to build boats was a big job for several years.  Boston Whaler went through a few owner transitions after the move that restricted new development which led Dougherty and his dad to start a new company.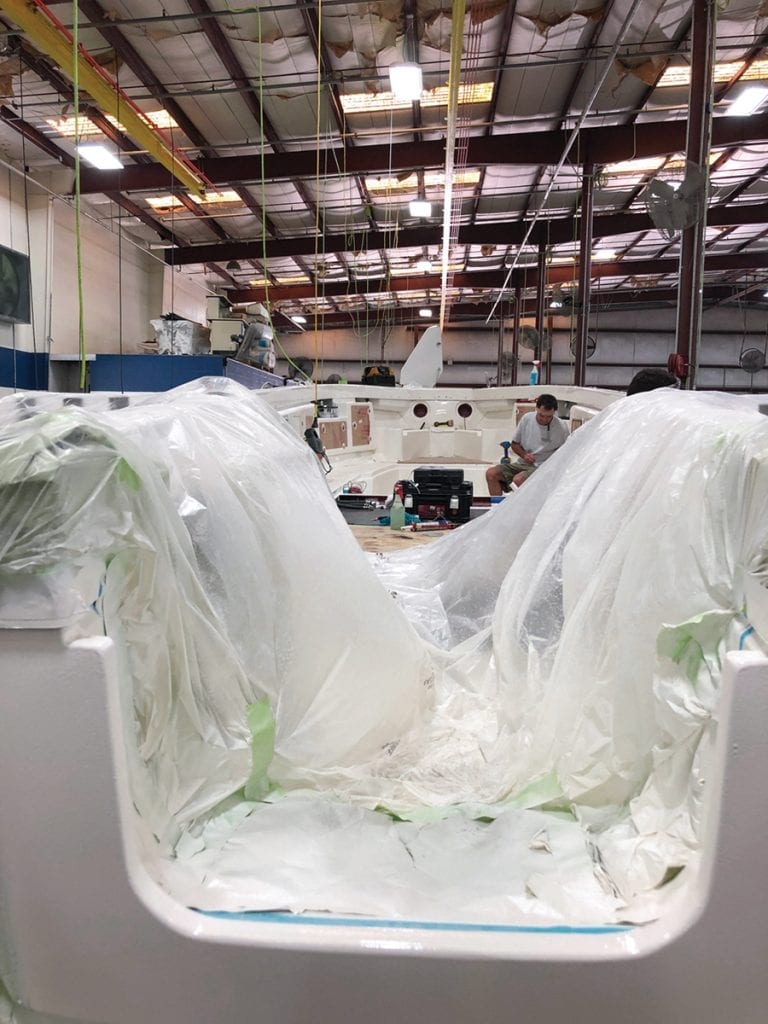 Dougherty Marine along with RJ Dougherty and Associates conceived and manufactured a new design for boat windshields, and Dougherty expanded his interest in learning how to work with and create parts from Starboard, a new marine-grade polymer product that is resistant to saltwater, UV, chemicals, sunshine, and corrosion. Around that time, his dad said, "We're going to build a boat."
On the Edge
Dougherty had never gone through the entire process of building a wooden pattern, lofting and full-size molds, so he learned. "We built a boat, and that eventually became
EdgeWater Powerboats," he explains. "We built that company up to 100 or so people with eight models." They took on some partners, who were sailboaters, and ended up selling their stock to them and moved on to start Everglades Boats.
"We built up Everglades pretty quickly," says Dougherty. "A brand new hundred and twenty-five thousand-square-foot facility and it was a very efficient, a great company." At Everglades, the team was able to design and build what they wanted and incorporated his dad's Rapid Molded Core Assembly Process, which won a Marine Manufacturers Innovation Award in 1999, into every hull.
The family decided to cash out of Everglades in 2012, and Dougherty suddenly found himself with nothing to do. "My passion is building boats, and I earned a living out of building boats," he says. Like his father, Stephen Dougherty wanted to build a great company for his family "…so my kids could stay around here in Florida and work for the company and stay together. That's been my life's dream."
Building the Dream
His dream started with the purchase of a 30,000-square-foot facility. Dougherty started building things again and within a year, outgrew the complex. The City of Everglades
convinced him to buy a 200,000-square-foot building that was empty and run-down knowing he'd do something with it and put people to work. "When we bought the facility and were headed into the direction of manufacturing, our goal, in the end, was to be in the boat business," says Dougherty.
There was a no-compete clause for three years after leaving Everglades, so instead of building boats, he worked on various large-scale fabrication projects, including those for numerous theme parks. One such project involved receiving only the concept and artist renderings, so Dougherty had 10 engineers work on the design and then the company manufactured the build. "Our capabilities are very diverse as a result of doing all that work for other companies," says Dougherty, which greatly improved his team's skills.
SOLACE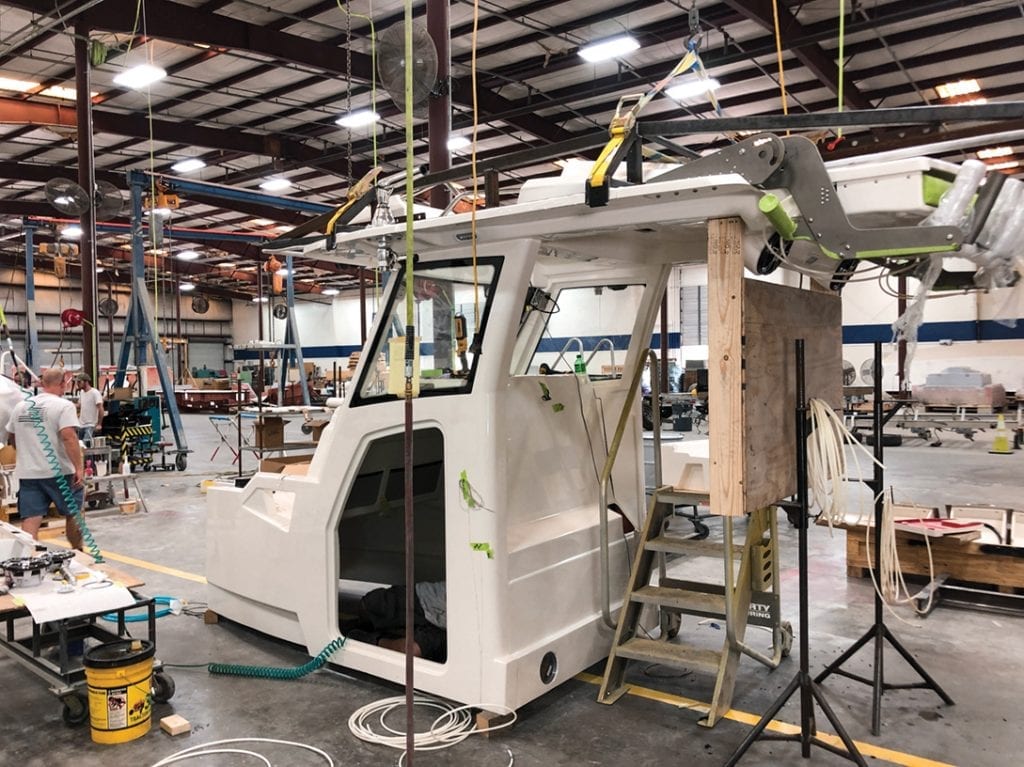 Finally able to build his innovative center console design, Dougherty got SOLACE in gear. "We knew we wanted to do everything in-house," says Dougherty. "We already had an engineering team and a facility, so we bought two five-axis routers; one of them is capable of building a boat sixty feet long and the other is for small parts." The SOLACE facility includes a welding fabrication shop, a brand-new, state-of-the-art Haas machine shop, paint facility, and a very modern lamination facility—a full-blown boatbuilding operation where the family heritage continues and his son now "plays" in the metal fabrication shop.
The SOLACE 345 is the culmination of his life's work in engineering, building boats, turning ideas into practical designs, and trusting his instincts. "As far as building a boater's boat, that's what I do, and that's what my dad has always done," says  Dougherty. "My wife and I and the kids go out on the boat every weekend. We're boaters… That's how I look at things differently than other boatbuilders look at things. People build ski boats, and people build fishing boats, and people build flats boats and pleasure boats. I build a boat for boaters…They go to the fireworks, they go to the picnic, they go to the beach, they go fishing, they go waterskiing, they do everything with a  boat.
The Lesson
"My dad taught me a long time ago that there are two ways you can go when building, designing and selling a boat," says Dougherty. "You can build an okay boat and do a load
of marketing, or, and this is how my dad put it, 'you build a badass boat and people are going to buy it.' Our philosophy is about building a better boat. In order to do that, you need to make every single aspect of the boat better."
By Steve Davis, Southern Boating July 2019