SB: What attracted you to work for MarineMax?
RB: The company and the opportunity. MarineMax is a world-class organization. Everyone that works for MarineMax has a great passion for the water and for customer service. Bill McGill, Chairman, President and CEO is an incredible leader who walks the talk. It was also the opportunity of developing their world-class charter business with that same level of passion and service and simultaneously introducing the evolution of true purebred charter powercats to this market and industry with MarineMax Vacations. It was an exciting challenge and I knew it was a perfect fit for my passions and me. It has been less than four years since we launched MarineMax Vacations, and we are now the fastest growing charter company in the world.
SB: What sets your company apart from other competitors in the field? How has it accomplished this and how will it continue to do so?
RB: Our team and our yachts. The entire team of MarineMax and MarineMax Vacations is passionate about providing the world's best pleasure-boating experience by consistently exceeding the greatest expectations of our customer with the highest level of personal service and product. Aquila Power Cats is the only brand of powerboat we feature in the MarineMax Vacations fleet and was designed by powerboaters for powerboaters. The Aquila power catamarans are true purebred powerboats offering all of the comforts that boaters are used to having on their own personal yachts at home.
We provide services including free Wi-Fi and onboard equipment for living comforts including watermakers on all of our yachts.
SB: How has the company developed and changed over the years?
RB: The boats offered by MarineMax have changed but the MarineMax values have not and that is why MarineMax has survived all of the economic changes. MarineMax is loyal to the customer and the customers are loyal to MarineMax. Bill McGill says that what we offer is all about "changing people's lives" through boating. With that belief in mind, he took the risk to launch MarineMax Vacations in the B.V.I. to extend the boating season for the MarineMax stores in the northern states by offering an opportunity to go boating on our custom power catamarans in the B.V.I.
SB: Tell us a bit about yourself, your background and what prompted you to enter the marine world?
RB: I am a native of Barranquilla, Colombia, South America, and relocated to the U.S.A. with my family when I was just 12 years old. I graduated from Miami's Florida International University with a degree in Business and Management of Information Systems. I have been married to my wife, Kelly, for 23 years, and we have four wonderful boating kids ranging in age from 8 to 19.
I was living in Denver, Colorado when I received a call from a recruiter about a career opportunity in Florida with a yacht charter company, The Moorings. It was the middle of winter when I flew from a very cold Denver to a beautiful and warm charter base in the B.V.I. for an interview with the team. They extended me an offer to join them, and as I was overlooking the marina full of yachts, I called my wife and I told her "I can do this. We are moving." It was an easy decision. I have always loved the water and am an avid fisherman, so it was also a great opportunity that this new job would get us back to warm Florida, too. Two weeks later I was back in Tortola racing in the B.V.I. Spring Regatta with the management group, and I was with that group for more than 12 years.
SB: What do you love most about what you do?
RB: I love "changing people's lives." Getting telephone calls and letters from customers telling us about what an incredible experience they had with MarineMax Vacations and hearing how cruising on a MarineMax powercat was their "best vacation ever" is something that just never gets old. It fuels the passion for our team and I. I love going to boat shows and meeting the customers, telling them about our boats and destinations, and then seeing them the following year and hearing all about their vacation as they recap their experience with tremendous smiles on their faces.
SB: We'd love to hear specific examples of how you believe MarineMax has enriched mariners experience on the water. 
RB: From a MarineMax point of view, the focus is on making sure people enjoy their time on the water, and that includes numerous free classes offered at all MarineMax stores including the highly popular Women On Water, Kids in Boating, and Captains Orientation, just to name a few.
When you buy a boat from MarineMax, you become part of the family—they are not just selling you a boat. MarineMax is about developing a lifelong relationship with the customer, and our rendezvous, Getaways and group boating deepens the personal relationships and forms lasting bonds with the customers. I also strongly believe that MarineMax Vacations Charters and what we do enriches mariners' experience by allowing them to explore places they could not do on their own boats.
SB: Are there any destinations or itineraries that you are particularly fond of?
RB: I am a big fan of the B.V.I. and have been cruising there for more than 15 years. The B.V.I. offers something for everyone and can meet everyone's idea of excitement and relaxation from peaceful rest to energetic excursions. You can set your itinerary based on who is boating with you—I have a different itinerary when I go with friends versus when I go with the family.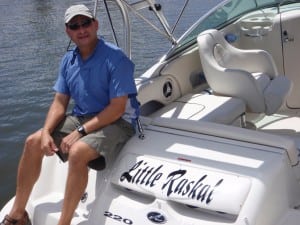 SB: What would you recommend among the options you offer?
RB: We offer a wide range of Aquila power catamarans in our charter fleet ranging in size from 38 to 48 feet. Boat selection all depends on the size of the party.
I recommend that if someone has never chartered a yacht in the B.V.I. that they begin planning this experience right away. It's an experience that gets people hooked immediately—we've seen it over the past three years as we have brought new power boaters to the destination. Some have just completed their third charter with us and have booked their next one already.
For returning guests, I recommend they look at our Charter Yacht Ownership Program, which allows an owner to enjoy numerous weeks each year while receiving a monthly check from MarineMax to cover the boat loan. MarineMax handles all service, maintenance, fees, and charter activity.
For those who want a purebred powercat at home, I recommend private ownership of Aquila. They are proven ocean-going vessels that can cross oceans or cruise the Great Loop and provide the best platform for living comforts and efficient performance no matter what the water preference.
SB: Do you own a boat? If so what is the make and name? Where do you like to boat?
RB: I currently do not own a boat but have access to large fleet of them. My last boat was a 2008 SeaRay Sundeck 220, which I purchased from MarineMax Clearwater before I was a team member. The boat name was "Little Raskal"—the initials of all of my family members (Raul, Adam, Sarah, Kelly, Alex, and Loren).
SB: What do you like most about being a mariner?
RB: The feeling you get when you are on the water—the freedom, the wind against your face, the smile on my kids' faces, the special family time, and the memories we have and continue to create. I love the fact that my kids, including my 19-year-old, actually ask when we are going to go on our next MarineMax power catamaran vacation. They love the MarineMax 484 power cat and they love the B.V.I. marinemaxvacations.com
By Nathalie Gouillou, Southern Exposure, September 2015