A  glimpse into Southern Boating Christmas
You know how I know when it's almost Christmas? Yes, boat parades are a good gauge, but the real litmus test is how people in the Southern Boating office are behaving. With less than a week until the full-monty, here's a quick look at how Southern Boating has prepared for the holidays.
The Tree
Our beautiful tree has been lit for about a month. Our fearless leader (read: publisher) starts asking when our Christmas tree will be here approximately three minutes after trick-or-treating ends in October, but the tree tends to go up in a post-Thanksgiving slumber. We also collected a boatload of toys for the Children's Diagnostic and Treatment Center on behalf of our friends at MIASF & MICF.
The Treats
I'm really not sure how an office of only 14 people are able to consume roughly 28 lbs of various chocolates, candies, and cookies in one week. But at Southern Boating, we seem to have a somewhat unnatural propensity for consuming holiday sweets. I personally witnessed three dozen Mexican Wedding cookies disappear from their tin in less than 24 hours. But does this sugar high stop us from also celebrating an employee birthday today? Absolutely not. We require cake…and ice cream.

The Stuff
On par with our outlandish sugar intake is the barrage of gifts that are (still) arriving in a seemingly endless stream of Amazon packages. It's no wonder that Bezos is the richest dude on the planet. In an attempt to surprise family and loved ones, most of Southern Boating's employees have their gifts delivered to the office. You won't find any shopping procrastinators in this office, but if you're late to the game, we have this list of six gifts that won't break the bank.
The Merriment
Later this week, we will celebrate with our annual office luncheon. There's always a Secret Santa gift exchange that never seems to stay very secret at all. It's almost impossible when there's a rogue elf (read: marketing assistant) on the loose who stomps around in pointy shoes, demanding to know who is buying gifts for who. This luncheon can drift towards raucous, but you really can't blame us. It's the end of the year and we've been subsisting on a diet of nothing but cookies and cake for three weeks straight.
Plus, it's nearly impossible to avoid cacophony and peals of laughter when gifts have been everything from camo toilet paper to a live iguana.
I relish it all, and I think I can speak for everyone here when I say that the most important things that happen here at Southern Boating during the holidays are laughter-induced hiccups and a sense of comradery. There's a lot of bad things happening in the world, but there's a lot of good out there too. One of those good things is this crazy team. We are so lucky to be working in an industry we love, with the best customers, and the best subscribers. It should be said more often than when we're misty-eyed from eggnog, but 'tis the season to be grateful for laughter. And for iguanas.
Happy Holidays!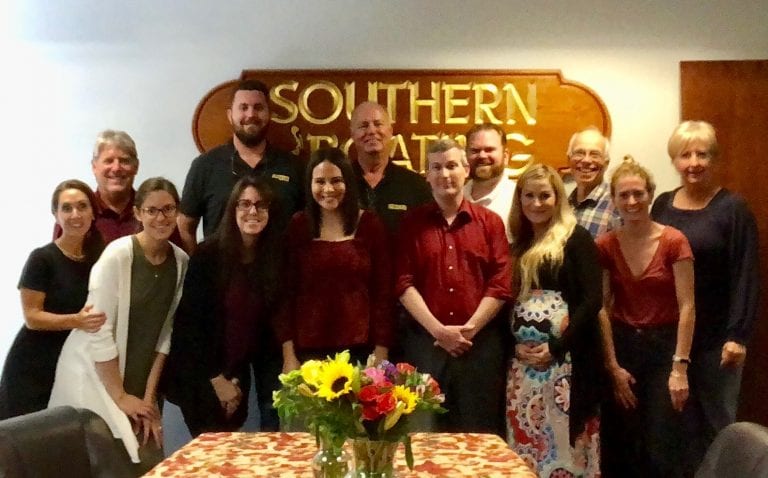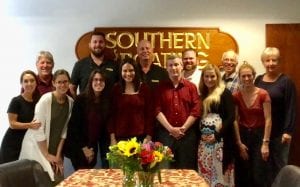 — The Southern Boating Crew
PS: Before you decry animal cruelty, our art director took the iguana home as a gift for his son. Lucky kid.