Step up your onboard entertaining with advice from culinary pros: Superyacht Chefs.
A couple of months ago, my neighbors sent a text message inviting a few of us on the block to dinner. I responded as most people would: said thanks for the invite and asked what I could bring. I expected the reply to suggest an appetizer or a dessert, maybe a bottle of chardonnay. Instead, my neighbor asked, "Would you make paella?"
Another neighbor chimed in, "Ooh, the paella!" She added a heart emoji alongside a paella emoji (apparently a paella emoji does exist). I'd served the dish to them once, more than a year ago, in a pan that I bought on Amazon for about $25. My presentation consisted entirely of tying $4 white dish towels from Ikea around the handles so as not to burn my palms when I carried the pan to the dining room table.
When I served it, I mentioned that I got the recipe from a chef aboard the 67-foot Victoria sailing catamaran LIR. The charter yacht's chef was from Spain, and the recipe was her grandmother's, handed down through the generations.

That's all it took for the paella to become legendary, my signature calling card at dinner parties for what, I assume, will be years to come. It's one of the countless recipes I've snagged from charter yacht chefs since I started covering the industry nearly two decades ago. I have a binder in my kitchen that's bursting with handwritten pages torn from my reporter's notebooks, with seasoning secrets that chefs have brought to the yacht industry from the South Pacific, South Africa, the Indian Ocean, South America and, of course, the Mediterranean and Caribbean.
Tricks of the Trade
The trick with these recipes is that they're all ingredients, but few include precise measurements. Most of these chefs— unless they're baking—eyeball and taste their recipes to get them just right. A typical conversation that I might have with a charter yacht chef goes a little something like this:
I say, "So, then you add the garlic? How much?"
They reply, "Well, it depends on the size of the bulb. If it's big, just use one."
I will then ask them to define "big," which will prompt a vague response like, "Well, if it tastes garlicky enough in the pan, you'll know."
This figure-it-out-for-yourself approach to cooking is their way of life, the very essence of how they put their own stamp on whatever dish they make.
And it's the reason why, when I get back home with the recipes, I usually need two or three tries to perfect them to my tastes. They never come out bad, and sometimes, they come out exquisite. But even during those times when I decipher the magic combination, I don't write down the measurements, either. Once I get them right, I'm somehow able, like those yacht chefs, to remember and repeat, based on what looks and tastes right in the pan. I guess that when so much thought goes into something that's so much fun to figure out, the human brain stores it in a file that always remains accessible.
Here are three of my favorite recipes and tips from superyacht chefs, with my personal guide to approximate measurements. Go ahead and tweak as little or as much as you like. Then when you get it just right, buy a cheap pan and some dish towels and impress your onboard guests.
LIR's Paella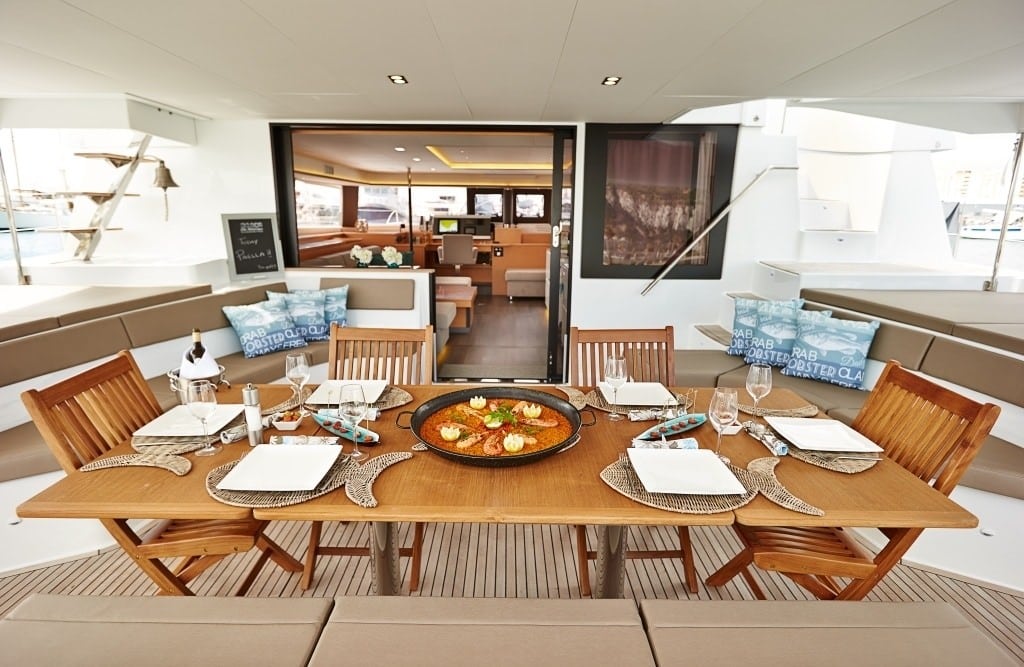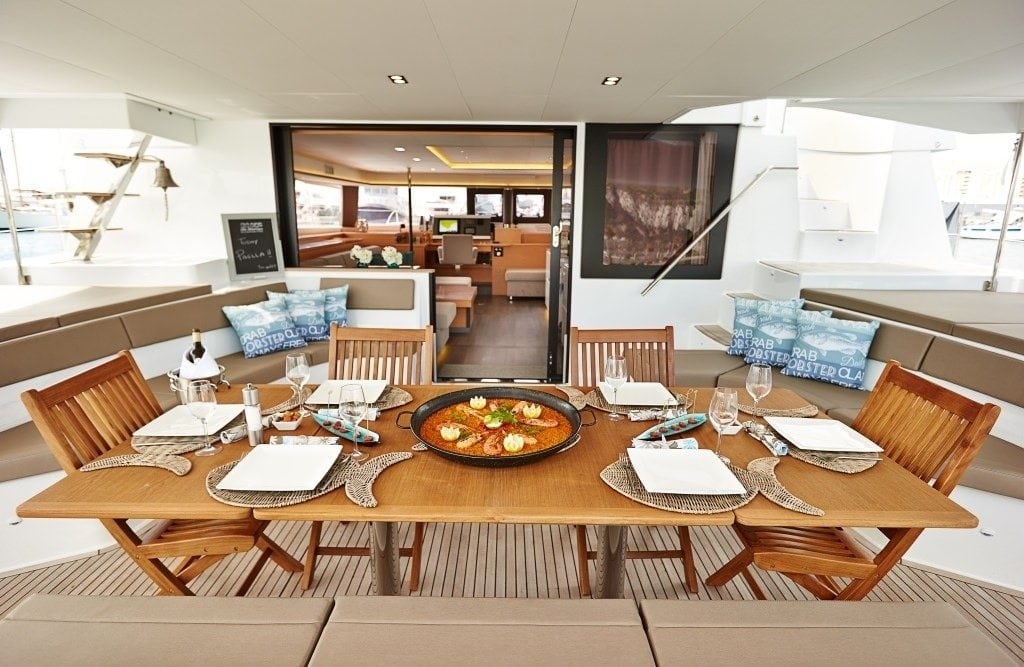 Ingredients:
One large sweet onion, finely chopped
Approx 10 Tbsp. olive oil
About 4 garlic cloves, chopped
4 or so tomatoes, peeled and chopped
1-2 cups shelled peas
1-2 cups green beans, in ¼-inch slices
About 2 Tbsp. sugar
Salt
About 1½ Tbsp. paprika
2 pinches saffron threads
4-6 cups Spanish paella rice or Arborio rice
6-8 cups vegetable stock
2 cups white wine
Fresh clams
Bay scallops
Directions: 
Place the paella pan over medium heat. Sauté the onion in olive oil. Add the garlic and sauté until tender but not too brown.
Add tomatoes, peas and green beans; sauté to blend, 1-2 minutes. Add sugar, salt, paprika, and saffron; then add the rice and stir to coat.
In a separate pot, bring vegetable stock and wine to a boil. Pour the liquid over the rice and vegetable mixture in batches, stirring almost constantly. As the liquid evaporates, add more. Continue to add liquid, along with pinches of salt, and stir and taste until the rice and flavor are the consistency you want.
Toward the end of cooking the rice, stir in the bay scallops.
Meanwhile, in a separate pot, steam the clams. (I steam them in a little bit of chopped onion, white wine, and water.) Once the clams open, place them around the top of the paella and serve.
Caviar Deviled Eggs and Potatoes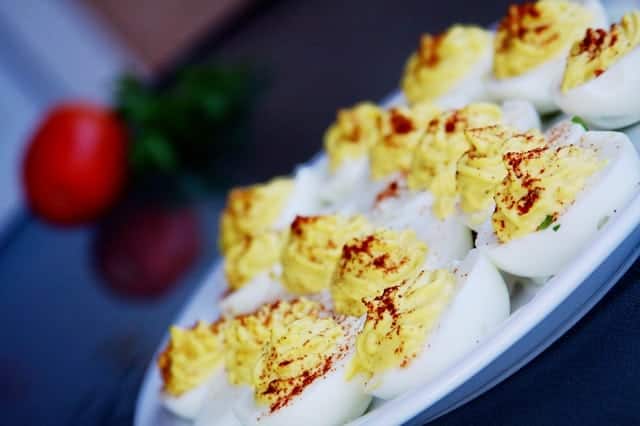 A motoryacht chef served these two easy-to-make recipes together during a cocktail party at a boat show in Antigua. You might think that deviled eggs and new potatoes are unremarkable, but serving them this way makes guests go gaga.
Deviled Egg Ingredients:
A dozen hardboiled eggs, shelled
About 2 Tbsp. mayonnaise
About 1 Tbsp. Dijon mustard
About 2 pinches of sugar
Paprika
Caviar of your choice
Caviar Potatoes Ingredients:
Bag of new potatoes
Sour cream
Caviar
Directions: 
Slice the eggs in half and scoop out the yolks. Combine yolks with mayonnaise, mustard, and sugar. The consistency should be thick, not runny. Spoon the mixture back into the halved eggs. Shake paprika over all the deviled eggs, and then top half of the deviled eggs with a dollop of caviar.
Cook the potatoes as you prefer. I like to put them on a baking sheet and broil them with a little olive oil, salt and pepper. Once they're cooked and cooled, slice off a little bit of each potato's bottom so it will stand upright on a tray. Scoop out the top of each potato with a strawberry hulling tool or small spoon. Spoon sour cream into the hole at the top. Top half the potatoes with a dollop of caviar.
Infatuation's Baked Stuffed Mussels
This recipe comes from a charter story I wrote about a decade ago in Italy aboard the 136-foot Jongert Infatuation. Baked stuffed mussels are simple to make; it's the homemade breadcrumbs from this chef's recipe that take the dish up a notch.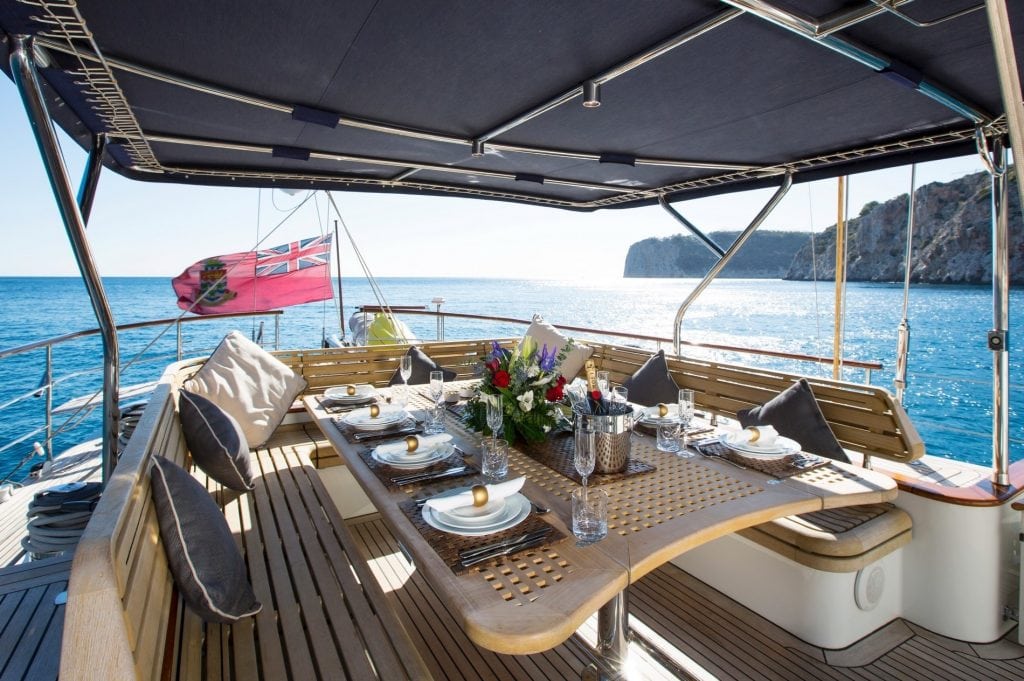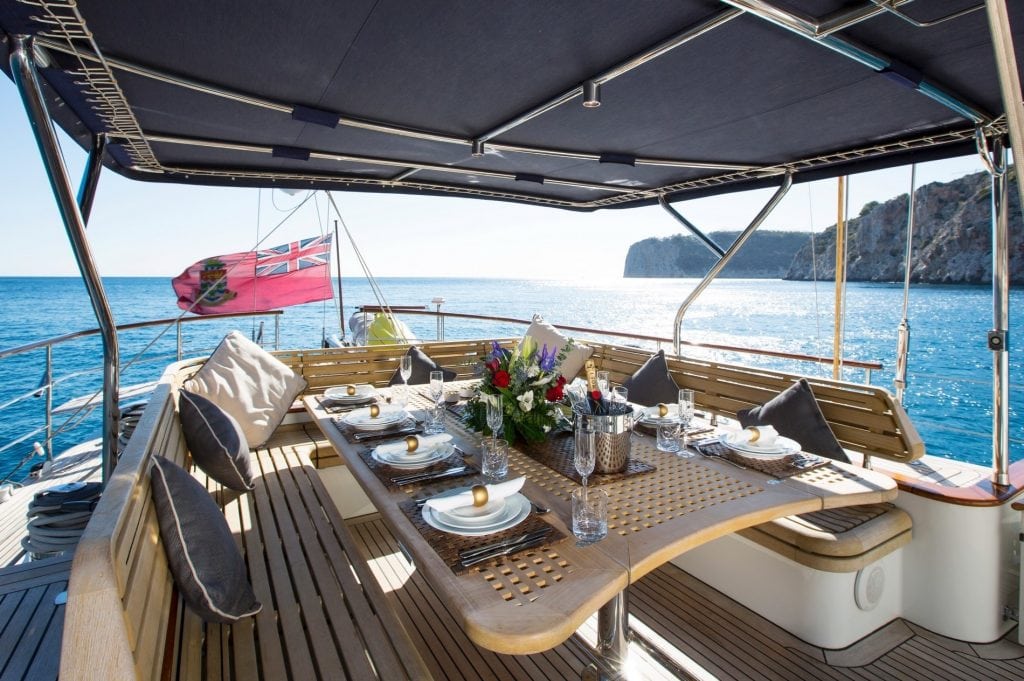 Ingredients:
Diced shallots
About 1 cup of white wine
Butter
Fresh-caught mussels
Directions:
Breadcrumbs (made to your personal taste from brioche, shallots, coriander, thyme, Parmesan, chives, butter and olive oil)
Steam the mussels in the shallots, wine, and butter, and then pick out the meat. Place three pieces of mussel meat in each empty shell. Cover with the breadcrumbs and broil until hot.
By Kim Kavin, Southern Boating August 2018