Delicious Dips
for the Super Bowl
Tasty blends for dipping chips, veggies, or as a spread
Super Bowl parties always highlight delectable dips, and because I really enjoy entertaining aboard my boat, I always look for delicious dip recipes to whip up with a few ingredients already on board or that I can quickly buy in advance to serve with cocktails on a cruise or at the dock. 
I usually offer several dips, many made with low-fat or light sour cream, cheeses, and mayonnaise. Below are my favorite dips along with suggested dippers.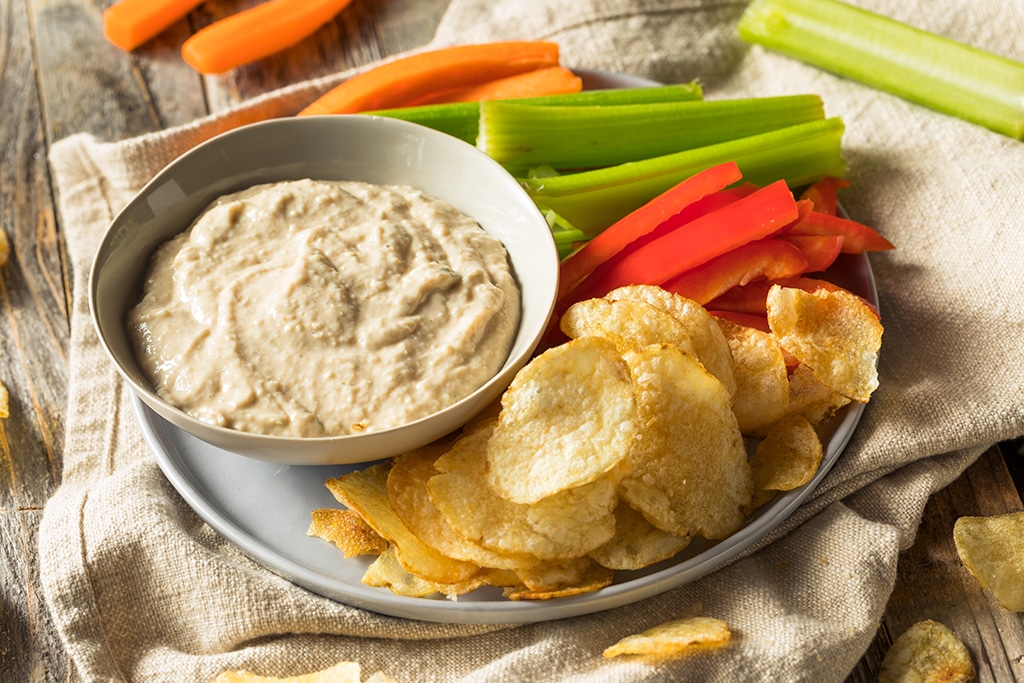 For Potato Chips or Crackers
Caramelized Onion Dip

4 Tbsp. oil
4 cups onions, diced
½ tsp. each salt, pepper, and cayenne
4 oz. cream cheese
½ cup sour cream
½ cup mayonnaise
Heat oil in a large frying pan over medium heat. Add onions, salt, pepper, and cayenne, and sauté for 10 minutes. Reduce heat to low and cook, stirring occasionally, for 20 more minutes until the onions are golden. Once cooled, add onions to the remaining ingredients and combine until smooth. Taste and add more salt and pepper, if desired.
For Raw Vegetables

 
Spicy Asian Peanut Dip
½ cup chunky peanut butter
6 oz. warm water 
2 tsp. soy sauce
1 tsp. chopped garlic
½ tsp. crushed red pepper flakes
In a bowl, whisk together all ingredients and set aside for 30 minutes to develop flavors. If the dip is difficult to stir, warm it in a microwave for 20-30 seconds and add a little more water to thin out. Keep adding water until you like the consistency. This dip is also great as a sauce for noodles or cooked chicken.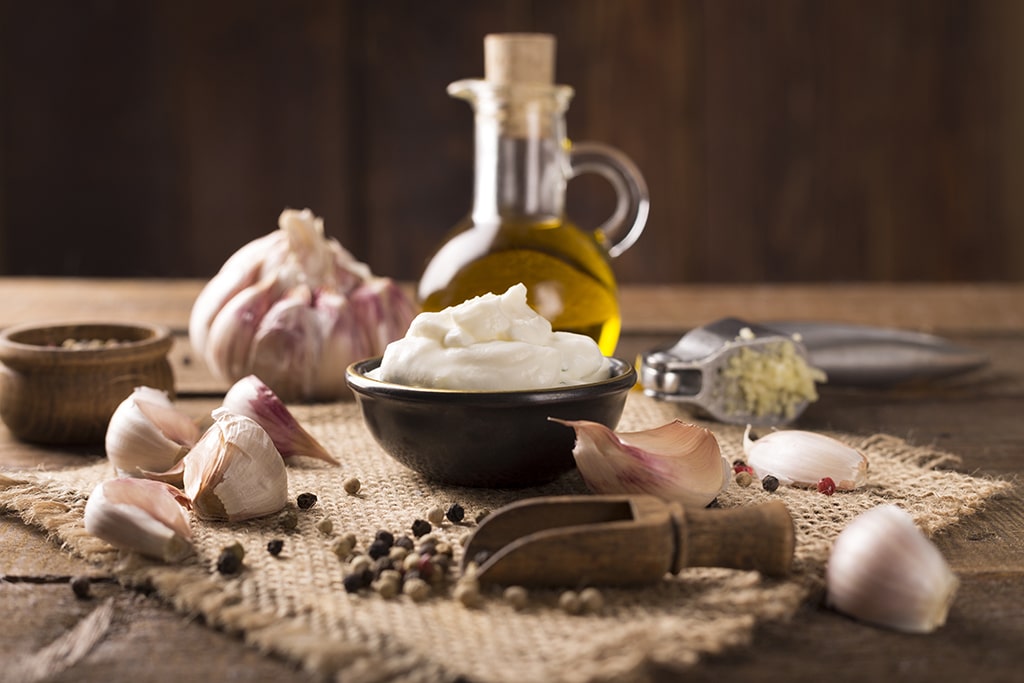 Garlic Aioli Dip
3 Tbsp. garlic, minced 
2 tsp. lemon juice
½ tsp. salt
½ cup mayonnaise, to taste
¼ tsp. mustard
In a bowl, combine garlic, lemon juice, and salt. Stir in mayo and mustard. Taste, and adjust if necessary—if the garlic flavor is too strong, stir in more mayonnaise by the tablespoon. Aioli will keep well in the refrigerator, covered, for up to 10 days. It will thicken as it chills.

For pita bread or pita chips
Spicy Feta Dip
½ lb. feta cheese
2 Tbsp. sour cream
3 Tbsp. oil
1 tsp. garlic, minced 
½ tsp. dried mint, crumbled
4 Tbsp. sliced pepperoncini (mild pickled peppers) or 2 tsp. crushed red pepper flakes
Mash the feta cheese, then add sour cream, oil, garlic, mint, and pepperoncini. Taste
and add more pickled peppers, if desired. If it is too spicy, simply add a little more feta
or sour cream.
Rustic Rouille
6 Tbsp. water
½ cup breadcrumbs 
1 Tbsp. garlic, minced
1 tsp. salt
1 tsp. cayenne pepper
1 cup jarred mild red peppers, finely chopped 
6 Tbsp. oil 
In a food processor or blender, add water, breadcrumbs, garlic, salt, cayenne pepper, and chopped red peppers. Add oil slowly, while food processor/blender is running, until well-combined. Alternatively, you may mix by hand for a chunkier dip. Use this sauce as a dip, or on pasta, in fish or shellfish soup, or as a topping for crostini.
For tortilla chips
Shortcut Guacamole
2 cups mashed avocado
¼ cup of your favorite salsa, drained
2 Tbsp. jalapeño, minced (optional)
1 Tbsp. cilantro, chopped (optional)
1 Tbsp. lime juice
½ tsp. salt and pepper 
Mix ingredients and taste. Add more lime juice or salt and pepper, if desired. 
For fresh fruit

Honeyed Fruit Dip 
8 oz. cream cheese, softened
½ cup sour cream
¼ cup honey 
1 Tbsp. lemon juice
½ tsp. cinnamon 
¼ cup walnuts, chopped
Combine first four ingredients, store in refrigerator, and bring to room temperature for serving. Sprinkle with cinnamon and nuts before serving. This is wonderful as a fruit dip, and as a spread for date nut bread or banana bread.
– by Lori Ross