On the Cutting Edge
LIVETARGET brings lifelike reality to fishing lures.
By Tom Schlichter, Southern Boating June 2020
There's a wide-held belief among veteran anglers that many lures are designed to catch fisherman as much as they are to catch fish. No doubt, the premise is true to some degree. In order to turn the heads of prospective buyers, new designs, shapes, colors, scents, and even flavors of lures are introduced every year and touted as features and then packaged in bright colors and marketed under catchy names.
"Somewhere along the way, a lot of manufacturers strayed from making lures that had realistic appeal to their ultimate targets, the fish," says Victor Cook, a founding partner of LIVETARGET, headquartered in Niagara-on-the-Lake, Ontario, Canada. "We've always taken a different approach. While we certainly understand the value of good marketing, we built our company from the ground up by making lures that are as lifelike and anatomically correct as possible. 'Match-the-Hatch' is our credo, it's in our company DNA. Simply put, we believe artificial lures can be better fish catchers when they look like the natural forage that predators hunt."
Indeed, that would seem to be the case as LIVETARGET lures do look amazingly realistic. Most of their offerings come in natural color schemes, their baitfish imitations have perfect profiles, dark eyes, scaled bodies, and precisely placed pectoral fins and gill slits. But the company has gone further than simply replicating the appearance of baitfish species, they've actually invented new technology to do it.
"Lures not only have to look great to be most effective," says Cook, who is largely involved with the development of saltwater products for LIVETARGET. "They have to perform well, too. They need to move naturally in the water and give off a little flash as their backs roll from side to side. They must be able to stop, go, and twitch just like the real baits they are meant to emulate. In other words, you need both form and function to build the ultimate lure. Tying these two aspects together is where we've spent much of our research over the past several years."
To reach that goal, LIVETARGET invented a new, specialized injection manufacturing process called Injected Core Technology (ICT). Introduced at the 2019 ICAST show, the world's largest sportfishing trade show, ICT allows the lure's inner core to host a precise minnow profile encapsulated in an exo-skin covering that drives its vibrating tail or body action. Proprietary metal powder in the inner core ensures vibrant, lifelike flash, and the kind of high-quality realism game fish can't resist while the clear, soft plastic exo-skin virtually vanishes beneath the surface. The result is a lure that looks anatomically perfect and sports the action to back it up.
"We know from science and our own experience that predator fish primarily focus on baitfish profile, so that's really where we start," explains Cook. "We take the forage we want to mimic and match it as precisely as possible. But matching the hatch is not just about appearance, it is about replicating a baitfish's movements and swimming action, too. With ICT, we've been able to blend the natural appearance with the natural action of the baits we've produced. The results have been really impressive."
LIVETARGET's Slow-Roll Shiner, Flutter Sardine, and Twitch Minnow baits illustrate well the ICT advantage. All three are built around flawless reproductions of minnow baits, yet they have vastly different actions. The Slow-Roll Shiner has a fairly thick profile and hard-thumping soft-plastic swimbait action that incorporates a slight side-to-side roll to give off extra flash along the lure's flanks. The Flutter Sardine, in contrast, performs like a spoon or jig with the inner core producing a vibrant flash and a feathered tail hook creating just enough drag to hold the points in the ideal strike position as it shimmies to the bottom. Watch it sink and you will see it not only wobbles, it also rocks forward and back. The Twitch Minnow is a small profile, soft-plastic baitfish imitation that can be rigged weedless-style or impaled on a jig. This lure lies on its side as you twitch it during the retrieve. It looks like a dying or feeding minnow, gliding and quivering with the slightest jig of the rod. All three offerings can tempt anything from redfish, snook, jacks, and sea trout down south to stripers, weakfish, sea bass, and fluke in Mid-Atlantic or Northeast waters.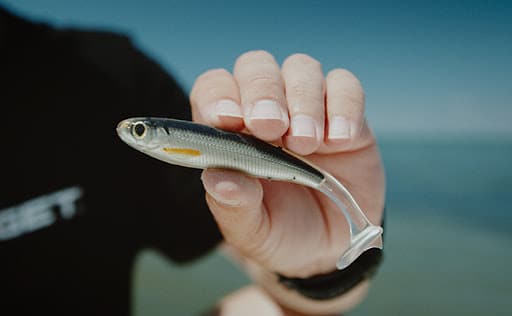 "It's important to get the appearance right, but it's the clear, soft-plastic exo-skin that drives all the action," explains Cook. "With it, we can refine, balance, or create new swimming motions, include a side-to-side roll, or add casting weight without disfiguring or changing the size or profile of the visible target. Because the exo-skin is nearly invisible, we can hide the action generator, such as a paddle tail, twitch tail, or spoon shape, for a more natural, appropriately sized appearance."
LIVETARGET draws on a wealth of underwater video footage and extensive databases it has complied over the years to help match the hatch with each new product. They have an extensive lineup in both the freshwater and saltwater realms, and they were quite successful even before developing their ICT technology. Last year, their Slow-Roll Shiner, Flutter Sardine, and Erratic Shiner, all ICT products, each won Best in Category New Product Showcase Awards at the ICAST show. Eight additional lures in their lineup have captured New Product Showcase awards since 2011.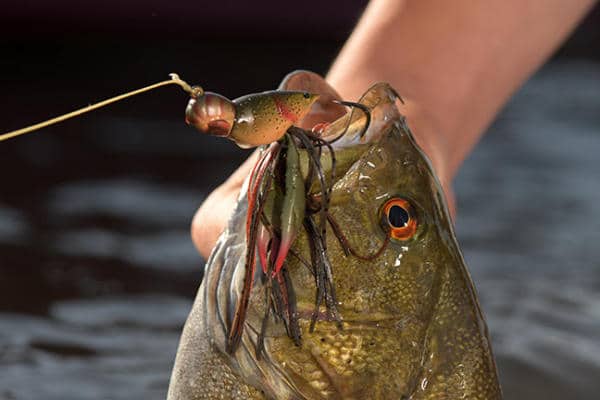 "We are really proud of our ICT options," says Cook. "But we have plenty of other lures in our saltwater lineup that can stand on their own. In fact, for redfish, snook, and sea trout down around Sarasota and Tampa Bay, where I do a lot of my saltwater fishing, I love throwing our Scaled Sardine Twitch Bait. I can catch anything and everything on it. Just twitch, twitch, pause, and repeat. It's a blast to see that lure get smashed. Our Fleeing Shrimp is another awesome saltwater lure. It looks incredibly lifelike, and you can cast it a mile. Let it settle and then just skip it back across the bottom where sea trout, snook, and summer flounder like to hang out. It has a shrimp-scented body with an embedded glass rattle that makes a 'tic, tic, tic' sound, perfectly imitating a fleeing shrimp."
Just before we went to press, the 2020 ICAST show, which had been scheduled for July, was canceled due to the coronavirus pandemic. Still, LIVETARGET has no plans to sit on its laurels.
"We're going to take this opportunity to finish working on an incredible, groundbreaking project," reveals Cook. "Imagine lures that provide their own unique strike-triggering action or that can flee and duck for cover like actual live forage, no batteries needed. With these, we plan to take the 'match the hatch' theory to a higher level than ever before, combining lifelike appearance with ultra-realistic action all driven by revolutionary new designs that will benefit anglers everywhere."
Stay tuned…and lunkers beware! livetargetlures.com