Volvo Penta's Easy Connect
How Volvo Penta's Easy Connect smarter engines share info for better boating
Mobile phones are great at connectivity. Apps like Tinder foster romance, emails make it easy to work anywhere, and Facebook keeps you up-to-date with family and friends worldwide. Even inboard engines can "talk" to owners and service techs.
Volvo Penta has made engine technology smarter with Easy Connect, an app that gives boat owners remote access to engine, boat, and route data directly on a smartphone or tablet.
"For Volvo Penta, the key to this integration is the Electronic Vessel Control (EVC) which serves as the platform for all components throughout the boat," explains Jens Bering, vice president of marine sales for Volvo Penta of the Americas. "Through Easy Connect, they can share information through the mobile dashboard that allows them to provide data quickly and accurately to their authorized Volvo Penta service dealers, lowering maintenance time and improving repair precision."
Smart Service
Besides the ability to quickly connect with a service technician to analyze diagnostics, Easy Connect provides a live dashboard display so guests can follow along with the performance of the boat while underway via Bluetooth, a great complement to analog instrumentation. The app also stores the data from the boat's previous trips so you can view the route history, fuel usage, speeds, and more from the comfort of your home to help plan future voyages. You can share the experiences on social media, too.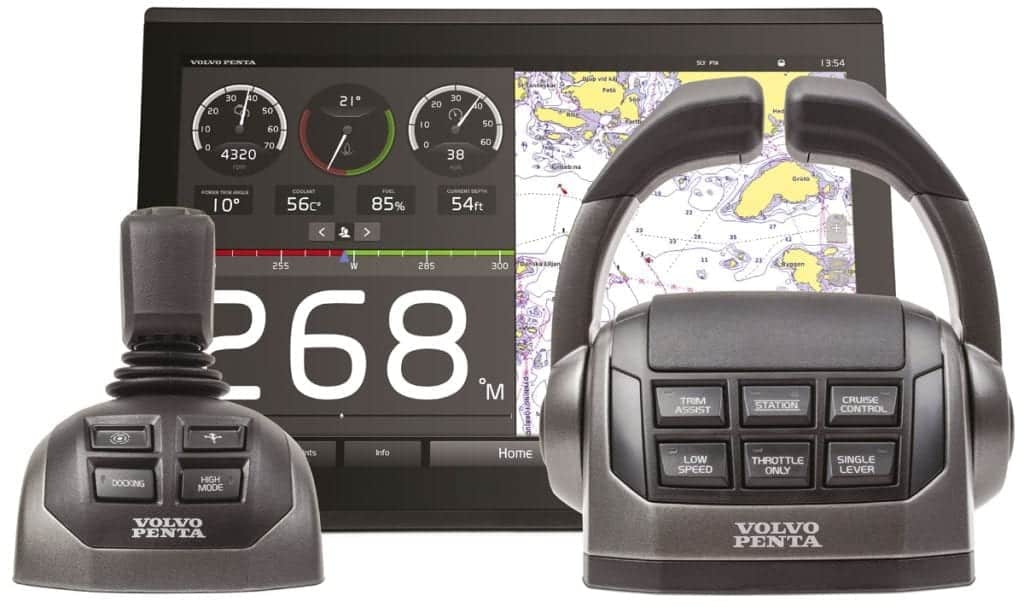 EVC is the backbone of Volvo Penta's fully integrated solution, controlling all functions from the engines to the propulsion system to the user interface. Boat captains should think of it as the operating system on a computer—everything is managed from the EVC.
If it was not for the EVC, all components would be integrated individually. Instead, it enables a seamless solution where all components, whether the Volvo Penta IPS, steering, throttle, shift, glass cockpit, joystick, or the Dynamic Positioning System, come together into one common platform.
Smart Speed
Faster computers helped spawn Volvo Penta's innovation. Each engine is equipped with an Engine Management System (EMS), an onboard computer that essentially controls the whole engine. The data is then transmitted over the EVC Controller Area Network bus.
"If we had a slow EVC system, we could not transmit the data as fast as we need to," says Bering. "A slow platform would also not allow us to support certain features, and that means technologies need to evolve with changing demands and expectations."
In 2019, Volvo Penta's evolution continues with the launch of EVC2. This is the first major upgrade to the EVC platform introduced in 2003. With an all-new electrical architecture, the refined system offers new features, such as a single connection point for diagnostics and the possibility to manage EVC functions for the complete vessel and driveline independently.
"This faster, smarter technology within EVC also allows us to connect more features into the boat's ecosystem," says Bering. "It offers one connection point for everything from software downloads and diagnostics to an onboard service assistant."
Driving a lot of changes are tougher emission regulations being enforced worldwide.
Smart Care
"Environmental care is at the core of everything we do at Volvo Penta so, in that sense, it has always been a driving factor for us," he continues. "But with that in mind, emissions are becoming more stringent, and we must prepare for the changes to come. We're leveraging what we've learned from our work in the commercial sector, where strong emission regulations are already in play in parts of the world, to prepare our leisure customers for the upcoming requirements."
Boat owners with engines pre-2003 and not equipped with EVC can't take advantage of much of the new technology; however, if the EVC system is already installed, it is possible to add on new features to improve the experience, such as cruise control, DPS and more. Most boat owners are unclear how the advancements in fuel, intake and exhaust, and the cooling system play an important role, but it's through these factors that the engine power and overall performance are improved.
"From an engineering standpoint, boating technology is becoming more complex. It's our job to make sure the customers don't see it this way," says Bering. "For them, the experience should be easy, seamless, and user-friendly. The more simple the interaction, the more enjoyable the experience will be. This is the focal point of our Easy Boating initiative, and we ensure the objective is achieved through a fully integrated system that is all supported by a single supplier."
Smart Change
There are more than 250,000 engines with the EVC platform on the water today. Volvo Penta backs that up with a network of more than 3,500 dealers across the globe to give boaters that vital connection when they need it most—that's connectivity that really makes a difference.
By Doug Thompson, Southern Boating August 2019