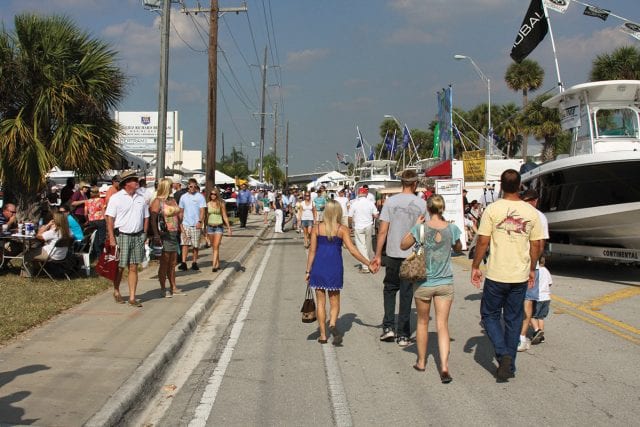 The 2019 Stuart Boat Show
What a difference a year makes. The largest boat show on Florida's Treasure Coast is not only growing, featuring more than 200 local, national and international displays, but is also improving the boat show experience to boot. Welcome to the 2019 Stuart Boat Show.
Air-conditioned, full-size coach buses (with bathroom) will whisk visitors from two parking locations: the new lot at the Martin County Airport (Witham Field) off SE Monterey Road and SE Flying Fortress Lane, and from the Wright Blvd. and NW Dixie Hwy. corner lot.
It's baaaack…
The Bahamas Pavilion is back, bigger and better than ever, and features numerous resorts and services with more interactive displays, music, and food. Speaking of food, the newly covered food court will provide greater comfort and highlight higher quality menu selections.
Even as guests walk the quarter-mile span of Old Dixie Highway at the foot of the Roosevelt Bridge and the more than 1,000 feet of linear dock, they'll notice a wider variety of boats and gear from companies such as Aqua Sol Yacht Sales, Boat Owners Warehouse, E.J. Schrader Mattress Company, Freedom Boat Club, Seakeeper, and so much more.