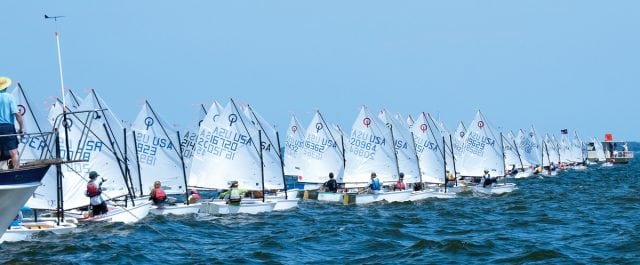 Some 400 sailors will race their Opti Prams on Pensacola Bay July 13-22 in the 2018 Optimist National Championships.
The 8- to 15-year-old sailors from across the United States, Britain, Spain, Denmark, Canada, Bermuda, US Virgin Islands, and Australia spotlight a new generation of world-class racers during the Optimist National Championships.
The United States Optimist Dinghy Association chose Pensacola Yacht Club to host the event with the races on July 15-18, the Optimist Girls National Championship on July 19th and the Optimist Team Race National Championships on July 20-22. Check-in and measurements are July 13-14. The yacht club also plans Green Fleet coaching and racing for beginners.
The Optimist dinghy was designed in 1947 by Clark Mills of Clearwater, Florida, using two sheets of plywood. He gave the design to Optimist International for youth sailboat racing during a period when Optimist service clubs across the U.S. put on Optimist Soapbox Derbies with four-wheeled, downhill racers built from plywood by fathers and sons.
Today the Opti Pram, or International Optimist Dinghy, is one of the world's most popular sailing classes. There are more than 150,000 vessels registered by the International Sailing Federation. Thousands more are not registered. Today, Opti Prams, usually made of fiberglass, sail in more than 120 countries.
By Bill Aucoin, Southern Boating July 2018